5 Savvy Tips For Organizing Your Laundry Room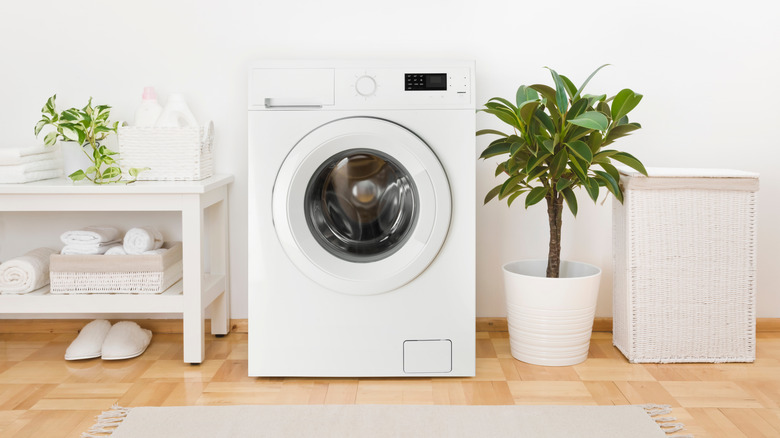 Didecs/Shutterstock
Your laundry room is a hub of activity, and while it may go unnoticed by everyone in the house, this area plays a big role in daily life. While it may seem like an easy space to care for and keep organized, the laundry room can actually attract clutter and piles of clothes, bedding, towels, and other home items quite quickly. Depending on where it's located, it might even be a dropping ground for backpacks, purses, shoes, and clothes that have been strewn off as people enter the house. Keeping this room tidy and organized is beneficial for everyone, especially the person or people who are in charge of laundry duties.
Staying on top of this continuous task helps the household function. Everyone relies on having clean clothes and linens at the ready, but if the laundry room becomes too chaotic to navigate, it can slow things down. According to Tide Cleaners, people can spend over eight hours a month dealing with their clothes washing, which adds up over time. Making your laundry room a soothing, accessible area will take the stress out of this common chore.
1. Install storage options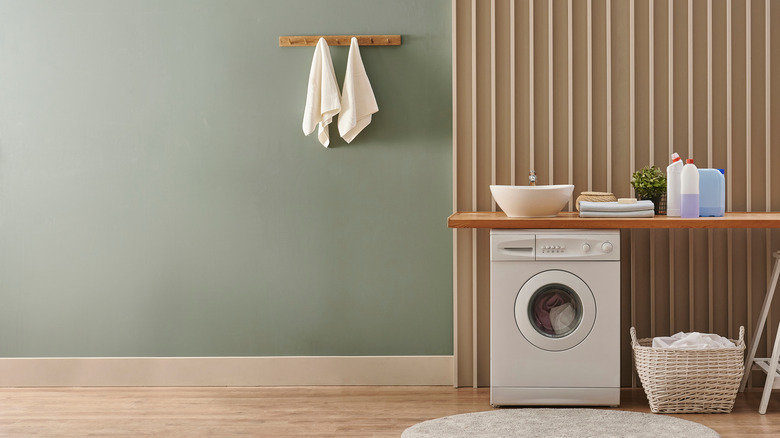 united photo studio/Shutterstock
It can be second nature to leave clothes lying around the laundry room, since it's used to clean them after all. Whether it's dropping jackets on top of the machines, or throwing backpacks and purses on available surfaces, these small actions can lead up to a lot of clutter over time. To avoid your washing area becoming a magnet for chaos, create options to house everything from sweaters to bags and even dirty clothes. Invest in a hamper that remains in the room, so people can place items inside whenever they are in the vicinity.
Install hooks and hangers to allow for easy hanging opportunities, so family members or guests can place or grab jackets and other pieces on them when they come and go. Put the hooks on the back of a door that leads in or out of the room, as well as along any empty walls. You can also add shelves in empty spaces to keep detergents and other small necessities. According to Clutter Keeper, using a pegboard is another good option for creating storage space and makes even more hanging options for items.
2. Purchase uniform storage options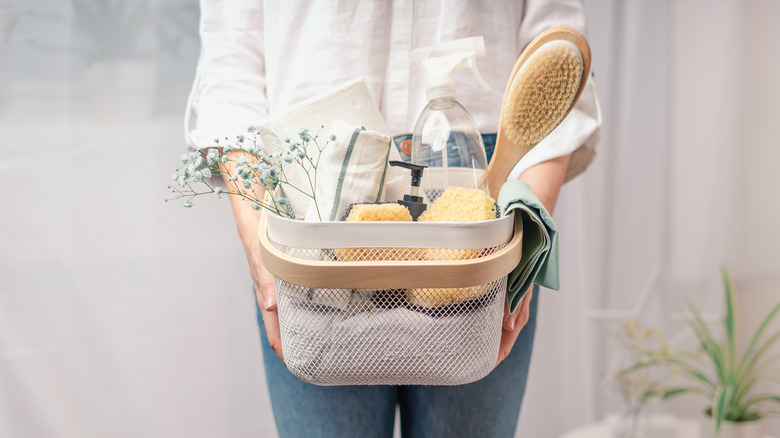 Ostanina Anna/Shutterstock
While useful and easy to access, many detergents and fabric softener containers don't offer a pleasing aesthetic. A savvy tip for keeping your laundry room looking organized is investing in decorative decanters to store supplies. You can visit, for example, a local Target or Walmart and find glass jars that can hold detergent liquids or powders, then find larger containers to keep brushes, bars of soap, or washing bags inside. Home Depot recommends using wire baskets due to their uniform appearance or choosing fabric cubes to conceal clutter.
When it comes to laundry room storage items, the sky's the limit. You can pick from storage bins and baskets to cubed cubbies, then find elegant-looking jars to add a touch of sophistication to the space. Not only do these pieces help keep mess from building up, but they let your house decor and theme flow, keeping it in tune with the rest of the rooms. Sticking with similar colors and materials will make this area a soothing place.
3. Pick a storage-friendly laundry hamper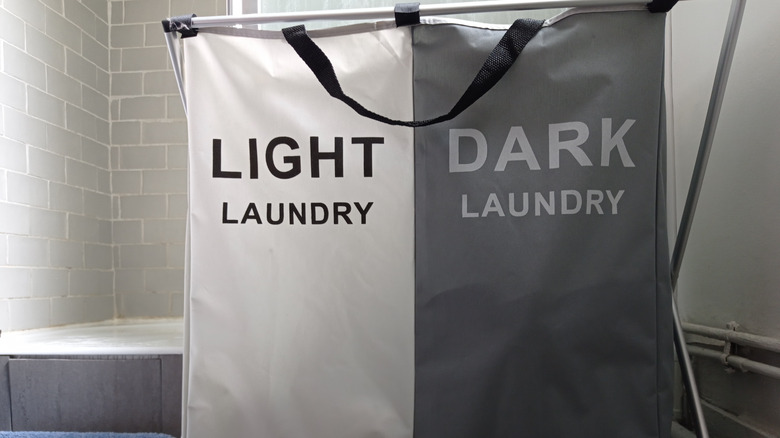 Pekpicts/Shutterstock
Laundry hampers are a great way to keep clothing organized when they need to be washed. Providing each bedroom with a hamper will ensure dirty items make it to the wash, but adding a laundry sorter will make washing a breeze. Each linen has a designated slot with these units, so you can separate darks, lights, or other fabric specifications. This will take the work of sorting everything on laundry day, making it easy to throw in the machine quickly and without fuss.
There are a variety of options on the market, and come in materials ranging from nylon and mesh to bamboo or plastic. Whichever one you pick comes down to personal preference, but according to The Strategist, hampers made out of wood offer their own antibacterial properties. It's important to pick a unit you can lift or carry if it doesn't fit in the laundry room full time. Not only can it house different loads of laundry, but these vessels are also able to store clean linens until they're put away or worn.
4. Don't forget the drying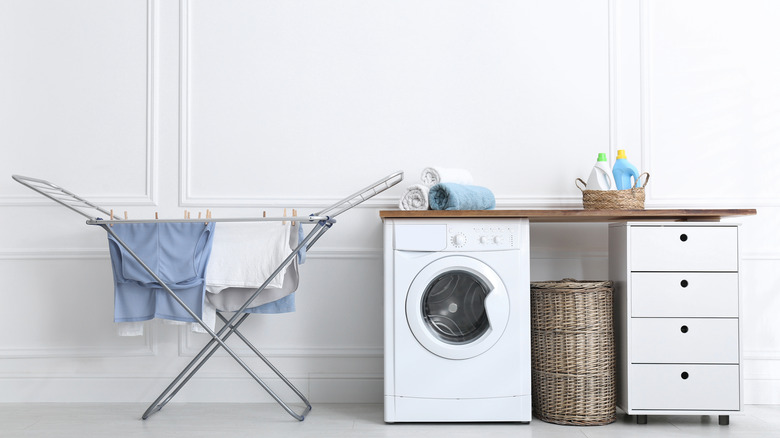 New Africa/Shutterstock
For those items that have to be hang-dried, it can be hard to find extra space in the laundry room, closet, or alcove. If the area is already small, it might be inconvenient to have a large drying rack in the way while trying to finish up chores. There are several solutions to this, including putting a drying poll in the wall that can be used for easy access. Racks that can fold up also offer more space for those "hang dry only" items, keeping wet clothes away from dry ones; and when you're done with the rack, it's simple to store whichever you choose for the future.
These options come in different sizes and shapes, so you can find the right one to fit your space. According to Laundry Heap, folding racks have a thin design that makes them ideal for small, slim areas. You can slide them between shelves, cabinets, or even the machines and a wall to keep them out of the way when they aren't in use. If you have space to install a tension rod, that allows clothing to be hung from it while they dry — away from the floor, making the room seem less cluttered.
5. Introduce a lost and found area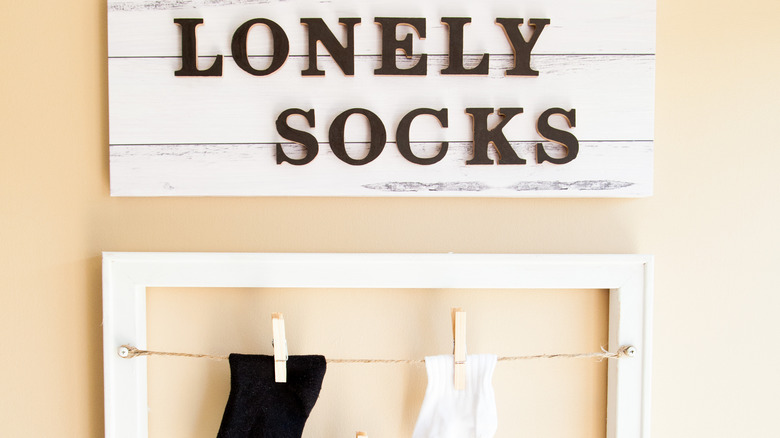 Independence_Project/Shutterstock
Along with clothes and linens, random items can make their way into the laundry area and create clutter. The more people leave small articles in the room, the more chaos will ensue when it starts to pile up. To avoid this space becoming a storage closet, create a section or place where "left" items are kept until someone remembers or moves them. Rather than leave articles to pile up, place them in this container, cupboard, or shelving unit to free up other surfaces. Label this area so family members and guests know where to look for misplaced belongings, or remember to grab them when they pass it.
This is also a great way to collect change that falls out of pockets, as well as to keep track of mismatched items that come out of the dryer, such as a solo sock that gets separated from a pair. However you decide to introduce this savvy organization method, it will keep your laundry room tidy and organized.