20 Savvy Ways To Transform Your Space With Floating Shelves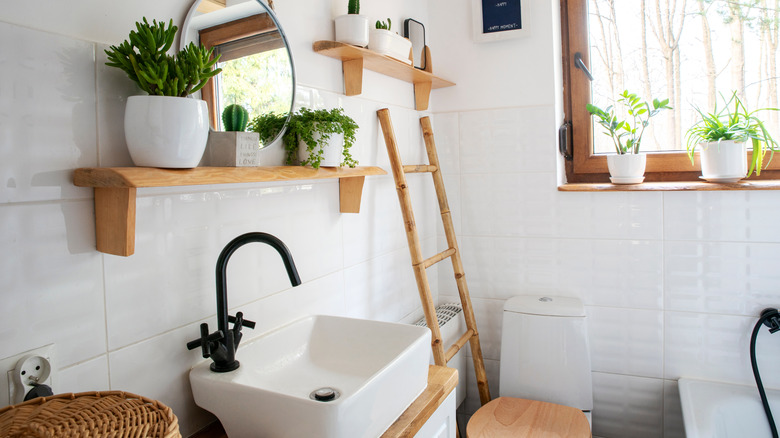 liloon/Shutterstock
When decorating a room, you may be looking for ways to add more storage, personality, and functionality. If this is the case, you could add floating shelves. These shelves can be added to any room in the house. In the kitchen, they are typically used for extra dishware storage. When hung in the bathroom, they can hold toiletries and plants. Floating ledges could also be hung in the living room or bedroom to organize your favorite décor items.
Companion Maids says that floating shelves can easily add functionality to any living space. They also make it easier to organize your items and give you more storage opportunities. And they make items easily accessible. They can be used to fill up empty corners or wall space and are especially useful in rooms with limited floor space. Below are 20 ways you can transform different spaces in your home with floating shelves.
1. Open shelves in the kitchen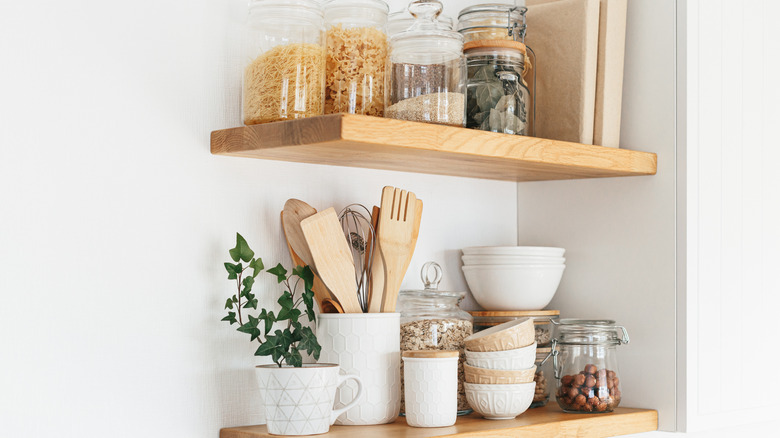 Switlana Sonyashna/Shutterstock
Floating shelves in the kitchen can be used to corral extra dishes and serving utensils. They can also be a great place to display food in clear jars. 
2. For office storage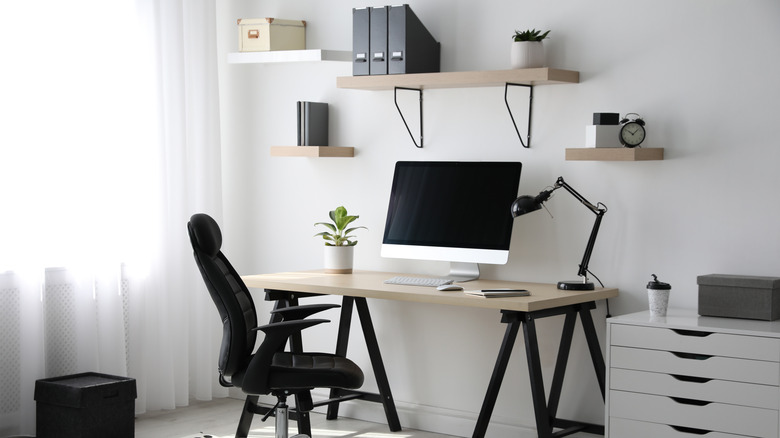 New Africa/Shutterstock
When floating shelves are hung in a home office, they add lots of extra storage space. You could place a clock, bins, or a filing system on your shelves, to make them extra functional. 
3. In the bathroom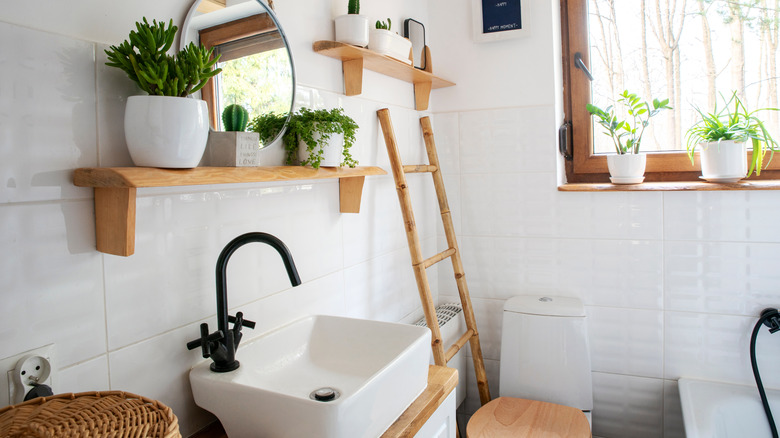 liloon/Shutterstock
When floating ledges are used in the bathroom, they typically hold things such as plants and extra toiletries. They could also be used to display a mirror over the sink. 
4. For kid's toys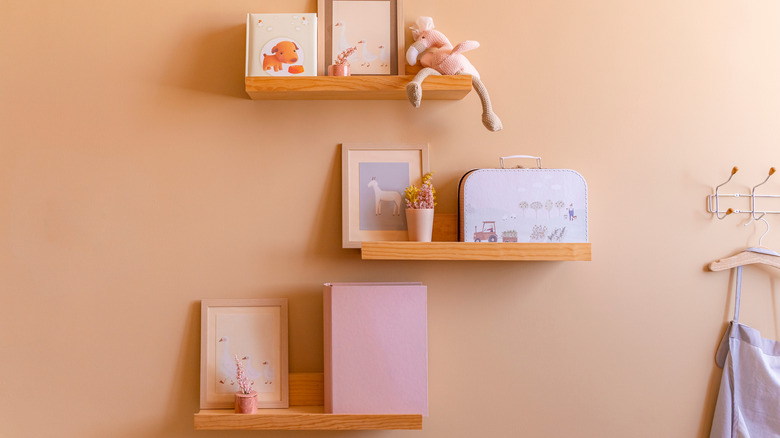 Jon Ortiz/Shutterstock
In your kid's bedroom or playroom, wooden planks on the wall can hold books, art, or stuffed animals. These can add lots of personality and colorful elements to a space. 
5. Hexagonal shelves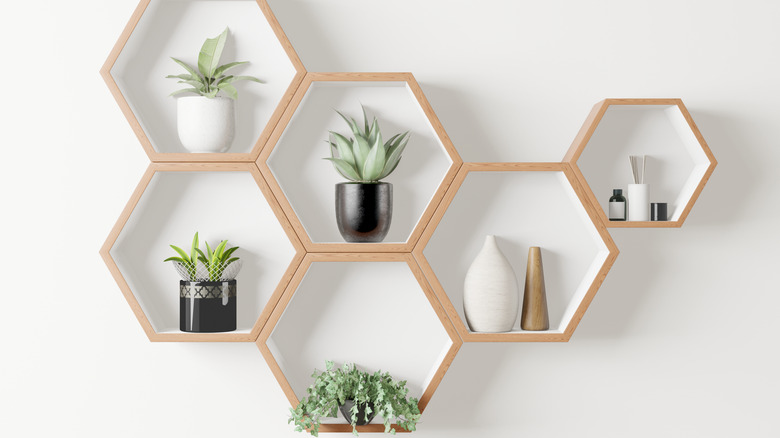 NukTD/Shutterstock
To add a unique display, use hexagonal shelves. These will create the look of a beautiful art piece and can be decorated with small items like plants, vases, and candles. 
6. Corner shelves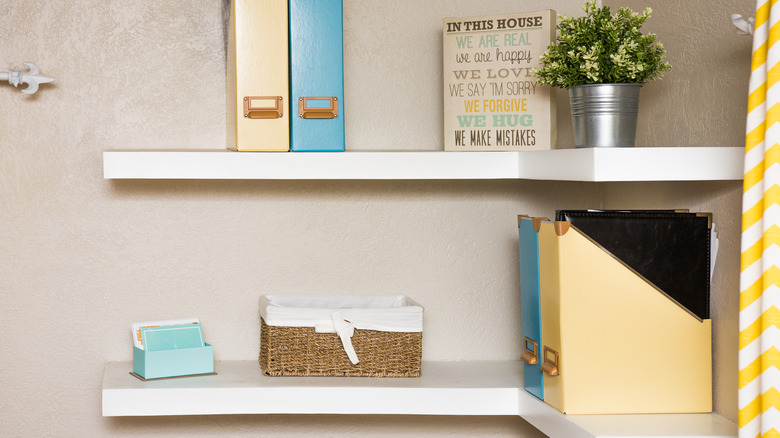 Brett Taylor Photography/Shutterstock
Ledges could also be installed in the corner to create more storage opportunities in this typically unused space. This will also leave more room on the floor for a small table or a basket. 
7. To hold bathroom supplies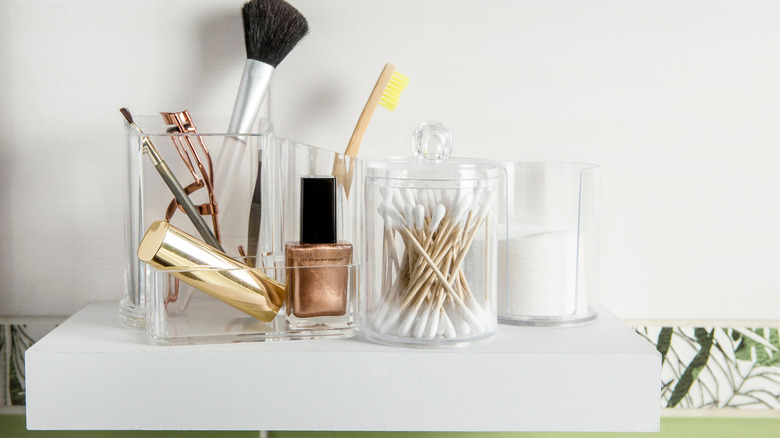 FotoHelin/Shutterstock
In the bathroom, a floating shelf next to the vanity could hold things like cotton balls, cotton swabs, makeup products, or other bathroom essentials. This can make getting ready in the morning extra easy. 
8. With bold brackets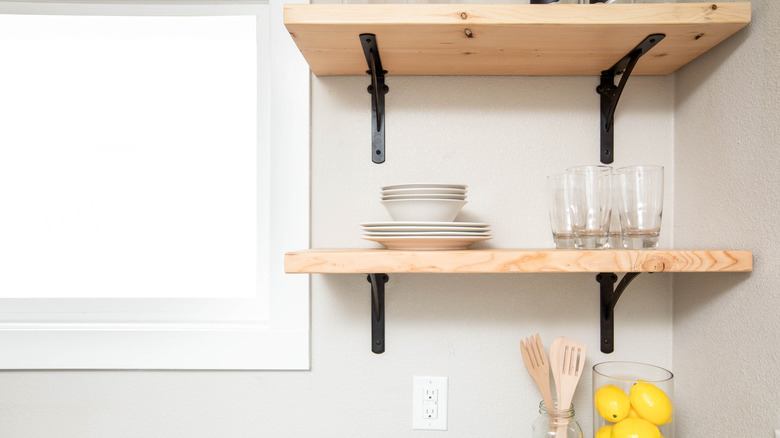 Duntrune Studios/Shutterstock
To create contrast, you could pair light wood with dark brackets for an industrial feel in your space. 
9. Without brackets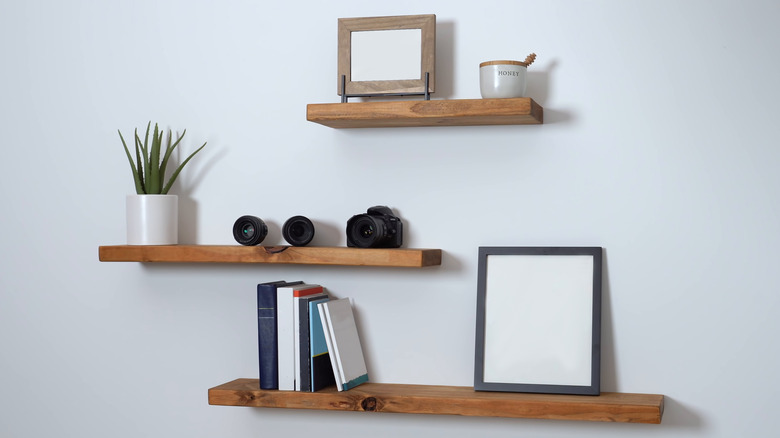 jenhde/Shutterstock
Shelves can also be hung without brackets to create a more minimalist look. This can appear extra luxurious in a space. 
10. Unique shapes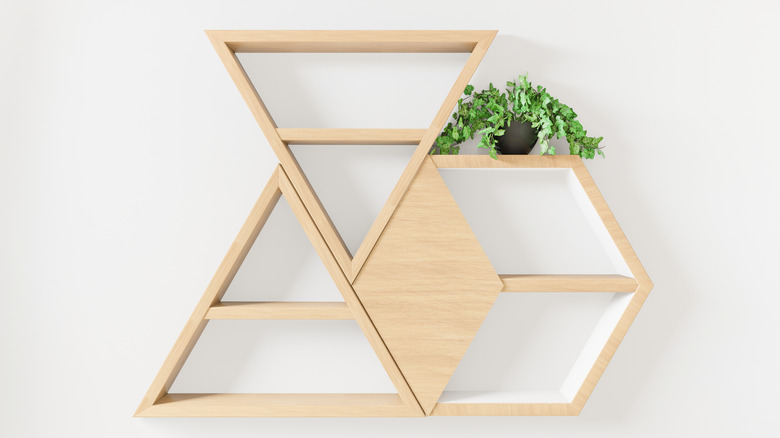 NukTD/Shutterstock
Shelves can also come in unique shapes, like triangles and diamonds. When stacked together, these shapes will create a unique design feature on the wall. 
11. Over the bed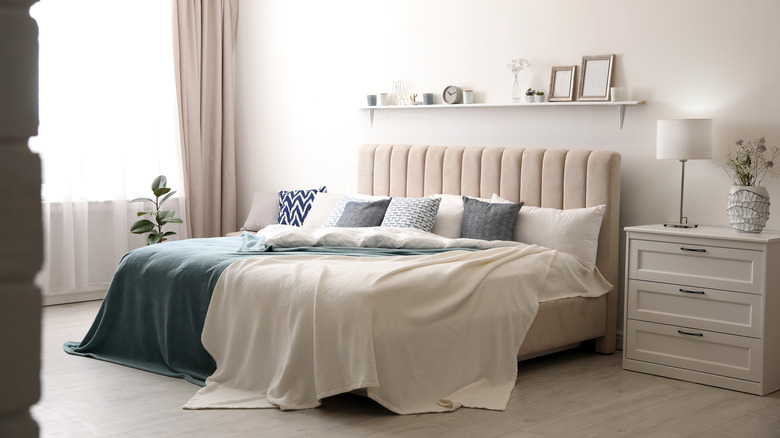 New Africa/Shutterstock
A floating ledge could be installed above the bed to hold things like picture frames, candles, clocks, and vases. This can help you have a less cluttered nightstand. 
12. On a bold wall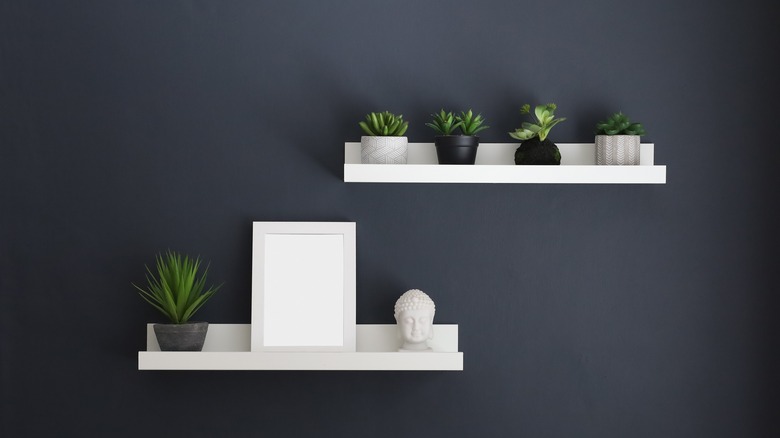 Cute Stock Images/Shutterstock
Installing white shelves on a dark wall can create a beautiful contrast that makes your décor pieces really stand out. They could be added to any room in your home to create lots of interest. 
13. Include hooks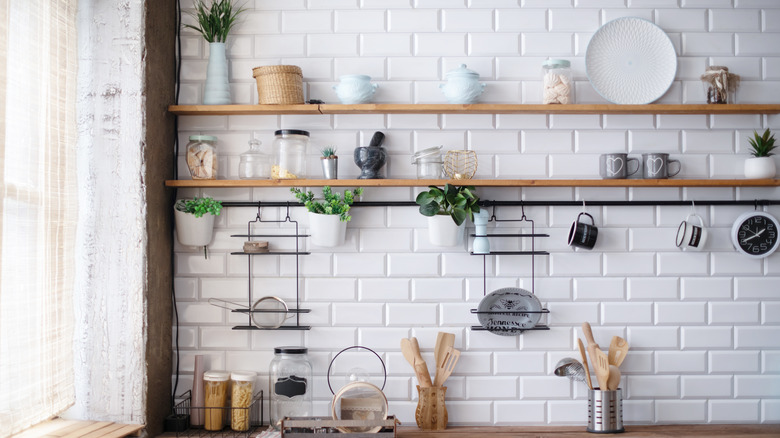 Zakharova_Elena/Shutterstock
Including hooks can maximize your storage space. In the kitchen, hooks on the bottom of open shelving can be great for hanging things like mugs and plants. 
14. Create a unique vanity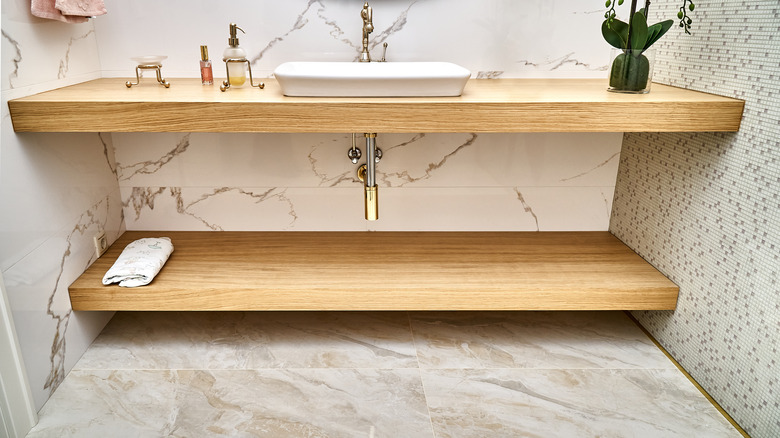 timltv/Shutterstock
Two large floating pieces of wood could be used in the bathroom to create a unique vanity that looks minimalist and chic. 
15. Replace the entertainment center
PhotoMavenStock/Shutterstock
A long shelf could replace an entertainment center in the living room. This space has a long shelf beneath a hanging television. 
16. Create a floating bookshelf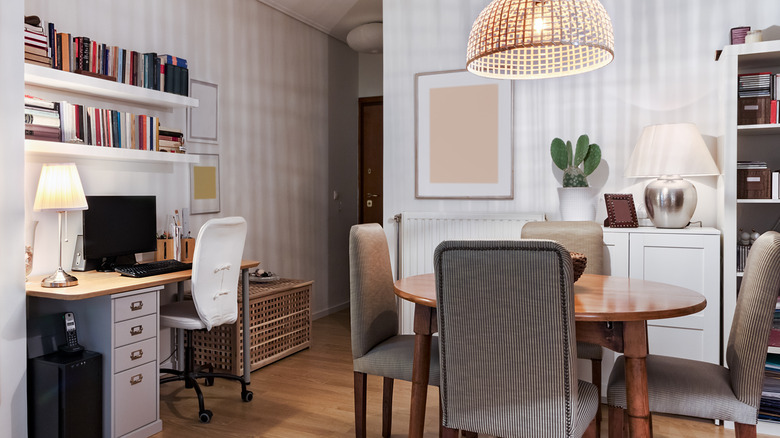 Ruben M Ramos/Shutterstock
Another way you can maximize the storage space in an office is by installing a bookcase on the wall. This will save floor space for a desk. 
17. Use varying lengths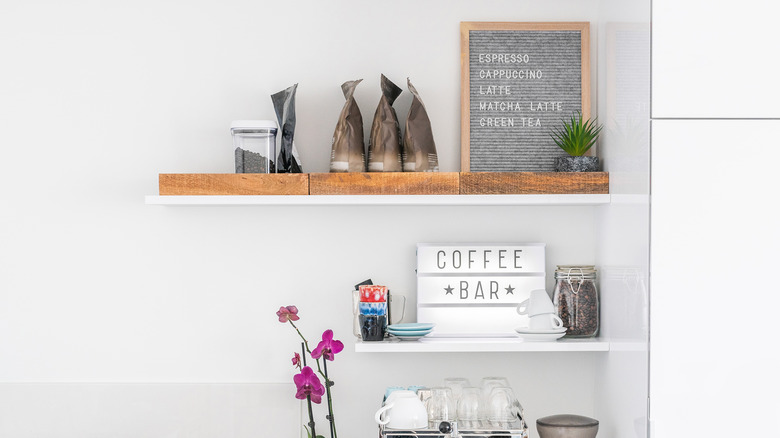 Maridav/Shutterstock
Using shelves of different lengths will add variety to a space. These shelves are used for storage and decorations in a coffee nook. 
18. Decorate with color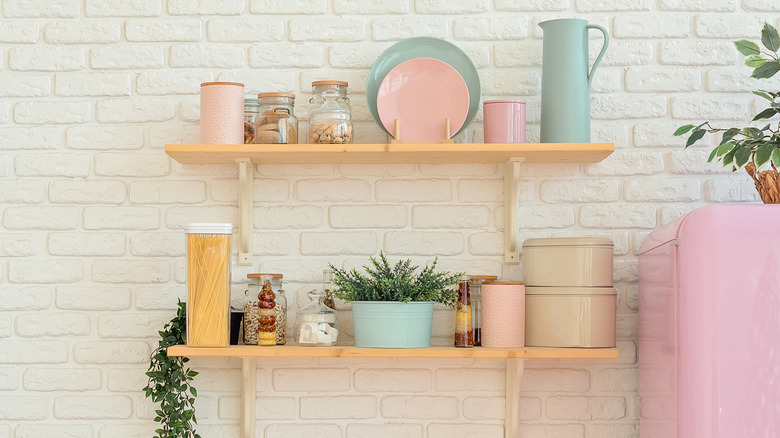 gostua/Shutterstock
To add extra interest, decorate with pops of color. When doing this, it may make sense to choose a couple of accent colors, like pink and blue, to help the space look cohesive. 
19. Surround the TV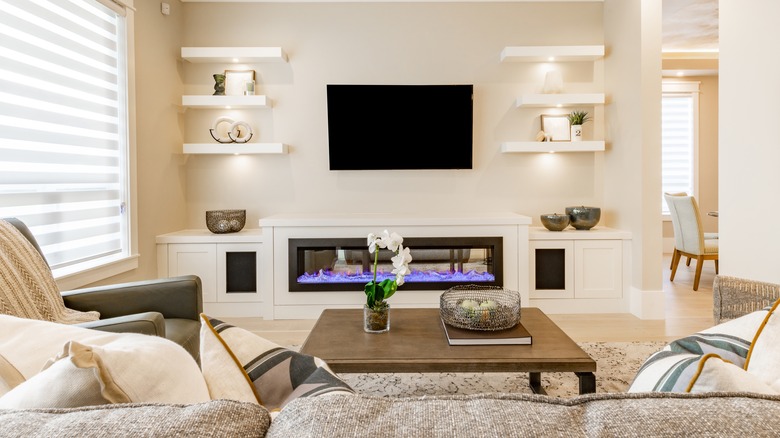 Sheila Say/Shutterstock
Floating shelves around the TV or the fireplace can make your living room feel homey and more complete. 
20. In front of subway tiles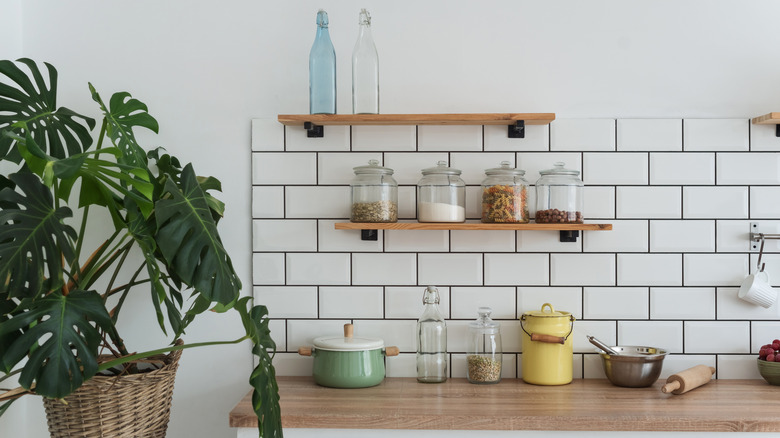 gostua/Shutterstock
In the kitchen or bathroom, installing open shelving on tiles can make them look like they are a part of the design. Subway tiles are a great option because their simple design won't take away from the displayed items.