The Best Hot Tub For Year-Round Outdoor Relaxation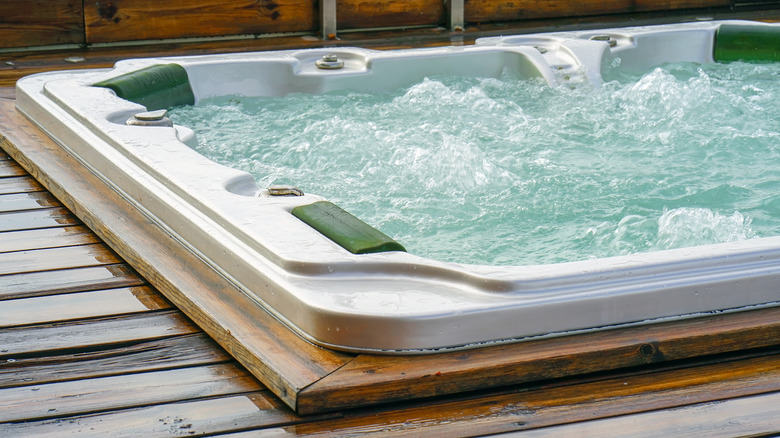 lunopark/Shutterstock
We may receive a commission on purchases made from links.
Hot tubs are a luxury we all wish we could have, especially for those who live in colder areas. You might not know that hot tubs actually have many health benefits as well, WebMD explains. The hot water loosens tension in your muscles, and expands blood vessels, which allows blood to flow through your body with ease. Fortunately, there are several hot tubs on the market that give you year-round outdoor relaxation, while keeping you physically and mentally well. When shopping for a hot tub, there are a few things to consider: your budget, your space, and the level of maintenance required.
The typical size of a hot tub between 7 and 8 feet, Master Spas says, so you need to ensure you have enough space for this luxury before you hit the checkout. Another key factor to keep in mind is the cost to purchase and maintain a hot tub. According to HomeAdvisor, the cost of a hot tub boils down to location, size, type, and materials; but the average price ranges from $2,500 to $5,000 for an entry-level model, all the way to $11,000 for a luxury tub (and that's just the minimum price).
Looking at the price tag, you may be having second thoughts about purchasing a hot tub, but before you put this dream to rest, check out one of the best hot tubs you can enjoy for a fraction of the cost.
Coleman 90455 Ponderosa SaluSpa
Ranking in at 4.5 stars with a $480 price tag, the Coleman 90455 Ponderosa SaluSpa from Amazon is an excellent and affordable choice for a year-round outdoor hot tub. Though it's inflatable, the Ponderosa SaluSpa comfortably fits four people so you can enjoy it alone or with friends and family. Don't worry about purchasing additional accessories, as this hot tub comes with a pool liner and cover, a spa pump, chemical floater, two filter cartridges, an air pad protector, one repair patch, and one AirJet system. The Ponderosa SaluSpa measures 5.9 feet by 5.9 feet and is 2 feet deep.
This outdoor hot tub reaches a maximum of 104 degrees and includes 120 surrounding remote-controlled air jets to relax and massage you, release tension, and soothe your tight muscles. Remember, while hot tubs are an enjoyable experience, you should never go underwater, Aquavision warns. Your hair can get caught in the suction of the jets, and if not retrieved in time, this can lead to fatal consequences.