The Best Bedroom Color For A Maximalist Vibe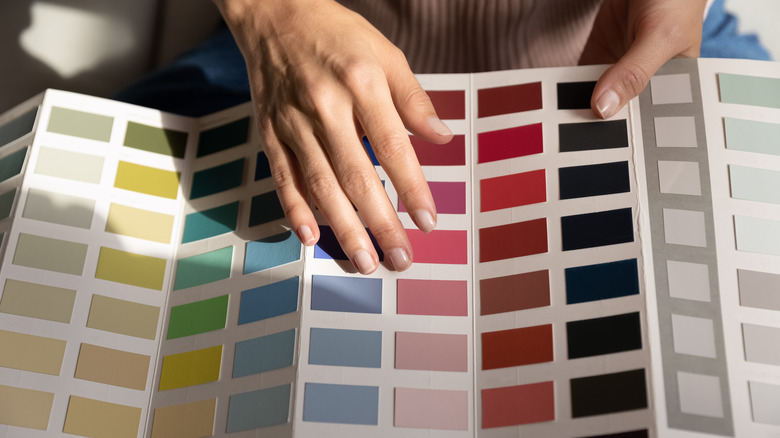 fizkes/Shutterstock
If you're an interior design buff, there's no doubt the maximalist trend has caught your eye. According to Vogue, maximalism, although not easy to define, is the concept of more-is-more: rich patterns, extremely vibrant hues, plentiful accessories and art, and a true feeling of exuberance and expressive rhythms. To execute it in your own home, you mustn't be afraid to "go big or go home," which means that you use many patterns, textures, and elements in similar hues for a pulled together yet bold end result. However, to the untrained eye, it might not be so easy to recreate this in a space, so let's take it one step at a time.
Decoist explains that a bedroom is one of the best places for the maximalist aesthetic to thrive. So, how can you go about giving your bedroom this bold makeover? Keep on reading to find out which color you should pick for your maximalist bedroom and how you can use it to your advantage.
Go dark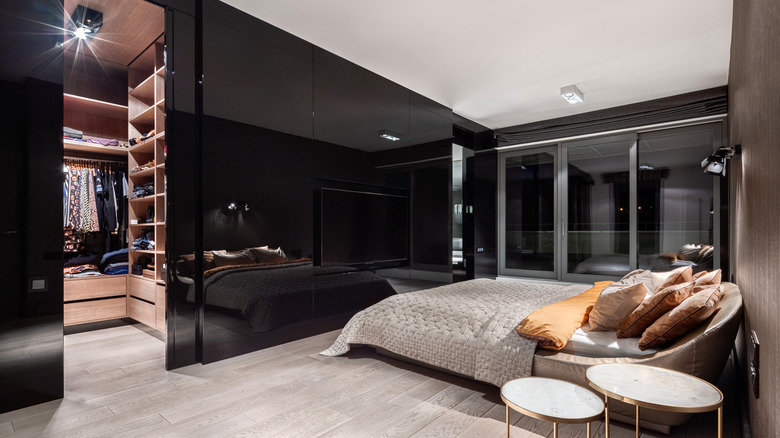 Dariusz Jarzabek/Shutterstock
According to Elle Decor, dark hues such as navy blue, deep red, dark browns, or even black are great color choices for a maximalist bedroom. They also note that if the rest of your house is filled with bright colors or gentle neutrals, entering a bedroom with a dark color palette may be quite calming and create a cozy vibe.
In fact, Home Decor Bliss agrees that dark colors are ideal for the bedroom for many reasons. They explain that while many people believe that dark colors make a room seem smaller, this is not true. For example, black tends to conceal the lines of a room, making it seem larger. They also note that navy blue is one of the most calming shades for your bedroom, as found in a worldwide survey. Furthermore, they add that a darker space promotes a good night's sleep as the deep colors can assist your body in preparing for sleep.
Don't forget the additional touches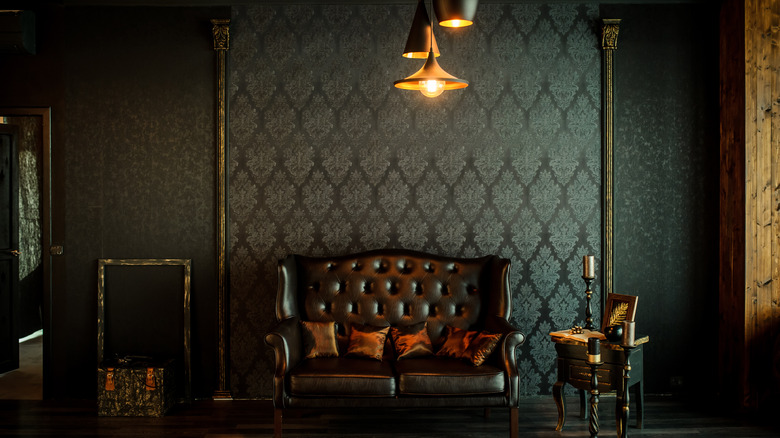 Med Photo Studio/Shutterstock
Hammonds recommends having fun with different prints for a dark-colored bedroom to complement the maximalist design aesthetic. For example, they suggest pairing florals and geometric patterns together for an unusual pop. They also suggest adding dark-colored open shelves and fitted closets to display various trinkets and accessories. Shelves also give important storage space and plenty of area to showcase ornaments or books.
When it comes to maximalism, clashing is favored, which also holds true for artwork. You can create a gallery wall by placing artworks of differing sizes and styles next to one another. Pick frames with a variety of colors and patterns to mix and match for a better look.
You should also consider adding a single feature wall. If you want to give the wall a bolder look, add some texture to it with leather, tiling, or cloth. Even though it seems strange at first, the final product will be one of a kind and unforgettable, making it an excellent choice for a maximalist environment.