The Gallery Wall Addition 32% Of People Agree Would Elevate Their Decor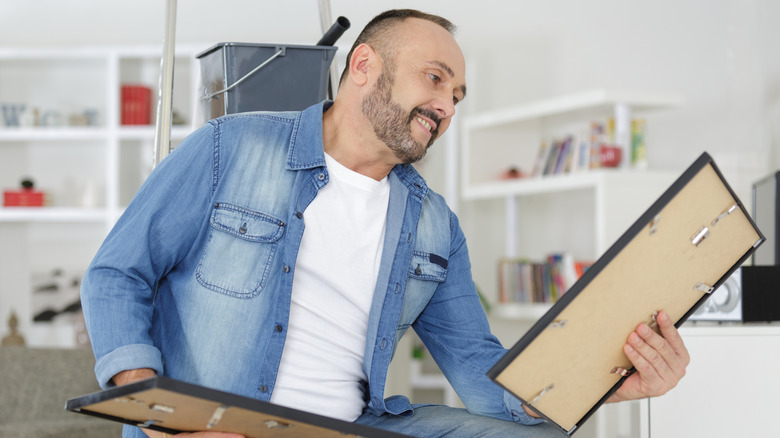 ALPA PROD/Shutterstock
A gallery wall gives you a great opportunity to add personal style to your interior space. No two gallery walls look completely alike. With lots of different pieces you love, you could create an eclectic arrangement of art on the wall, although it might be hard to pick between them. You could also purchase various pieces that work cohesively and hang them together.
To make a gallery wall even more interesting, you could include pieces with texture. Kevin Barry says that textured items add a third dimension, which in turn, makes a statement, creates a more dynamic look, and increases visual interest.
You may be wondering exactly what most people are dying to add to their gallery wall. To find the answer, House Digest asked 596 people which item they would choose to take their design to the next level. Participants were given the following options: a clock, plates, a framed mirror, a woven banner, or a sculpture. One choice was the clear winner, with over 32% of the vote (191 people).
The winner
A framed mirror was chosen by 191 participants as the item they would most like to add to their gallery wall. Mirrors are not only functional, they also increase the element of airiness within a space. Mirror City says that mirrors make rooms feel larger and brighter. With the right frame, they can make for a very bold décor choice.
In a gallery wall, a mirror could either serve as a focal point or blend in with the rest of the décor. Life By Leanna mixes multiple mirrors with art pieces, and borders them all in gold frames. The result is a cohesive, yet still very dynamic, gallery wall. Studio DIY says that, when creating a gallery wall, add lots of different elements in various sizes and shapes to keep the wall looking interesting. Using a mirror is a great way to add that unusual shape, like a circle, an oval, or a large diamond.
The other options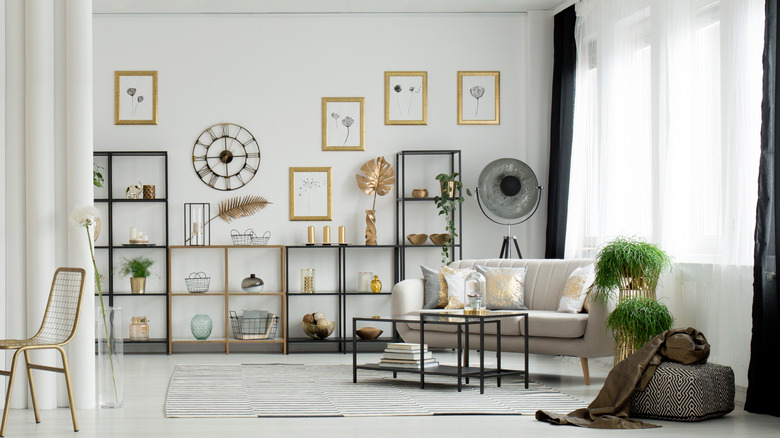 Photographee.eu/Shutterstock
Over 27% of the participants (164 people) would add a clock to their gallery wall. This is another great way to add a dynamic element to your space, as Studio DIY recommends. If the clock works and is set to the correct time, this will make your gallery wall functional as well. Stone Gable adds a clock to her art arrangement. She places it off-center, making sure it remains prominent without stealing the spotlight. You could also place the clock in the center of the wall and surround it in smaller pieces, if desired.
The next choice was a sculpture, with almost 21% of votes (125 people). A petite sculpture could be attached directly to the wall. Or, you could place a tall sculpture on a table underneath the gallery so it fits in with the rest of the elements. Next came plates, with 11% of the votes (64 people). Plates are another great way to add different materials and textures to your display. Finally, the last choice was a woven banner, which only 9% (52 people) chose.