10 Ways To Incorporate Sculpture Art In Your Home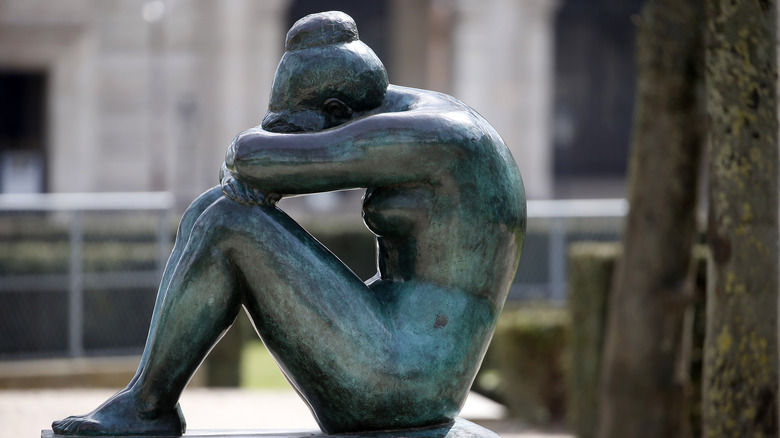 Chesnot/Getty Images
A house isn't truly complete without some of your favorite art pieces thoughtfully placed throughout. Art can be the focal point of your room, something used to complement another design feature, or just a great way to express yourself. Art can also be used to manifest a certain mood you would like to feel in a space, according to Cathy Horvath Buchanan Solo Work Studio. Certain emotions or feelings can be elicited through artwork, allowing you to create an atmosphere that is classy, chic, calming, or whatever else you wish.
One type of artwork that can certainly make a statement is sculpture. It can be incorporated into any room you have space, whether it be a showstopper in your living room or a more contemplative piece in your bedroom or bathroom. There are varying materials and mediums to choose from, such as stone carvings, bronze castings, wood carvings, and clay firing, according to Eden Gallery. No matter the design theme of your home, you're sure to find a sculpture to add the touch of artistic flair you're looking for.
1. Create a balanced composition
This sculpture of a woman's head subtly balances out the equally strong décor set upon this entryway table. Though not symmetrical, the visual impacts of the pieces carry their own weight to make up an interesting and serene contemporary arrangement.
2. Elevate exterior features
Sculpture can also be used to upgrade the exterior features of your home. This doorknocker is a perfect example of how you can introduce a subtle sculptural element to add character and welcome visitors. Though the addition to the door is small, it instantly makes things appear more elegant.
3. Show your personality
Sculpture art doesn't always have to be elegant and modern. It's perfectly fine to choose something less refined that specifically brings you joy. Strategic placement can ensure it can be incorporated without diminishing the overall design of your space.
4. Exotic architectural elements
A lion sculpture is a motif traditionally seen flanking either side of the entrance to a home. In China, these lion sculptures are considered protectors of their home, according to Via Capitale du Mont-Royal, providing the inhabitants with a touch more peace of mind.
5. Subtle scenes
Relief sculptures such as these roof tiles add beautiful ornamentation to your home. It may seem small, but these elements are entirely unique to the structure of your home, and the details are what can make or break your design.
6. Go big and bold
If your budget allows, you can choose a sculpture that will make an impressive impact. As long as it pairs nicely with other features of your home, extravagant sculptures or reliefs can truly enhance your home as part of a harmonious design.
7. Grand garden décor
Though the most common iteration seems to be the classic garden gnome, outdoor sculptures run the gamut in terms of size, design, and style. From classical Greco-roman figures to quirky metal creatures as seen here, there are plenty of options to complement your garden. 
8. Abstract art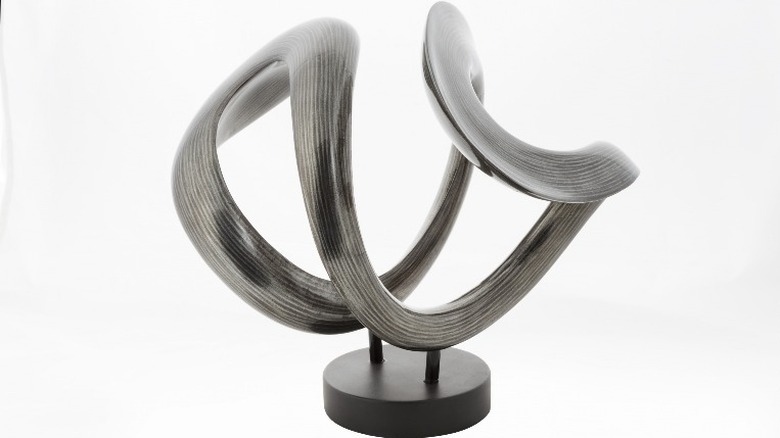 Ayman alakhras/Shutterstock
For those who desire an eclectic, but modern design, an abstract sculpture will definitely help establish that aesthetic. With so many options in terms of color and style, you shouldn't have trouble finding the perfect piece — just deciding on which to bring home!
9. Swim beside statues
As summer approaches, you may be considering new ways to update the design in the area around your pool. Along with other sculptural elements, a statue could be a great way to modernize or make a regal statement with your poolside space. 
10. Budget-friendly alternatives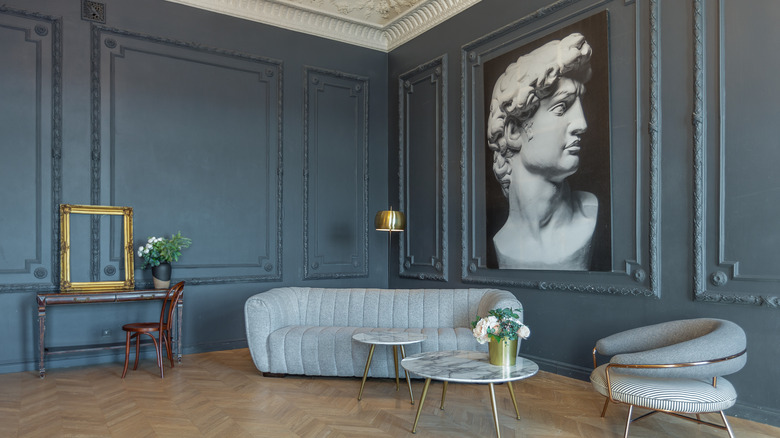 Pinkystock/Shutterstock
You may desperately want a sculpture in your room, but you may not have the budget or the floor space for one. A space and cost-saving alternative is a painting or print of a sculpture that you can hang on the wall to establish a similarly elegant feel.