30 Reading Nooks You'll Never Want To Leave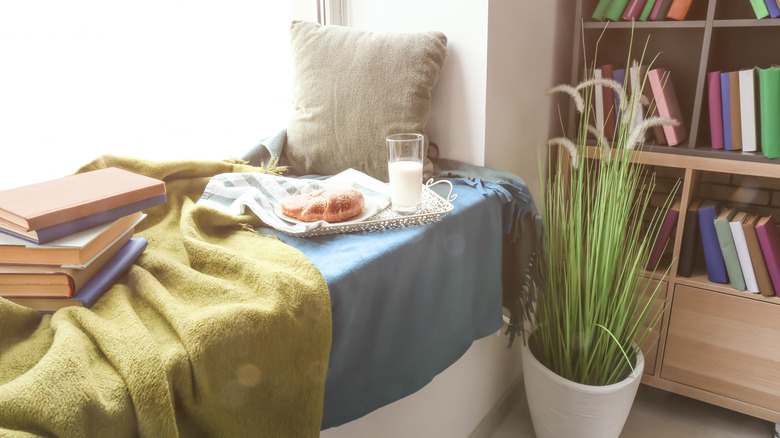 Pixel-Shot/Shutterstock
If you're a book lover, you've probably dreamed of adding a reading nook to your home. Reading nooks are small spaces specifically designed for reading and relaxing. Because of this, these spaces typically incorporate elements like a comfy chair, pillows, blankets, a lamp, and, of course, books. Other priorities in this space include a peaceful feeling, minimal noise, and no distractions. Creating this environment will allow you to transport yourself into the book you're reading.
Popular places to include reading nooks include the corners of rooms and beneath window sills. American Express Essentials says that the wasted space under a staircase or in a storage area could be converted into the perfect reading nook. They also say that any home, even small apartments, could incorporate a reading nook in the design. All you need is a chair and a lamp. The best place to add a nook would be in a small room with bookshelves and a window. Below are 30 reading nooks that, if added to your home, you'd never want to leave.
1. Cozy elements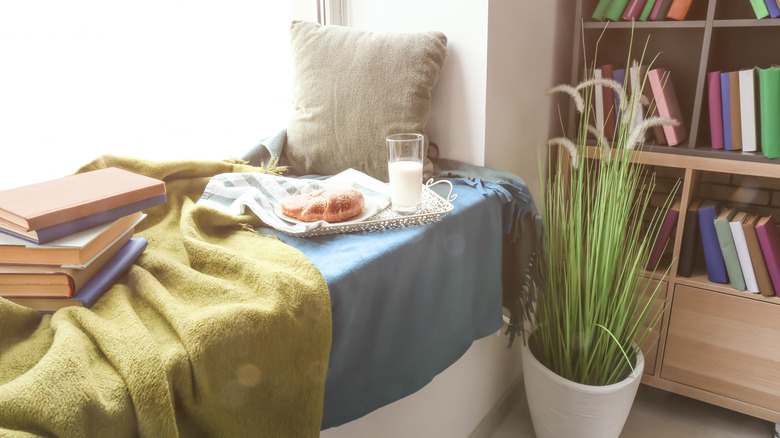 Pixel-Shot/Shutterstock
Layering many different cozy materials, like an upholstered cushion, a blanket, and a pillow, will make your space appear cozier. 
2. Library-esque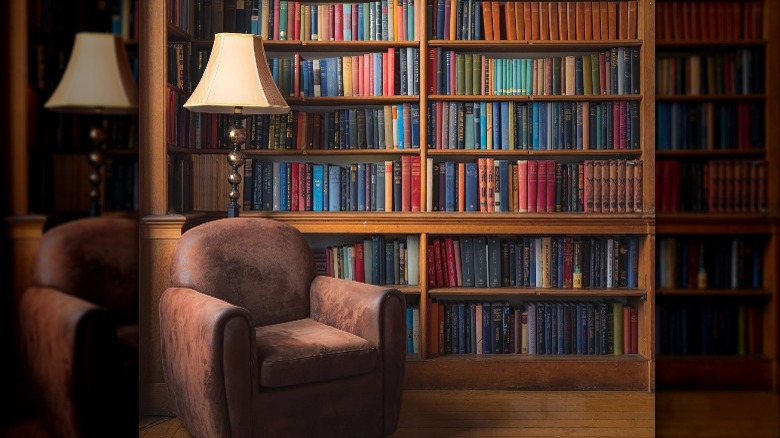 Stephen Bridger/Shutterstock
To give your space a library-esque feeling, use vintage leather elements and large wooden bookshelves filled with colorful books. 
3. Personal touches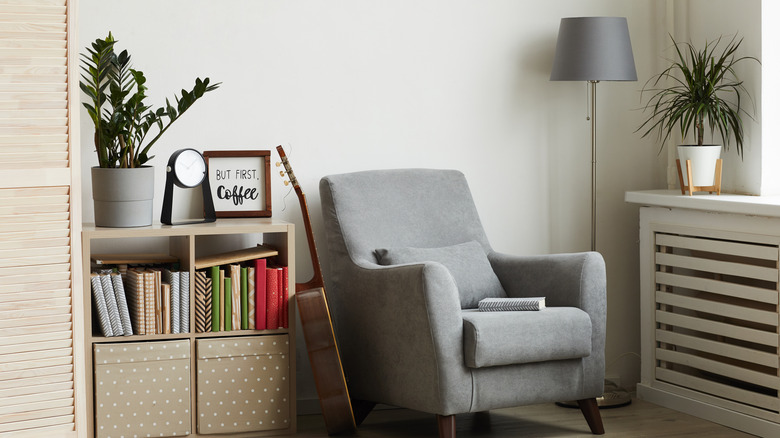 SeventyFour/Shutterstock
Adding personal touches to your space can make it feel more inviting. This space has cute signs and a guitar. 
4. Natural light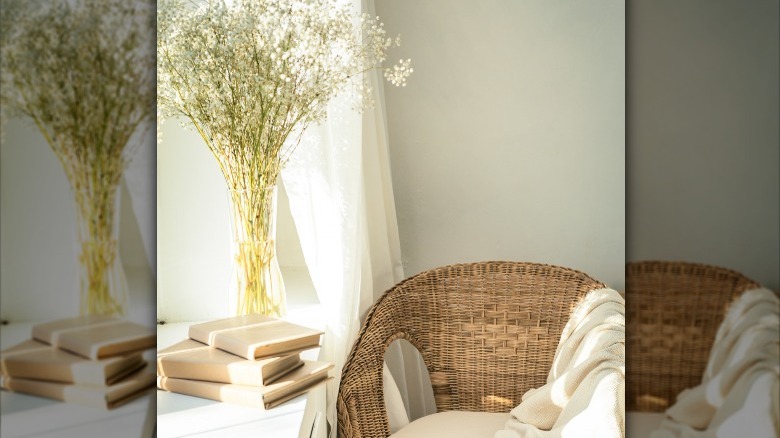 ganjalex/Shutterstock
Placing your nook before a window will provide your space with warm natural light and give you adequate light for reading. 
5. Airy setting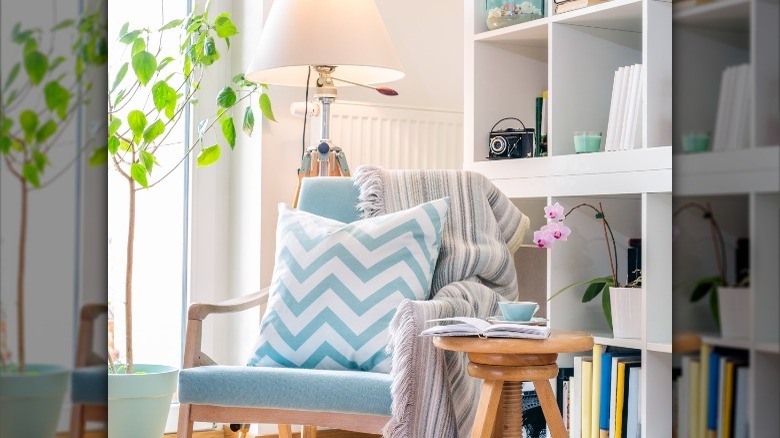 el lobo/Shutterstock
To make your nook feel airy, use pastel colors, white shades, and light wood elements. Also, include lots of natural light. 
6. Plant sanctuary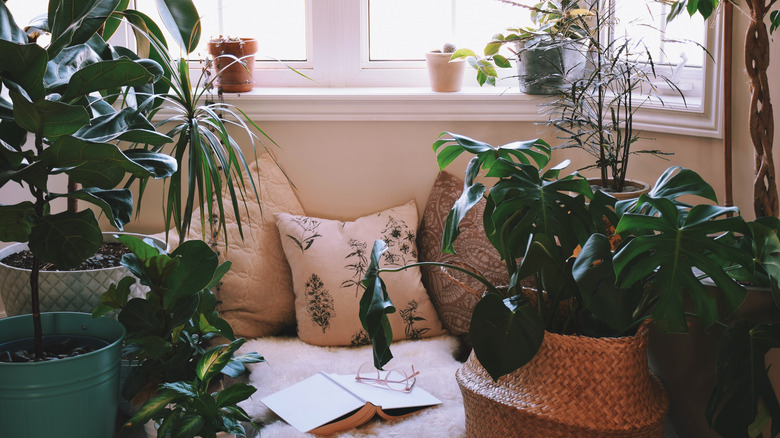 JulieK2/Shutterstock
Filling your space with plants can give it a lively and colorful appearance. If you're using real plants, position them in front of the window. 
7. Perfect place to lounge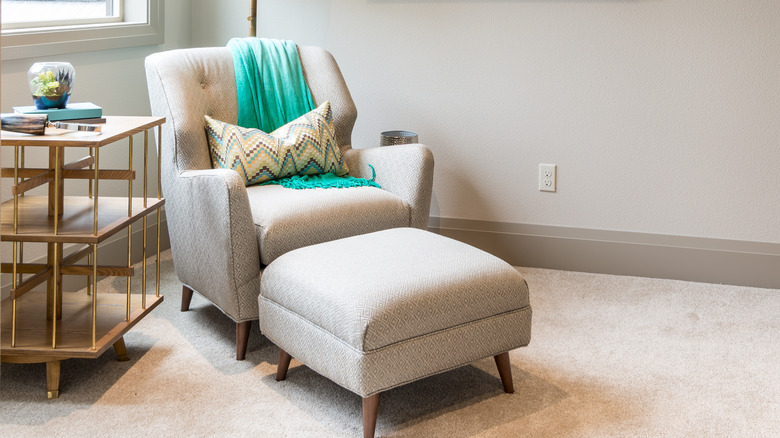 Breadmaker/Shutterstock
Adding a chair with a foot rest will provide the ideal place to kick up your feet and open up your favorite book. 
8. Walls made of windows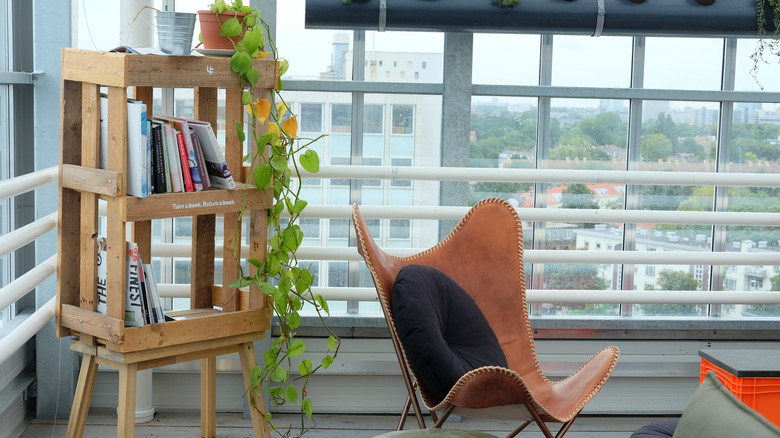 Naa Naa/Shutterstock
Large windows will provide lots of natural light in your space. However, you may want to face your chair away from the windows to ensure you're not easily distracted. 
9. Multiple chairs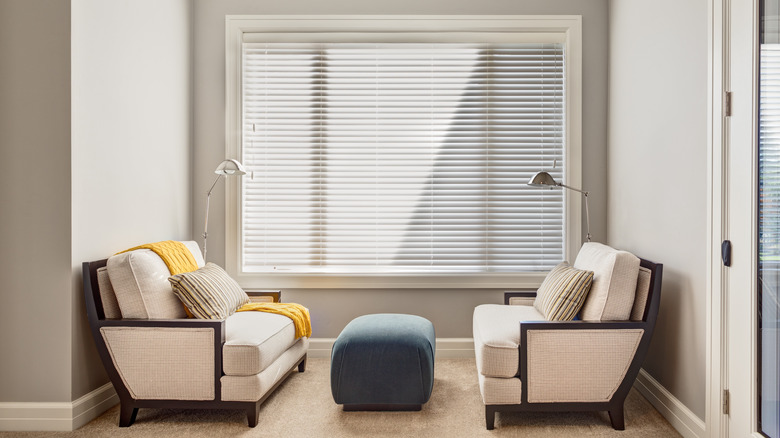 Breadmaker/Shutterstock
If you have multiple book lovers in your family, you could include two or more seating options in your reading nook. 
10. Vintage chair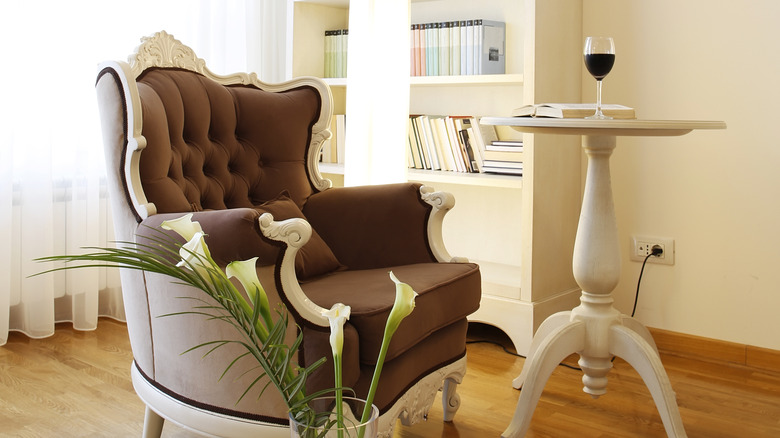 Basileus/Shutterstock
A vintage chair can make a nook feel more old-timey and rustic. This brown chair provides lots of character in this space.  
11. Combined with a home office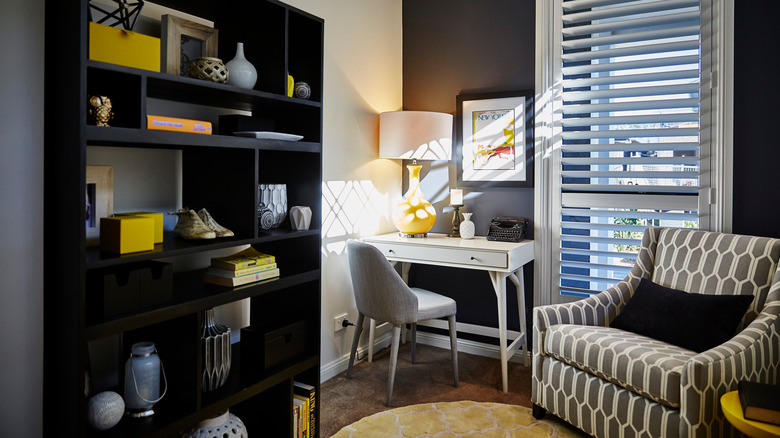 PhotoMavenStock/Shutterstock
A great place to add a reading nook is to a home office. To do this, simply position a comfy chair in the corner of your office. 
12. Lit with candles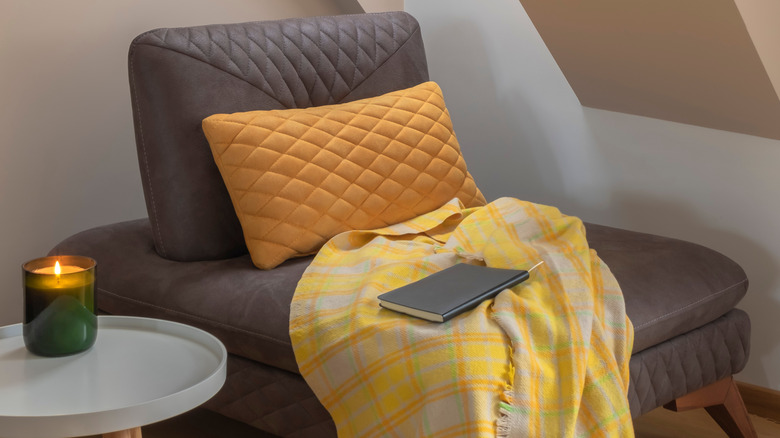 Milenova Elena/Shutterstock
Candles can illuminate a corner and make your space feel cozier. They will welcome you into the space and beg you to curl up with a book.  
13. Mixing textures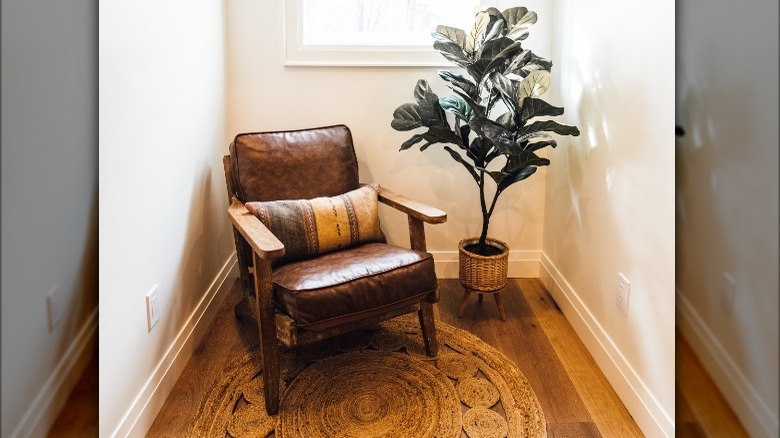 Jacob Marsh/Shutterstock
Mixing textures in a space can make it appear more interesting. For instance, pair a woven rug with a leather chair in your nook. 
14. Book storage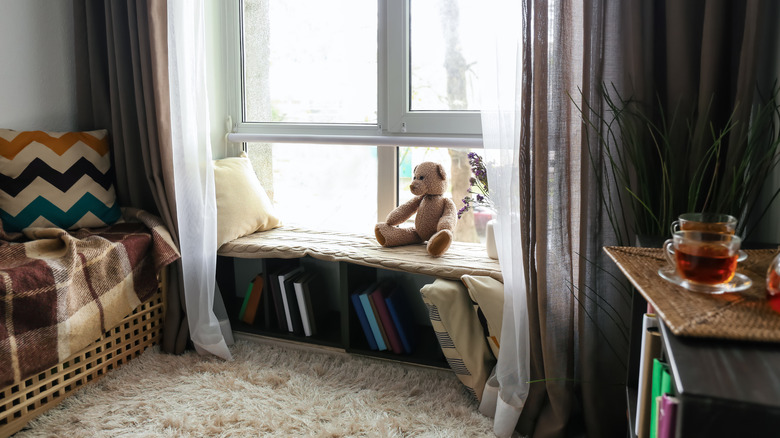 Pixel-Shot/Shutterstock
To include book storage in your reading nook, install a storage bench. This space looks extra cozy and inviting. 
15. Skylights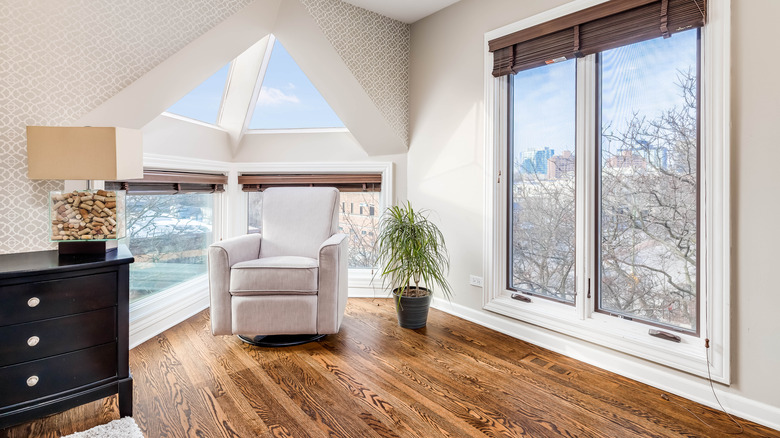 Hendrickson Photography/Shutterstock
Some homes include the perfect space for a reading nook. The above home is the perfect example. This uniquely designed corner with skylights and windows is the perfect place to sit down with a good book. 
16. Book backdrop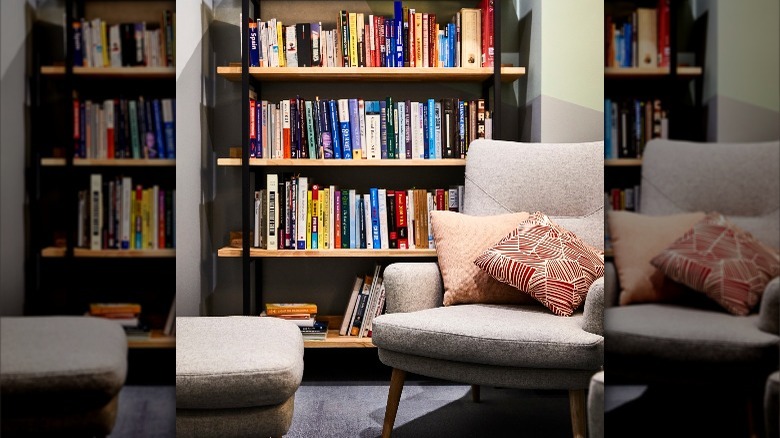 PhotoMavenStock/Shutterstock
Placing a bookshelf behind your reading chair and filling it with colorful pieces will transform your books into an art piece. It's important to put the bookshelf behind your chair. This will keep you from getting distracted by the colors and titles. 
17. Natural elements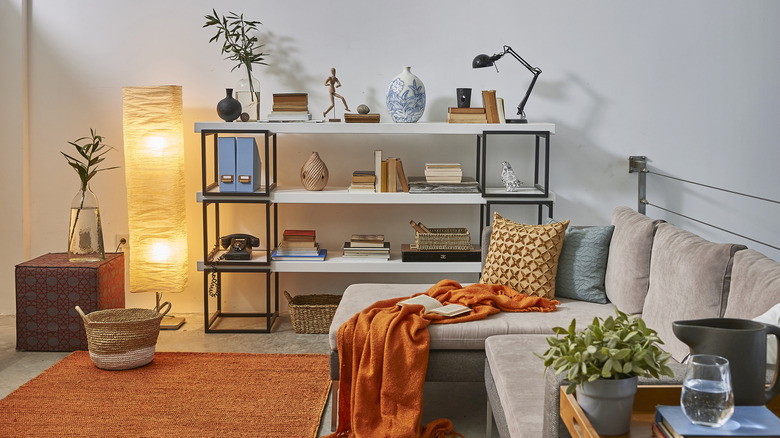 united photo studio/Shutterstock
Adding natural elements such as plants, wicker baskets, and items in earthy tones will make your space more inviting. 
18. Empty space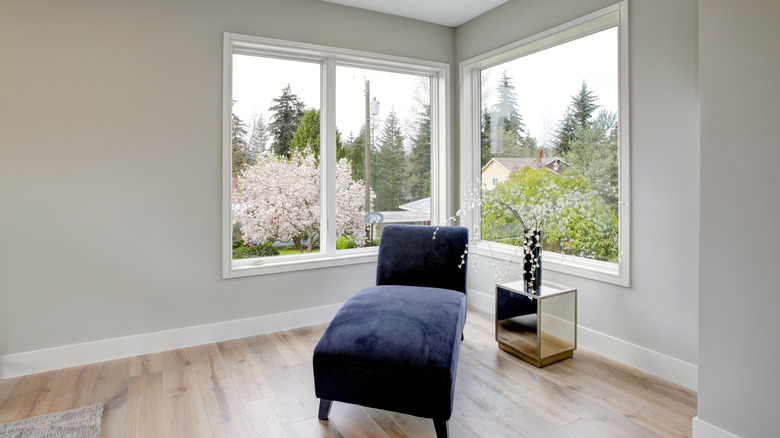 Artazum/Shutterstock
Empty space will keep your reading nook from feeling distracting or overwhelming. Just keeping the pieces you need the most, like a chair, lamp, and a side table, in the space is best. 
19. In the stairwell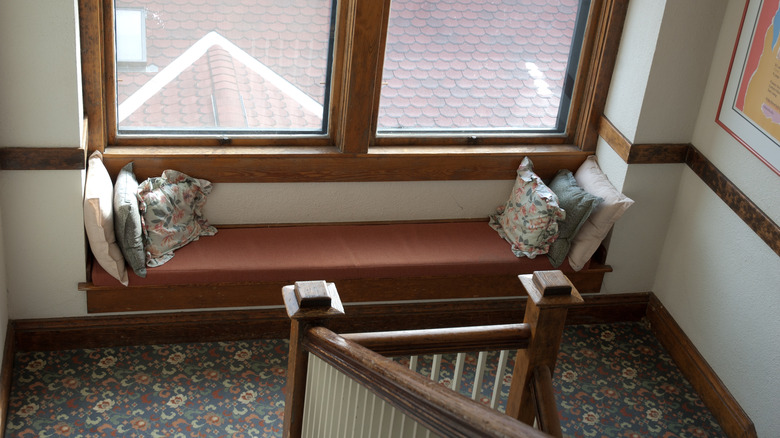 Linda Roberts/Shutterstock
If you're limited on space but have a large stairwell, you could add your reading nook there. This is especially ideal if you also have a large window in the space. 
20. Multiple places to read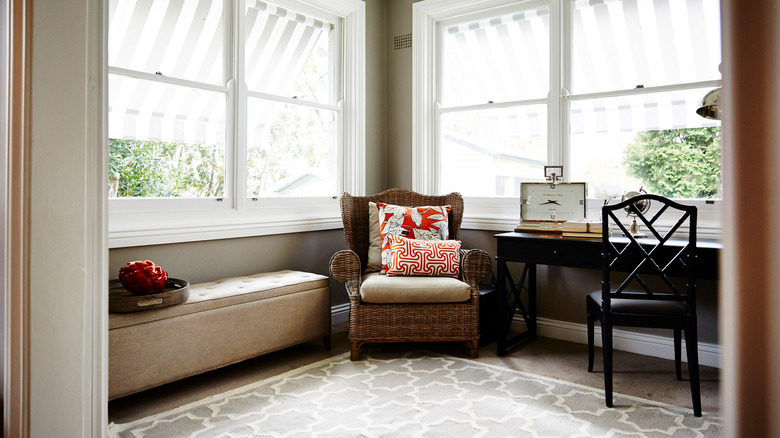 PhotoMavenStock/Shutterstock
Including multiple areas to read, like on a bench, chair, and desk, will allow you to switch up the spaces where you read often. This is a great option for those that get bored with routine. 
21. Under the stairs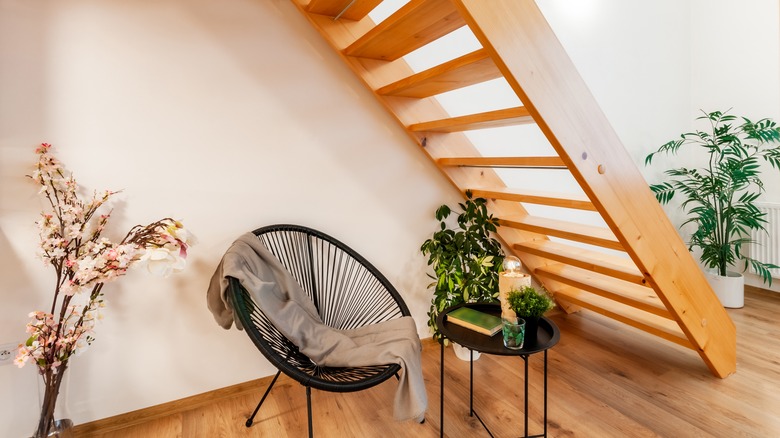 Zdena Venclik/Shutterstock
Underneath the staircase is a great place to add a reading nook. It transforms a typically unused space in your home into a functional and cozy space. 
22. Slanted ceiling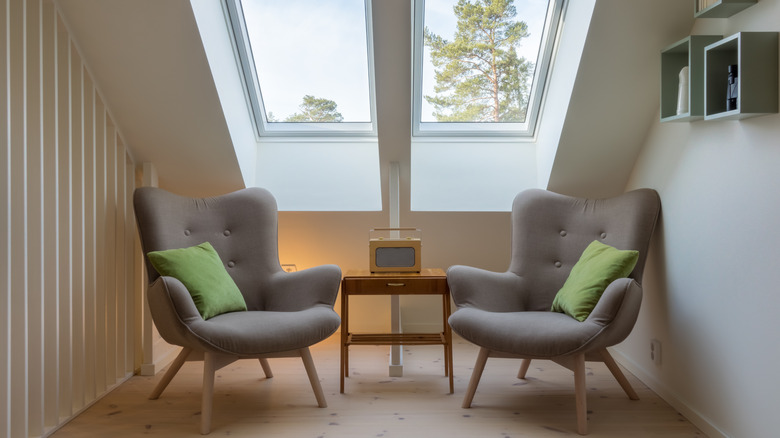 B.Forenius/Shutterstock
Spaces with slanted ceilings can also make reading nooks feel cozier. This is even more ideal if the area has large skylights for lots of natural reading light. 
23. Soothing color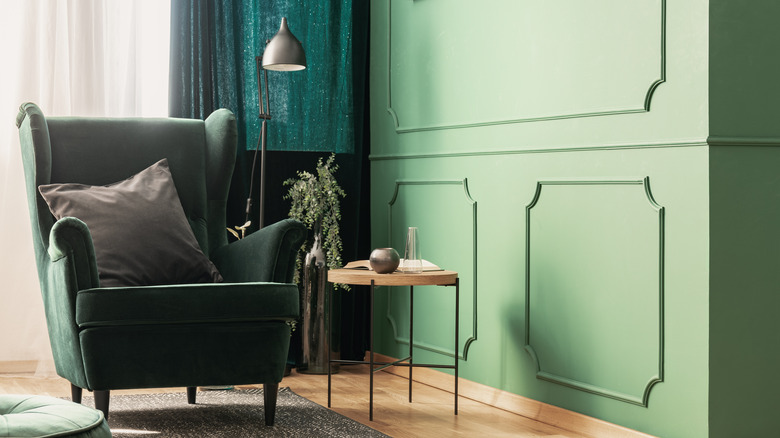 Photographee.eu/Shutterstock
Typically, reading nooks are painted a neutral white or gray shade to keep the space from feeling distracting. However, if you're comforted by color, you could paint your reading nook a soothing shade, like a soft green. 
24. Patterned pillows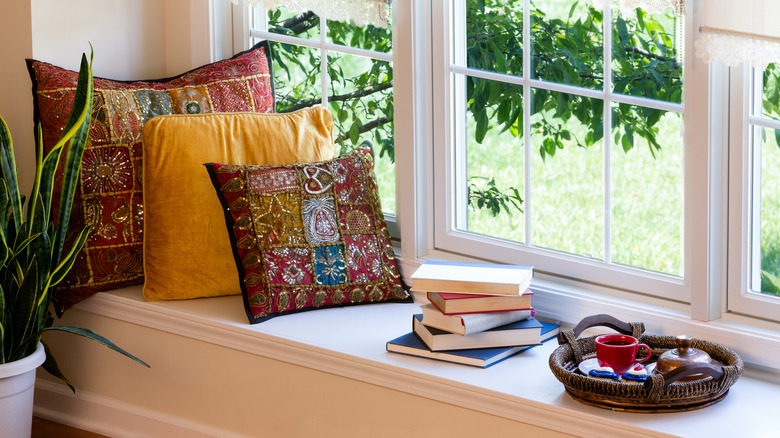 Ozgur Coskun/Shutterstock
Patterned pillows will add interest to your reading nook. They could be placed on a comfy chair or layered on a window sill. 
25. Bold chair
Creative Rabbit/Shutterstock
A bold chair can make a reading nook appear less bland. This yellow chair stands out in the neutral space. 
26. On the patio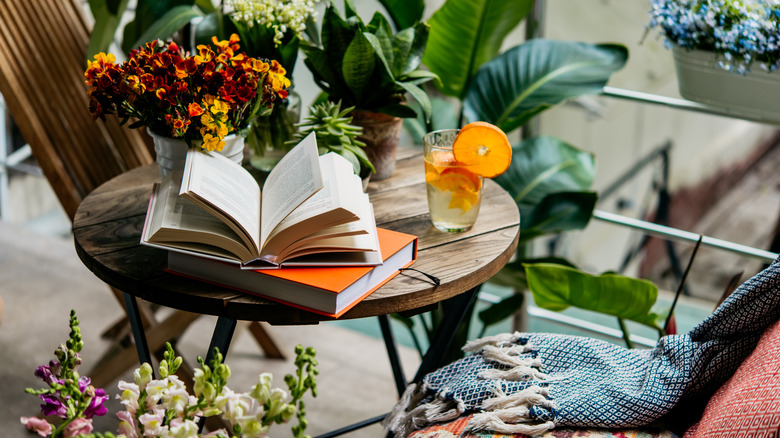 Yulia Grigoryeva/Shutterstock
If you don't have lots of space inside your home, you could transform the patio or deck into the perfect reading spot. Surrounding the area in plants and comfortable outdoor furniture will make it feel inviting. 
27. Boho design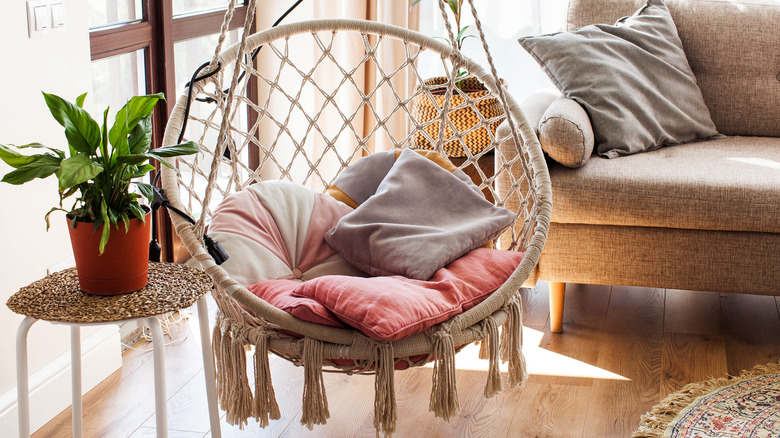 Kabachki.photo/Shutterstock
To make your reading nook feel boho, add a hanging chair with tassels, woven elements, rugs, and plants. 
28. Hammock corner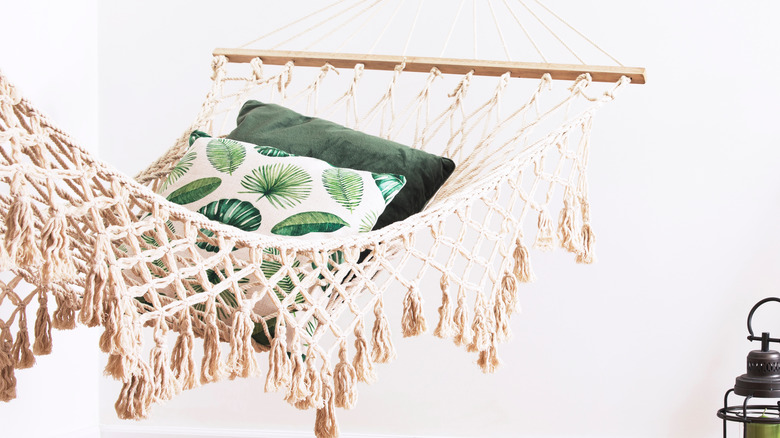 Followtheflow/Shutterstock
Adding a hammock to the corner could also create an extra cozy and relaxing reading nook. To add color and pattern, place pillows in the hammock. 
29. Stacked elements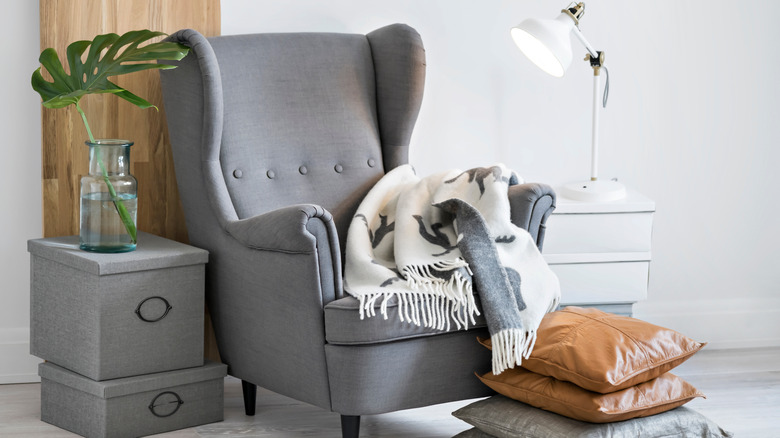 Shyrokova/Shutterstock
Stacking storage bins can transform them into a side table. Or, you could stack firm pillows to make them into a foot rest. 
30. Fun bookshelf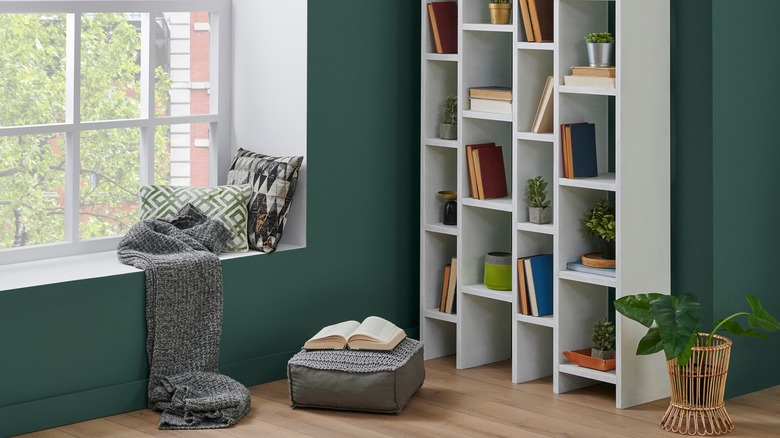 united photo studio/Shutterstock
Including a fun bookshelf in a reading nook can add interest and become the perfect opportunity to decorate with more than just books. Add plants and other knick knacks to personalize the space.