The TikTok Hack That Will Help You Organize Your Kitchen Supplies
Kitchens often get the most traffic in the home. Starting early in the morning at breakfast, it doesn't take much for a kitchen to become messy and unorganized. Professional organizer Hanna Banks tells Kitchen Distributors that both the social and functional aspects of the kitchen contribute to the room becoming overwhelmingly messy. Since it's a place where a lot of personalities gather and where there are a lot of moving parts, it's easy to lose a grip on the kitchen without an organizational system.
But that doesn't mean that your kitchen has to live in chaos. There are easy organizational hacks that you can employ in your kitchen right now to improve its function. One of the keys to good organization is using all the space you have, especially in smaller spaces. A woman on Tik Tok set out to reorganize her brother's kitchen and shared with her followers a great hack to organize common kitchen supplies.
Utilize cabinet doors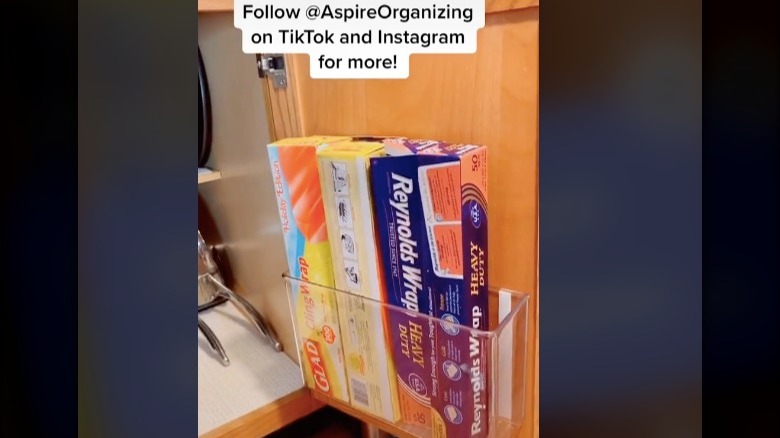 Tasha Miley, who goes by the username @aspireorganizing on the video-sharing platform Tik Tok, is currently sharing all the ways she's reorganizing her brother's kitchen. She starts this viral video by showing off her brother's drawer full of food wraps like aluminum foil and parchment paper. Her goal is to free up the drawer to be used for other kinds of storage. The cabinet has pots, pans, and baking sheets, but there is space inside the cabinet to have some storage on the door.
Miley found thin storage bins with adhesive strips that stick right on the inside of the cabinet door. This storage bin is perfect for holding tall thin boxes and utilizing every inch of cabinet space available. But you don't have to stop at boxes of parchment paper and sandwich bags. You can use this hack to store plenty of other kitchen essentials. From House to Home provided plenty of ideas for using the inside of a cabinet door to store measuring cups, lids for pots, pans and containers, spices, and cutting boards. Utilizing the cabinet doors affords you more space throughout the kitchen.
Free up drawer space
Drawers in the kitchen can easily become a catch-all of random items. This hack can help free up some drawer space, but it's important to make the most of it by utilizing drawer organization and storage solutions. To start the kitchen drawer organization, Modern Glam suggests removing everything and starting with an empty, blank space. Then measure your drawer space so you have the dimensions when buying organizers. Dividers are a great option to keep a drawer tidy. Use dividers to keep flatware, cookware, and serving utensils in their place.
Deep drawers are a great place to store larger items like pots, pans, and muffin tins. Stacking items like mixing bowls and casserole dishes can help save space. A drawer rack can make storage and retrieval easier, especially when items don't stack on top of each other easily. A drawer rack allows items to slide out easily, so they don't come tumbling down.