Ultimate Organization Ideas From The Founders Of The Home Edit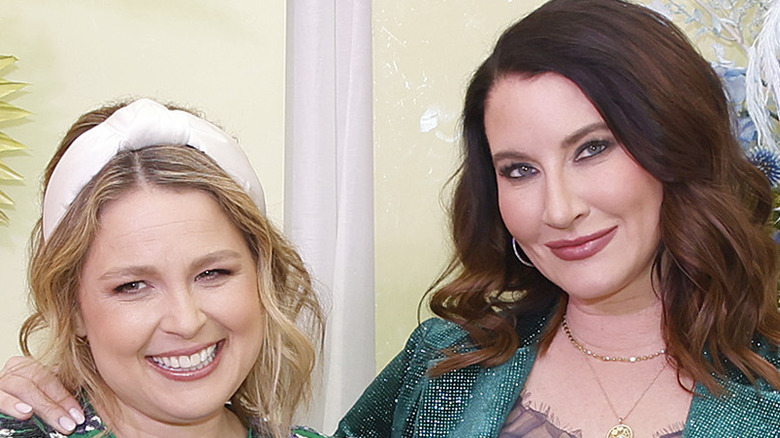 Katie Kauss/Getty Images
The founders of The Home Edit company, Clea Shearer and Joanna Teplin, are one of the top leading experts in the home organization space. The pair recently collaborated with iDesign on their own line of organizational products only available at The Container Store. Before that, they also co-authored "The Home Edit: A Guide to Organizing and Realizing Your House Goals" and starred in their own Netflix show, which just debuted its second season, according to Newsweek.
These businesswomen know how to get a house in order. Unfortunately, they can't visit everyone's home to redesign the flow of their pantry, office, or garage. That's why they share all of their best organizational tips with the world. You can make it look like Shearer and Teplin rearranged your space when they never set foot in your home. All you have to do is check out their pro tips here and take a trip to your local container store before giving your house the "Get Organized with The Home Edit" treatment.
Plan ahead and be realistic
One of the most helpful organization tips, as told by HGTV, is to plan ahead. Most people can't buy a few bins and lazy susans and immediately make their closet look perfectly tidy. The reality is that you'll need to take several measurements, a few photos, and spend lots of time researching before you ever make it out of the house. You need to envision your dream space before buying containers and putting your belongings into designated areas.
The Home Edit stars stress that you should take stock of your space in advance and know precisely how much you'll be fitting in there. Good planning will ensure that you only need to make one trip to the store to find the perfect organizers for your situation. All these considerations working together will also help you feel motivated to tackle the next project. If your first organizational success story feels great; all the ones to follow will be even better. And before you know it, your home can be compared to the likes of Khloe Kardashian and Gwyneth Paltrow.
Make organization easy
When you see beautifully organized celebrity homes online or on "Get Organized with The Home Edit," you may want your home to look exactly like them. However, HGTV warns that not every organizational method works for everyone. The Home Edit business partners make it clear that there is no wrong way to get organized, and what really matters is that you can commit to the methods you set out to use.
For example, if you decide to implement a daily organizer for all your shoes in your bedroom closet, you have to commit to storing them there each day. While this may work wonderfully for some, others who are used to kicking their shoes off at the front door will struggle to stay organized. Instead, the tidy pair would recommend implementing the footwear organizer closer to where they take their shoes off, such as in a front closet or an entryway storage bench. During the planning stages of your reorganization, think about your daily movement and how much time you have to put things in the correct places. The best way to make sure that you can commit to an organizational plan is to keep it simple.