The One Retailer Nearly 30% Of People Prefer For Home Decor Shopping
Grisha Bruev/Shutterstock
We may receive a commission on purchases made from links.
For those who love interior design, shopping for home décor pieces can be an extremely fun experience. Choosing exactly what you want to display in your home and then getting to style those pieces is one of the most enjoyable ways to show off your creativity.
There are two ways to shop for home décor, and both come with their own pros and cons. The first way is shopping in a physical store. This provides you with the ability to see and touch your pieces before purchasing. However, in-store options are typically limited. The other option is to shop online. This method will provide you with more options, but you won't be able to physically see the pieces until they arrive at your doorstep.
House Digest recently asked 596 people where they prefer to shop for home décor. The available options mixed physical stores with those that are only online. They included Target, Amazon, HomeGoods, Wayfair, Anthropologie, and Walmart. One of these retailers got almost 30% of the vote, and the results may shock you.
The most popular retailer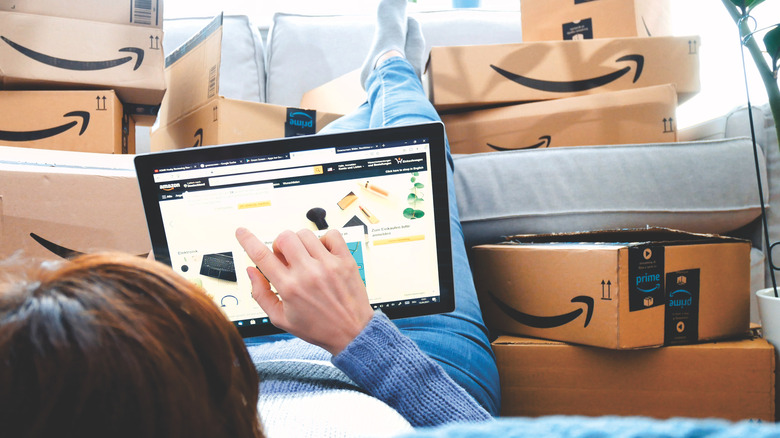 Elpisterra/Shutterstock
Almost 30% and 176 participants chose Amazon as their favorite place to shop for home décor. This may be shocking, as Amazon products can only be bought online and not in a physical store. However, Amazon is very convenient, which may be part of the appeal. When shopping with an Amazon Prime account, you get the luxury of fast shipping and extensive options. According to Cheapism, many of the home décor items they sell come at a reasonable price, too. And, Amazon's website makes it easy to find pieces you'll love. They have options to shop by category, by specific style, or by room.
Because there are so many options on Amazon, just about anything you want can be found on this site. To make it easier for shoppers, there are many articles listing the best items to buy. For example, Elle Decor listed the 15 best items to buy during Amazon Prime Day, a big savings event. The convenience of shopping from these curated lists may also be part of the appeal of buying home décor on Amazon.
The other retailers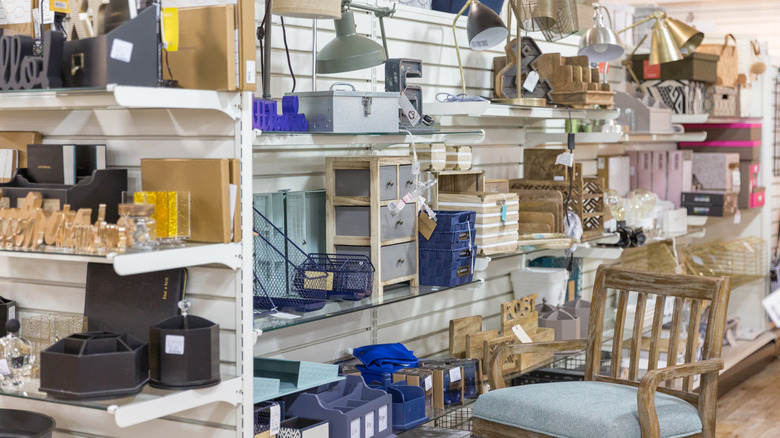 Helen89/Shutterstock
The next most popular place to buy home décor pieces was HomeGoods, which 27% (161) of participants chose. As HomeGoods says on their website, this store is not about buying; it's about finding. This is probably part of the appeal of this retailer. The pieces are always changing, so you never know what you're going to find. HomeGoods has both physical stores and an online store, so you have options about how you want to shop. However, probably the best thing about HomeGoods is that they sell name-brand items at a much lower price.
After HomeGoods came Target, which over 16% (98) of participants chose. This may come as a surprise to you since Target is a very popular retailer with both a physical and an online store. They also have a number of items at different price ranges. But their options just can't beat Amazon, and their prices can't beat HomeGoods.
Next was Wayfair, an online décor and furniture store, which 13% (78) of the people chose. Anthropologie came next, which 7% (42) of participants chose. Finally, Walmart was last, which almost 7% (41) of people chose.