Shea McGee Reveals How To Mix And Match Like A Pro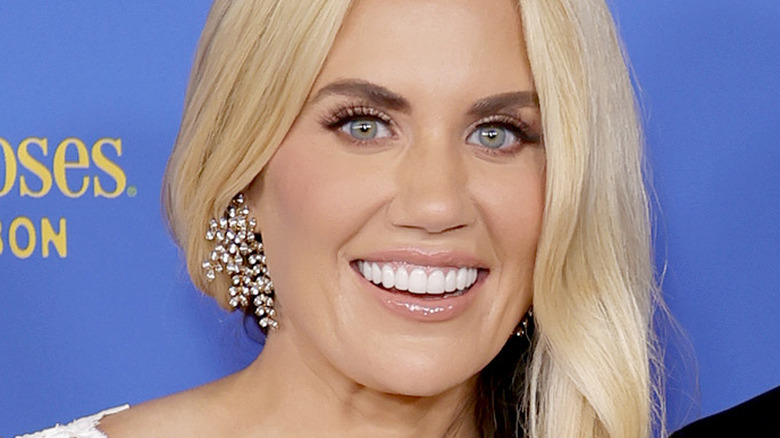 Frazer Harrison/Getty Images
Fans have fallen in love with the designs on Netflix's "Dream Home Makeover." Shea McGee of Studio McGee has become known for her cozy interiors that pull inspiration from a variety of styles. McGee's personal style is often defined as a mixture of classic, modern, and rustic, and she has become a master of mixing pieces to create an exciting space. 
In contrast to mixing furniture, a room that is too matchy can feel bland. For this reason, Studio McGee advises against buying furniture in sets. They say that despite how easy sets make it to furnish your home, mismatched yet cohesive pieces are more thoughtful and have an elevated appearance. Simply put, a room can feel one note and lack visual interest when all your furniture pieces look the same. Mixing and matching items can give a space more character, creating a unique design that allows your personality to shine. Here is how Shea McGee mixes furniture like a pro to get an exciting space.
Cohesive but not duplicates
Followtheflow/Shutterstock
Shea McGee likes to aim for pieces that are cohesive together but not duplicates. For example, your nightstands can match for symmetry but look for a dresser and bed from a different set. This rule goes for all large furniture pieces like coffee tables and sofas or dining room sets. But you can also apply it to smaller decor items like vases and picture frames. Instead of buying three of the same vase or picture frame, mix them up and create a cohesive yet eclectic collection.
Interior designer Caitlin Flemming told The Effortless Chic that you can achieve this look by not decorating your space all at once. Instead, let your decorating evolve over time. Bring in new items and change things around to create variety in a room. Mixing old antiques and new modern pieces also helps balance out a space, providing that cohesive look that professionals love.
Mix size and texture with consistent colors
Another way to achieve a more interesting look is by mixing the size and texture of your pieces. This works particularly well with decorative items. When considering decor like wall art, throw pillows, and vases, opt for different sizes and shapes that create a unique look when paired together. For example, vases of different heights and shapes will look more interesting than multiples of the same vase.
Studio McGee notes that using a consistent color palette to make these items feel connected even if they don't match. If you use gold as an accent throughout your home, a gold mirror and a gold lamp might not be from the same collection, but they'll both look like they belong in the overall design.
Texture is also essential to make the space look visually exciting and finished. Amara says to add a variation of hard, soft, rough, and smooth surfaces into a room for an exciting look. Rattan and wicker pieces can add a ton of texture while adding a natural element. The graining on a wood table can also add texture, even if the finish is smooth. Layering blankets that are knit or plush together is another simple way to add texture to a space.