Get Inspired By These Eye Catching Yellow Front Door Ideas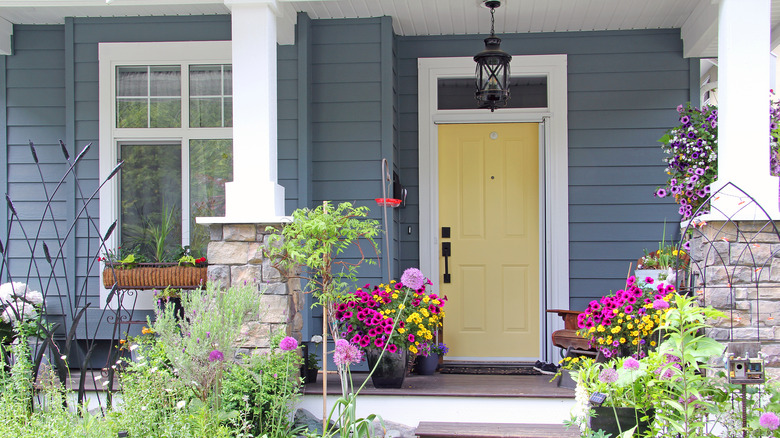 Hannamariah/Shutterstock
When you think about happiness, perhaps you picture an image of something yellow. Maybe you think about the sun, or a smiley face, or fresh spring flowers -– all yellow things. According to Color Matters, almost everyone associates the color yellow with optimism, creativity, and enlightenment. It's a very beautiful and positive color.
However, yellow also has connotations with caution. It's used to alert people of road signs or toxic materials. This is because this color is extremely eye-catching. Its bold and vibrant appearance draws attention. Because of this, when used to design a home, yellow should only be used in small doses. A great place to use yellow paint is on your front door. Window World says that a yellow front door tells your guests that the inside of your home is fun and positive –- and that you are these things, too. Below are 15 yellow doors to get you inspired to paint your own front door.
1. Pastel yellow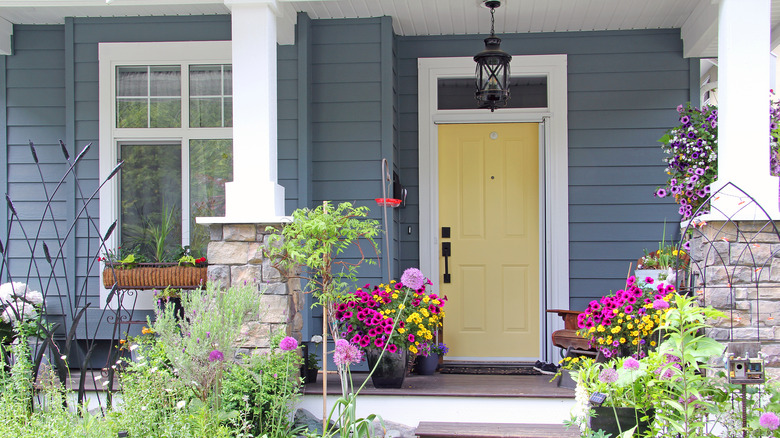 Hannamariah/Shutterstock
Using a pastel yellow shade on your front door will give your home a soft and delicate appearance. Pastel yellow is less bold than other shades of yellow because it's muted and light. Pairing yellow with white and blue-gray will give it a sophisticated look. 
2. Contrasting colors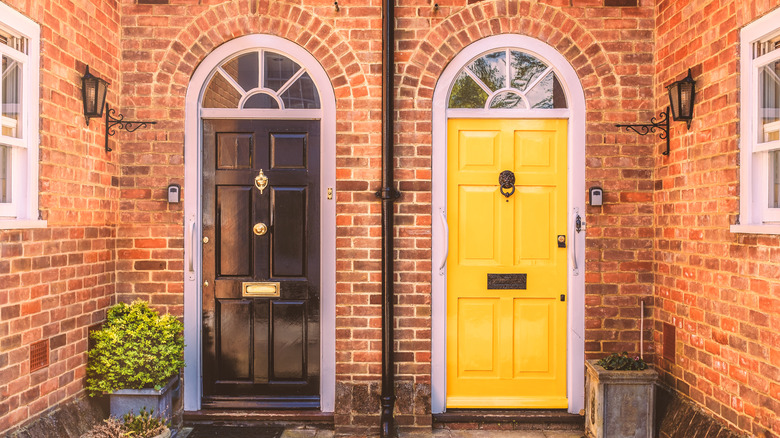 Christine Bird/Shutterstock
If you have a red brick house, painting your door yellow will create a beautiful contrast. A bright yellow shade would work best on a brick house because it should stand out against the boldness of the bricks. 
3. Lemon hue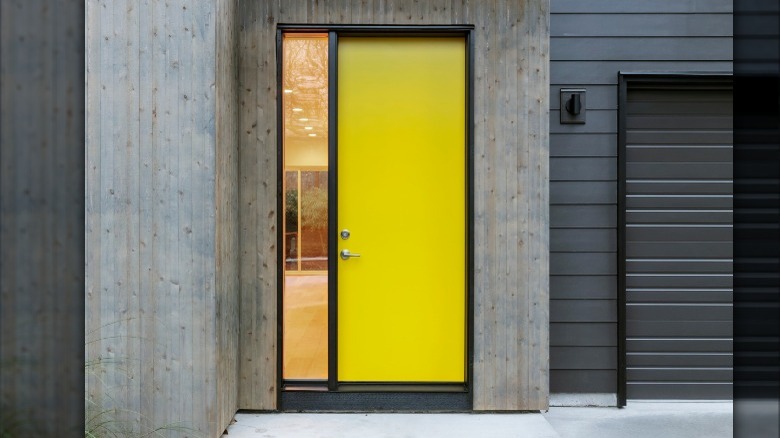 David Papazian/Shutterstock
Lemon yellow shades are vibrant. This modern home is all gray, wood, and glass, which allows the lemon hue on the front door to really pop. 
4. Soft shade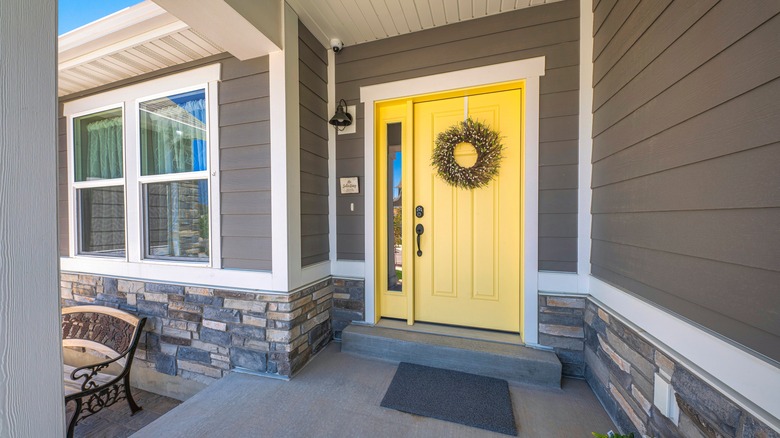 Jason Finn/Shutterstock
A softer and lighter tone will give your home a new and fresh appearance. This yellow door creates a nice contrast with the dark home color and the natural stone border.  
5. Daffodil door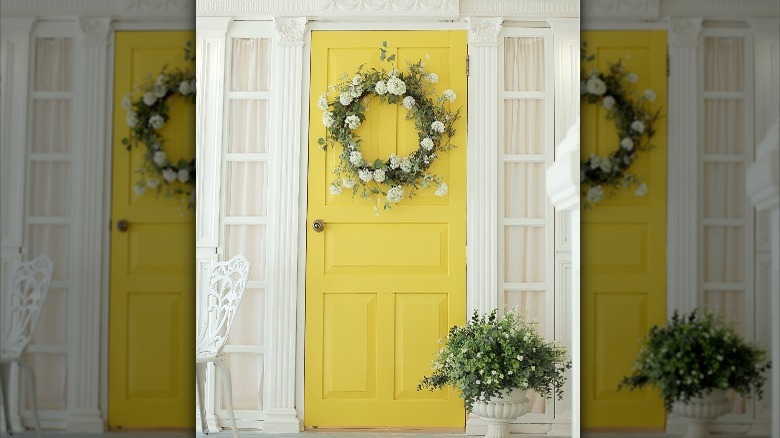 shyshechka/Shutterstock
To bring out the floral connotations in yellow, choose a mellow yellow hue and decorate it with flowers and greenery. This yellow door reminds the onlooker of delicate daffodils. 
6. Bold appearance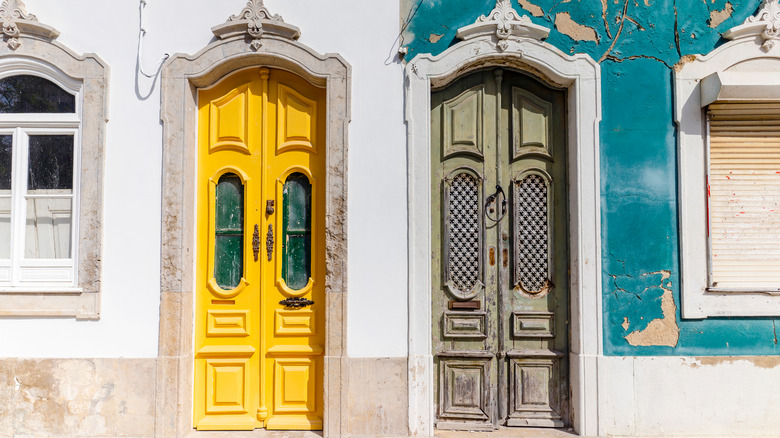 Sopotnicki/Shutterstock
Painting a traditional door a bright yellow color will give your home an unexpected appearance. To make your door really stand out, choose a bold and vibrant shade. 
7. Bright bumblebee door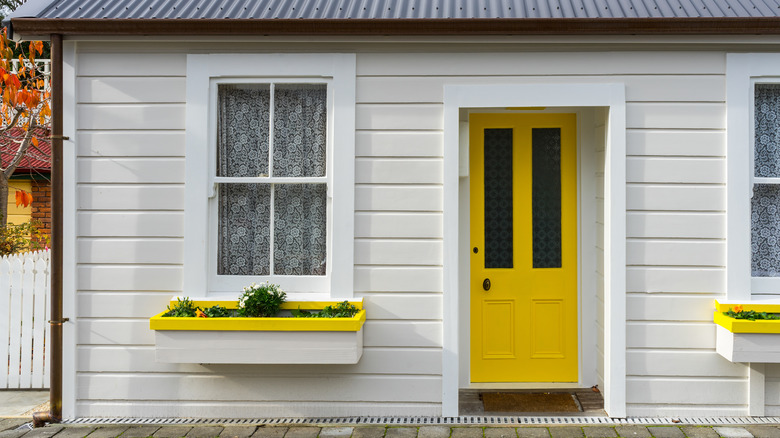 Naruedom Yaempongsa/Shutterstock
To make your door appear brighter, surround it in all white or light shades. This bumblebee yellow door looks vibrant against the white home exterior.  
8. Muted yellow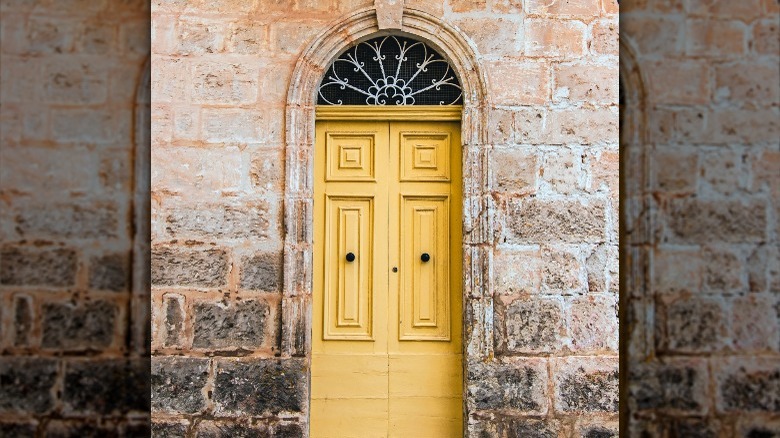 SDebono/Shutterstock
A muted yellow hue gives a less bold but still very beautiful appearance. This vintage door looks elegant in this subtle shade. 
9. Orange-yellow home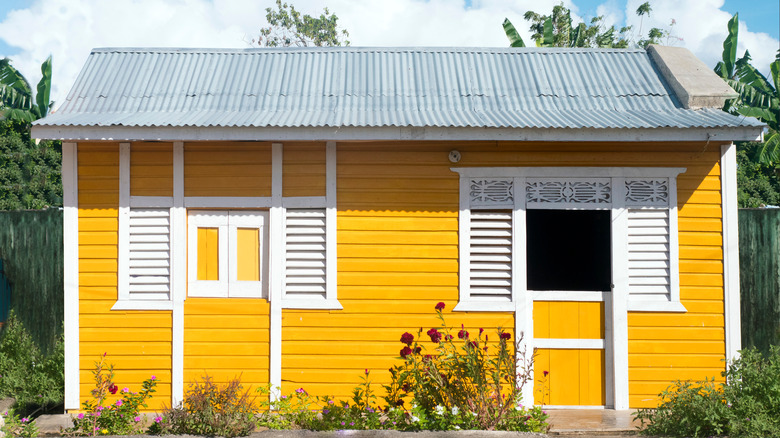 Balifilm/Shutterstock
To make your home really stand out, you could paint the whole exterior yellow. This would work best on smaller homes. This home has been painted a dark orange-yellow tone. 
10. Sunshine shade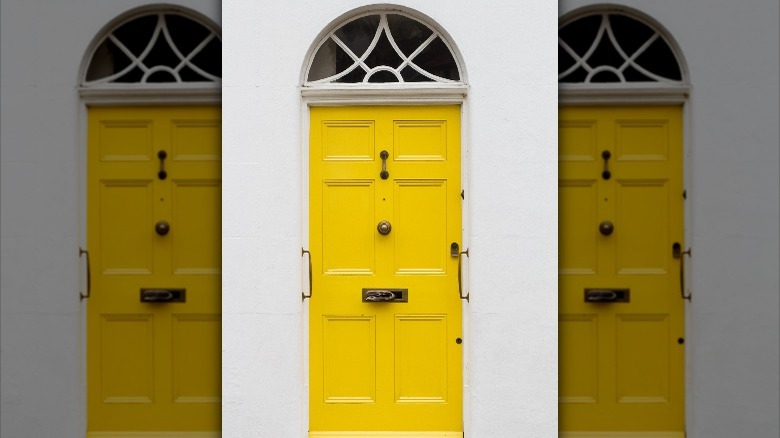 macondo/Shutterstock
This door is surrounded by white, which makes the bright sunshine yellow shade really stand out. Including a window above your door will allow literal sunshine to pour into your home. 
11. Butterscotch hue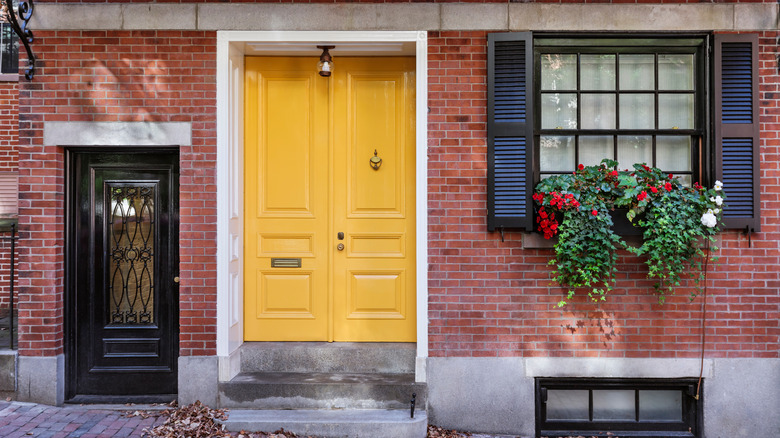 David Papazian/Shutterstock
Muted orange-yellow colors look like butterscotch candy. This shade is extra fun and playful and looks great against the red bricks. 
12. Mustard yellow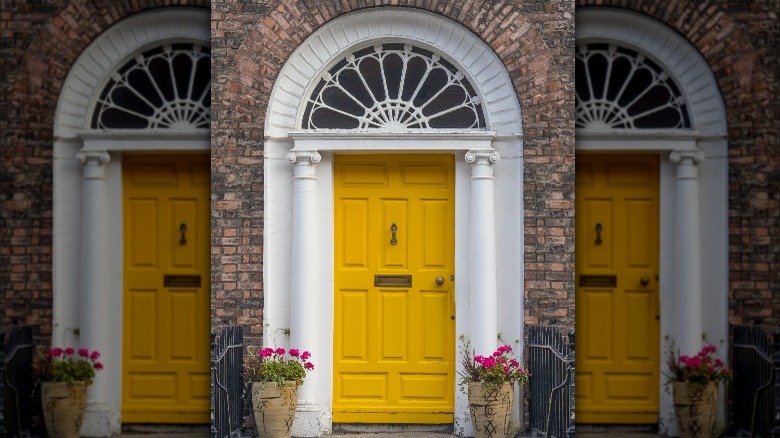 Paul Vowles/Shutterstock
This mustard yellow shade is dark with slight brown undertones. It looks extremely bold against the muted bricks and white pillars on this home. 
13. Vibrant tone
Jackson Stock Photography/Shutterstock
A dark yellow will look extra vibrant when painted on a charcoal gray house exterior. Pairing dark yellow with dark gray will create a chic appearance. 
14. Bright border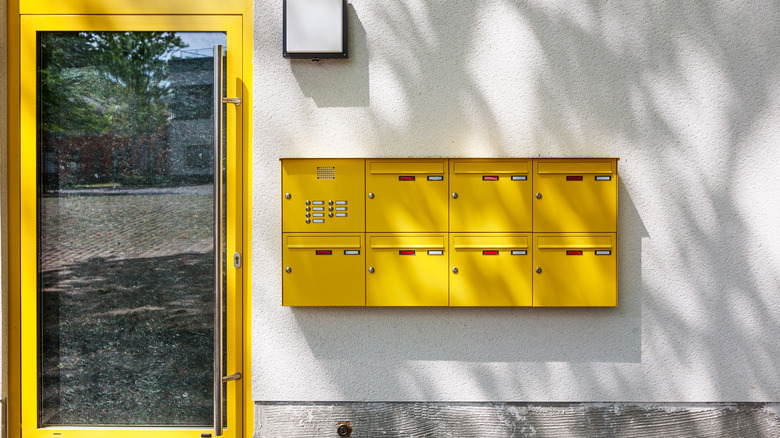 Irina Fischer/Shutterstock
For a less obvious but still bold look, surround a glass door in yellow paint. To make a statement, choose a bold and dark hue. 
15. Sunflower shade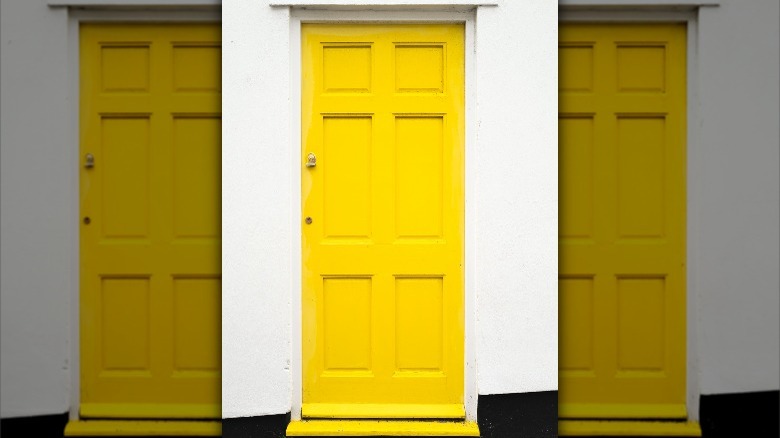 Christine Bird/Shutterstock
Yellow can also remind the viewer of beautiful sunflowers. When a sunflower shade is painted on your front door, it will give your home a lively and gorgeous appearance.