Here's Why You Should Ditch Your TV And Switch To A Projector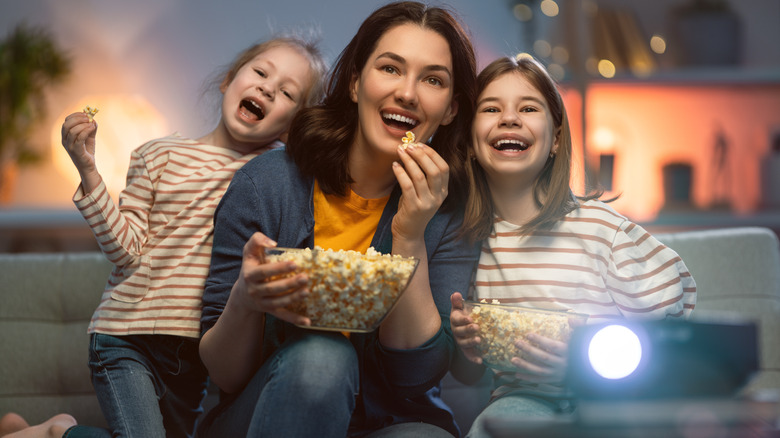 Yuganov Konstantin/Shutterstock
Long gone are the times of tiny black and white televisions tucked in a corner and used sparingly throughout the day. Now, it seems people are impressed by the massive flat screens that adorn living rooms, garages, and basements. You can even find lush backyard patio areas with a big screen these days.
A big television can come in clutch when having guests over for a big game or a streaming party for a popular show's latest episode. However, televisions come at a cost the larger you get. According to CNET, the average price of a TV is $500, though more and more Americans are spending upwards of $1,500. When you get into bigger screens such as 75-inches, you can expect those prices to rise depending on the brand name and whether it has smart TV capabilities. But bigger is not necessarily better. You then have to factor in the wall room it takes to hold such a unit. Not to mention the decision on whether or not you want the screen to be the main focus of the room. Design and decor should come into play when choosing a new entertainment unit to avoid mistakes. This is where the appeal of the projector comes into play. Here are some ways a projector could be the perfect replacement for your current TV.
Projectors take up less room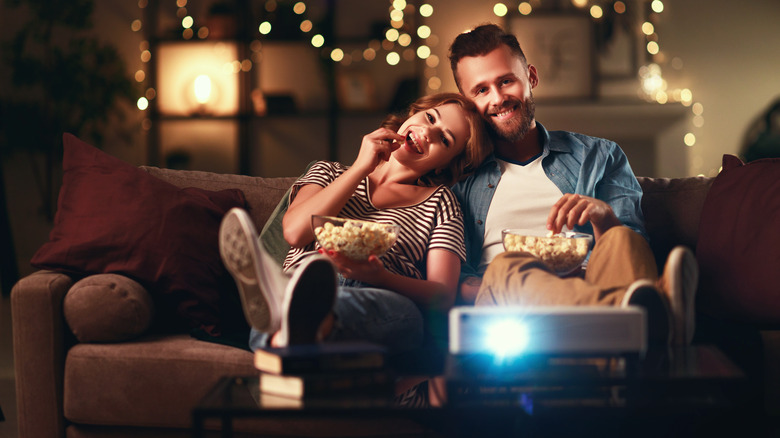 Evgeny Atamanenko/Shutterstock
If you're looking for or already have a big screen TV, you know there has to be some compromise on where you can place it. This may require you to purchase an entertainment unit to place your TV on or install a wall mount to secure it safely in a room. Although there are plenty of brilliant ways to hide your TV, some may not have the space needed for oversized items. Also, if you value your home's overall look and ambiance, you wouldn't want a huge hulking television set throwing off the vibe you so carefully put together.
Projectors, on the other hand, are typically smaller units that can either be mounted to your ceiling or perched on a shelf across the room. Closer wide-casting projectors can even be placed right near the wall. In some cases, you may have a screen affixed to a wall of your choice; however, you can just as easily cast the images onto a white sheet or even a bare wall. Luckily, just by moving the unit, you can adjust the image size to fit your liking, according to Rolling Stone. Whether you have a large home or a small apartment, there's a projection unit out there ideal for your space instead of going through the hassle of working your room to suit a large television.
Projectors are conveniently portable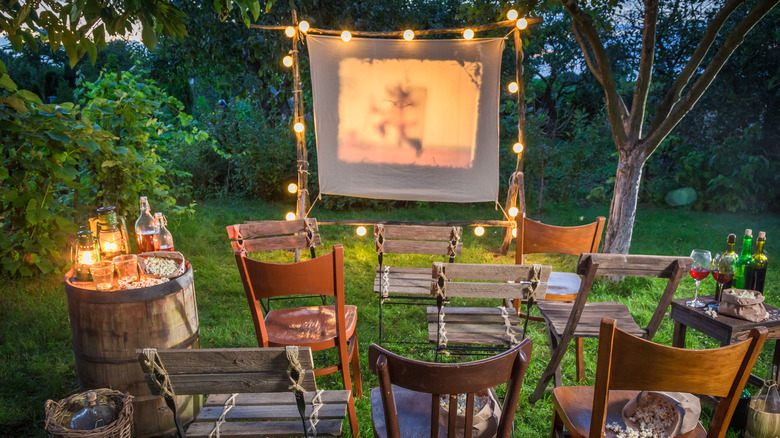 Shaiith/Shutterstock
Televisions can cause some headaches when it comes to interior design. If you're an avid TV watcher, you might find that the habit seeps into different spaces around your home. Soon you will have a TV in your bedroom, playroom, basement, backyard patio, and even your bathroom. Where does the madness stop? Fortunately, if you want to stop the escalation of television units invading your homestead but don't want to miss any of your favorite programs, there could be a convenient solution for you.
Projectors are lightweight and portable, which means that you can move these units wherever you want. There are also plenty of mini-projector options that allow you to set up a watch party in any room you choose, as noted by The New York Times. Having one high-quality projector can help you replace several large TVs in your home. Even if you want to design your own home theatre room, using a projector instead of a huge big screen TV can save you some extra wall space. As a bonus, if you want an outdoor movie-watching experience under the stars or on a nice summer day, you can place that unit outside and cast it to a portable screen or painted wall instead of lugging around a gigantic television.