How To Know If A Wood-Burning Stove Is The Right Option For Your Home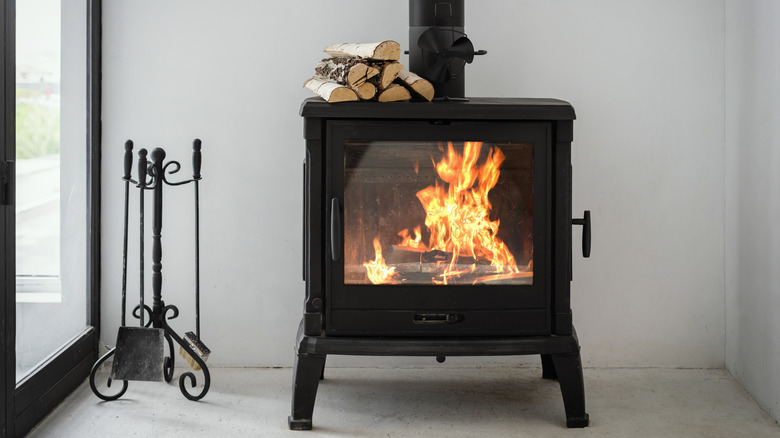 brizmaker/Shutterstock
It's safe to say that a wood-burning stove adds a special kind of old charm to a home. Is it, however, the right fit for your house? According to InterNACHI, a heating device built of iron or steel that can burn wood fuel is referred to as a wood-burning stove or wood stove. In contrast to traditional fireplaces, wood stoves are often housed inside the living room rather than being built into the wall. They also come in different sizes. Small burners are appropriate for single rooms or seasonal cottages, while medium-sized stoves are perfect for heating small or average-sized, ecologically friendly houses. Big stoves are common in large or old homes.
Now that you know and can identify a wood-burning stove, let's figure out if it's suitable for your home. We've explored some of the pros, cons, and additional information you might like to know about wood-burning stoves so you can make an informed decision.
Pros and Cons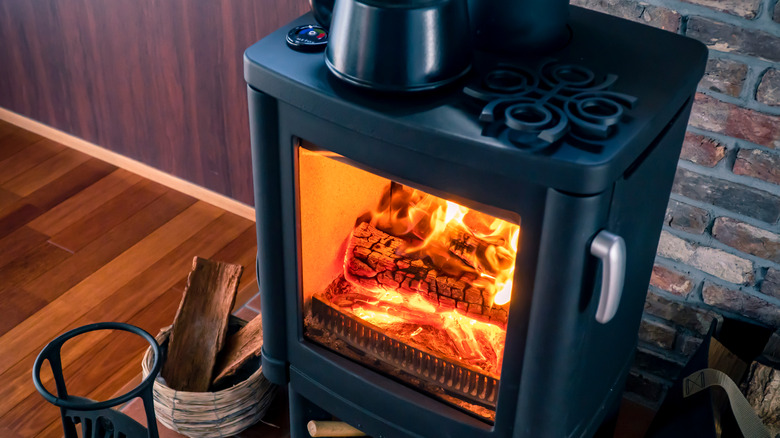 korinnna/Shutterstock
As Phoenix Fireplaces explains, a wood-burning stove is ideal for supplemental heat in the winter, noting that wood produces more effective and longer-lasting heat than radiators or underfloor heating. What's more, an efficient wood-burning stove costs a third as much as electric heating and 13% less than central gas heating for the typical home. They are also great for your mental well-being and promote quality family time because they create a cozy environment. Also, wood-burning stoves are an environmentally friendly option as they use renewable energy.
As with everything, however, wood-burning stoves also come with a few downsides. According to Fireplace Universe, they can be quite an investment. Wood-burning stoves can cost anywhere from $1000 or more, so unless you're ready to invest that kind of money, it may not be the best option. Also, apart from purchasing costs, there will be that of installation. In some instances, you may be able to install it yourself, and it wouldn't cost you anything, but this isn't always the case. They also note that having small children or pets can be dangerous because a wood stove may become quite hot.
Types of wood stoves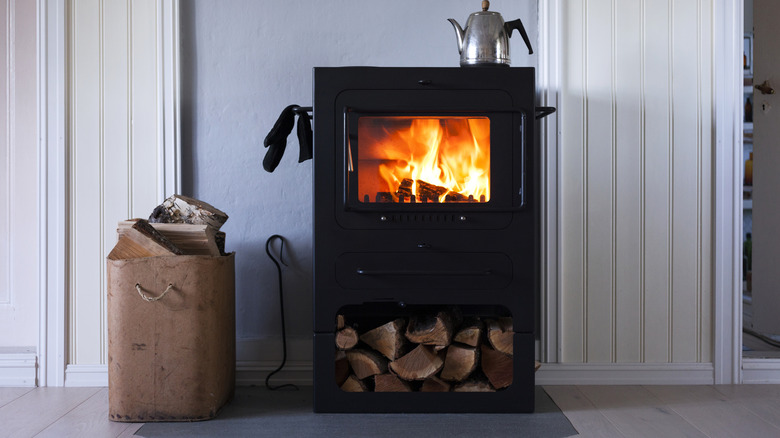 Ingrid Maasik/Shutterstock
Best Pick Reports notes that two types of wood-burning stoves are primarily used. The first is catalytic wood stoves, which feature a ceramic, hexagonally shaped item that combusts all the gasses and solids from the wood as it burns. This vital piece requires regular assessment and replacement. If you use your wood-burning stove correctly, the catalytic combustor plate can last six years. They are known to provide greater heat and fewer emissions. The second type is non-catalytic wood stoves. They are much cheaper and require less maintenance than catalytic wood stoves. However, non-catalytic stoves produce more emissions.
The Home Depot explains that you should consider a few factors before deciding on a wood-burning stove. For example, some stoves can be fueled with firewood, whereas others can use wooden pellets. Also, if you place one in your home, make sure it suits the space. It should ideally pair well with the aesthetic in your house and be a size that's not too big or too small. You should also make sure it's located in a place where it can evenly spread its heat.