Get Inspired With These 20 Large Pools For Big Backyards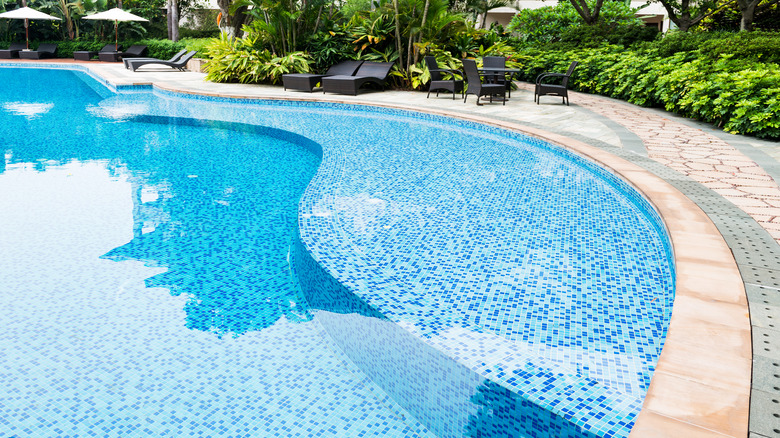 hxdbzxy/Shutterstock
A massive backyard with plenty of room for a large pool can be a dream for many homeowners. If you have the space, you can choose an extensive layout for your pool, a deck with seating, a slew of lounge chairs for sunbathing, and even an elaborate outdoor kitchen — the sky's the limit.
A backyard pool setting is perfect for outdoor entertaining and for large gatherings. Some luxurious amenities for your pool might include custom tile, fire water features, spacious decks, LED lighting, a sunken fire pit for late-night s'mores, and a swim-up bar for all-out ballers.
Before you decide on getting a pool, though, an essential part is to decide on the size, and the average size of a larger pool, according to Odyssey Pools, is 20 feet by 40 feet. So with that in mind, here are 20 large pool designs for the backyards large enough to hold them.
1. A pool for a goddess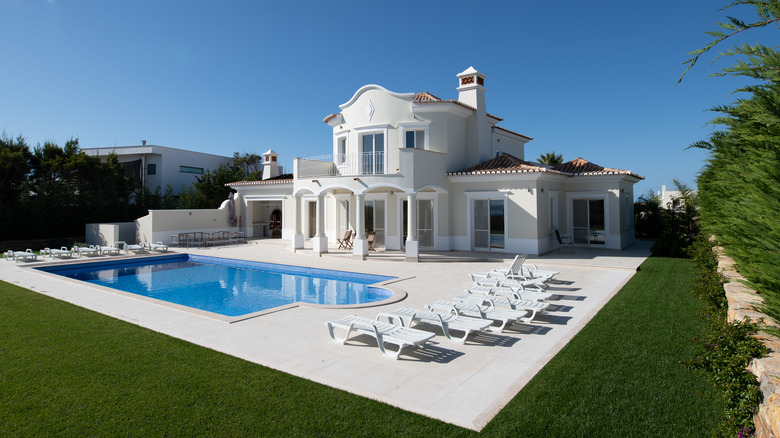 Cmspic/Shutterstock
This sprawling abode is gorgeous and features a massive pool in the backyard that reminds us of a Greece vacation. The large, concrete deck has plenty of space for several crisp white lounge chairs for friends or family to enjoy.
2. Backyard oasis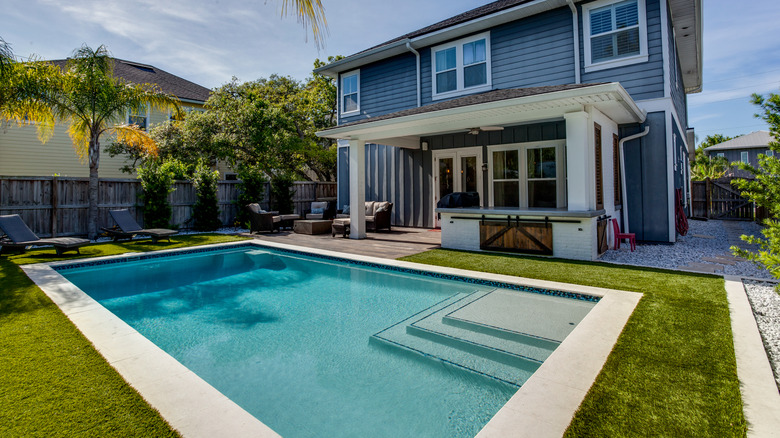 Pipas Imagery/Shutterstock
This modern pool has clean lines and is the perfect size for entertaining. There's even room for an outdoor bar and seating under the trees.
3. A unique shape looks outstanding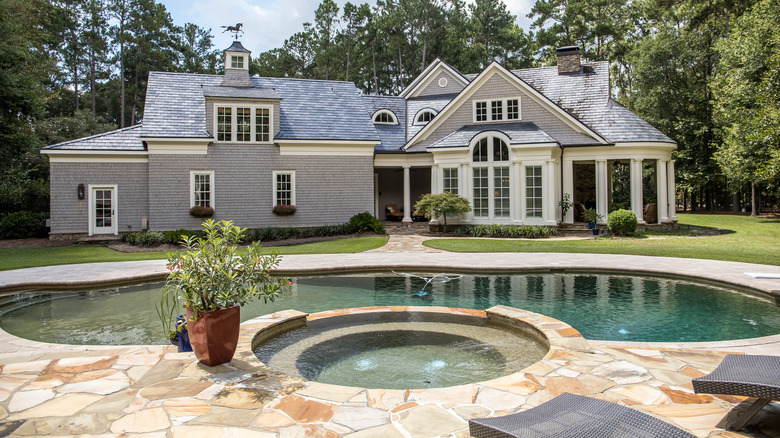 Ursula Page/Shutterstock
This new build home is custom with architecturally unique details throughout, but it's the pool that we can't take our eyes off of. This large pool has a unique shape, surrounded by stone tiles, and if you love a hot tub, there's that, too.
4. Modernly chic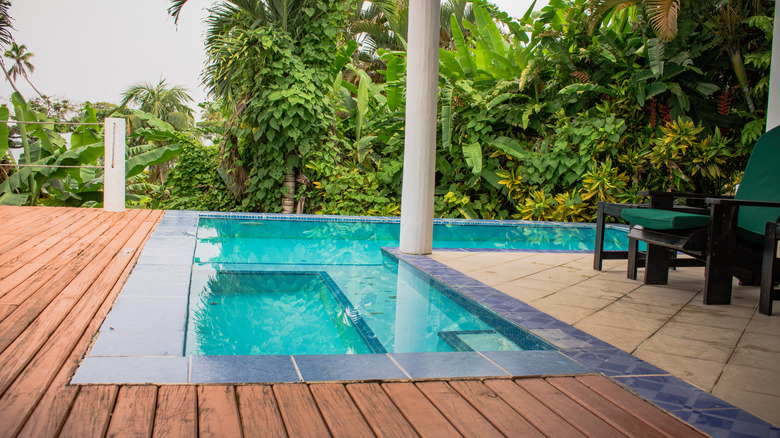 Ricky Of The World/Shutterstock
This L-shaped pool looks like a perfect spot to entertain during large family gatherings, while the lounge chairs are the ideal setting for a late-night at-home date night.
5. A pool with a view
Breadmaker/Shutterstock
If you're lucky enough to live in an area with zero neighbors and expansive views like this, kudos. We can imagine those mornings of complete solitude with a coffee in hand, enjoying the view from your backyard pool, which is certainly large enough for morning laps (once we're done with our cup of joe, of course).
6. Oh so luscious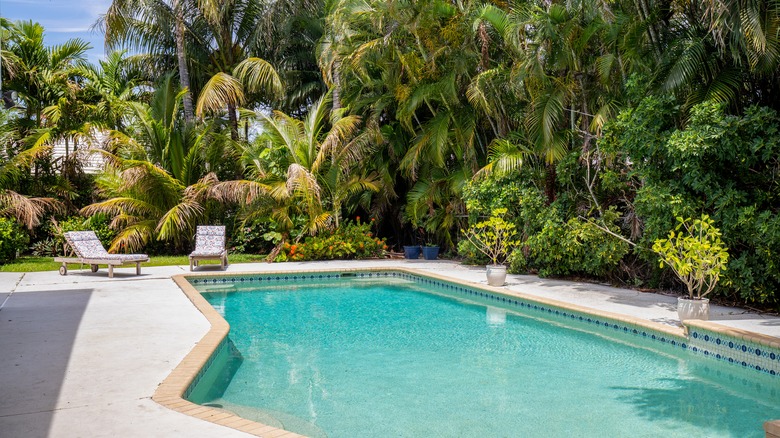 Cassanas Photography/Shutterstock
This Miami home features a large backyard pool surrounded by lush greenery. Its unique shape brings added interest when we can stop staring at all the gorgeous palms.
7. Livin' large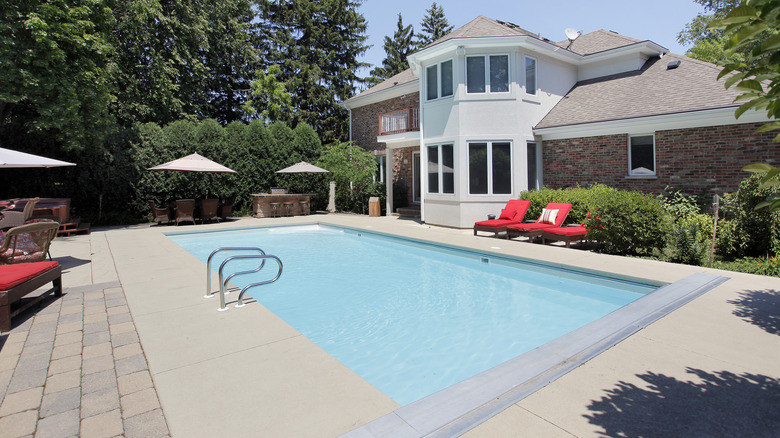 pics721/Shutterstock
This luxe home has a massive pool in the prettiest shade of light blue that would make any summer morning great. There's also plenty of space for lounging and entertaining, with a bar set up in the corner.
8. Luxury awaits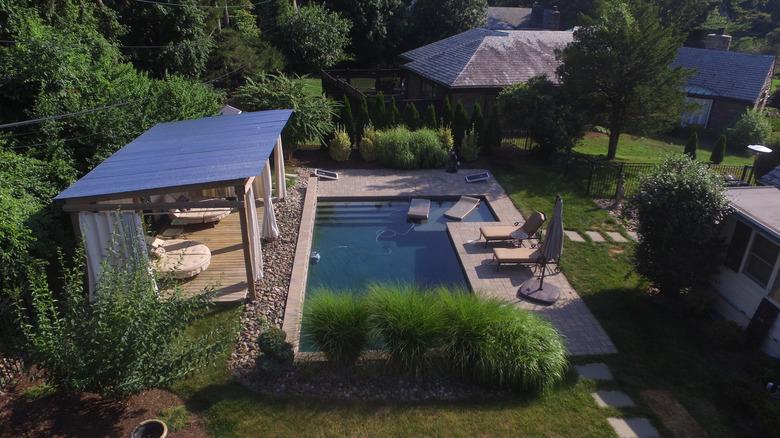 Brian P Hartnett Jr/Shutterstock
This massive backyard with a large in-ground pool looks more like an upscale resort than the backyard of a home. It's all because of those cabanas with round loungers and privacy drapes that give this luxurious backyard an edge.
9. Placement is everything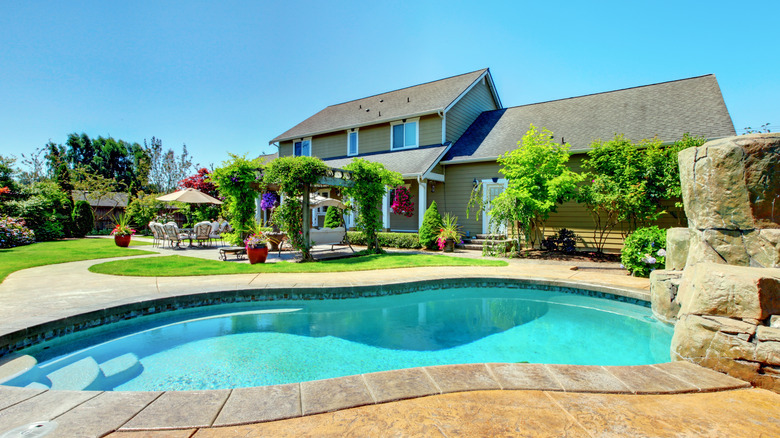 Artazum/Shutterstock
No pool guidebook says a pool needs to be placed directly behind a home. We love that the placement of this pool is at an angle adjacent to the house.
10. Go for an interesting shape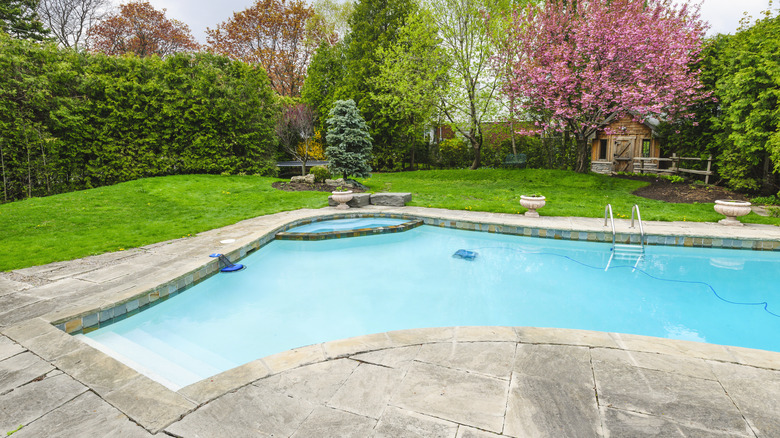 Elena Elisseeva/Shutterstock
If you have an extra-large backyard, a pool in an interesting shape can really make the outdoor space a standout. There's still lots of room on this property for a garden, a seating area, or a small greenhouse.
11. Go natural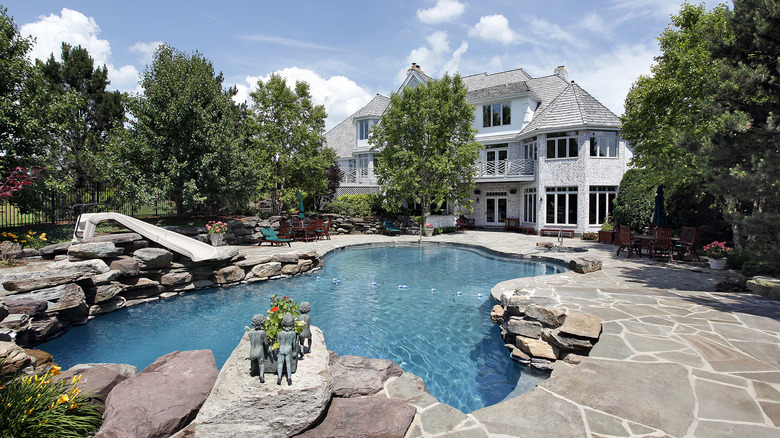 pics721/Shutterstock
This uniquely shaped pool resembles a cenote and the stone surrounding it makes it feel completely natural.
12. Don't forget an upscale kitchen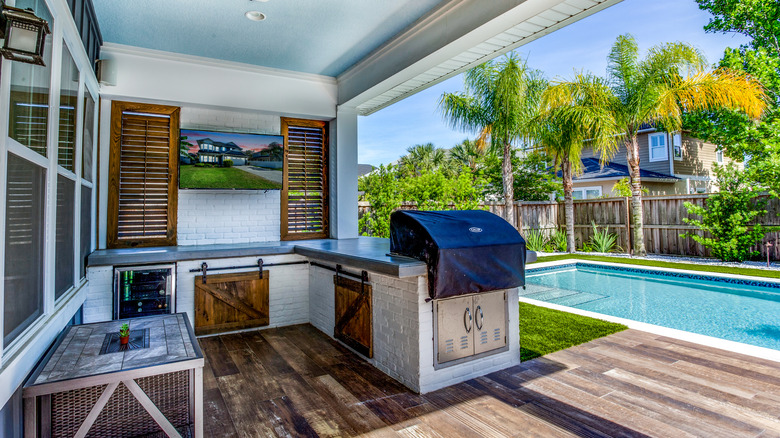 Pipas Imagery/Shutterstock
If you have the room, consider installing an outdoor kitchen next to your pool so you can whip up a midday snack. With a grill and plenty of counter space, a scrumptious meal shouldn't be a problem.
13. A Mediterranean retreat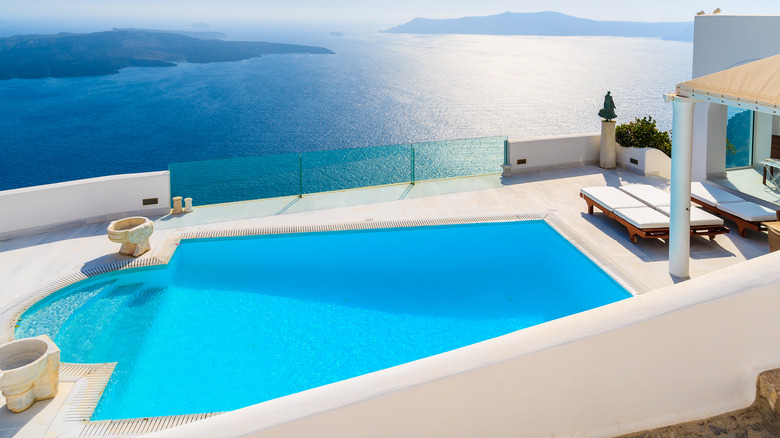 Pawel Kazmierczak/Shutterstock
The first thing you would see when looking out from this modern house's expansive windows is the grand pool that's positioned directly in the backyard, and the gorgeous sea.
14. Surround your pool with sophisticated brick pavers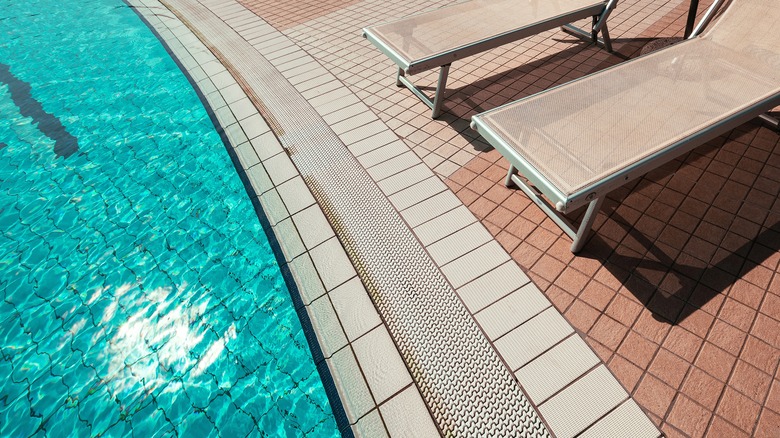 MVelishchuk/Shutterstock
This massive pool looks extremely simple but has sophisticated brick pavers, which look elegant. There's alsoroom for guests to lounge, which looks pretty, too.
15. Totally enclosed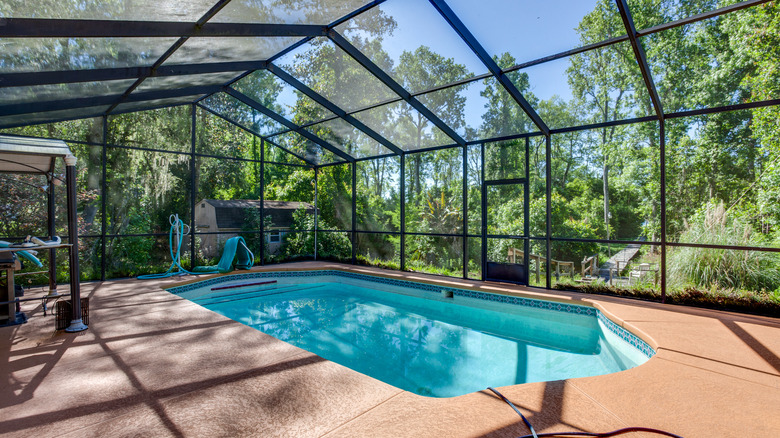 Pipas Imagery/Shutterstock
If you want to enjoy your pool year-round and not deal with bugs or other pests, you can put a glass sunroom enclosure around it like this.
16. A swim-up bar? Yes, please!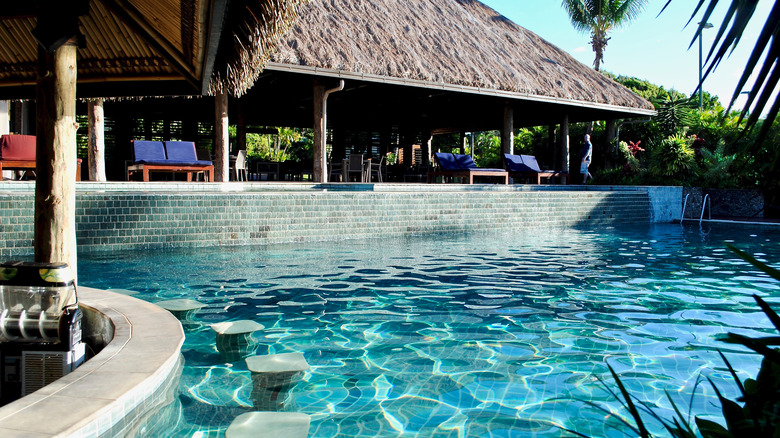 EWY Media/Shutterstock
You know true luxury if you've ever vacationed at a resort with a swim-up bar at the pool. We suggest thinking about adding this amenity to your pool at home, complete with stools, where your guests can indulge in mojitos or margaritas for hours.
17. A covered patio is an exquisite addition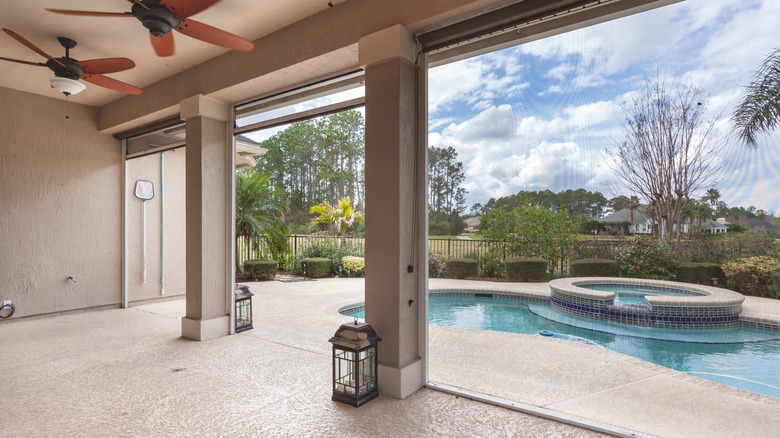 Pipas Imagery/Shutterstock
This home features a covered patio with a superb view of the pool and hot tub. We can imagine an excellent seating area with a comfortable couch for summer days.
18. An oval stunner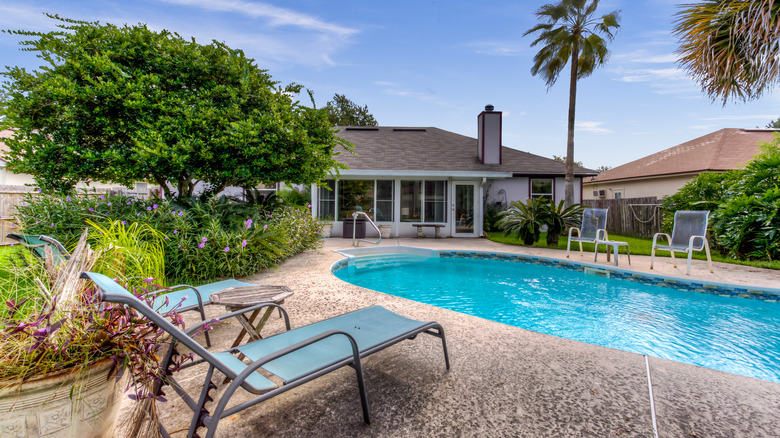 Pipas Imagery/Shutterstock
This oval-shaped pool is the best thing about this large backyard. If this is your pool, we suggest spending your days lounging pool-side with a good book.
19. An aerial view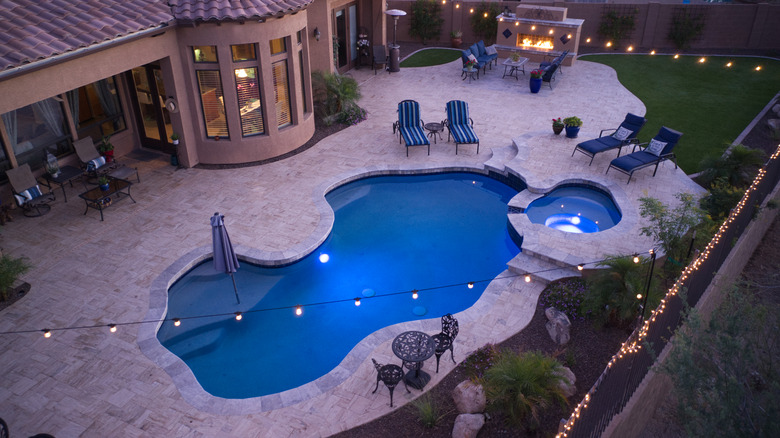 CactusPilot/Shutterstock
This huge backyard has ample room for a stunning, uniquely shaped pool, a deck for entertaining, and a lawn and garden. There are plenty of choices for sitting and relaxing, including a spot next to the outdoor fireplace.
20. Natural selection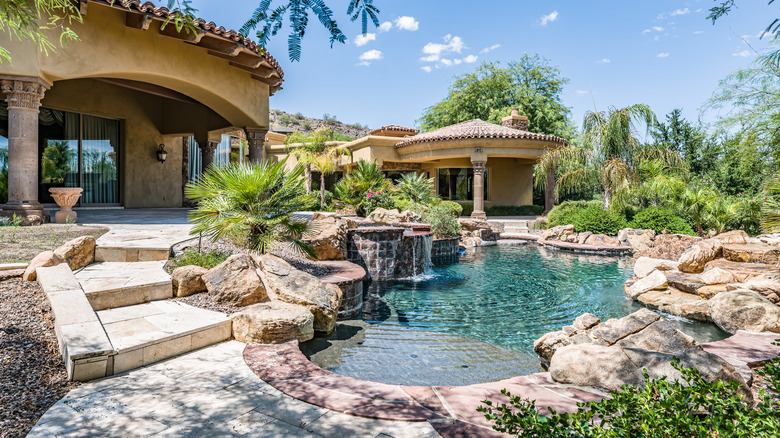 Gill Couto/Shutterstock
This epic home features a guest home and an incredible natural-style pool in its backyard. We can't help but get inspired by this custom design, surrounded by rock and lush greenery.