The Property Brothers' Tip For Designing A Bedroom Both Partners Will Love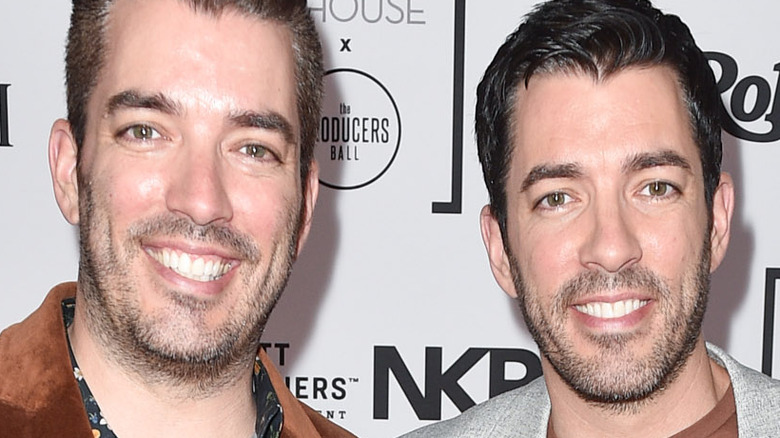 Ernesto Distefano/Getty Images
All couples know that one of the most challenging parts of living together is combining styles and tastes. It's very rare that both partners have the exact same style, so when trying to create a space that both love, there can be some bumps ahead. But that doesn't mean it's impossible to combine two styles into one cohesive design. It'll just take a little strategy to get a look both will love. It's a good idea to start the design process by defining your individual styles, says Star Furniture, and then find shared characteristics between the two styles. And don't be afraid to voice what you like and dislike about each other's styles.
Jonathan and Drew Scott are well aware of how challenging combining styles for their clients on HGTV's "Property Brothers" can be. They often work with couples whose styles are completely different from one another. And in a space like a bedroom, which should equally represent both partners, combining styles correctly is vital. On the HGTV YouTube channel, they share their tips for how to make a stylish bedroom that both partners will want to spend time in.
Aim for a soft and serene design
When it comes to combining styles, it's important to note what parts of each style couples like and dislike. All interior styles have some elements of masculine and feminine that anyone could like regardless of sex or gender. Black and white palettes, geometric patterns, leather, and brick are traditionally masculine elements, while brighter colors, curved shapes, and velvet are more traditionally feminine elements, according to Omysa. Of course, individuals can like any combination of these elements to create their own personal style. And these basic elements can easily be combined into a cohesive style that both partners love.
The "Property Brothers" suggest creating a design that's serene so that the space has a relaxing atmosphere that helps you wind down the day. Lighter, neutral colors make for a more peaceful space, so opt for a muted or neutral color palette. The bedroom is also a place for softer materials like knits and cotton to make a cushy and comfortable space. And when it comes to decor like art, vases, or decorative objects, that's where you can start adding the personal touches that speak to each partner's style.
Make privacy a priority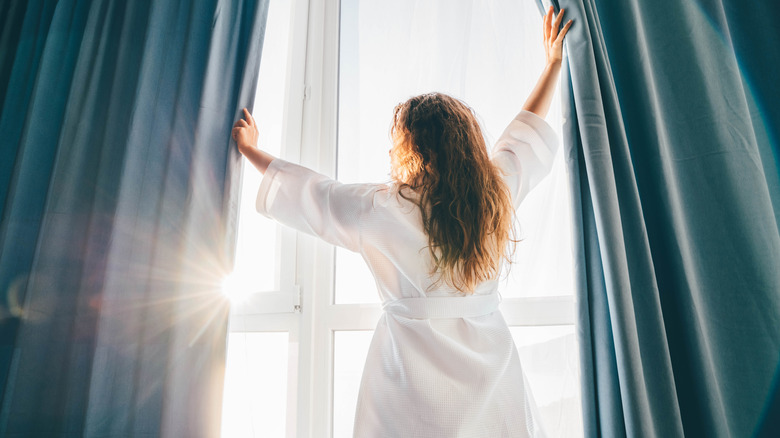 Mariia Korneeva/Shutterstock
Both partners are going to love having a bedroom that feels private. Privacy should be a priority in the bedroom, no matter how you decorate it. Whether you want to sleep in on weekends or have time to yourselves at night, you should take steps to create a private oasis. The "Property Brothers" emphasize the importance of privacy in all their clients' homes. The designer and contractor often opt to create the owner's suite at the other end of the house from all the other bedrooms. This separation helps to reduce the noise you'll hear in your bedroom from kids or overnight guests.
But moving your bedroom or building a wing might not always be possible. Luckily, there are other ways you can create privacy in your bedroom. Soundproofing the space will help your room become an oasis. Tomorrow Magazine suggests thicker carpets and sealing the bottom of your bedroom door to help keep noise out. For a bigger project, you might want to try soundproofing foam in the walls to help dampen the noise. You can also use window treatments to give your suite privacy from the outside.