Are Smart Locks Worth The Hype?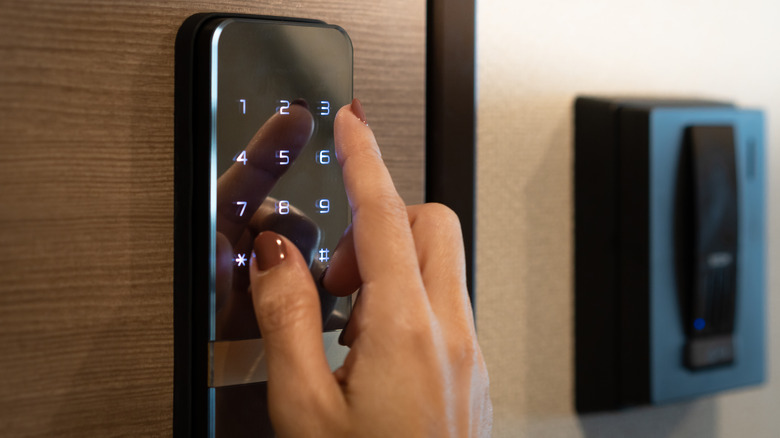 myboys.me/Shutterstock
Homeowners are increasingly adopting smart home technology, from smart home security systems to smart thermostats. However, are your home's deadbolt locks something that would benefit from a high-tech makeover? The answer probably depends on your lifestyle and degree of technological sophistication — if you struggle to use a smartphone and hate learning how to use new technology, installing a smart lock on your front door probably isn't a great move.
However, smart locks can come in handy for those who wish to lock or unlock their door remotely or allow access to non-homeowners such as the babysitter or cleaner. Naturally, leaving a key under the doormat leaves a lot to be desired in terms of home security, so smart locks are a definite upgrade. As such, smart locks have been widely adopted by property managers and Airbnb hosts, according to Yale. While smart locks are not quite as popular for ordinary homeowners, they do come with some advantages, as well as some crucial drawbacks.
Advantages of smart locks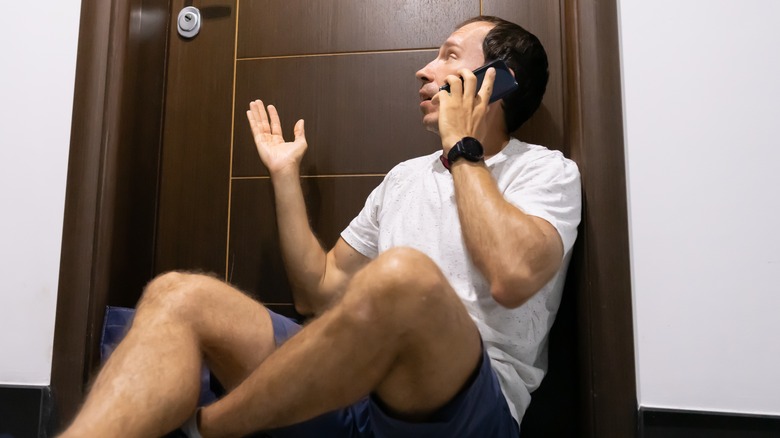 Andrey_Popov/Shutterstock
Almost everybody knows the sinking feeling that occurs when you reach your destination only to discover that you can't open the door. While smart locks come in a wide variety of designs, nearly every smart lock you can buy can be easily unlocked in seconds by a homeowner, even without a key. Some accomplish this via Bluetooth connectivity and your smartphone, whereas others have a handy keypad that allows you to input your door's unique security code, explains Geico. Generally speaking, these methods of unlocking your front door are fairly easy to adopt, even for those who aren't up to date on the latest tech.
Like many smart doorbell systems, some smart locks integrate photo or video functionality so that you can see a picture of someone who attempts to gain entry into your home. Since many systems transmit photos to your smartphone in seconds, this function can be incredibly useful in letting you know when there is a home break-in attempt. On the other hand, if the person trying to get in is allowed in your home, a Wi-Fi-enabled smart lock can be unlocked remotely, so you don't have to rush home from work in order to let your child after school.
Drawbacks of smart locks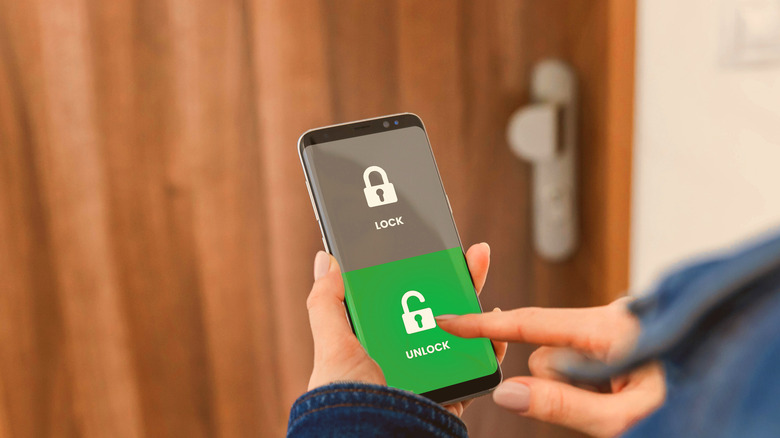 Said Marroun/Shutterstock
While most smart locks provide considerably more convenience than traditional deadbolt locks, they also come with a number of drawbacks. For instance, according to Brinks Home, most smart locks only work with very specific styles of deadbolts. This means that some homeowners may have to downgrade their deadbolt to a less secure model so that it can pair with their new smart lock. Additionally, smart locks with numerical codes are only as secure as their codes are, and can be easily bypassed if your lock's code falls into the wrong hands, or you set an easy-to-guess code.
Even if you set a complicated code, however, your smart lock may not be entirely secure. According to Geico, upgrading your traditional deadbolt to a smart lock opens you up to the possibility of having your smart lock hacked. While cases of smart locks getting hacked are few, many less-sophisticated Bluetooth smart locks can be hacked fairly easily by those with the know-how, warns Kisi. Also, most smart locks are battery-powered, so they definitely require more routine maintenance than your run-of-the-mill deadbolt lock.