The Simple Hack That Can Double Your Closet Storage Space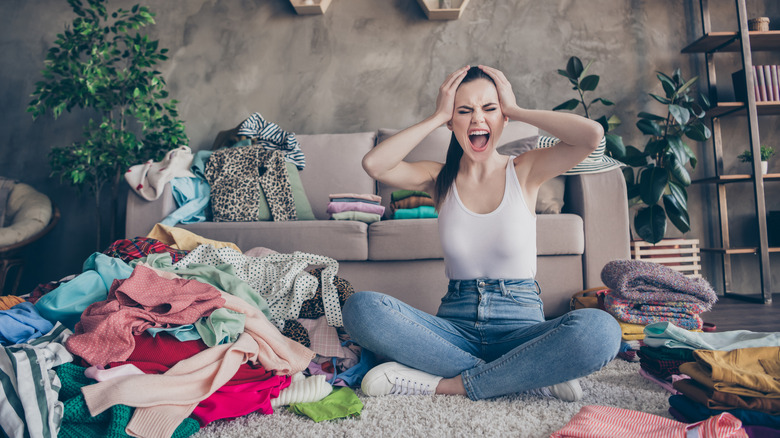 Roman Samborskyi/Shutterstock
We may receive a commission on purchases made from links.
No matter the size of your closet, it is likely stuffed with an immense amount of clothes and accessories. But once a closet is too cramped and crowded, it can become extremely unorganized, making it difficult to locate specific items. According to a survey by Closet Maid, around 44% of women can't find a particular clothing item they are looking for at least once every month. This eventually leads to about 61% of women buying something new to wear, which adds to the mess. 
So, what should one do when their closet space gets completely filled up? Usually, this is when people will donate clothes to charity, thrift stores, and sometimes friends. Some even opt to sell their garments online or in buy-back stores to make a bit of extra cash. But what if we told you that you don't need to get rid of your clothes to make space in your closet? Fortunately, there is an alternative way to accomplish this. This simple hack can double your closet storage space and give you the room you so desperately need.
A guest closet transition
In order to transform your closet, you must learn to let go of the traditional hanging rod. It's slowly becoming a thing of the past as these rods can take up more room than one may ever realize. The extra space can instead be used for more clothes and other accessories. To create more space in your closet, consider using wall hooks. Of course, this tip is helpful for a simple guest closet as there is usually less attire. Nonetheless, hanging hooks on the closets' walls allow the cabinets to be more open and organized. Additionally, several other options exist to transition from hanging rods to hooks.
First, you can get a decorative hook. They're usually simple and cute, and you can place them wherever you want on the wall, making them a fully customizable option. However, they may take a while to install, as you will have to measure and place them in the desired location one by one. If you want something quicker and simpler to set up, invest in this coat rack with six hooks from Home Depot. All you have to do is install one or two of these, and you're done.
An alternative solution for bigger closets
While hooks are super convenient and affordable, they may not be the best solution for everyone. Closets used for everyday clothing, such as shirts and pants, need more than just a hook. So, what else can you do? For starters, you can always DIY and install some shelves within the closet. Shelves allow you to see every item in your closet. For example, displaying shoes will be a breeze, and all you have to do for your clothes is fold them. They'll sit nicely on the shelves, much like they would in a dresser. Shelves can also be useful to show off your purses or other décor in your closet.
On the other hand, not everyone wants all their belongings out in the opening, even inside a closet. So, as an alternative to shelves, you can also opt for in-closet dressers like this six-drawer stand available at Wayfair. This shelf is available in two neutral colors and can fit perfectly with any aesthetic; it is also a great way to store smaller items like socks so they don't get misplaced. As opposed to the other options we've mentioned, this shelf can be moved around, allowing your closet to be customized and save space where needed.