37% Of People Agree That This Amenity Would Be In Their Dream Bedroom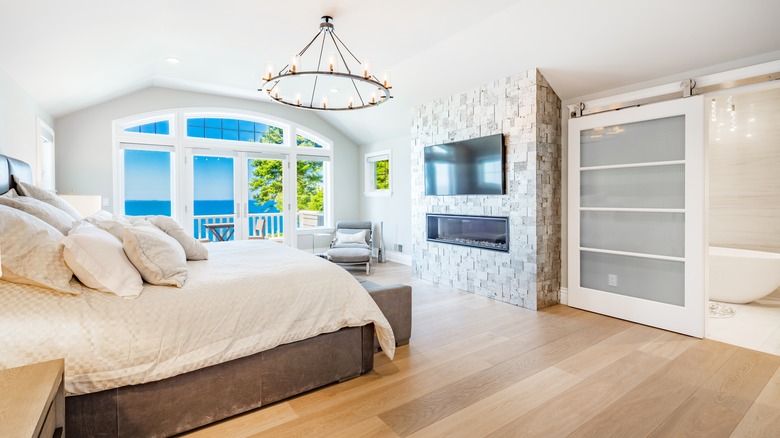 Sheila Say/Shutterstock
There are several features that you could use to elevate a bedroom design. Perhaps your dream space has lots of natural light — early birds may want the sunrise to act as their alarm clock every morning. Maybe a seating area in a bay window for reading or relaxing piques your interest. For those who like feeling cozy in their space, a fireplace could be the ideal bedroom feature. Others may think more about the functionality of their room and desire a large walk-in closet, complete with a floor-length mirror. Or, perhaps you want an en suite bathroom, so you never have to wait to take a shower in the morning again. For those who love an inviting space, natural hardwood floors could be exactly what ties your perfect room together.
House Digest asked 596 people which amenities are necessary to complete their dream sleeping space. The results have been tallied up, and one of the features came out on top. It earned over 37% and 222 votes.
The feature that won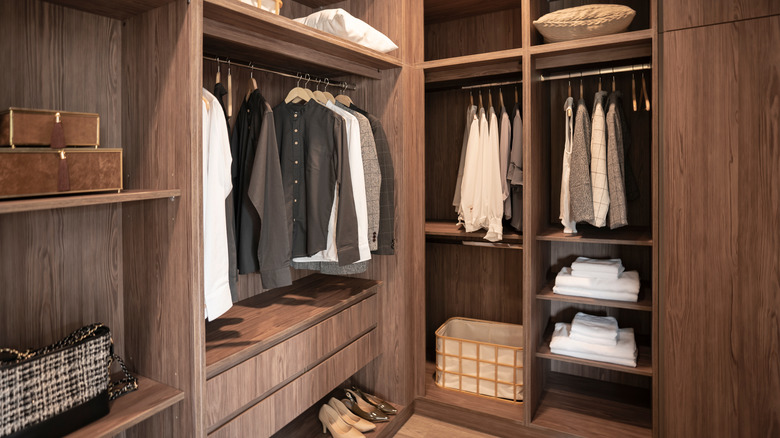 Thongden Studio/Shutterstock
According to the survey, the most voters desire a walk-in closet in their ideal bedroom. This makes sense since a walk-in design practically adds another full room to your bedroom. Additionally, walk-ins have luxurious connotations — they're typically featured in mansions and celebrity house tours.
Custom Closets of Houston says that walk-ins provide extra storage space and increase the value of your home. Because they're much larger than reach-in closets, they can also be much more lavish. Adding a floor-length mirror, an area to fold clothes, or a vanity setup would elevate your wardrobe even further. Shelf Genie adds that these closets allow homeowners to display their possessions in beautiful ways. For instance, a walk-in could have a shoe display or built-in cabinetry for designer purses. Additionally, walk-ins could be customized to fit your specific desires. And walk-ins can easily be shared since they are typically very large.
The other amenities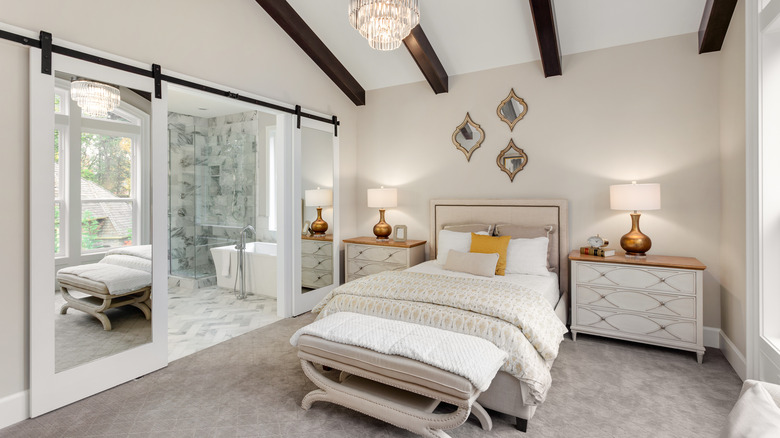 Breadmaker/Shutterstock
Many of the remaining participants said that an en suite bathroom would be necessary for their ideal bedroom. This option gained over 27% and 164 votes. Just like a walk-in closet, an en suite bathroom adds value to your home, per Kenneth Installations. It would also give you more time to relax in your private space. And these bathrooms are great for large families because they cut down the line to the bathroom in the morning.
A bedroom fireplace gained 10% of the vote and was chosen by 60 participants. A fireplace would add both warmth and a fun appearance to this room, per Armand's Discount. It isolates the heat to just the bedroom, which could be helpful in a large home. Less popular features included a seating area, which over 9% and 57 people chose. Next came natural light, which under 9% and 52 participants agreed upon. Finally, the least popular bedroom amenity was hardwood flooring, which under 7% and 41 people chose.