Are The Least Expensive Dining Tables At IKEA Worth Buying?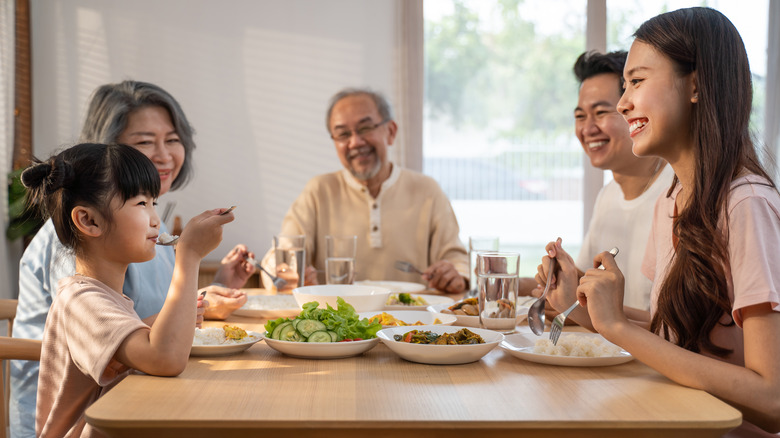 Hananeko_Studio/Shutterstock
Although it may not seem like a big deal, where you and your family eat on a regular basis can play a rather large role in the relationship you have with them, as well as your overall health. Furniture Online explains that sharing a meal together with your family at a traditional dining table is packed with a variety of benefits, starting with the opportunity for your family to bond through stories and general communication as you eat. Eating at a dining table also allows you time to disconnect from technology as you enjoy time with family. Studies show that eating at a dining table also helps you eat healthier by allowing you to focus on what you are eating and eat at a slower, more conscious pace.
Despite the many benefits that accompany the use of a dining table, finding a quality dining table for an affordable price can be rather difficult. Fortunately, IKEA, one of the biggest and most popular furnishing brands in the world, is packed with plenty of dining table options that are available at moderately low prices. Let's take a look at a couple of the cheapest dining tables at IKEA and discover if they are truly worth buying.
The LERHAMN dining table
One of the cheapest dining tables you can purchase at IKEA is the LERHAMN dining table. According to IKEA's website, this dining table only costs $85 and can be purchased in either black or white with a light antique stain. Unfortunately, as the price can reflect, this dining table is rather smaller. The height of the table is an average 23 ⅝ inches but only provides a 29 ⅛ by 29 ⅛ inch square of surface space for eating. Although this space is manageable for a family of two or three, a rather large family would not feel comfortable eating at this table together.
According to customer reviews, many purchasers who have rather small families have grown to love this dining table. They state that it is a perfect place to share a meal with their small family and boasts a beautiful, quality appearance that is both sturdy and easy to move. Some less positive comments, however, claim that the table was much higher than it claimed to be, affecting the chairs the customer purchased along with the dining table. Fortunately, most of the other negative comments only revolved around manufacturing and shipping errors that affected the quality and lifespan of their purchase. Regardless, the LERHAMN dining table is definitely a worthy choice of dining table for small families looking for a cheap way to connect over a home-cooked meal.
The MELLTORP dining table
The MELLTORP dining table is another cheap dining table you can purchase at IKEA. For only about $90, this dining table is only a few dollars more expensive than IKEA's LERHAMN table and is also nearly twice the size. IKEA shows that the height of the table is exactly 29 ⅛ inches and provides a 49 ¼ by 29 ½ inch rectangle of surface space. Although this amount of space may not be large enough for larger families that commonly invite guests or distant family members to their home, it is a perfect dining table for an average-sized family with four to five members.
According to the customer reviews given to this product, many stated that the table was a great investment and worked for a variety of different purposes beyond just a dining table. For example, one family used it as a craft table for their children, while another one used it as an extra workspace for their home office. Although, like the LERHAMN dining table, there were also a few negative reviews about this dining table. Most of those negative reviews, however, also only revolved around manufacturing and shipping errors. Putting these reviews aside, this dining table can be a great addition to your home, helping you improve your health and bring your family together without breaking your wallet.