Which DIY Craft Store Gets The Most Foot Traffic?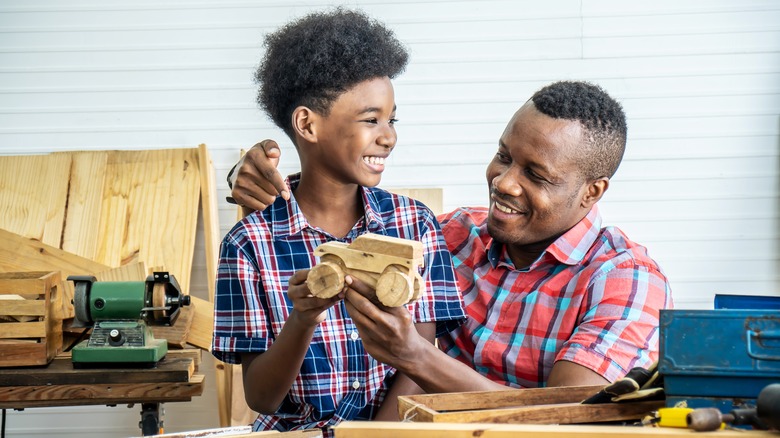 chingyunsong/Shutterstock
When it comes to stocking up on materials for your next crafty project, where do you prefer to go? There are plenty of stores that have a few aisles set aside for crafty connoisseurs, but these spaces can be limited in options and availability. That is why if you're looking for entire stores dedicated to the arts and the tools needed to make your best pieces, it pays to visit the big names. Companies like Michaels, Jo-Ann Fabric and Crafts Stores, and Hobby Lobby offer seemingly everything under the sun with regard to art supplies.
One way these companies attract new customers while retaining their current clientele is by having a good marketing strategy that is able to blend their online presence with the need to visit the brick-and-mortar location. For example, having an email subscription that offers fantastic coupons and discounts to members can be a surefire way to entice them into making a special trip to the nearest shop, according to DIY Marketers. This matched with adding ease to the shopping experience can help to increase foot traffic, which could help boost sales. After all, the more bodies in the store the more likely they are to buy items. However, there is a clear winner amongst these three giants of the craft world as to who is getting the most customers through the door.
The one factor that attracts shoppers
Although Michaels, Hobby Lobby, and Jo-Ann Fabric and Craft Stores carry pretty much the same products, there are a few variations that might sway potential consumers into picking one as a favorite to visit. Jo-Ann Fabric and Craft Stores have their main focus on — what else — fabric and sewing supplies. This is an obvious draw for those who want a wider selection of these materials at a reasonable price. This might be the niche factor that separates Jo-Ann from its competitors; however, it may not result in more feet through the door — instead, it may limit who visits the store.
In contrast to the competition, Michaels and Hobby Lobby have pretty much the same marketing appeal in that they carry everything from art supplies, seasonal home décor, fabrics, and picture frames laid out in large aisles easily accessible to shoppers. The big difference seems to be in the brand choices and prices of the products. In a comparison done by Insider, although Michaels has more quality products and a wider variety of stock available, Hobby Lobby's prices can be much cheaper. This might be the driving reason why Hobby Lobby has more foot traffic than Michaels and Jo-Ann Fabric and Craft Stores when it comes to customer foot traffic.