Are Mason Jars As Home Decor Going Out Of Style?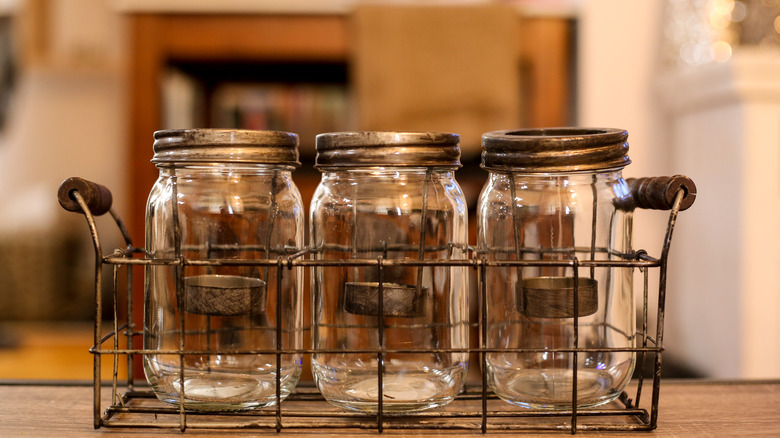 RGBurstin/Shutterstock
We may receive a commission on purchases made from links.
When looking for ways to create DIY home décor, it's impossible to ignore mason jars. Almost everyone has seen (or made) decorations with these classic glass containers. Inexpensive and easy to find at the thrift store, these jars are accessible to just about anyone. The Happy Housewife suggests painting them fun colors, using them as pencil or toothbrush holders, or transforming one into a snow globe. On Sutton Place adds that they can be used to store buttons in craft closets, cotton balls or swabs in bathrooms, or baking ingredients in kitchens. Mason jars add a fun flare to space with either a vintage or modern farmhouse style. They are typically paired with barn doors in white rooms, and, because they come in a number of sizes and colors, they're versatile pieces. 
However, while it may be fun to get creative with mason jars, some wonder if this design trend has died out. If you are curious as to whether these farmhouse staples are still in style, you'll find the answer below.
Are mason jars still in style?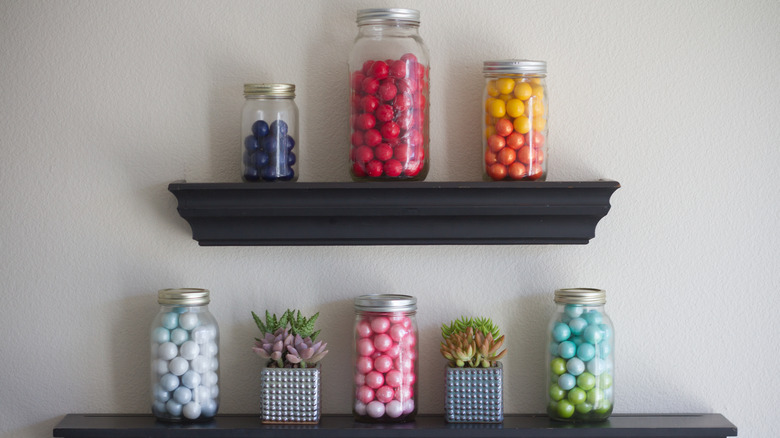 Sarah Phoenix/Shutterstock
On Sutton Place says they have loved using mason jars as home décor for years, and they continue to do so. They have a full collection in use as vases, food containers, gift packaging, and storage jars. And, frankly, they don't expect to get tired of them anytime soon.
However, Food 52 disagrees. Besides being used for their intended purpose (which is to pickle and store food), they don't believe mason jars should be utilized. As glassware, these pieces tend to spill and make a mess. As décor, they can appear overdone or cheap. Olive + Crate also believes that these jars look tacky. When used as centerpieces or light fixtures, they say that these pieces appear boring. Because of this, farmhouse spaces are all beginning to look unoriginal.
This trend is certainly dying down, and it seems like mason jars are on their way out. However, let's be clear that those who love them should continue to use them, since the best décor for your home always comes down to personal preference.
Alternatives to mason jar décor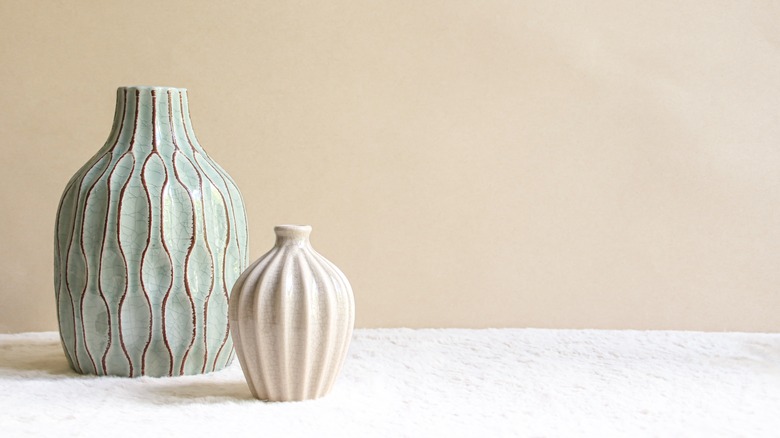 Alexis Fradois/Shutterstock
Instead of using a mason jar for storage, many are using more basic glass jars with standard lids. These could be used to hold food in the kitchen or small items in the bathroom. Those with wooden lids will add a warm and comfortable feeling to your space. You'll find them for purchase from just about anywhere, including Amazon of course.
Instead of displaying mason jars on tables, you could decorate your home with vases. They're also easily accessible, and can often be scored for a cheap price at most thrift stores. Unlike mason jars, they come in a large number of designs and styles. This means that the right vase will add personality to your space. A Blissful Nest says that vases look beautiful in just about any room. Another idea is to use a simple drinking glass, an empty wine bottle, a watering can, or a pitcher to hold cut flowers. All these options will give your space a boost of character.