15 Unique Bar Carts That Offer The Perfect Stylish Storage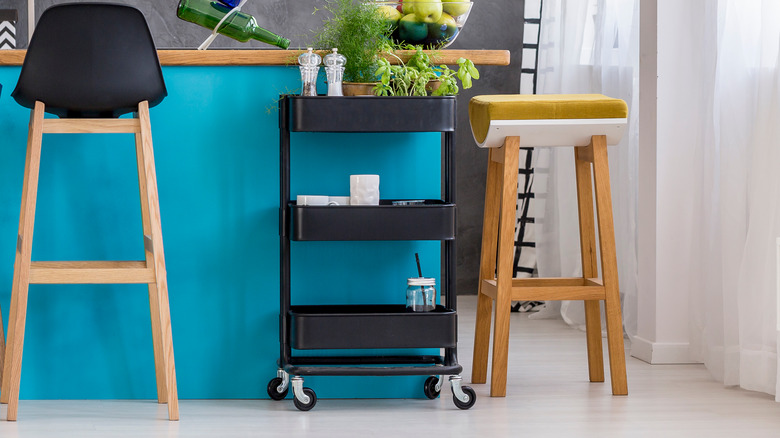 Photographee.eu/Shutterstock
Small trolleys with wheels and multiple levels, often called bar carts, are a staple of any high class space. They can be worked into most rooms, but they're usually showcased in kitchens, living areas, dining rooms, and outdoor spaces. The Home Depot says that these furniture pieces add a stylish but also functional element to a home. They're great for entertaining guests, as their wheels make them easy to move around. 
These cocktail hour classics are typically used to store alcohol, glassware, and other drink-related items. However, there are creative ways to decorate a bar cart that don't involve alcohol too. Trolleys can also be used to organize a small closet, hold utensils in the kitchen, or display fun treats at parties. Really, anywhere and anytime you need extra storage space, a bar trolley will come in handy. One could also double as a side table or nightstand in a pinch. If you're looking to add one of these carts to your home, there are a number of unique styles, sizes, and materials to choose from. Below are 15 options. 
1. Black chic
An all-black bar cart will look chic in any room. Modern and simplistic, this design won't draw lots of attention. In a kitchen it can hold tea towels on the bottom while displaying something decorative on top. 
2. Round design
A round cart would look great in the corner of a room. This small design would be ideal for a cramped kitchen or dining room. The metal and sleek frame give the above trolley an elegant appearance. 
3. Light wood
Light wood carts can be used in modern, bohemian, or rustic rooms. They add an earthy and natural feel to a space. Carts with matching baskets like the above design will prove to be extra useful for organization. 
4. Long and narrow
A long and narrow bar cart could be placed beneath a window in a dining room. For this design, large décor pieces anchor the lower shelf so the top shelf can hold a tray with easily accessible glasses.
5. Pyramid shape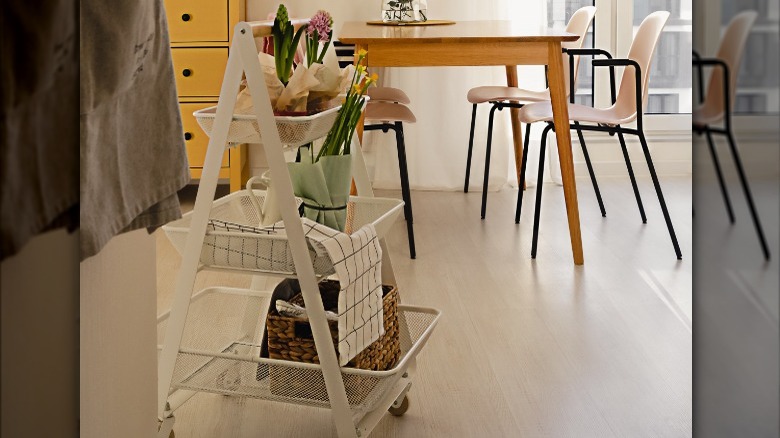 Kudzina/Shutterstock
This trolley's pyramid design, with a smaller tray on top and a larger one on the bottom, gives it a unique appearance. The white mesh containers give this piece a farmhouse vibe. 
6. Whimsical garden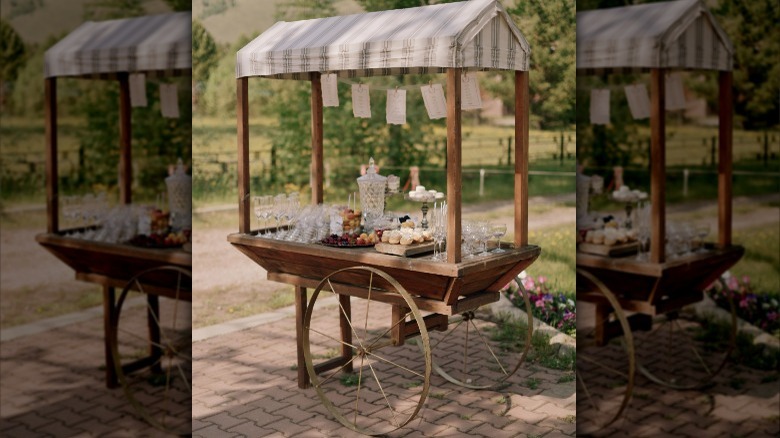 Darya Chacheva/Shutterstock
A bar cart could also be placed in an outdoor space or a garden area. Adding a cover will protect your drinks and food from debris or excessive heat from the sun. This cart uses large wheels, a striped roof, and crystal glassware to give it a whimsical energy. 
7. Industrial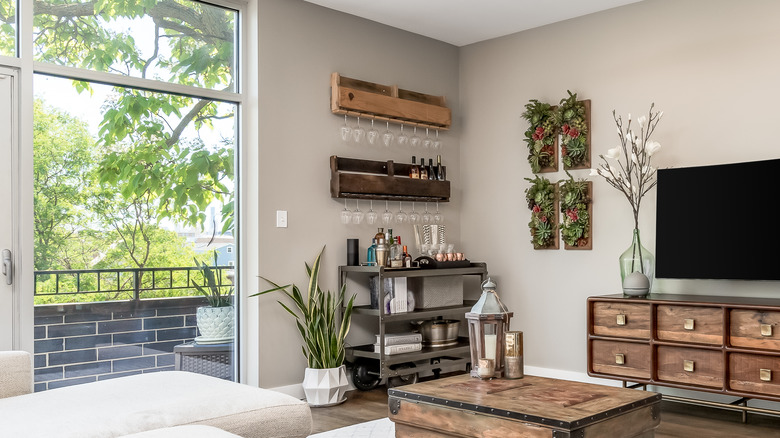 Hendrickson Photography/Shutterstock
A bar cart made of rough metals and large hinges would fit into an industrial space. Some carts will come with wine glass or bottle holders. However, if yours does not, you could add shelves with holders to the wall above your trolley. 
8. Basic
A basic cart with large plastic shelves makes entertaining on a budget a breeze. It may not have much to offer in visual appeal, but it will certainly get the job done. 
9. Finished metal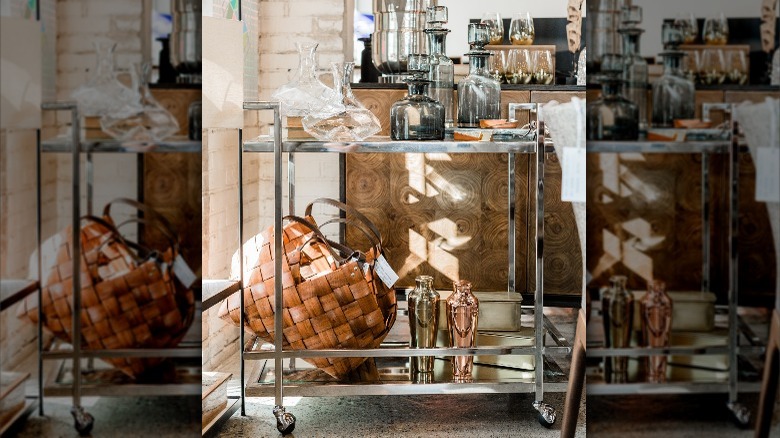 Karen Culp/Shutterstock
Carts made completely of shiny metal give off a sleek and expensive air. This design would elevate your space, especially if it's already pretty glamorous. Mix and match different metals with glassware and uniquely shaped decanters. 
10. Irregular shape
Throwing an irregular shape into your overall design can make your cart stand out. The rounded edges above provide a softer and more inviting feel, even when the trolley is made of cold metal. Anyone for tea?
11. Galvanized
Galvanized metal trays, or those that have been covered with a protective coating, have a rustic feel that makes them great for outdoor use. Consider using one as a planter on the patio.  
12. Unique storage
Some trolleys have soft fabric holders in addition to typical shelving. Use them to store things like blankets and or a stack of books. Attaching a lattice metal board to the back of the cart gives you a way to hang wall décor. 
13. Rustic farmhouse
Finding a cart with drawers will be a great way to stylishly maximize your storage options. This cart's mix of distressed white and wooden elements gives it that ever-popular rustic farmhouse feel. 
14. Industrial shelving
Industrial shelving can easily be turned into a trolley for a modern appearance. Because the metal shelves have holes, including trays on your cart can help stabilize smaller pieces. Additionally, books and pillows could be used to soften the look of a metal cart. 
15. Storage hooks
For an exceptionally functional cart, add hooks to the side. In the kitchen they can be used to hang baskets, towels, or utensils. This wooden cart looks warm and inviting yet has plenty of places to store items.