Are The Least Expensive Beds At Target Worth Buying?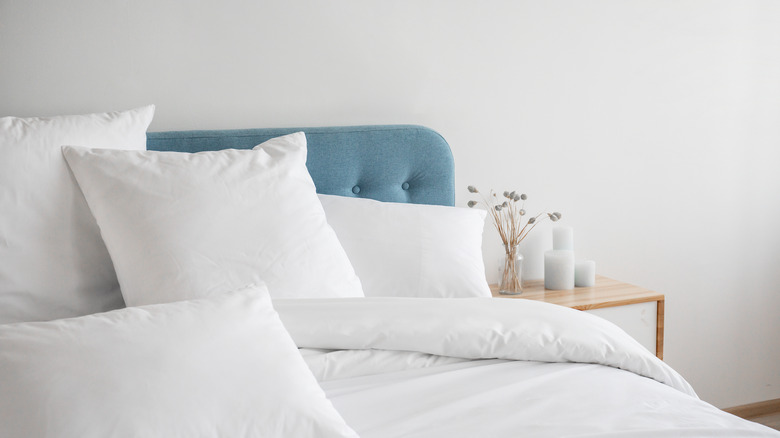 World_of_Textiles/Shutterstock
If you're on a budget and need a new bed frame, you might be tempted to go with the cheapest options available. After all, who doesn't love a good deal, right? Unfortunately, though, skimping on your bed frame isn't always a good idea. While you save a few bucks, you may also risk buying a product that just doesn't work. Plus, according to Shovlin Mattress, your bed frame can also have a big impact on how well you sleep, making it crucial to pick a relatively high-quality model, even if the price tag is budget-friendly.
With that in mind, we've decided to look into some of Target's cheapest bed frames and see if they're worth purchasing. A quick caveat here: Target allows third-party sellers to list products on their site. Since it can be hard to ensure that third-party sellers' products remain consistent, we're only looking at beds sold by the retailer. 
Brookside Adjustable Metal Bed Frame
Coming in at $73.99, according to Target, Brookside's Adjustable Metal Bed Frame is the cheapest available option — and incredibly bare-bones. If you can afford it, we'd recommend adding on a headboard, though the frame will still be practical on its own. Per the product listing, the frame can adjust to fit three standard mattress sizes: twin, full, and queen. It also comes with a five-year warranty, providing a sense of security that other models may not offer. Plus, according to the Q&A section of the listing, the unit can hold up to 750 lbs, including your mattress, box spring, and any people on the bed.
While we had low expectations for Target's cheapest bed frame, the listing's reviews were impressive. The mattress had a 4.0-star rating and 19 reviews, though only 62% of customers said they'd recommend the frame. Several customers mentioned that the unit was hard to assemble, but most seemed pretty satisfied once it was completed. All in all, we can't help but feel like Brookside's bed frame is a solid pick, especially at this price point.
Room & Joy Avery Metal Bed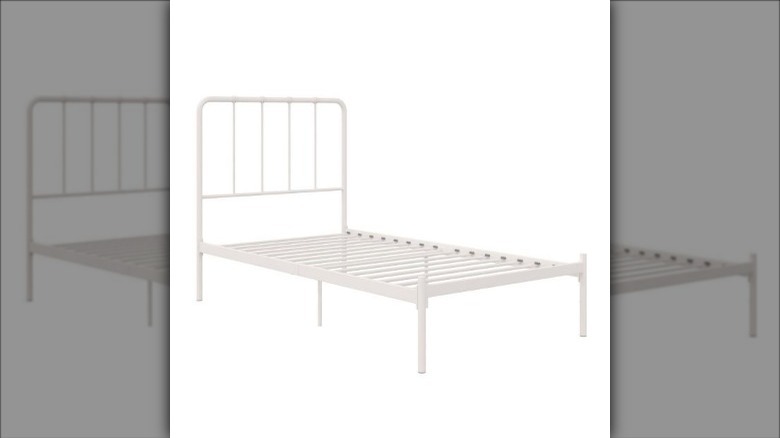 Target
If you'd prefer a bed with a headboard, your cheapest option at Target is Room & Joy's Avery Metal Bed, which costs $119.99 for a twin-size bed (full-sized beds are sold out but usually cost $239.99). The smaller model can only hold 250 lbs, and while it doesn't offer as much flexibility as the Brookside bed frame, you can adjust its height. When you check out the Avery Metal Bed's ratings, you notice something strange: This bed is incredibly polarizing. It features a 2.9-star rating, but the reviews' distribution is unusual: 12 5-star ratings, 18 1-star ratings, and two 3- and 4-star ratings each. Seeing such a drastic split is almost jarring, but there might be a good reason.
According to a 3-star review written by customer "awesomealex," the bed frame was great at first but began to buckle within a month — not a huge surprise considering its modest weight. Numerous other 1-star reviews have similar stories, and the problem isn't necessarily that the bed is being overloaded, either. One parent noted that their five-year-old son used the bed every night, only for it to bend within a year (though they did "occasionally [lay] with him"). Since the frame doesn't come with a warranty, at least not on Target, the customers are all out of luck — and we'd recommend passing on this unit.