How To Select The Perfect Size Bed For Your Space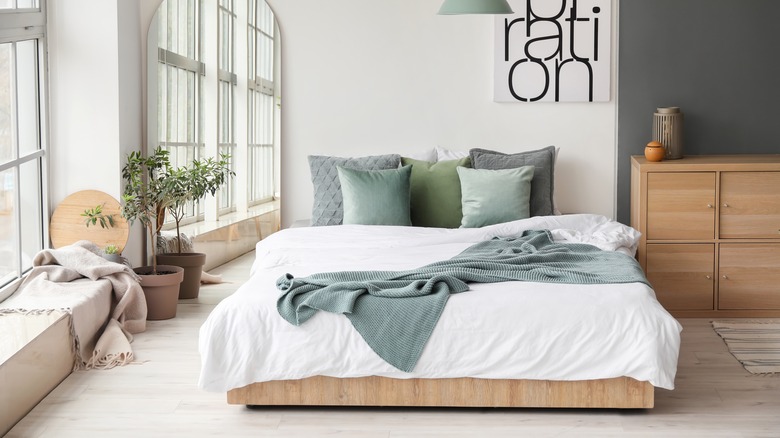 Pixel-Shot/Shutterstock
Creating a well-designed bedroom doesn't have to be difficult, as long as you focus on bringing in appropriate furniture pieces for the space. To prevent a room from feeling out of balance, all furniture pieces should have the correct proportions. It's also important to ensure that your bedroom doesn't feel cramped or dark, as those qualities can increase your levels of stress and anxiety, per VeryWellMind. This holds true for children as well. It can go so far as to negatively affect their physical well being and behavior at school.
When designing a bedroom, most people are tempted to purchase a bed first. This is a great instinct to follow since the bed size you end up with will have an impact on the overall design of your room. As the largest element in there, bed size determines the dimensions of everything else, including your nightstands, drawers, area rugs, and more. So, first things first, you must be able to determine what size bed will be perfect for your space before moving forward with the rest of the design process.
Small bedrooms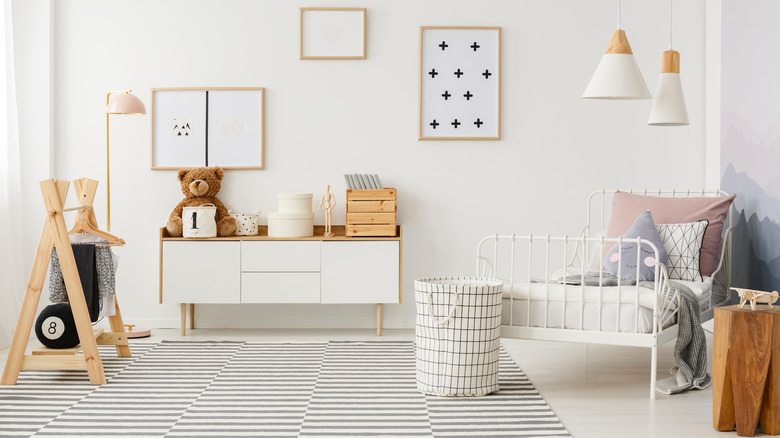 Photographee.eu/Shutterstock
If you're deciding what may be best for a small bedroom design, take a look at a twin bed. This can be a great size for an average adult or child, per Sit'n Sleep. Twin beds are typically 38 inches wide and 75 inches long, and can fit comfortably in a bedroom with approximately 70 square feet of usable space. You can either introduce a single twin bed or a set of bunk beds to maximize space if two children are sharing the same room. If you want the twin beds to be separate instead of stacked, the bedroom needs to be a minimum of 10 feet wide and 10 feet long, or 100 square feet overall.
If you need something a bit bigger, the Twin XL is also available. It measure 38 inches wide and 80 inches long, which is great for children and adults who are a bit taller. A room with 70 square feet of open flooring will prevent the bed from taking up too much space.
Big rooms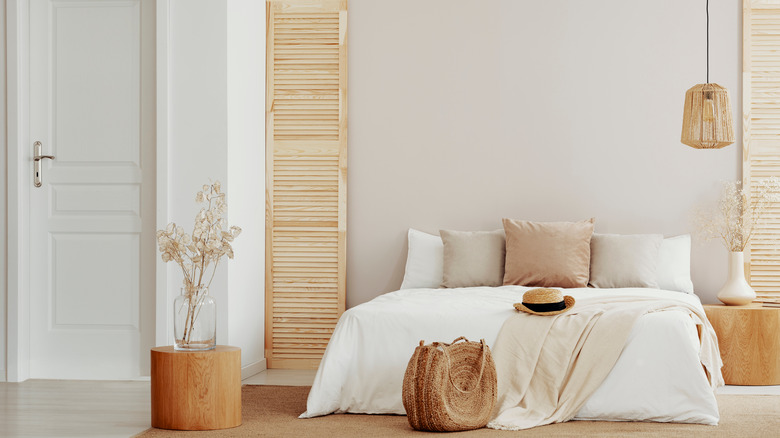 Photographee.eu/Shutterstock
A full size bed is good for those who need a bigger size, as it measures in at 54 inches wide and 75 inches long. Sit'n Sleep says this bed is typically big enough for two people, or a child who is ready for a bigger bed. However, the room must be 10 feet by 12 feet, or 120 square feet, to accommodate its size. Full size beds often work well for young couples who live in apartments, as the average sized bedroom in an apartment is 11 feet by 12 feet (this varies by location), per CreditDonkey.
For bedrooms that are 10 feet by 10 feet, a queen size bed (60 inches wide and 80 inches long) will also fit and provide you with more leg room to boot. If you want to allow space for a dresser, nightstand, or reading chair, the room's length should be at least 12 feet. For those who desire even more room for the perfect slumber, you can get a king size bed (76 inches wide and 80 inches long). These beds offer 16 inches of additional space over a queen. This is a very comfortable size, but your room should be at least 13 feet wide and long to fit other furniture pieces. King beds are best saved for the largest bedroom in the house, advises Mattress Clarity. If you don't need to add a dresser or other furniture pieces, a smaller room can also work.