5 Key Things To Do Before Remodeling, According To A Top Design Expert - Exclusive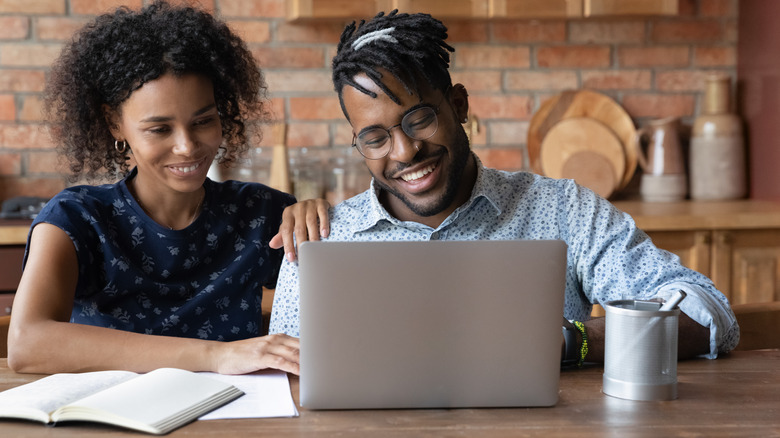 fizkes/Shutterstock
From construction dust and the sound of sledgehammers to budgetary snafus, renovating your home can be an incredibly chaotic and difficult time. In fact, according to Sweeten, most homeowners find the planning phase of their remodeling project even more stressful than the execution of it. As tough as it may be, however, planning ahead is the key to a successful home renovation. 
We've all heard horror stories about things that can go wrong when our space is being remodeled. For instance, putting in a new bathtub can unearth a plumbing disaster waiting to happen, leading to project delays and a budget that needs to be tweaked to the tune of thousands of dollars. Or, perhaps your initial remodeling plan turns out to be too optimistic, forcing you to scale back your ambitions. 
Although no project is without its set of unique challenges, you can be prepared for almost anything home renovations throw at you by taking care of some key things before the process begins. Fortunately, Lauren Adams — Principal and Co-Owner of Letter Four, Inc., a full-service design firm in Los Angeles — provided some valuable insight in an exclusive interview with House Digest.
Set a reasonable budget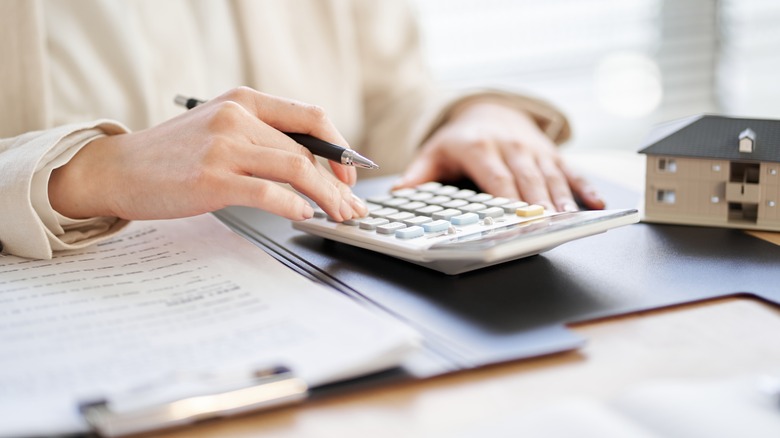 mapo_japan/Shutterstock
When homeowners begin preparing for their project, settling on a sound budget is a logical place to start. Not only will this help inform the furniture, fixtures, and finishes they're able to utilize, it'll also help any professionals brought on for the project to be realistic about what they can accomplish (per KHB Construction). "You need to know what you can afford and how you are funding your project," Lauren Adams explained. "Remodels can easily get out of hand if you don't determine a budget and stick to it."
For this reason, when drafting your budget, it's always wise to leave room for unanticipated expenses. "Extra costs can come from unforeseen conditions exposed during the remodel or because you decide that you want to do more work than you originally planned," Adams continued. "Plan for a 10% to 15% contingency for extras that may come up during the course of construction."
Determine the scope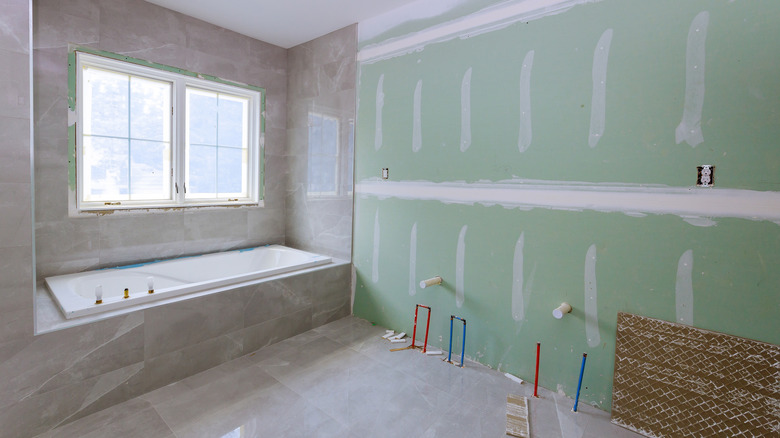 ungvar/Shutterstock
Of course, coming up with a budget for your home remodel project is impossible if you only have a vague understanding of what needs to be done. This may be why around 30% of renovations go over budget (per RenoFi). That's why Lauren Adams says it's important to determine the scope of your project at the outset. "Make sure that you're clear on what you want to do and why you want to do it," she shared. "You need to determine what your needs are as well as the emotional drivers. How do you want your home to feel? How do you use the space? Are you remodeling for resale or because this is your forever home?"
Naturally, a renovated living room will be much more affordable than a full facelift of an entire house. For this reason, Adams warns against creating grand plans that far outweigh a modest budget. "Your scope goes hand-in-hand with your budget," she added. "You need to make sure that you can achieve your desired scope within your budget and avoid what we call 'scope creep' to stay within your budget."
Select the right team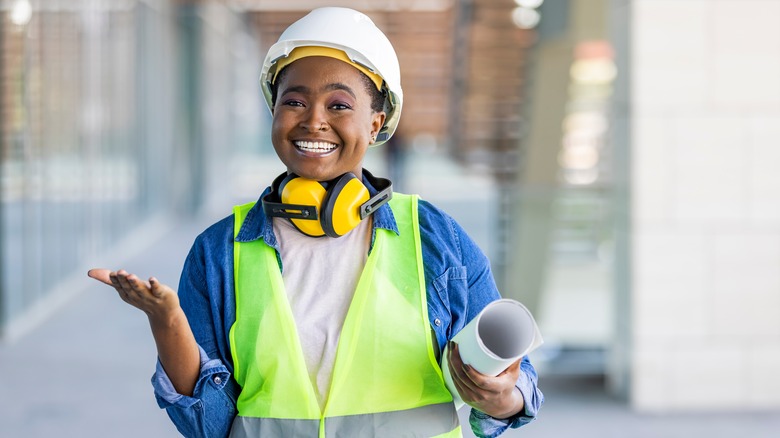 Dragana Gordic/Shutterstock
Any remodeling project can be tricky without expert insight. According to Cotney, labor shortages, inclement weather, and other factors can all lead to costly issues that may force you to alter the scope of your renovation. For this reason, Lauren Adams says you're going to need help. "It's essential to bring on a professional to design your project and secure building permits," she revealed. "A good architect will make sure that your needs and wants are achievable within your budget."
Thankfully, investing in a trusted architect or design-build team can do more than streamline the remodel. "They'll guide the process, ensure that the project is designed to code, coordinate with consultants like the structural engineer, and secure the necessary permits," Adams continued. "They will also stay on board to make sure that what they've designed is what gets built. They'll monitor your budget and schedule and watch out for your best interests as they negotiate with the contractor."
Given how chaotic all of this can be, investing in a knowledgeable team to have on your side is a no-brainer. It can help you achieve your dream home without the nightmare-inducing levels of stress that come with undertaking the entire project on your own with limited know-how.
Choose fixtures and finishes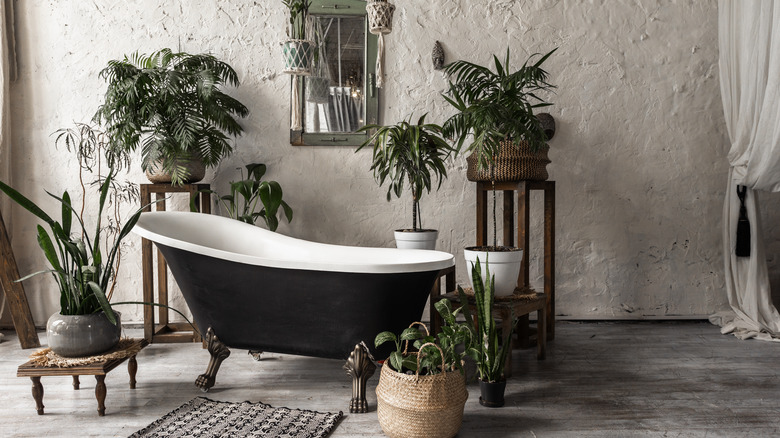 brizmaker/Shutterstock
While some homeowners may consider selecting fixtures and finishes a relatively minor detail in the grand scheme of their home remodeling plans, there are several important reasons why you want to have these details determined before the sledgehammers begin to fly, says Lauren Adams. "There can be hundreds of items that you need to select," she said. "This includes appliances, plumbing fixtures, decorative lighting, cabinets, hardware, tile, flooring, cabinets, countertops, medicine cabinets, and more."
Selecting these items in advance will help ensure that your team can provide you with expert insight in the event that certain fixtures or appliances will not work with your plans. According to Adams, doing so well in advance can also help your spending stay on track. "You'll want your architect or an interior designer to help you to make these selections and determine the budget for these items, which can easily get out of hand if not monitored," she continued.
Although adhering to your project's budget and scope are important, there's another reason you should not waste time in selecting your fixtures. "You'll also want to select and purchase the majority of these items before starting construction to avoid delays caused if materials go on backorder or are discontinued, something that is much more common given the materials shortages we've experienced through the pandemic," she added. "Appliances, for example, can take a year to receive after placing your order."
Decide whether you stay or go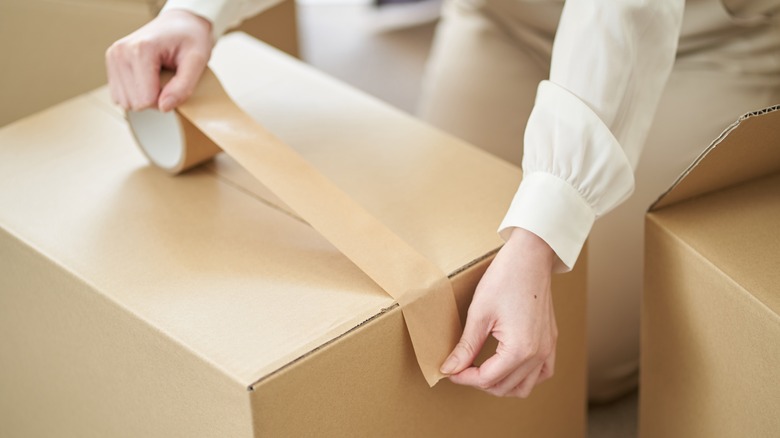 mapo_japan/Shutterstock
Realistically, most homeowners spend a great deal of time thinking about their budget, new appliances, design plans, and remodeling team when they decide to renovate parts of their home. However, many homeowners fail to consider what they should do with themselves once construction begins. While living at home during a major remodeling project is possible for the well-prepared (per Blackline Renovations), it might not be ideal, says Lauren Adams. "In most cases staying in your home through the course of construction will result in delays," she explained. "It can also be trying on family and relationships. If you can afford to move out, you should."
Whether you decide to stay or go, it's always important to plan ahead. A lot can go on when your home's being worked on, and it probably won't be possible to keep an eye on all of your cherished items. "You should also store your things to avoid potential damage or theft and the inevitable collection of construction dust," Adams concluded.