Creative Ideas For A Unique Coffee Table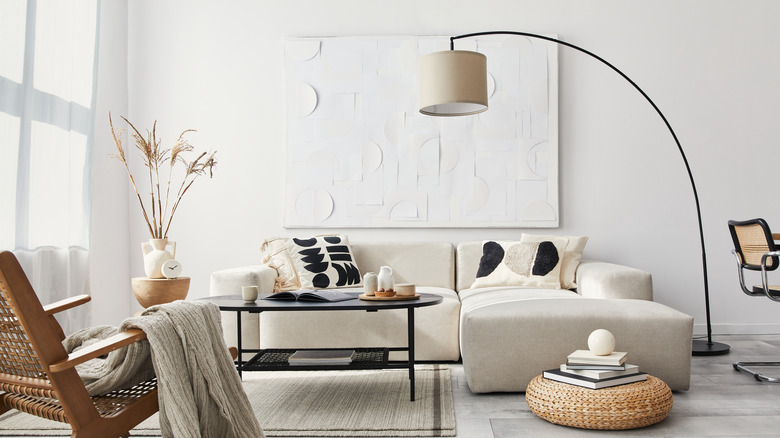 Followtheflow/Shutterstock
Coffee tables date all the way back to the 17th century. They certainly left their mark, as we still use them today. According to HomeWorld Furniture, the first coffee table appeared around the same time as the first coffee house in London. There was a need to set down a hot beverage, and it brought about the tea table, which we now call the coffee table. At that time, the tables were around 27 inches high, but today our coffee tables are usually about 18 to 19 inches tall.
An average coffee table is just a table. A unique one is a conversation piece. You don't have to pick up your next coffee table at the local furniture shop or order from "tables are us." Make yours stand out and decorate a coffee table to reflect your style and personality. Keep reading for some creative ideas to create a unique coffee table in your home. Choose one, or let these ideas get your creative juices flowing so you can come up with a fun table that no one else can copy.
Piece together some wooden crates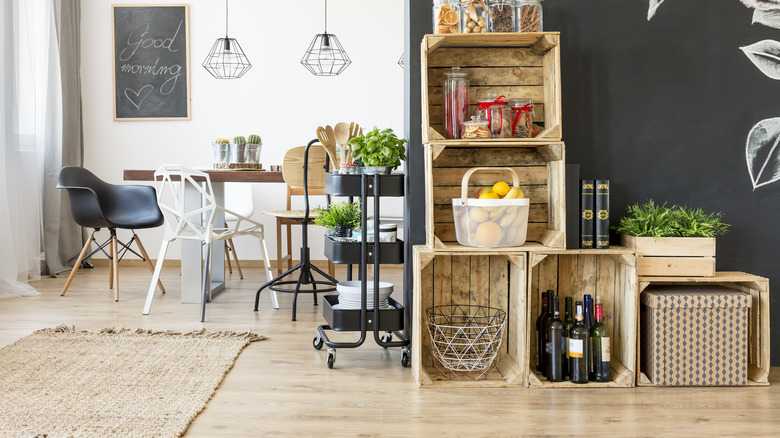 Photographee.eu/Shutterstock
Wooden crates are versatile and blend well with nearly every style of decor. You may have used them at some point as a cute storage option. Some people like to stack them as shelves. Turn them upside down, and you've got a table. Build them high or side by side for a low and wide look. You can find older ones at a flea market, often with stamps from businesses long ago. Those work great for a vintage vibe. 
Many arts and crafts stores carry plain wooden crates so you can turn them into whatever you like. Leave them as is or paint them a fun color. Love Grows Wild explains that you can make new paint look old and distressed. All you need is a paintbrush, your paint, some Vaseline, and a rag. Wipe Vaseline on the areas you'd like to look distressed. For your crate coffee table, that might be the edges. Paint over the entire crate, including over the Vaseline. Let the paint dry slightly, then wipe away the areas where the Vaseline is with a damp rag. Remove the paint and expose the edges to make the piece look distressed. 
That's just one idea for your crate table. You can also stain wooden crates. When putting your table together, nail the crates or set them next to each other if you aren't worried about them moving. That makes it easy to move the crates wherever you need them when there is company.
Give reclaimed wood a new home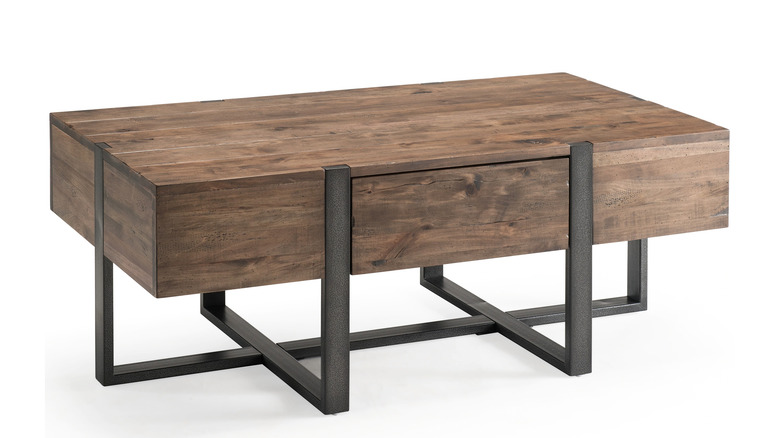 WakoPako/Shutterstock
Reclaimed wood is wood from the past used on structures and buildings from the 18th to 20th centuries, per The Reclaimed Flooring Company. Reclaimed wood is recycled and reused, making it sustainable and eco-friendly. It shouldn't be confused with salvaged wood cut and stored for many years and not used for construction. 
Reclaimed wood makes a beautiful coffee table. It's naturally distressed and usually high quality since it was used to build a structure. If you're a woodworker, you can piece together the wood into any table you like. If not, you can buy tables made of reclaimed wood or pay a woodworker to create a design for you. There are sites online, such as Custom Made or Etsy, where artists sell their reclaimed wood creations. Wood that's come from a building tells a story, and you can enjoy guessing what those stories may be as you and your guests sit around the table, enjoying a cup of coffee or a glass of wine.
Create storage with a trunk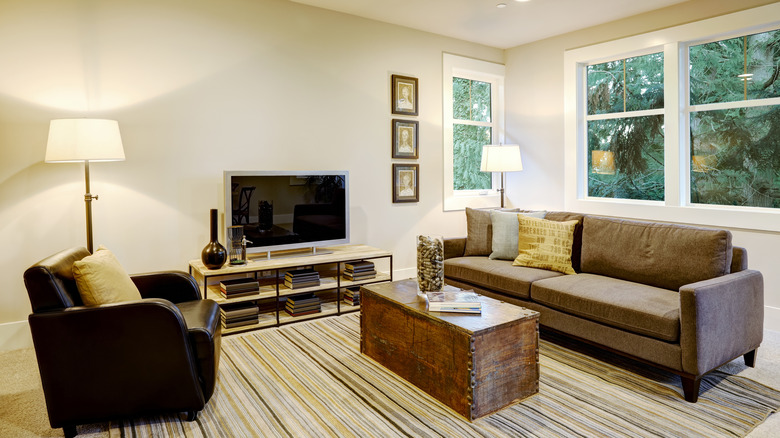 Artazum/Shutterstock
A coffee table that doubles as storage is helpful in your family room. Trunks with a flat top make the perfect coffee table, and you can fill them with blankets, games, books, coloring supplies, or whatever your family enjoys. Some designers create trunks as coffee tables, and you can also search for used ones at flea markets or online marketplaces. 
History is great. However, it can leave behind dirt and unpleasant odors. If you find an old trunk in poor condition, you may need to rehab it. Tear out the old lining, sand to smooth the insides, and give the trunk a good cleaning. After that, you can reline your trunk. 
Farmhouse 1820 explains that all you need to line a trunk is Mod Podge, wallpaper, and materials to help you make a few straight cuts. Measure the areas you want to line, then measure and cut the wallpaper as needed. Once it's cut to fit, coat the back of the paper with Mod Podge and stick it into the trunk. Leave it open for at least 24 hours to let the Mod Podge dry. Next, use your new coffee table for storage and a place to set your favorite books. 
Make creative use of your stools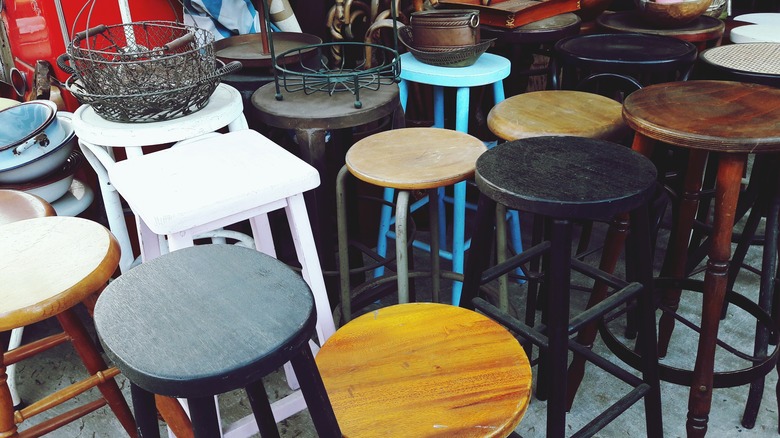 Ira Simonova/Shutterstock
Push together some stools, and suddenly you have a table. Use a mix of heights or gather all the same size for a fun coffee table. If you live in a small space, such as a one-bedroom apartment, you may wonder if you must have a coffee table. How important are they? Interiors Place writes that yes, you must have a coffee table. Even if it's the smallest table you've ever seen, it's still something that you can set things on. Remotes, drinks, a deck of cards ... there's always something that needs a spot. 
A stool or two is the perfect solution for tight places. You can literally set two stools together and have two flat round tops as a place to put things. And how perfect — the stools double as seats when needed. The options are endless for colors and designs. Pick up used stools or buy new ones. Cut the legs down or search for shorter stools. You can spray paint them any color or enjoy the old patina of a rusty metal, industrial-style stool.
Add whiskey barrels to the rustic home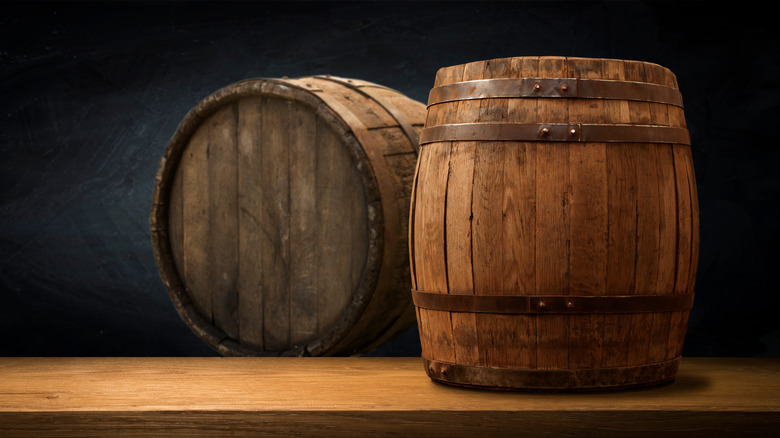 Kishivan/Shutterstock
You don't have to be a whiskey lover to appreciate the beauty of a whiskey barrel. They're commonly seen in bars and used as a place to set drinks. Before they end up there, whiskey barrels serve an essential purpose. Barrell Craft Spirits explains that whiskeys get all their flavor from the barrel they sit in for years. Before that, whiskey is a clear liquid that tastes nothing like the amber-colored drink we love. Now you have a conversation starter for your guests as they admire your whiskey barrel coffee table. 
There are a few ways to use these versatile barrels as a table. You can plop them on an end for a quick and simple table with a flat surface. You can also attach a piece of wood to the top to make a larger tabletop. The barrel is a perfect stand for the top. Apply wood glue to the barrel, then adhere the wood top with screws (via BlackTailNYC). You can also screw in wood pieces about three inches tall. If the rim isn't wide enough, add your wood for the tabletop. All that's left is to invite friends over for a bourbon tasting.
Embrace wooden pallets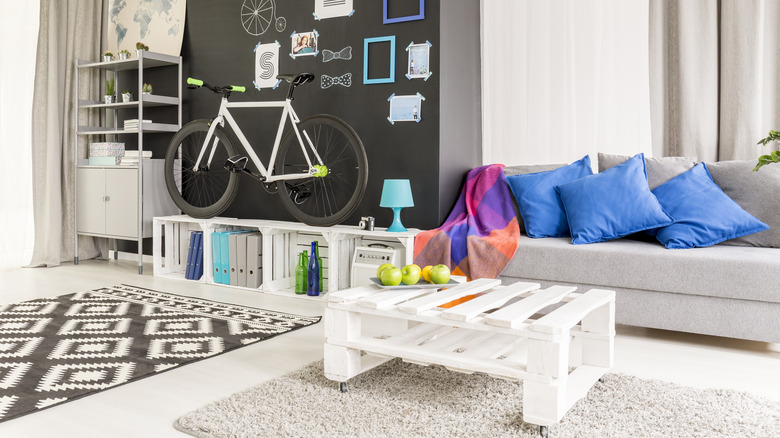 Photographee.eu/Shutterstock
It seems wooden pallets are for just about everything these days. Take a look at Etsy, and you'll see all kinds of homemade items made from pallets, from wine racks to bookcases. That's because they are inexpensive, easy to find, and ready to use for projects, with pieces of wood that all measure the same. Some stores will let you purchase the ones they've used, or you can pick pallets up for free. You just have to ask. 
Multiple pallets can be stacked to bring the table to the perfect height. For an idea about the height and width, a standard wood pallet is 40 x 48 inches wide and about 6 inches tall, per Freightquote. You can also add legs to one or two pallets to get it to the right height. If you're keeping the pallet as is, you'll need to have another top made, such as a piece of glass. It's easy to do with the measurements and a company that cuts glass. 
No matter which project you choose, it's a good idea to pressure wash your pallets to clean, then sand them until smooth once they're dry. You can also fill in the gaps between the boards by adding other pieces of wood, such as plywood. Doing this will give you a more solid top. Use wood filler to fill things like holes and imperfections on a wooden piece of furniture (via ThePlywood). Even a smooth, clean pallet might have scratches and holes. Leave them as is if you prefer a rustic look. You can also stain or paint pallets since they are solid wood. Be sure to varnish over your pallet coffee table whether you leave it in its natural state, paint, or stain. Varnish protects the table from water damage and makes cleaning easier.
Salvage that old door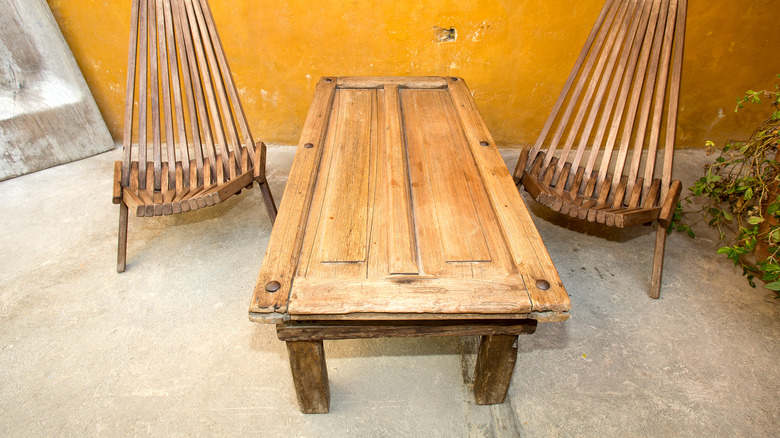 Barna Tanko/Shutterstock
Never throw away a door, especially if it's solid wood. Doors are great at doing their standard job, but they truly shine when they play a different role. Place a door on two sawhorses, and you have a table. It's that easy. For a coffee table, you may want to downsize it a bit. You can purchase table legs at home improvement stores and screw them into the bottom of a door. Choose legs that are the height you want the coffee table to be, adding the door's height as it lays flat. 
You can cut the repurposed door to a smaller size with a circular saw. According to Kitchen Cabinet Kings, a circular saw has a round blade that can cut through wood or metal. They can make all kinds of cuts and are pros at a straight cut, like sawing a door in half. If you don't own one, they are often available to rent.
Like many wood projects, you need to sand it until it's smooth after cleaning. Once that's done, you can choose to paint the door or leave it as is. It's helpful to paint or stain the legs while they are off the door before screwing them on. It'll just make painting easier. No matter the finish, coat everything in varnish to protect against water damage. This tip will make it easy to clean and tough to scratch (via Owatrol). Many people love the years of chipped paint colors on an old door. If that's what you're using, sand it with fine-grit sandpaper to not lose too much of the paint. You can varnish over that as well.
Find a solution with your ottoman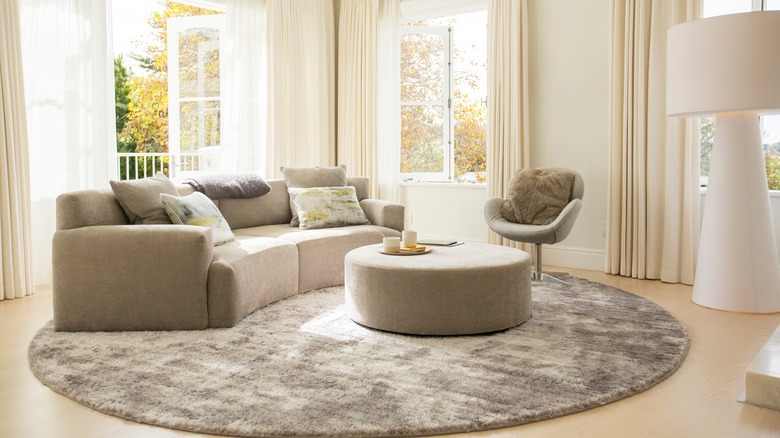 Kotoimages/Shutterstock
Put your feet up, along with your drink. The right ottoman easily doubles as a coffee table. The key to using an ottoman work is a tray. A flat ottoman can hold books, magazines, and a remote, but it's not a good drink surface. Purchase any tray to set on top of the ottoman, and you're good to go. You could also use a wooden board. If you no longer like the look of your ottoman, or you'd like more of a contrast with the couch as the ottoman acts as a coffee table, you can recover it. 
No, you don't have to be a seamstress to recover furniture. Suburble recommends removing the old cover by pulling out the staples with pliers and then pulling off the fabric. Next, stretch your new fabric over the ottoman, folding where necessary at the corners, and staple it all from underneath. There's some flipping back and forth, but it's so worth it in the end. It's that easy! If you choose an ottoman with storage, all the better. Use it for living room necessities you want out of sight at times. It's easy to remove the tray when you need to open up the ottoman.
Change up what you already have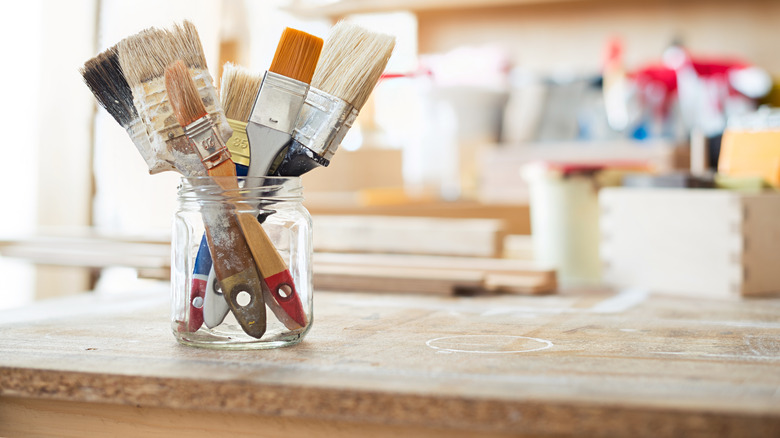 Donatas1205/Shutterstock
Do you already have a coffee table and want to change things up? Decorate what you have, using decoupage or paint. That boring coffee table handed down to you when you moved out can still be useful. It probably just needs some excitement in its life. Turn your coffee table into a work of art. Paint it any color you like, using door and trim or furniture paint. You want a tough finish. After that, you can add some decoupage. Beware — once you try it, you'll want to decoupage everything in sight, including your roommate or partner. Consider yourself warned! It's one of the quickest ways to make a dramatic difference to a piece of furniture (not recommended for humans).
To decoupage, choose any paper. It can be wallpaper, napkins, wrapping paper, scrapbook paper, postcards, or magazine pages. Anything. Rip or cut the paper into sizes you like and glue them with our good friend, Mod Podge. Mod Podge Rocks explains that Mod Podge is a versatile glue, finish, and sealer. That makes using it simple and inexpensive. After gluing the pieces in a way that delights your eyes, allow the Mod Podge to dry. Then paint more Mod Podge over the entire table, covering your decorative papers and all the wood. Apply two coats. This tip secures the paper and gives the table a varnish-type coating.
Get inspired with vintage suitcases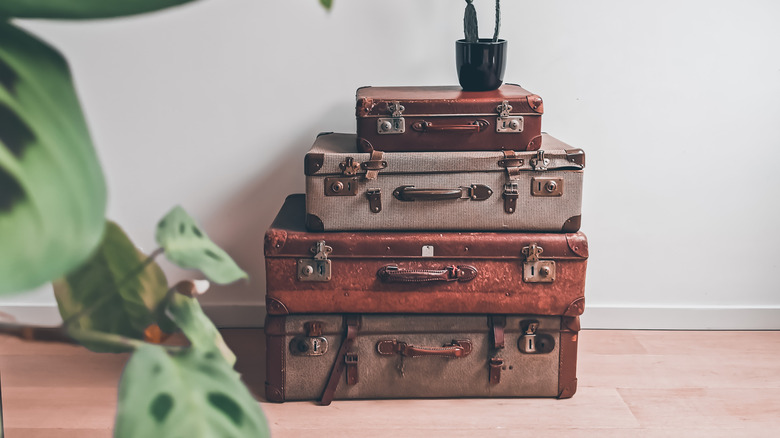 Luoxi/Shutterstock
Talk about storage — vintage suitcases add style, sophistication, and storage to your living room. Stack them up for an artistic coffee table. Just like an old trunk, vintage suitcases might have a stuffy odor. No worries. The first thing to try is some good ol' sunshine and fresh air, per Hawk Hill. If the smell isn't too strong, sometimes that's all it takes. When fresh air and sunshine aren't cutting it, it's time to enlist baking soda. Stick an open box of it in the suitcase and close up the lid for a week, then remove the box. You can also sprinkle baking soda directly in the suitcase and let it sit. Depending on the material, you can also scrub the inside.
Once you have clean, dry suitcases, stack as many as needed to make the cutest coffee table. You can run a few screws through each one to screw them together if you prefer. However, that will damage the suitcases, so keep that in mind. You can also use only one suitcase and add table legs to it. Either way, prepare to catch the travel bug.
Use a moveable bar cart
A moveable bar cart is perfect for those who struggle with commitment. Roll it to another spot when you need it out of the way. Remove the wheels if you don't like having a coffee table that can pick up and leave. Bar carts come in all shapes and sizes, including vintage and antique options and brand-new ones. A few coats of spray paint should have a bar cart looking exactly how you want it. You can also leave it the way you find it. When choosing to spray paint, Krylon suggests opening windows, using a fan to circulate, and wearing a painting mask and other respiratory protection if you spray paint inside. 
Carts usually have two levels, making them an ideal option for the living room. Store a basket on the bottom for remotes and magazines, and keep the top clear for drinks. Your bar cart coffee table might take on different roles as life changes. Still, as it plays the role of a coffee table, you'll enjoy the ability to move it when rearranging furniture for parties or getting out of someone's way. You can even roll the cart to the kitchen to fill it with drinks when you have guests, then roll it back to serve.
In conclusion, having a unique coffee table is fun. It adds instant conversation to gatherings and gives your home an eclectic, creative vibe. It's your home, so make your coffee table what you want it to be.