The Best Way To Prepare Your Roses For Winter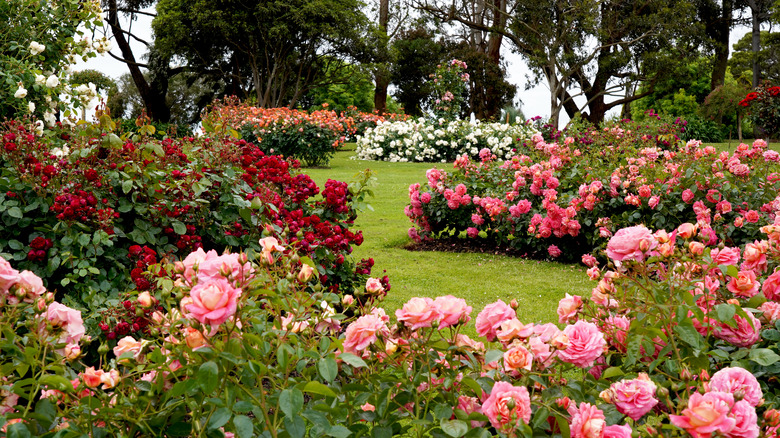 Gary Matuschka/Shutterstock
When you live in one of the colder USDA growing zones, keeping popular garden plants like rose bushes as perennials can be tough. Most types of roses aren't capable of surviving freezing temperatures on their own for extended periods of time. So, the only way to save your bushes year after year is to provide them with winter protection. Unfortunately, this isn't as easy as throwing a tarp over them. You'll need to plan out your winterization schedule several months before your area expects the temperatures to drop.
Of course, you should keep in mind that all roses are not the same. Certain species tend to be hardier than others. For example, as explained by University of Illinois Extension, old garden, or antique, roses are quite tolerant of the cold and also less susceptible to disease compared to different rose bush types. On the other hand, the popular hybrid tea roses tend to prefer warmer weather and they must be carefully winterized each season.
Preparing your roses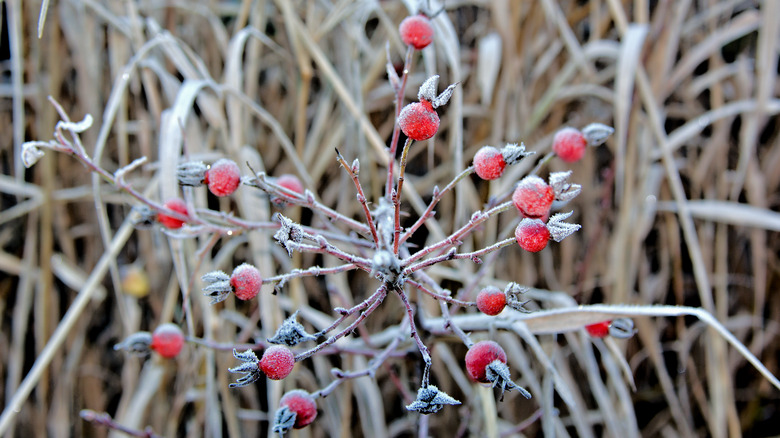 Elmar Langle/Shutterstock
To give your roses the best chance at surviving the winter, you must begin the process of winterizing your bushes by the end of summer. The first step in this process is to slow down their growth. To do so, stop fertilizing by the middle of August, says University of Illinois Extension. At this time, you should also refrain from deadheading. This way the plant can form hips before it begins to enter dormancy. 
To further protect your roses, you can also cut off any damaged or diseased branches, but keep in mind that pruning and cutting your rose bush after the beginning of September can expose it to damage. Your plant won't have the energy to callous over before freezing temperatures arrive, so it's best to do the bulk of your pruning in the spring.
Just before you cover your roses, you will need to do some clean-up in your garden to remove any debris that has piled up around the plants. This step is extremely important so your bushes are not exposed to any fungal diseases when the weather warms up again, mentions the University of Nebraska-Lincoln. 
Covering your roses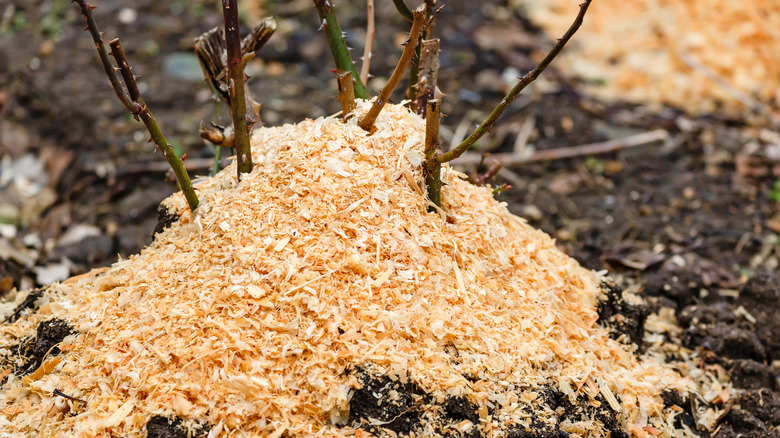 Flower_Garden/Shutterstock
The last thing to do, just after your region begins to experience freezing temperatures, is to cover your roses. There are three different methods for this depending on your preferences. These three methods are hilling, using a collar, or using a rose cone, according to the University of Illinois Extension. Some people choose to cover their roses with some kind of plastic, but this is not recommended by most professional gardeners. When you try to protect your roses with a material that has no ventilation, the space inside can heat up and cause your plant to break its dormancy early.
Hilling is an easy preparation method. Simply mound compost, loose soil, or other well-draining organic material on top of your bushes. Be sure that you are only starting this step after the plant's leaves have dropped. The use of collars is similar. You place the collar around your bush, then fill the collar with soil. After you've allowed the soil to freeze, you'll want to top off the collar with mulch to keep the soil temperature from fluctuating, advises Chicago Botanic Garden. Rose cones have the same purpose. You'll mound about 6 inches of soil around the plant's base. Then, secure the cone onto the mound to protect the top of the rose bush. Styrofoam can heat the air inside if it is not well-ventilated, so always cut holes at the top of your cone if it doesn't already have some.