Jasmine Roth Maximizes Bedroom Storage With Beds You Can Buy On Amazon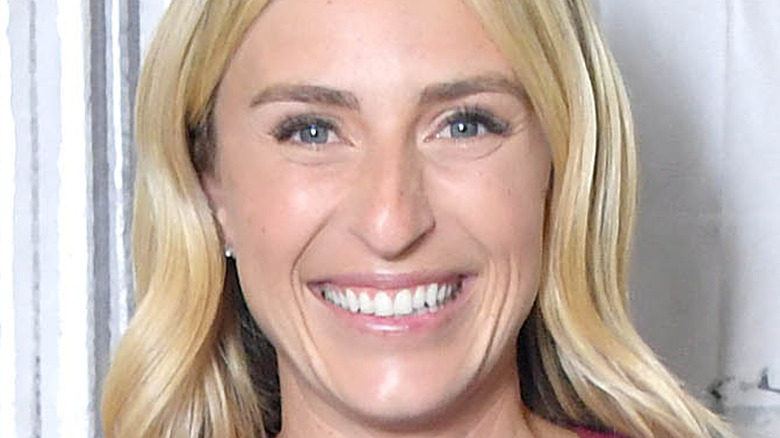 Michael Loccisano/Getty Images
We may receive a commission on purchases made from links.
Renovation guru and rising HGTV star Jasmine Roth is an expert at transforming existing spaces to bring out their full potential — both aesthetically and functionally. Roth made her home improvement network debut on HGTV's "Hidden Potential," where she helped create one-of-a-kind masterpieces out of existing, lackluster homes. Then she began assisting victims of failed DIY home improvement projects, lending aid in rescuing their disastrous spaces. Roth was named the season 2 winner of the network's hit renovation competition series "Rock the Block" in 2019, per HGTV. According to People, Roth has also been busy with a recent project, renovating a condo she bought for her mom.
Documenting the entire renovation journey on HGTV's TikTok account, Roth has taken fans along with her as she transformed a cookie-cutter condo into a stunning, sophisticated, surf-inspired oasis. Her cool and creative space-saving hacks have caught the eyes of many viewers looking for their own storage solutions. One video in particular that had viewers buzzing featured Roth showcasing her mom's ultra-cool bed that lifts to reveal tons of storage space.
Score Roth's bed for your own space
According to HGTV, the bed in question is super user-friendly, meaning you can easily lift the mattress, access the storage compartment, and return it to the sleeping position in no time at all. The hidden storage compartment is also nearly a foot tall, allowing plenty of storage for extra pillows, sheets, blankets, linens, or whatever else you're looking to find a way to store.
The best part of all is that accessing the storage compartment won't even mess up your nicely made bed — oh, and you can score the Queen Upholstered Platform Bed on Amazon for less than $300. Roth chose a beige-colored bed for her mom's new condo and styled it with a neutral comforter, a cozy throw blanket, and lots of cute pillows. The bed comes in several different colors, styles, sizes, and methods of storage accessibility, allowing you to customize it in a way that best complements your own unique space. The bed boasts an average rating of 4.3 stars, with reviewers raving about the quality and amount of storage. It's also Jasmine Roth approved, so really, what other endorsement do you need? 
Try these similar beds
If you like the idea of a storage-saving bed similar to the one Jasmine Roth got for her mom but want to shop around, the retail giant sells another similar option. The DHP Dakota Upholstered Platform Bed with sliding storage drawers — which you can also score for less than $300. Like the bed Roth got for her mom, the upholstered platform bed comes in various colors and sizes suitable to your liking.
IKEA also sells several different variations of beds with a similar setup. Like Roth's Amazon bed, IKEA's NORDLI bed also boasts impressive reviews. It offers an impressive amount of hidden storage with drawers that conveniently slide out from the bed frame, allowing several different storage compartments to work with. The NORDLI also comes in your choice of two different colors and is sold in multiple sizes, either as a full setup with the headboard or without — letting you choose the best configuration for your room.