Are The Least Expensive Bar Carts At Target Worth Buying?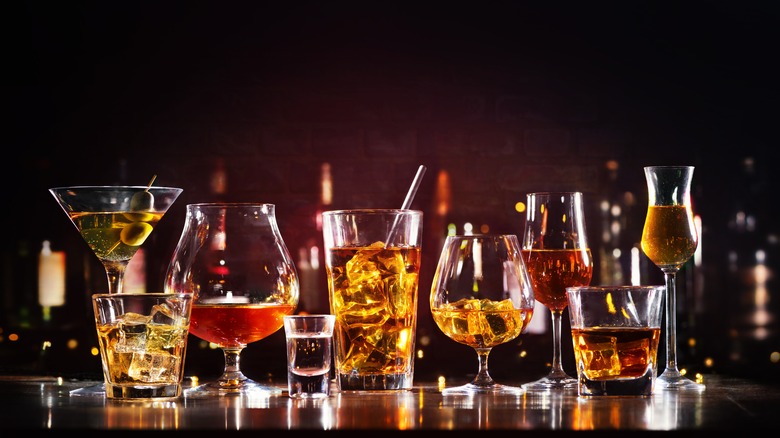 Alexander Raths/Shutterstock
We may receive a commission on purchases made from links.
Whether you are looking to add a fun and unique piece to your home or simply want to wow your guests during your next dinner party, a bar cart may be just the thing you need. According to the New York Post, a bar cart is not only a great way to put your best alcohol on display but also gives you the opportunity to present your superb bar-tending skills to whatever audience may be in the room.
Although Food52 mentions the hassle a bar cart can be to clean, especially for a piece that is usually not used daily, it is still a timeless décor element that can always act as a stylish addition to any room. So, if you are eager to incorporate a bar cart of your own into your home, look no further than your local Target store. With a wide variety of styles and colors, the retailer is bound to have the perfect bar cart for your home at a low and affordable price. Let's take a look at some of the least expensive bar carts Target has made available to you and discover why they are truly worth buying.
Carmine bar cart
Currently, the cheapest bar cart you can purchase at Target is the Carmine Bar Cart. This cart originally cost about $130, but for a limited time, it is on sale for only $98. If the price isn't enough to grab your attention, the Carmine Bar Cart boasts a beautiful rustic style with two natural weathered wooden shelves connected by a sturdy black metal frame. Providing easy mobility, each foot of the shelve is also attached to a wheel, which allows you to easily push the cart throughout your home.
Before purchasing the Carmine Bar Cart, however, understand that each shelf only provides a 30-inch by 15-inch rectangle of storage space per shelf, which can be a somewhat restricting amount of space. But putting the size of the cart aside, it works for a variety of different circumstances beyond alcohol. So, whether you are not a fan of alcoholic beverages or do not wish to display them within your home, this cart is also great for serving regular drinks, snacks, and appetizers, making it even more worth considering.
Ephron bar cart
Another cheap bar cart you can purchase at Target is the Ephron Bar Cart, which initially costs $140 but is currently on sale for only $105. Unlike the Carmine Bar Cart, this cart is designed to hold alcoholic beverages. This is seen by the bottle rack stretched across the cart's center and the wine glass holders positioned underneath the top shelf. According to Target, these two features can hold approximately five wine bottles and nine wine glasses. Despite these non-versatile features, the cart also includes two shelves that provide a 24-inch by 16.5-inch rectangular storage space, perfect for holding extra bottles and other items you wish to store on the cart.
Similar to the Carmine Bar Cart, the Ephron Bar Cart also holds a somewhat rustic style with naturally weathered wooden shelves accented and held together by a black metal frame. Also providing easy mobility, this cart is completed with wheels, allowing it to be easily pushed throughout your home. Despite the singular purpose of this cart, it can still be an excellent investment for those specifically looking for an attractive piece to display and make alcoholic beverages.