Magnolia's Jenni Yolo On Her New Show And How To DIY Your Perfect Space - Exclusive Interview
Many homeowners dream of hiring world-renowned renovation specialists to turn their fixer-upper into the house of their dreams. However, major renovations often come with a significant price tag that far exceeds a modest budget. Thus, it's no wonder why so many people are choosing to DIY their home renovation projects. However, creating your dream space with your own two hands can be a daunting task, so it's never a bad idea to look to the experts for inspiration.
Jenni Yolo is a seasoned renovation specialist whose spectacular DIY designs have scored her a nine-episode series with the Magnolia Network, which airs this fall. Yolo is used to approaching projects with a tight budget and limited timeframe and has a vast portfolio of work that showcases her uncanny ability to transform run-down rooms into unforgettable spaces. In an exclusive interview with House Digest, we spoke to Yolo about how she found her passion for DIY home improvement projects and scored some tips on how you can use DIY to perfect your pad.
Starting out with DIY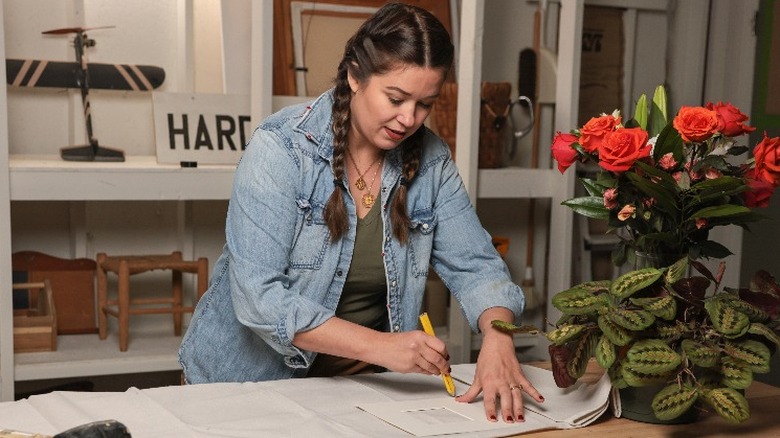 Magnolia Network
How did you discover your love for DIY home renovation?
Jenni Yolo: My love for DIY started a long time ago. I was always a crafty kid, so I was always tie-dying and doing different projects like that. And then I moved to New York and started doing more DIY fashion there because I was working at a fashion magazine and I couldn't afford a lot of the fashion. Then I moved back to Wisconsin and I got a studio space and kind of just started playing around with different DIY décor items in there and kind of started to fall in love with that.
Then I bought my first house for $24,000. Now it's called the Sage Home on Instagram, but it was in disrepair. It was definitely the worst house on the street. And I went through a pretty whirlwind four-month gut renovation on that, which was a very intense process [when] I probably made every mistake you possibly can in a renovation. And, somehow, I still fell in love with the process and I knew I wanted to do it again.
So, I called it the Sage Home because I got a lot of sage wisdom from that home, kind of just trying to figure out how to renovate and run a renovation and making mistakes and learning what needs to be done in the process. And each renovation has gotten a little bit easier since then, and I've been able to make decisions quicker, but I just loved the whole process.
For someone who is trying to get into home renovations and has very little experience, would you recommend they jump in head-first like you did? Or are there any beginner-friendly projects that you would recommend to help build their confidence?
I always say with anything DIY, start small with projects that don't have a huge ... Like if they go wrong, it's not a big deal. Yeah, start small and then keep building confidence. And once you start learning techniques, you can kind of keep inching your way up to bigger and bigger projects.
Start with painting a piece of furniture that you thrifted. It's pretty low-risk, low-cost. And then if that goes well, then you can maybe paint a built-in or tackle painting a room. Just take small steps to hone in your skills and learn processes before you start going too crazy with bigger projects.
Design tips and inspiration
I notice you use some very interesting wallpaper in your projects. Do you have any tips on how our readers can find the perfect wallpaper for their space?
Well, they should use my wallpaper collection with Chasing Paper. (Laughs) Yeah, me and my friend who runs Chasing Paper, which is a local Wisconsin wallpaper company, created a line and she has a peel-and-stick wallpaper, which I feel is the perfect thing for a DIYer because it's low commitment. It's like a giant sticker that you can put on the wall.
I always like to find a brand that I like working with, because there [are] so many wallpapers out there right now. If you find a brand that you really like working with, you really like their company, kind of just sticking with that and then deciding if peel-and-stick or traditional is best for your space ... And, if you're not ready to commit to the cost for something, you can always do a smaller space. Or, you could do one wall or you could do just above or below a chair rail to kind of make it a more cost-efficient type project.
You were recently in Austin, Texas and I know they have a lot of wacky design elements around when you're visiting the cafes, the bars ... Did you take any inspiration from any of the places that you visited in Austin?
Yeah, absolutely. I mean, every time we're going on vacation, I'm always keeping my eyes open. I love restaurants and hotels because I feel like they can be a little bit more creative with their design and ... have less constraints just because they're trying to stand out.
One of my favorite things that I saw was a floor that was part wood and, then, tile kind of worked its way into the wood and they kind of found a really cool way to mesh the two things. So I want to find a way to kind of incorporate that into some of our designs.
But yeah, whenever we're on vacation, especially a place that's so into design like Austin, I'm constantly snapping photos of everything I see. And then going back and referencing them later just to see if I can pull any inspiration for the homes that we do.
Choosing and renovating a home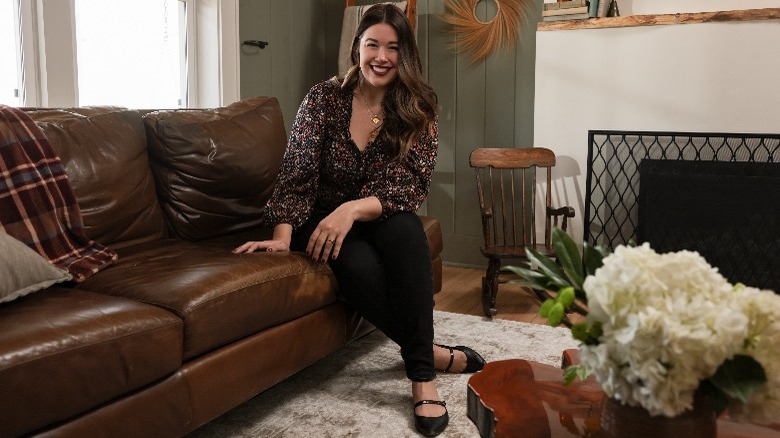 Magnolia Network
Your barn house renovations are really amazing. Can you tell us an aspect of the renovations that was particularly difficult?
This house, our barn house ... that we live in, it was built in ... I believe 1894 or 1884. So it's one of the oldest houses on the block. So of course with any sort of house like that, you run into all sorts of [issues]. Nothing was leveled straight. Everything was pretty irregular ... which made figuring a lot of things out a little bit challenging.
But, that's one of my favorite things of working with old houses, you kind of have to work within the constraints that you have and ... all the wonkiness and all the unique things about an old house. So it has its pluses and it has its minuses.
In a recent Instagram story, you indicated your husband maybe wasn't quite as in love with the house as you were upon first seeing it. Can you get into why that was?
Yeah. I guess I don't want to be derogatory towards the previous owners, but they kind of left the house in disrepair. It was in really bad condition when we got it, like the kitchen and the bathrooms all had carpeting in it and they collected a lot of stuff, so it was full of a lot of stuff. And it kind of was untouched for many, many years. So it was a little bit hard to see through a lot of the clutter and the unfortunate choices in [things] like wallpaper and carpeting.
But when I walked in, I immediately saw tall ceilings. I saw this beautiful archway and I saw a layout that actually really worked as it was. So, I knew that the whole house would have to be gutted, but that we could really keep a lot of the original character and the layout as it already was.
And plus it was a duplex and then we turned it into a single family home. So just like the separation between floors was kind of confusing. But I knew because of the tall ceilings and the arch and a lot of the original character that it could be a really beautiful house.
Starting new reno projects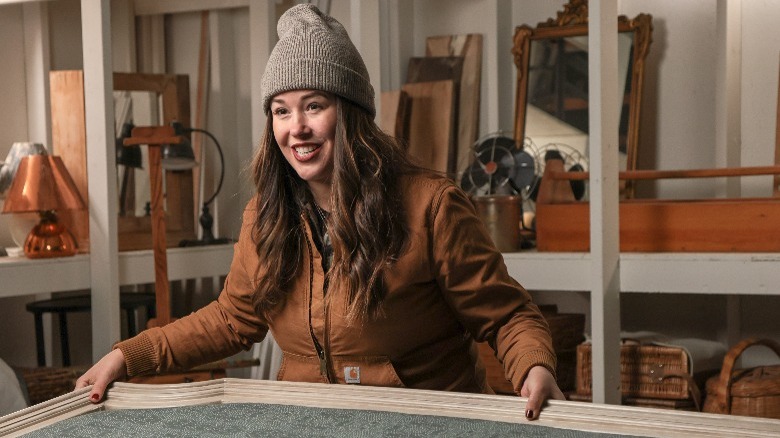 Magnolia Network
Do you have any exciting projects on the horizon that you can talk about?
Well, the big project that we've been working on is this loft house renovation, and the renovation is taking a little bit longer because we started filming the show and some workshops for Magnolia. But it's kind of been amazing because ... we've been able to use that as the backdrop of the workshops that we're doing with Magnolia and the show.
We're glad that this house has kind of [come] into our lives ... it's a very fun, quirky house that has stretched me creatively. So it's been fun to do the process. It's kind of a step outside.
Usually we renovate all old houses. Every house that we have is built in the 1800s and this last loft house was built in 2003 as a prototype to be like a house of the future. So, it's made out of concrete and just very quirky. It comes with its own challenges, but it's been a fun design challenge for me.
When you are renovating a new home, what is your absolute favorite place to start?
It's interesting because I see a lot of houses, and I love the moment when I walk in and I immediately have a vision. My husband is always like, he always is looking at me when I walk into a space to be like, "Is she feeling it? Does she have an idea for it?"
And it's usually a pretty instant thing that when I walk into a space, I know what I want to do with it. So I always love that moment when you kind of just start like, "All right. I have a vision. I know what this is going to be." I get excited and then I start going through my design process and then it's always fun when everything gets cleared out and you kind of see what you're working with and you really start at like a blank canvas, then you start building your way back up to your vision.
And then when it's all done, kind of the styling and just putting all those thoughtful details. I love antiquing. So finding the perfect antique piece to go into a spot is always fun. Finding that mix of old and new and making that balance really work. Yeah, It's fun ... There's little exciting parts to every step of the process, which is ... why I love it.
Magnolia Network's "Makeover by Monday" featuring Jenni Yolo premieres November 5 at 12pm ET on Magnolia Network and Discovery+ (new episodes each Saturday through the end of the year).