How To Get Erin Napier's Boho-Style Rug For Less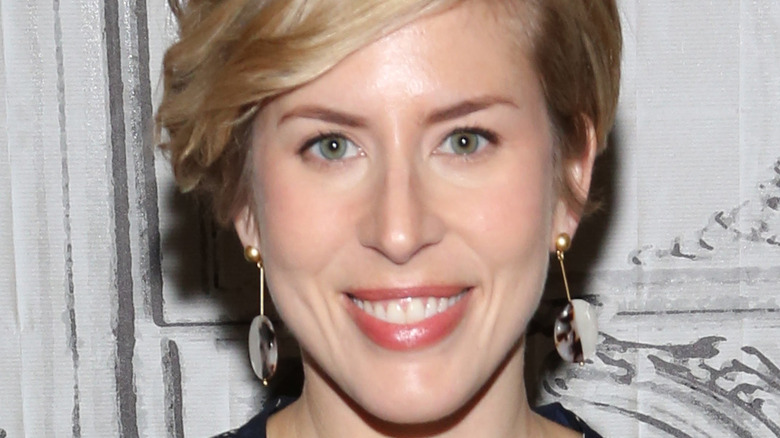 Manny Carabel/Getty Images
Talented designer and HGTV personality Erin Napier has amassed an impressive social media following thanks to the success of her and her husband Ben's hugely popular show, "Home Town." After captivating fans with beautiful home renovations and restorations in their hometown of Laurel, Mississippi, the married duo has gone on to co-host several spin-offs of the show that launched them into HGTV stardom, including "Home Town Takeover," "Home Town Kickstart," and "Home Town: Ben's Workshop," per HGTV. Though the couple has been busy adjusting to life as a family of four with their two young children, Helen and Mae, Erin still finds time to post on social media and give her followers a glimpse into her personal life and professional endeavors.
When Napier posted a short video on Instagram of her baby, Mae, crawling on the floor, several eagle-eyed followers quickly noticed (and fell in love with) Mae's video costar — a beautiful, colorful boho rug. Even though only a small portion of the rug made an appearance in the quick snippet of footage, the comment section of the video was flooded with questions asking Napier where she purchased the rug. Luckily, Napier's buzz-worthy rug is still available for purchase online and a dupe for less than $300!
Steal Napier's style
Fortunately, HGTV tracked down the exact rug featured in her Instagram video — saving you the detective legwork and instead allowing you to hit "add to cart." The boho-inspired, Persian print LoLoi Zharah rug is available on Rugs Direct. It is sold in multiple sizes, allowing you to translate Napier's style into your home in a way that perfectly fits your space. Though HGTV reports that Napier's rug is expertly styled in four-year-old Helen's bedroom, the versatile rug is a perfect addition to any room of your house, including the dining room, living room, and bedrooms of family members of all ages. 
The rug is even sold as a runner, allowing it to be used in hallways and not just as an area rug. If you are on a strict budget and find the price of Napier's exact rug to be a little steep for your tastes, Overstock sells a nearly identical rug for less, meaning you can score a large 5 feet by 7 feet and 6 inches rug for less than $260! Plus, the Alexander Home dupe sold on Overstock has tons of 5-star reviews, so you can feel confident in your purchase while still saving money.