How To Choose The Perfect Color For Your Accent Wall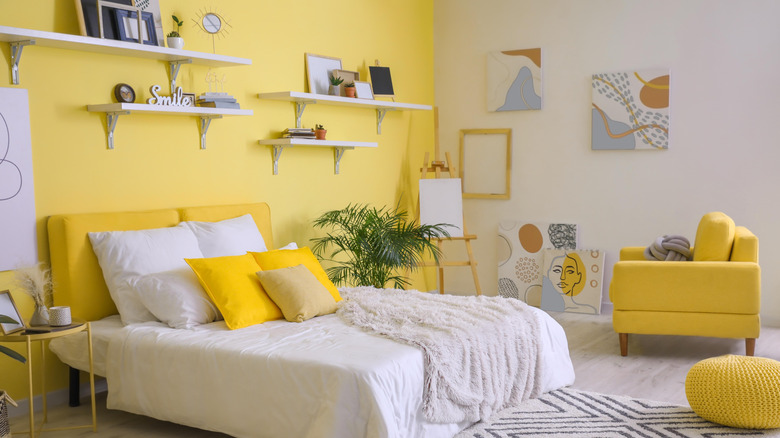 Pixel-Shot/Shutterstock
An accent wall acts as the focal point in any space and can be created with artwork, wallpaper, or paint. Perhaps the most popular choice for an accent wall is simply a bold paint color, since it's easy to implement and change.
When deciding to add a feature wall to a room, you'll first need to identify the wall you'll be transforming. To do this, The Artisen says to glance around the room and notice where your eyes are immediately drawn. If you have a fireplace, built-in shelves, or some other interesting architectural design, this is where your eyes will most likely want to rest. If you don't have a unique feature and all your walls are the same color, you may have the opportunity to decide the accent wall for yourself. Walla Painting suggests choosing the first wall you see when you walk into a space and one that's architecturally symmetrical, without doors or windows.
Once you've identified your accent wall, the next thing to do is choose a paint color. While this can be an extremely fun task, it can also feel quite overwhelming. This is because there are countless shade options to choose from. If you're having trouble narrowing down a feature color, below are some tips on choosing the right one, as well as some of the most popular options.
Steps to choosing an accent wall color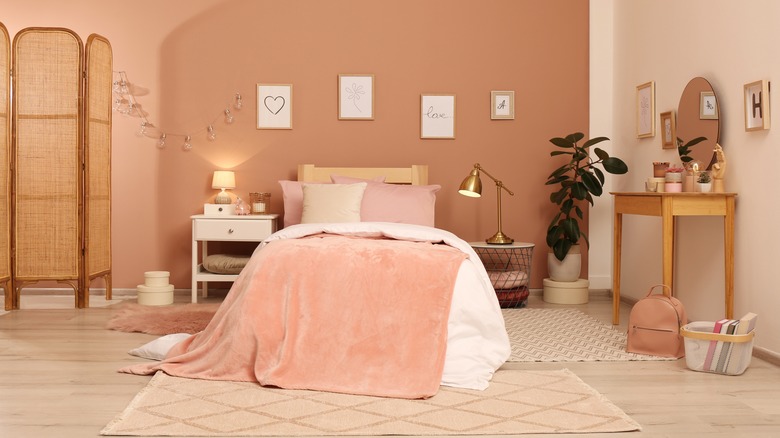 New Africa/Shutterstock
When choosing an accent wall color, first consider the atmosphere of the room. Is it dark with minimal light or bright and airy? If it's dark, don't choose a dark shade, as this will make the space feel claustrophobic, per 360 Painting. Instead, choose a lighter tone. If your space has lots of natural light, a deep color would look extra beautiful, per Benjamin Moore.
Next, think about what your room is typically used for. If you're adding the feature wall to the bedroom, you'll want to choose a relaxing tone. On the other hand, a hue in the living room could be either lively or muted, depending on what you typically do in the space. Budget Dumpster says to choose a bold shade if a room feels energetic; if it feels cozier, choose a subtle tone.
Finally, consider the design of the room as a whole. If you're styling the area from the ground up, develop a color scheme. Budget Dumpster says to follow the 60%, 30%, and 10% rule — 60% of your room should be a neutral color, while 30% should be another color, and 10% should be an accent color. If you're adding a feature wall to an already styled space, make sure the shade is cohesive with the rest of the decorative elements. 
Popular colors used for accent walls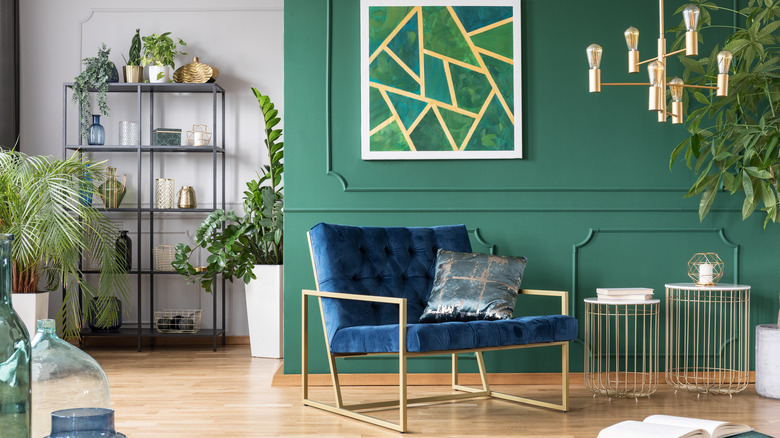 Photographee.eu/Shutterstock
According to Benjamin Moore, there are lots of popular paint colors in both bold and muted shades that could be used for accent walls. For those who want a more vivid appearance, a bright red, warm sunlight yellow, or deep ocean blue may look gorgeous. Those who want a more delicate appearance with just a touch of color may choose a pastel pink, muted baby blue, or light mint green shade. Finally, those who lean into neutrals may prefer a light beige, tan gray, dark gray, black, green-gray, or deep blue-gray tone.
When choosing the color that's right for your space, keep in mind that warm tones like orange, red, and yellow provide a cozy atmosphere, while cool tones like blue and green will make a room feel wider, per The Artisen. Additionally, don't be afraid to choose a bold color in a mostly neutral room. 360 Painting recommends using a color that would be overwhelming if painted on all the walls, but when painted on one wall looks just right. For instance, a black wall in a lightly colored space would create an interesting contrast.