Syd And Shea McGee Reveal The Secret To Creating A Light And Bright Room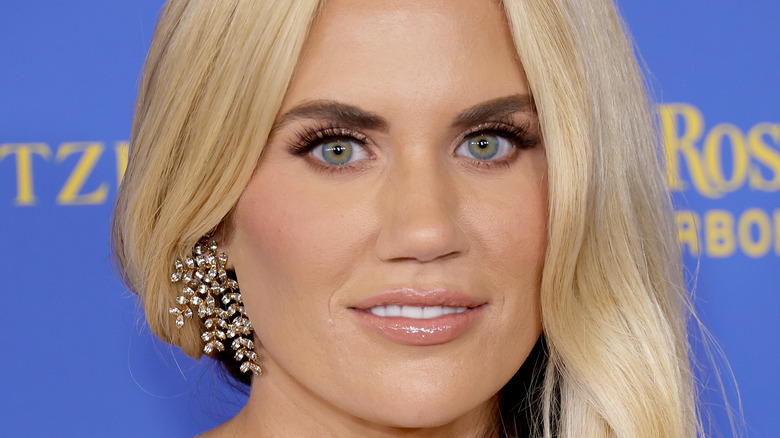 Frazer Harrison/Getty Images
The light and airy aesthetic has always been a major trend when it comes to interior design. This style gives the look of a large open room even when the space might be a little smaller. And what's ideal about the open and airy feel is that you're able to utilize it no matter what your personal style might be. Meaning you can incorporate coastal, glam, bohemian, and more into your home while still having an open aesthetic.
It's all about creating the illusion of space. One of the keys is to make windows a key feature, says Trendir. Allowing in a ton of natural light creates an open and airy feel. Keep the windows as free of curtains as you can to allow as much natural light as possible into the room.
One designer who's known for her open and airy spaces is Shea McGee. Together with her husband, Syd, they create beautiful designs that incorporate their clients' unique styles while maintaining a light and bright space. Studio McGee shared their best tips for creating a light and bright aesthetic in your home.
It's all in the color palette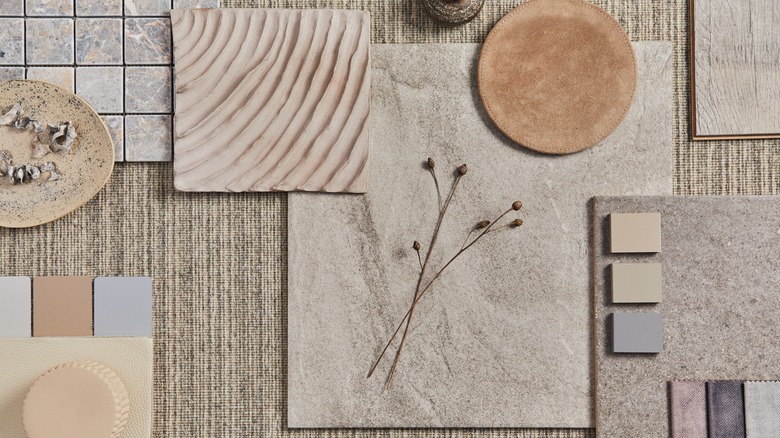 Followtheflow/Shutterstock
Shea McGee notes that a light color palette is the key to transforming a room into a light and airy space. Neutrals are one the best ways to achieve the light and airy aesthetic. Whites, creams, and tans are neutrals that work well for this color palette. One question you should ask before choosing a lighter palette is whether you like warm or cool neutrals, says Stone Gable. This refers to the undertones, and even neutral shades have them. Warmer undertones tend to create a cozier space, while cool tones are more crisp and clean.
And when creating your overall color scheme, you should add two more colors besides the main neutrals: black and a color palette. Black helps to ground the space, breaking up the lighter colors and adding contrast. But be careful because too much black can make a space feel moody unless that's the vibe you're going for. You should also add a repeating accent color throughout the space. Pops of blue, green, or pink can help add a bit of life to a space.
Layer in natural and neutral textures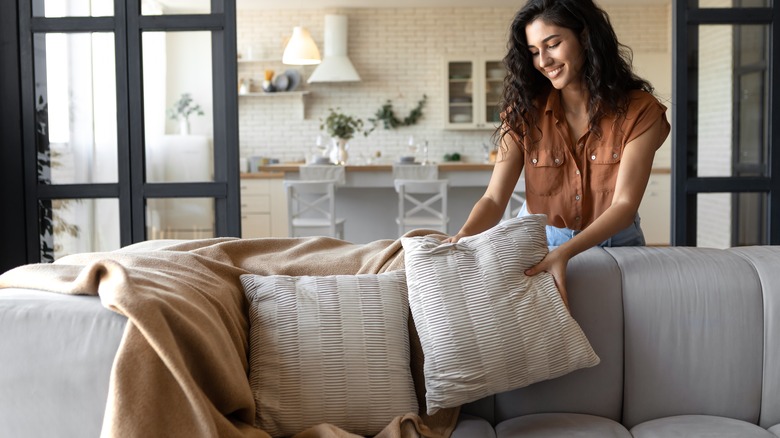 Prostock-studio/Shutterstock
Adding texture to a space prevents it from looking flat. Texture adds dimension and visual interest and is a great way to customize a space. Syd and Shae McGee like to add greenery at different levels of the room. They like adding small trees in the corners of rooms, fresh cut flowers in a vase on console or coffee tables, and potted plants on shelves. Plants bring in a natural element as well as a pop of color. And you can also use this as an opportunity to customize the space, choosing the style and maintenance level you prefer.
Pillows and blankets are another way that the McGees like to add texture. Throw blankets add a bit of softness to the room, while pillows are great for adding pops of color. You can also layer pillows to play with color combinations. There are a few ways to style throw blankets on a sofa. Tidbits and Twine suggests folding a blanket over a sofa arm for a clean and casual look or keeping them in a basket if you want to keep the blankets off the sofa.