What Move-In Ready Actually Means In Real Estate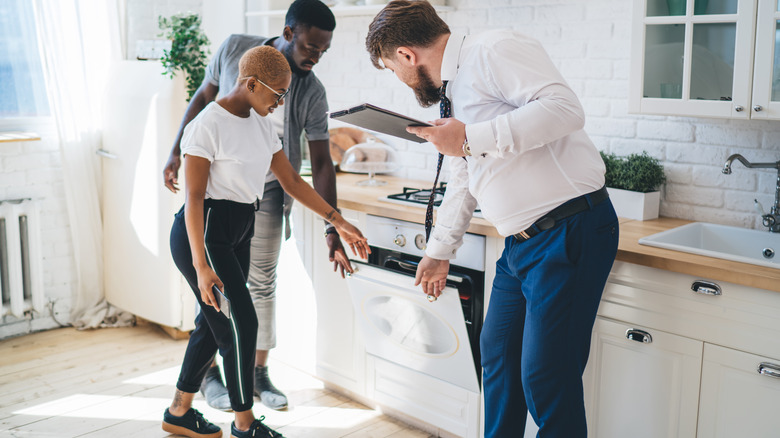 GaudiLab/Shutterstock
House hunting brings a host of challenges, but the last thing a home buyer wants is a "to-do" list welcoming them to homeownership. In other words, you want your new home to be move-in ready. But what does that really mean?
The truth is, there's more than one way to answer that question. Fortunately, you can consider various definitions of "move-in ready" to decide what your home needs are. This can mean accepting purple-painted walls or deciding to take on a DIY project to get the house you've got your eye on. But if you're not inclined to settle for a fixer-upper, you'll want to be clear about what a move-in ready home means to you (via U.S. News & World Report).
Start with the basics, as that's one definition of a move-in ready home. Before you close the deal on a new home, have it looked over by a certified home inspector, starting with the plumbing and electrical systems. Home inspectors look at pipes, drains and water heaters, checking for signs of damage or leaks. An inspector can also show you where the main water valve is located — a handy bit of knowledge that can help you avoid a devastating water disaster at home (via Realtor). A home inspector also looks at the electrical system to make sure it is properly installed and grounded (via Bankrate).
Once you've identified that good plumbing and electrical systems are a definite "yes" for move-in status, consider the next set of features. 
Consider the external features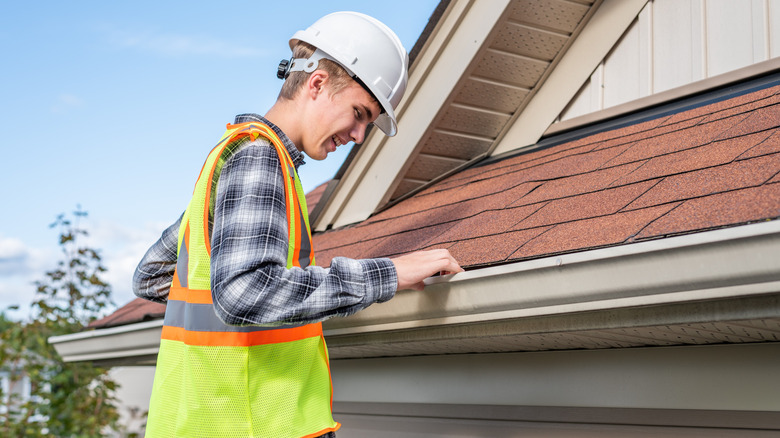 mooremedia/Shutterstock
Many a new homeowner has overlooked the condition of a house roof or the age of its windows, only to be surprised by a leak or other damage that leads to expensive repairs. If you want your new home to truly be move-in ready, you'll want to find out how old the current roof is — and whether it needs repair or replacing, suggests Realtor. Inspect the siding and windows while you're at it. Look for rotted window frames or warped siding, for example. Damage from the elements over time can lead to costly repairs, both outside and inside of your home.
Considering these external features as the next-level definition of move-in ready, you may want to go another step further by examining the heating and cooling systems. After all, the comforts of home should include knowing that you'll be warm during the colder seasons and cool during the hot ones. This means you'll look for the furnace, HVAC system, and water heater to be in good working condition. Look for leaks, corrosion, or other signs of wear and tear that might be an indication of a potential near-term problem that could arise. If any of these features needs replacing or updating in a potential home you're looking to buy, that's a sign the home isn't move-in ready, according to U.S. News & World Report.
Move-in, unpack, and enjoy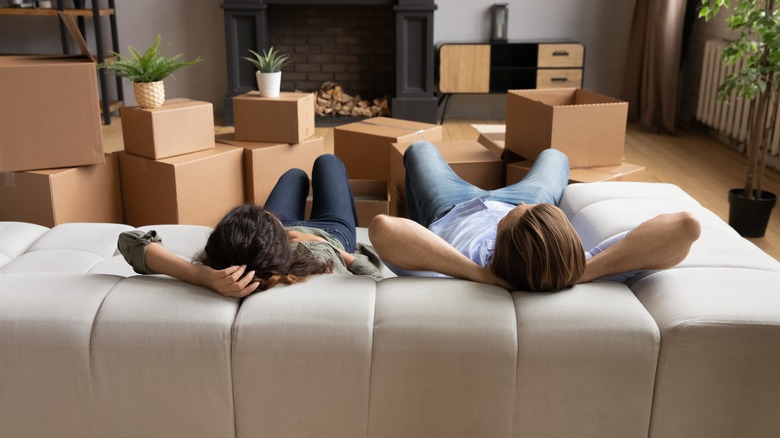 fizkes/Shutterstock
A higher bar to set as your definition of move-in ready would be requiring that the rooms are freshly painted (in colors you like), the carpeting and floors are cleaned and newly varnished (if they're hardwood), and the appliances are working well. Homebuyer suggests that some new homebuyers believe a move-in ready home is precisely that: ready to be lived in, no work required. While that sounds like a tall order, it can be a baseline for you as a potential homebuyer. It also may be the starting point for your search criteria — a helpful way to list your "needs" versus "wants" in a future home.
So let's break it down to its simplest forms. Move-in ready can mean:
Plumbing and electricity works; windows and doors lock; and the home is fully up to code per local municipal requirements (via U.S. News & World Report).
No structural damage to roofing, windows or siding, and no upgrades to major components or appliances are needed.
Aesthetics are modern and meet your style and taste needs. Nothing needs repair and you can r and start enjoying your new home.
With the real estate market tightening, inventory of homes for sale is something of a moving target. Prepare yourself to make some compromises when you're on the hunt for a new home. But if you're clear about what you're looking for, you'll be ready to move in or move on until the right home fits the bill for you.