Why You Should Never Buy Bedding At Walmart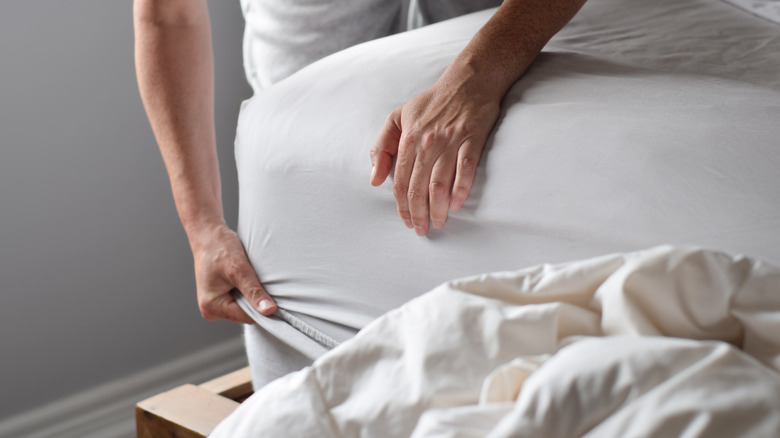 JulieK2/Shutterstock
We may receive a commission on purchases made from links.
Walmart is one of those one-stop shops where you can seemingly pick up everything that you'd ever need. But as the age-old adage goes, "just because you can, doesn't mean you should." Many of Walmart's products are great deals, but some things just aren't worth it. As Simple Minded puts it, spending a little bit more on a product upfront (within reason, of course) can result in buying a higher-quality item, which in turn is both more sustainable for the planet and easier on your wallet. So while we aren't advising that you only buy $1,000 hand-woven linen from a luxury boutique, there's definitely a middle ground between price, quality, and overall value — and sometimes, Walmart's products miss the mark.
Unfortunately, one such category is Walmart's bedding. Sure, the budget-friendly retailer offers some incredibly cheap sets ($19 for a double-sized sheet, fitted sheet, and pair of pillowcases is impressive, to say the least), but the sheets don't always last — and similarly priced, higher-quality alternatives are readily available. So if you're looking for a new set of sheets and are financially able to do so, we highly recommend looking elsewhere for your next bedding set — and here's why.
Low (or missing) thread counts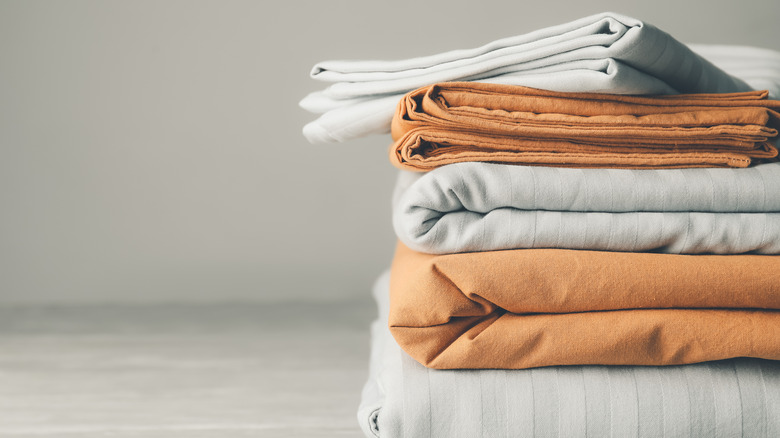 Pixel-Shot/Shutterstock
When buying new sheets, one of the most important things to keep in mind is the thread count. According to Early Bird, it's best to aim for sheets with thread counts that range anywhere between 300-500. Too low, and your sheets will be itchy (and wear out more quickly). Too high, and they're likely made from low-quality fibers (and will probably cost more than necessary, anyways).
Unfortunately, some of Walmart's most popular and budget-friendly sheets don't seem to pass the test. One of their most affordable sets is the Mainstay Microfiber Sheet Set, which comes with a fitted sheet, a regular sheet, and two pillowcases for $18.88. A great deal, sure — but the thread count is conspicuously missing. For just under $35, Mainstay offers a set with similar contents and a thread count of 250. It's a respectable deal (even if the thread count is slightly lower than Early Bird's recommendation), but one that implies that the cheaper set has a significantly lower thread count since it only costs a fraction of the price.
When you begin to look at sets with a thread count of 300 or higher, prices rise to around $50-80 minimum. While the cost is fair, it certainly isn't the great deal that people tend to associate with Walmart. And by immediately going straight to Walmart for your bedding, even if you do stick with a higher thread count, you shut yourself off from other competitive options.
You can find cheap, high-quality alternatives elsewhere
New Africa/Shutterstock
Generally speaking, it isn't particularly hard to find bedding sets with 300+ thread counts for under $50. For example, Amazon sells an Amazon Basics set that contains a 300 thread count, double-size fitted sheet, regular sheet, and two pillowcases for $45 (the twin-size set costs $32, though it only comes with one pillowcase). The online retailer also carries an affordable 300-thread count set from Welholme that generally costs around $36 for a queen-size sheet, fitted sheet, and two pillowcases (though exact prices vary by color and size).
Even if you'd prefer to avoid spending more than you absolutely have to, you can still find sets with 300+ thread counts for incredible prices — you just have to be willing to look around. Incidentally, Bed Bath and Beyond has a 300 thread count full-size bedding set on sale for $20 at the time of this posting (like the sets mentioned above, it contains the standard fitted sheet, regular sheet, and two pillowcase combo). While technically slightly more expensive than Walmart's $18.88 set, the higher quality sheets are all but guaranteed to last for longer (and feel nicer), making the extra $1.12 an investment that wards off future repurchases as opposed to wasted money.