Are The Least Expensive Kitchen Carts And Islands At Target Worth Buying?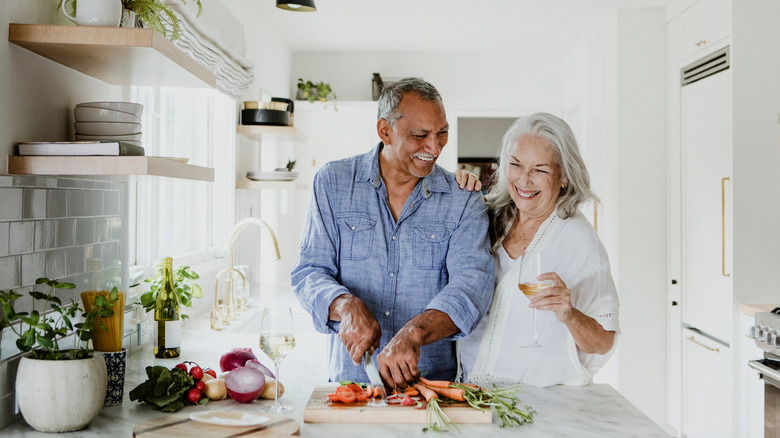 Rawpixel.com/Shutterstock
Your kitchen is, without a doubt, one of the most important rooms within your household. It is the center of life within your home, providing food, comfort, and community to your family. So, why not upgrade this important part of your home with a new kitchen cart and island? Cymax Business explains that regardless of your current kitchen situation, an extra kitchen cart and island comes with a variety of benefits for both you and your kitchen. For example, providing extra counter space for preparing a meal or extra storage space for dishes or cooking equipment.
There are plenty of furniture stores that sell a wide variety of different kitchen carts and islands. But before you go scouring the market for just the right one, you should take a look at the affordable selection available at your neighborhood Target because you just might be surprised by what you find. Join us in taking a closer look at some of the least expensive kitchen carts and islands at Target and discover if they are truly worth buying.
The hodedah import portable kitchen prep storage cart station island
One of the simplest and cheapest kitchen carts and islands you can find at Target is the Hodedah Import Portable Kitchen Prep Storage Cart Station Island. According to Target, the original price of this product is about $165, but for a limited time, it only costs a little over $103. This kitchen cart includes a solid wood surface that doubles as a cutting board, a spice rack, a towel bar, lockable wheels, and a metal gliding drawer with a cabinet underneath.
Despite the many elements this kitchen cart includes, however, the one thing it seems to lack is space. Target shows that the entire structure spans 35.2 inches tall, 44.9 inches long, and 15.5 inches wide, which includes the towel bar, spice rack, and all the other extra elements added onto the kitchen cart and island. This makes the surface space not nearly large enough to properly prepare a meal. The cabinet space inside the furniture piece is also only enough to hold small kitchen appliances or a few dishes. Regardless of size, however, if you are looking for an additional space in your small kitchen to improve style, storage space, and preparation space, this Target piece still may be worth considering.
The rolling kitchen island trolley
Another inexpensive kitchen island option at Target is their Rolling Kitchen Island Trolley. Target shows that this product is usually available for $270, but for a limited time, it only costs $145. Unlike the Hodedah Import Portable Kitchen Prep Storage Cart Station Island, this kitchen cart and island has a metal surface that opens up to produce more storage space underneath. Although this structure lacks cabinets and a spice rack, it does have two storage shelves, two sliding drawers, a towel bar, and lockable wheels. Target shows that this kitchen piece also seems to me very versatile, fitting a variety of different kitchen and home styles.
Target's Rolling Kitchen Island Trolley is also not the most spacious kitchen addition, but it still spans a somewhat larger 32 inches tall, 34.5 inches long, and 16 inches wide, providing more space for kitchen preparations and storage, making it still a piece worthy of being considered for your home.