The Roku Channel's Jared & Amber Phifer Talk Building In Extreme Climates - Exclusive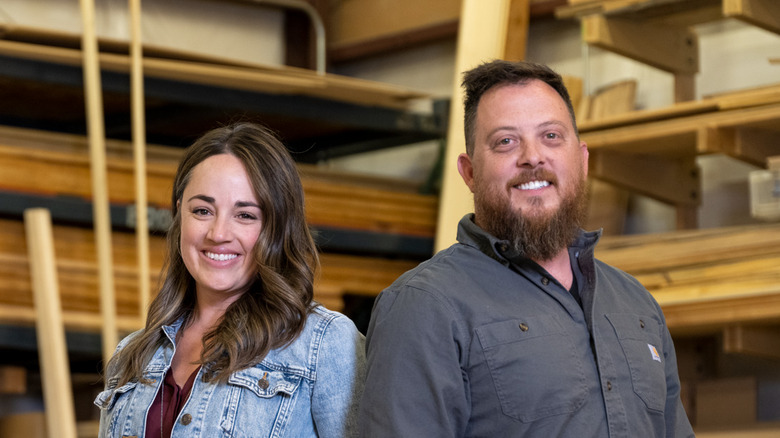 The Roku Channel
Home improvement and remodeling shows are some of the most popular and well loved television programs. This genre has been a popular entertainment for decades now, with countless shows documenting the process of designing and building gorgeous houses, from tiny homes to mega mansions.
With this genre being so saturated, it can be hard to break the mold and distinguish yourself as a new player in the game. However, this is where The Roku Channel's newest show, "Idea House: Mountain Modern," stands out. The series follows husband and wife design-build duo Jared and Amber Phifer as they create a custom luxury mansion in the mountains of Colorado. Not only do the couple have a unique design niche, but they also stand out because of the extreme climate they operate in. In an exclusive interview with House Digest, Jared and Amber told us about the challenges, as well as the opportunities, of working in the Rocky Mountains.
Building in the mountains is a 'double-edged sword'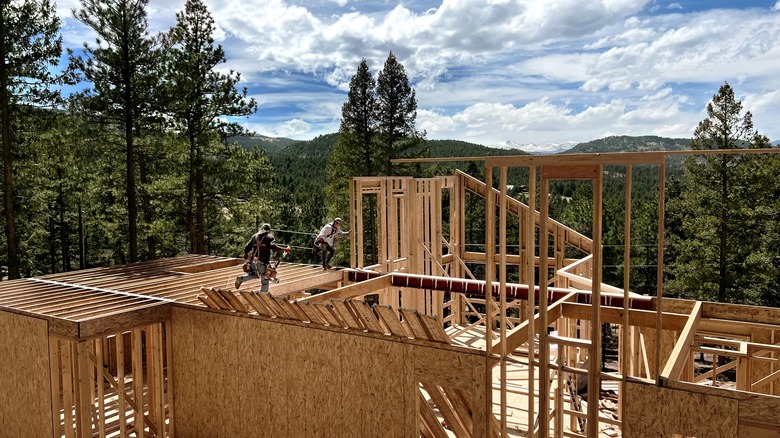 The Roku Channel
Jared and Amber Phifer certainly have their work cut out for them when it comes to building gorgeous mansions in the mountains of Colorado. "Your goal is able to sit in your house and observe the beauty of the remoteness, the beauty of the uninterrupted tree line, and the beauty of the peaks and the snow," Amber explained. "It's a double-edged sword, because the snow is what really causes so much disruption to the process of building."
Jared is also keenly aware that life in the mountains is a lot of work. "It's not for everybody," he revealed. "And a lot of that's because of the ongoing maintenance of snow removal. There's more that you've got to take care of." Amber added that some of that work also includes being in harmony with nature. "You have to be aware of your trash, and bears, and the wildlife," she continued. Plus, the window of time the Phifers have to build is also very small. "The higher in elevation you get, the build season really shrinks," Jared shared. "Spring doesn't start until May or June there, and then fall starts in September. So it's like you got this little window to really do some critical things. And then the snow, once it starts snowing, it's there until spring is there. So there's no getting out of it." 
Despite all that, Amber says it's worth it. "Just having your sight set on, 'This will be enjoyable after it's built' — and even though it does present challenges — it's worth it for what you gain to be able to live there and see it for the beauty that it is," she concluded
"Idea House: Mountain Modern" is now available to stream on The Roku Channel (new episodes release on Thursdays).