20 Versatile Ways To Brighten Up Your Living Room With Yellow Décor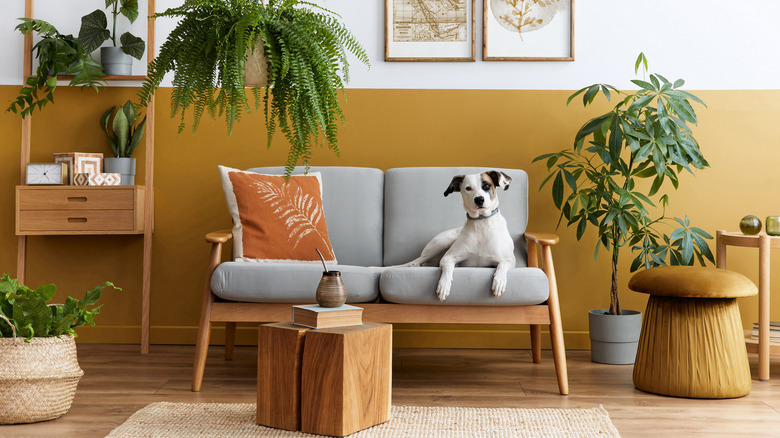 Followtheflow/Shutterstock
Yellow is not the most common color used in interior design. When given a choice between cool, calming tones, safe neutrals, or vibrant shades, people rarely choose vibrancy. And typically, yellow is bright. According to Sensational Color, this cheerful hue can actually make us physically feel more alert and energized. While this is positive, certain daring shades may hinder us from being able to relax or make us feel overwhelmed since they're so eye-catching.
However, while yellow may seem like a bold design choice, it's quite versatile. Though many yellow tones are very vibrant, there is plenty of toned-down and muted shades you could choose. Additionally, this color can be paired with a number of shades in both warm and cool tones and still look chic. Let the following images ease your mind if you're intimidated by the color. Below are fascinating ways to incorporate yellow into your living room.
1. Highlighter yellow walls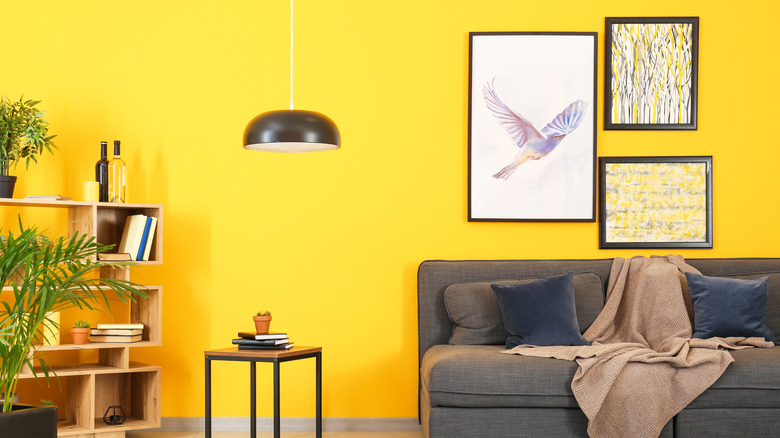 Pixel-Shot/Shutterstock
Perhaps this is what you imagined when you first thought about styling a room with the color yellow. While beautiful, painting your entire room the shade of a highlighter pen can feel overwhelming. This option may be reserved for only the most daring designers. 
2. A more muted paint color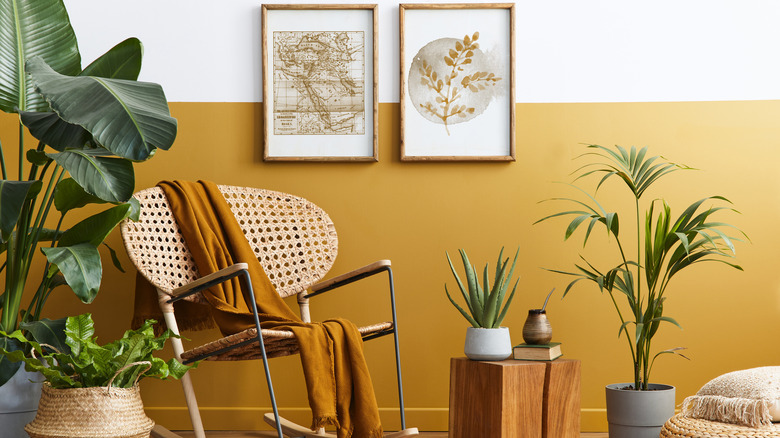 Followtheflow/Shutterstock
If you felt overwhelmed by the previous image, this one may feel like a breath of fresh air. Choosing a more muted and mustard tone and only reserving it for a portion of the wall will give your area a relaxing feel. 
3. Pastel walls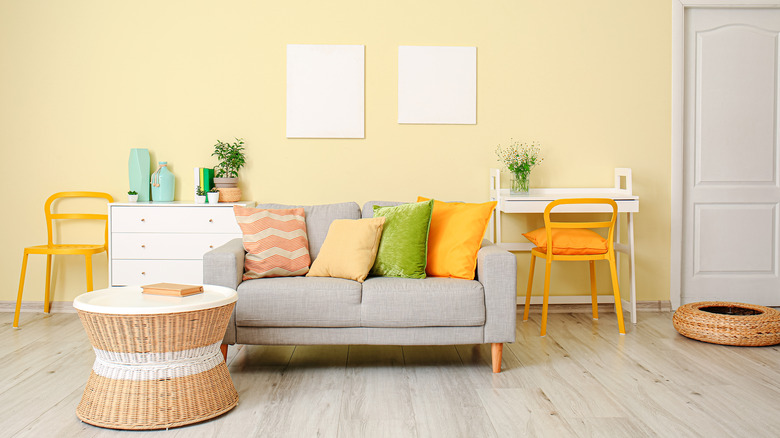 Pixel-Shot/Shutterstock
Painting your walls a pastel shade will make them appear bright without feeling overwhelming. This option would be ideal for those who love soft shades and cozy spaces. 
4. Mixing with natural elements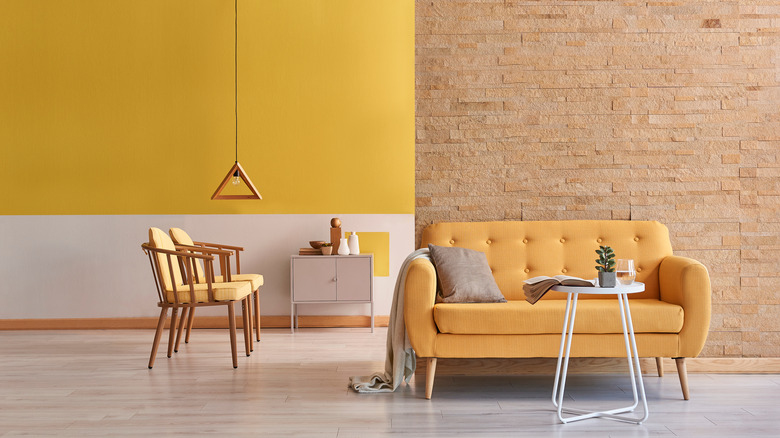 united photo studio/Shutterstock
Here's another example of a yellow wall slightly less bright than the first. What makes this color work is that it has been combined with the warm tiles to the right. 
5. Let the furniture shine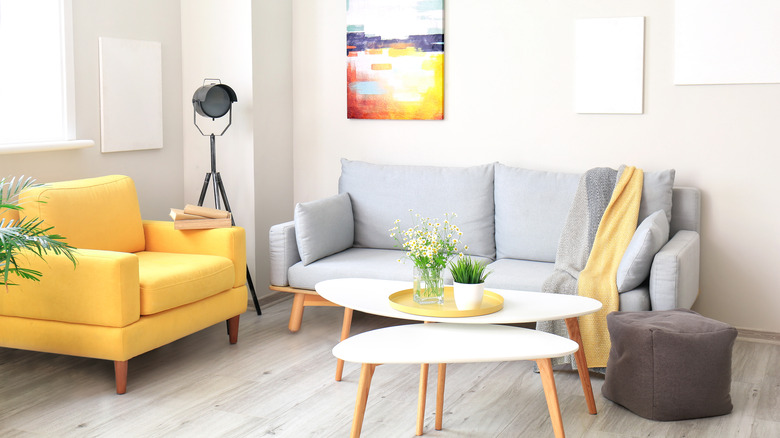 Pixel-Shot/Shutterstock
You may have also noticed that the above space had a yellow couch and chairs. This living room pairs a sunshine armchair with a light gray couch, which cools down the bright tone and makes the area look balanced. 
6. A subtle yellow couch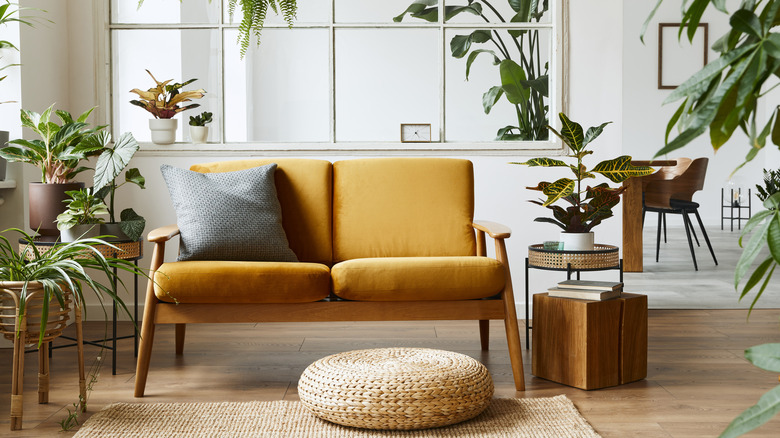 Followtheflow/Shutterstock
Instead of choosing a bright piece of furniture, you could pick a subtle mustard tone. This will emphasize the other inviting aspects of your living room, like plants and neutral elements. 
7. Subtle dash of color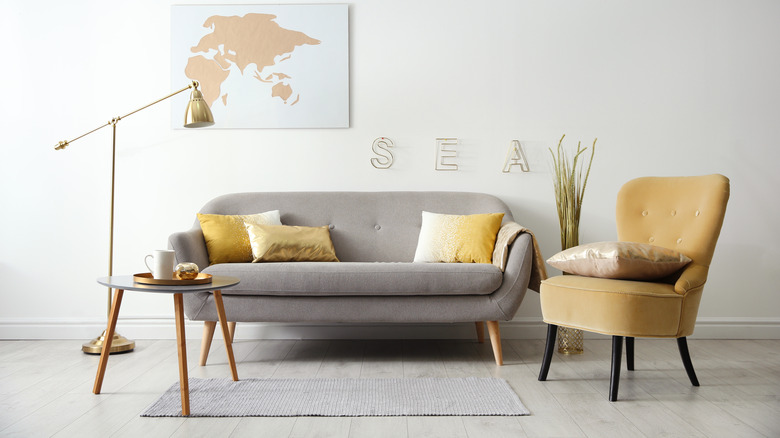 New Africa/Shutterstock
While yellow is a bold color, it doesn't have to scream for your attention. This living room has ombré pillows and a muted chair. Neither of these elements feels overwhelming, but instead, work to add a subtle dash of color. 
8. Bathed in warm light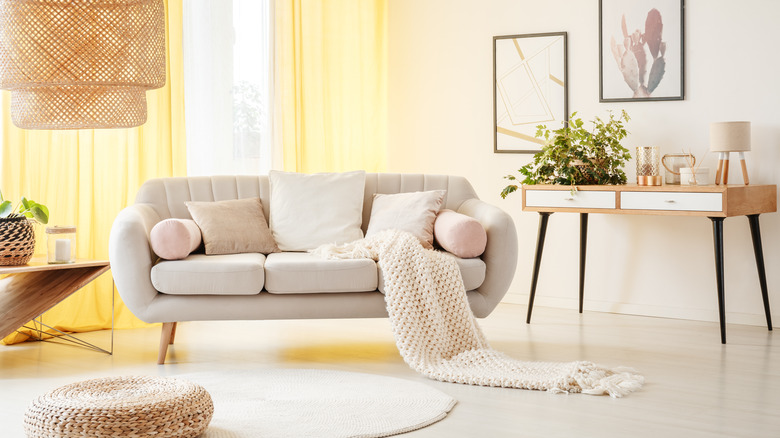 Photographee.eu/Shutterstock
Adding translucent yellow curtains to your windows will bathe your whole space in light. This would look incredibly captivating in a white room, as the curtains will add warmth to the wall color. 
9. Walking on sunshine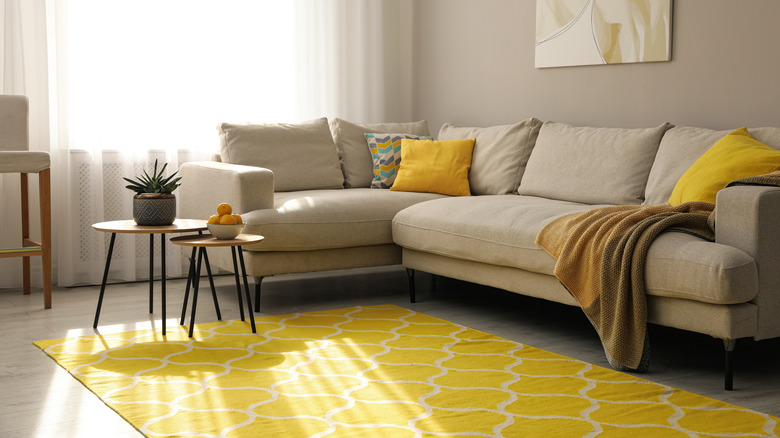 New Africa/Shutterstock
Rolling out a yellow rug in your living room will have you walking in the sunshine. While it may seem like a bold choice, keeping the rest of your room neutral won't appear as audacious as you might think. 
10. Mix with warm shades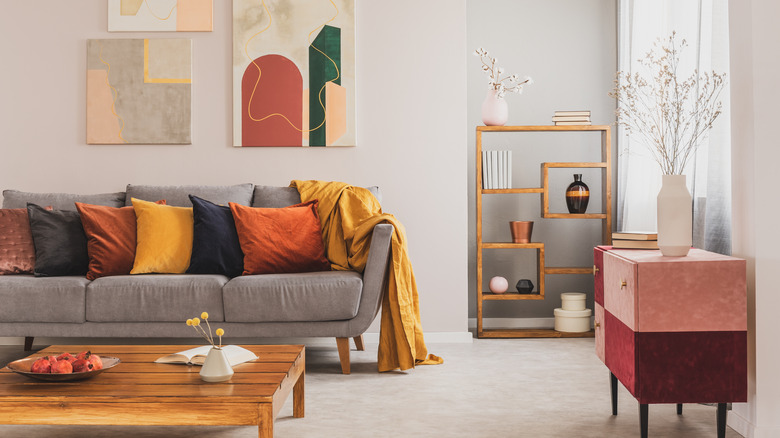 Photographee.eu/Shutterstock
Mixing a dark yellow shade with terracotta orange and deep red will give your room a sophisticated appearance and provide warmth without feeling over the top. An easy way to do this is through throw pillows. 
11. Pair will cool tones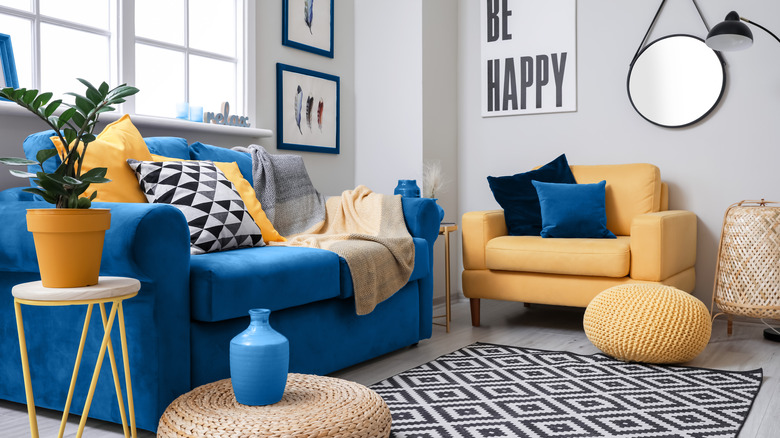 Pixel-Shot/Shutterstock
Because yellow is so versatile, it could also be paired with cool shades like blue. This could be used to decorate a nautical or beachy area. 
12. An unexpected duo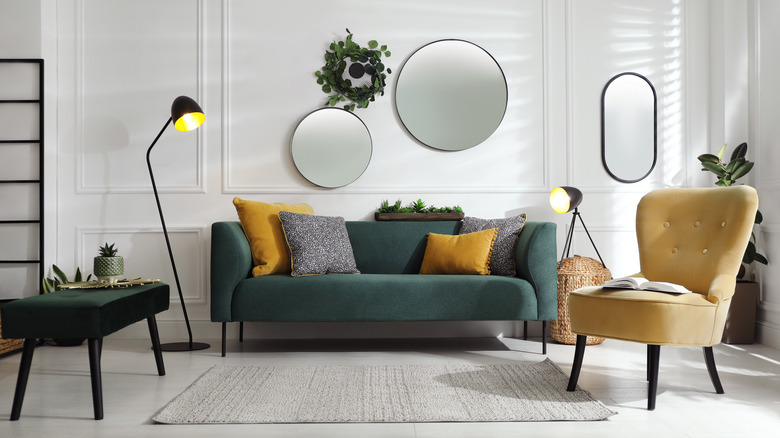 New Africa/Shutterstock
Emerald green and deep yellow, when paired together, will give a living room a chic and well-put-together appearance. While this duo may be unexpected, it always looks beautiful. 
13. All the colors of the rainbow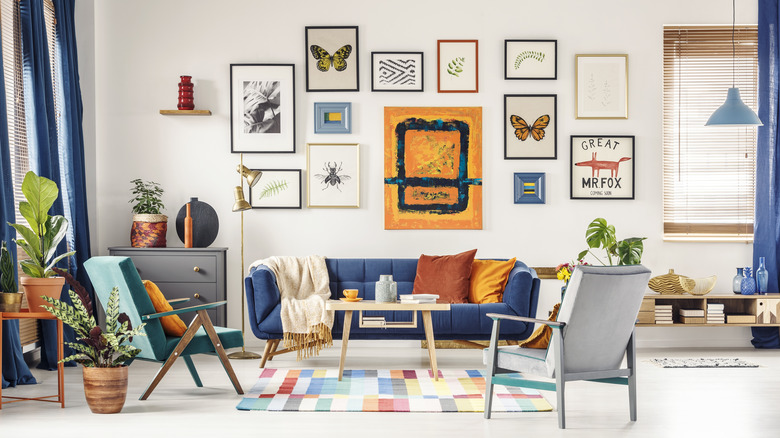 Photographee.eu/Shutterstock
Let the above image be a lesson: Yellow is a versatile color. This living room has almost all the rainbow colors, including red, orange, green, blue, and yellow, but it still looks cohesive. This demonstrates how this bright color can be paired with just about any other shade. 
14. Fresh flowers make for simple styling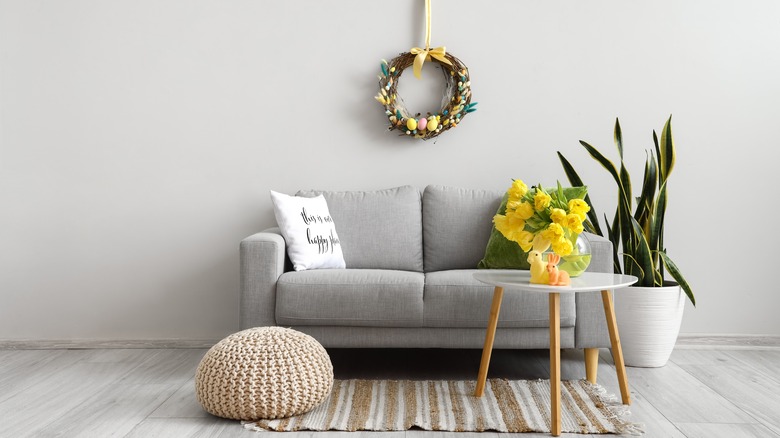 Pixel-Shot/Shutterstock
Fresh flowers are one of the easiest design features to add to your space, and at the same time, they make a huge impact. Choosing bright lemon flowers will give a neutral living room a much-needed dash of happiness. 
15. Easy to repalce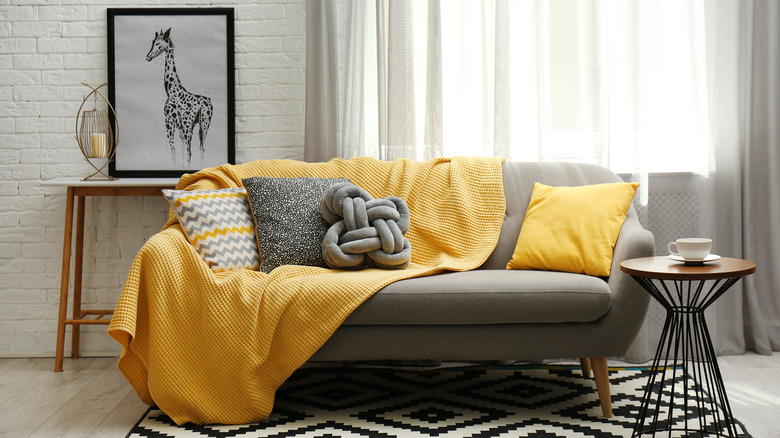 New Africa/Shutterstock
If you're on the fence about using yellow in your living room design, add elements that can easily be replaced, such as a throw pillow or blanket. This will allow you to see how this color looks without making a permanent change. 
16. Playful vibes
Those who want to add texture and pattern could choose a wallpaper design that incorporates yellow. This floral pattern makes the room feel playful and fun. 
17. Sophisticated appearance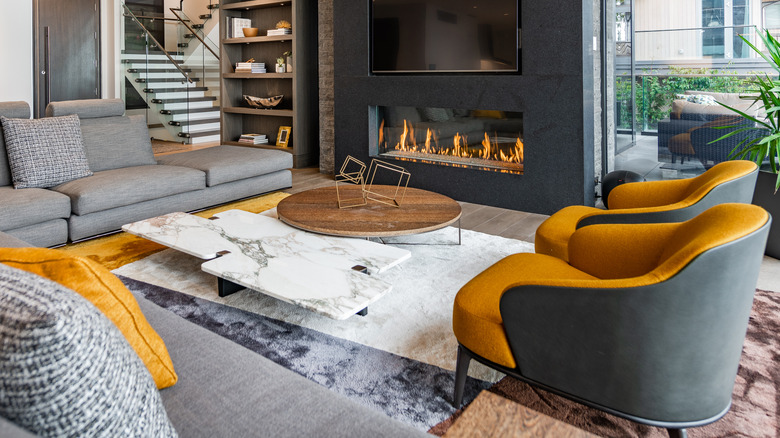 Sheila Say/Shutterstock
This tone can also build a sophisticated and luxurious space. To create these vibes in your living room, pair a deep yellow-orange shade with gray tones and marble materials. 
18. A spotlight in a dark room
Another way to create a chic appearance is by adding bright elements to a dark-painted room. For instance, the above room has a vibrant couch and deep blue brick walls. 
19. Solid furniture painted yellow
Yellow furniture is typically upholstered. However, solid furniture pieces could also be painted yellow, which creates an unexpected look because the sharp lines of the furniture will contrast with the warmth of the color. 
20. An accent color in a white room
If you have a monochromatic white space craving some color, you could add a dash of golden yellow. These colors pair well together and make a living room appear cheerful.