We Tried The Cheapest Doorbell Camera At Home Depot. Here's How It Went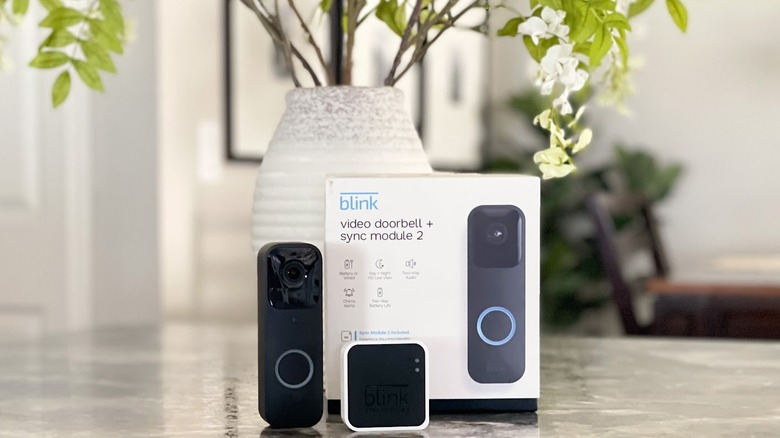 Kristina Steele/House Digest
Finding a suitable doorbell camera can be overwhelming as the selection is vast. While some can cost well over $200, we wanted to see if you could feel confident in warding off porch pirates and keeping an eye on your front entry without breaking the bank.
So we did the research for you and tested out the cheapest one we could find at our local Home Depot; the website showed the Blink by Amazon Video Doorbell with sync module 2 was in stock for $84. After scouring the aisles for where they were hiding the doorbell cameras, we were met with product sheets rather than products. The option with the sync module included had no tear sheet, so we made off with a product sheet picturing just the doorbell and searched for an associate to retrieve the item from a product cage at the front of the store. 
Even though the item was supposed to be in stock at that location, no one was able to find it; fortunately, the associate was helpful in tracking down the exact product, module included, at another Home Depot. With a bit more travel time tacked on, we were able to obtain the Blink Video Doorbell with sync module.
About the Blink Video Doorbell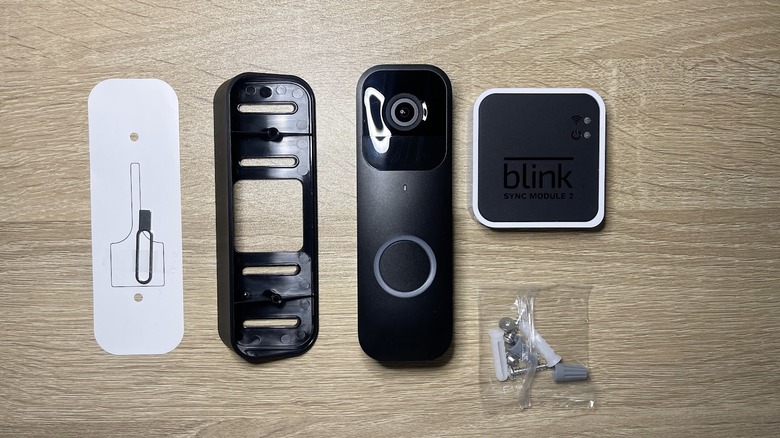 Kristina Steele/House Digest
With the item at home, upon opening the package, it's your basic smart doorbell staring back at you. The Blink Video Doorbell has a lightweight, sleek design, and comes with all the necessary items needed for installation and setup. It's also packaged with a wedge mount (for those who prefer an angled viewpoint), hardware, charging cables, and a case opening tool.
The Blink has a wired or wireless setup option (up to 1080p HD day and night live view video), two-way audio capability, and a two-year battery life. And if you're wondering, yes, you need the sync module for the added benefits (it even says so on the box). While the doorbell is sold separately, without the module, features like two-way audio and live feed are not available without it.
Some reviewers shared their disappointment about the lack of features on the Home Depot website. "I wish I had done more research on this product before purchasing. You must pay for basically all features of the doorbell to use on the app. Also because I've powered mine by battery you lose features to preserve battery life," one person wrote. Not everyone has the same opinion, though. "This is a wonderful product, at a great price, we are totally satisfied [as] it works great," another reviewer gushed.
Testing it out to see who's at the door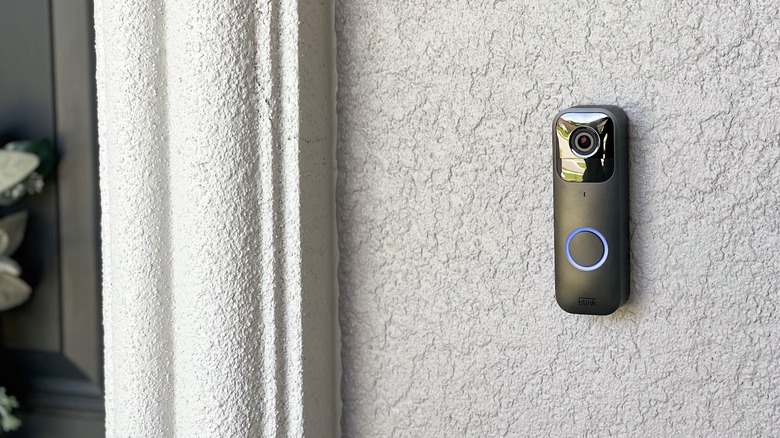 Kristina Steele/House Digest
To see how the Blink Video Doorbell performed in action, we began by following the directions listed on the inside cover of the box: Download the app, scan the QR codes, and you're all set. Following the prompts in the app we established a Wi-Fi connection and linked the two products independently: first the sync module, after confirming a series of blue and green blinking lights, and then the doorbell camera. After registering the products it was time for outside install. 
With the basic guidelines and a battery-powered drill in hand, we mounted the doorbell to the exterior wall using two screws, without the wedge mount, as pictured above. The flat plate install was best in our scenario as the Blink's wide lens (with 135-degree horizontal and 80-degree vertical viewing angles) captured the entire entry. Opting for wireless connectivity made the install even simpler; with two lithium batteries provided there was no messing with wires required. The whole process took less than 10 minutes.
Finally mounted and ready to go, the picture of the entry displayed quickly on our phone. We tested the doorbell camera daily with outings through the front entry, package deliveries, and even a few uninvited visitors. The doorbell alerted us of motion every time, just before the doorbell was actually pressed. 
What we liked most about it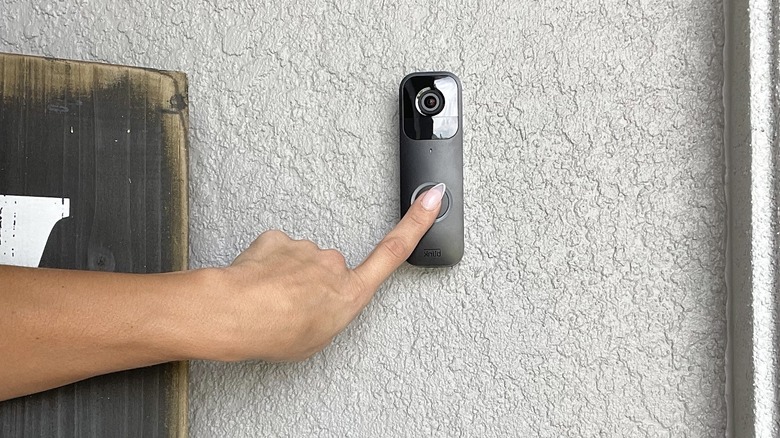 Kristina Steele/House Digest
What did we like about the Blink Video Doorbell? Well, if you do get an alert, the app presents a still image of the entry until you click on it for a live view. The alert response was fast, as was the load time for real video, with little delay while connected to Wi-Fi — no blurry, fuzzy objects here. The doorbell delivered a crisp, clean picture without interruption. Even the two-way audio feature provided very stable sound when communicating with a visitor at the front door. We were able to speak with the individual in real time to inform them of our delay in arriving home.   
We were also able to customize activity zones, making them active/inactive with the tap of a button for movement detection; we did this by using the grid feature and adjusting sensitivity levels for motion alerts, both of which were super simple. Other adjustable features include retrigger time, length of store clips, and night vision control — all accessible from your phone, but not ones we made any changes to. Retrieving live clips was convenient too, but that was limited to the 60-day cloud trial; afterwards, another method of storage would be needed. Don't worry, you don't have to subscribe or buy anything else as the sync module acts as additional storage via the use of an external USB up to 256gb. This was impressive to learn as many other brands require additional components and services for storage. 
Just a step behind the rest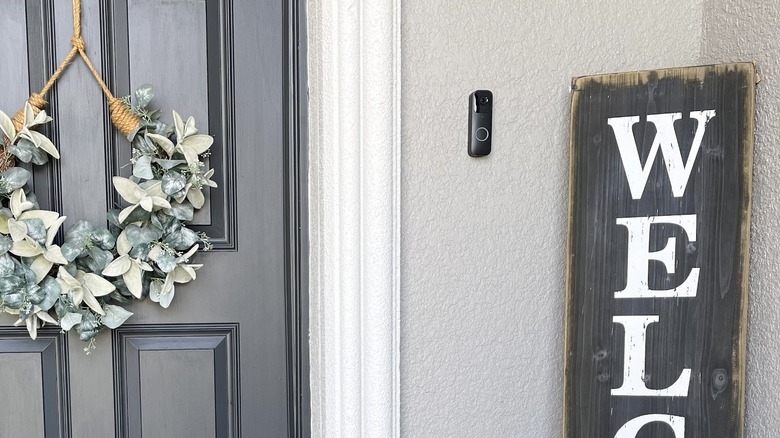 Kristina Steele/House Digest
As for disadvantages of the Blink Video Doorbell, putting the backing on the unit itself was difficult. The doorbell came packaged with the backing separate for battery installation, but when it came time to put it together the weather-proof panel did not simply click into place. After several tutorial videos we were able to secure the backing using equal parts pressure and wall support.
When all is said and done, the Blink is your basic doorbell camera. You can check in on your home when needed and store images and videos via the sync module, but it lacks some key features its competitors offer. Even with some of its unique customization categories, this video doorbell does not detect items individually or differentiate between package, person, or animal detection as some other brands do. This lack of distinction may be why we received multiple notifications of items not actually at the door. There were even a few times where the motion sensor was actually triggered by passing vehicles, even after adjusting the sensitivity levels. The Blink is also proprietary and exclusively operates with other Amazon products like the Echo or Alexa only. It does not work with Google, Apple, or any other home systems.
The bottom line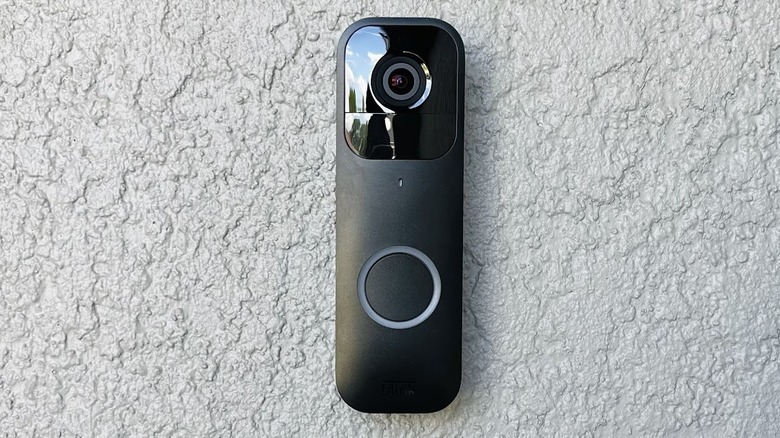 Kristina Steele/House Digest
If you're looking for a doorbell camera that is easy to set up with basic customizable features that give you phone access to your front door, then the Blink Video Doorbell fits the bill. In our experience, it acted as a decent security deterrent with basic features like two-way audio and live viewing. It may also inadvertently alert you to the garbage truck passing by, but for however much of a nuisance that may be, it's not a deal-breaker.
While the Blink Video Doorbell lacks some desirable characteristics in comparison to some of its competitors, we would absolutely recommend this doorbell to people, especially given that it only costs $84. Additionally, you can expand the system as you see fit as Amazon offers optional add-ons such as interior mini cameras, external cameras, and floodlights. In a nutshell, this budget-friendly video doorbell operates smoothly and performs well all at a surprisingly low cost.