38% Of People Prefer Shopping At This Store For Their DIY Projects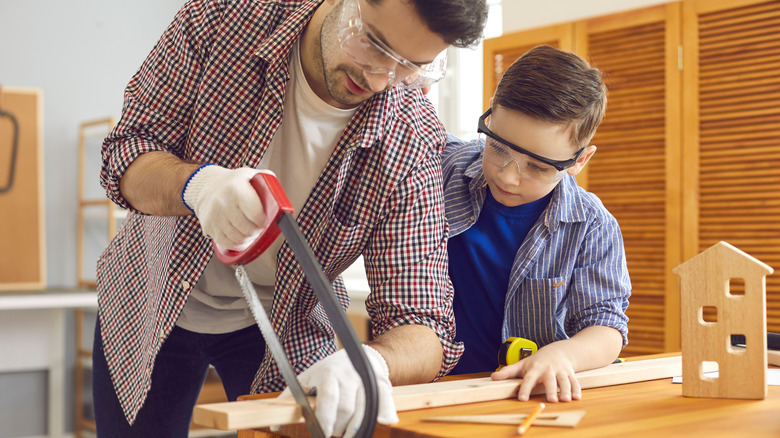 Studio Romantic/Shutterstock
The term "DIY project" can refer to quite a number of different tasks. While some may attach this word to completing a bathroom renovation, others may think about arranging a floral centerpiece. And what can sometimes make this term confusing is that both these examples are correct. According to Homedit, DIY projects include anything from building furniture to decorating a room. To really hone down on the definition, a DIY project is anything you complete yourself without direct outside help from someone with professional experience in the field. 
With this in mind, there are many different types of DIY retailers. Some focus on home improvement projects, like Lowe's, Home Depot, and Ace Hardware. Others are more about crafts and décor, like Hobby Lobby. Some have build-it-yourself furniture, like IKEA. Finally, there are stores like Walmart that have a little bit of everything.
One of the first steps of beginning a new DIY project is heading to the store to gather your materials and tools. But which retailer is the best place to shop? To discover the answer, House Digest asked 627 people where they prefer to shop for DIY projects. One of the above stores was chosen by 242 participants and gained over 38% of the vote.
The most popular DIY store and the close second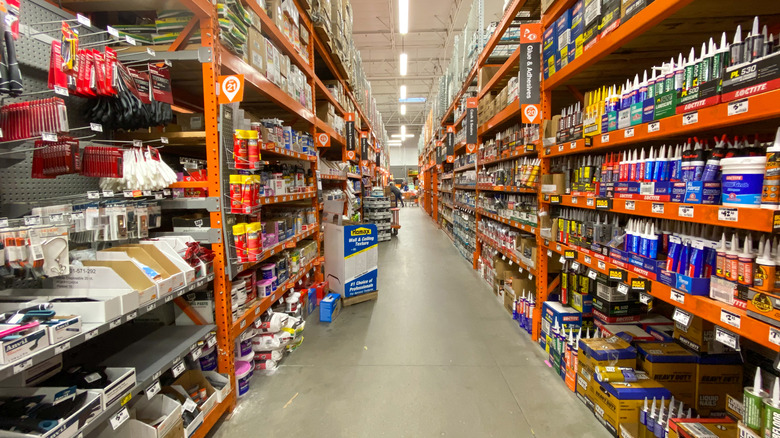 Unwind/Shutterstock
Out of the above choices, Home Depot came out on top. This may be because, according to Storage Cafe, Home Depot is the largest home improvement store in North America, with 2,300 stores, making them very accessible to most people. They also have about 500,000 associates, which means they have more workers to assist you in finding exactly what you need, per their website.
After Home Depot came Lowe's, which gained almost 30% of the vote and was chosen by 186 participants. Lowe's and Home Depot are very similar stores that focus on helping customers with their home improvement needs. However, Pro Tool Reviews says that Home Depot is set apart because they have more stores and more employees in each store, contributing to their better customer service. They also have more of the most popular brands of power tools. Additionally, both of these stores price match each other, meaning you can get the lowest price at either retailer.
The least popular DIY retailers
Retail Photographer/Shutterstock
Because Home Depot and Lowe's took most of the votes, the final four stores weren't very popular among participants in the survey. After Lowe's came Hobby Lobby, which gained over 10% of the vote and was chosen by 65 participants. Hobby Lobby focuses on very small-scale DIY projects like those involving crafts, sewing, and interior design. Next came IKEA, which was chosen by 58 participants and received over 9% of the votes. IKEA is mostly known for its furniture and doesn't carry a large tool section, so you'd probably have to visit multiple stores to purchase everything needed for a DIY project. Walmart only received over 7% of the vote and was chosen by 47 people. This is perhaps because, while Walmart has a home improvement, craft, and furniture section, many people simply aren't fond of the store for a myriad of reasons, according to QuerySprout.
Some may be surprised to discover that Ace Hardware came in last, with under 5% and only 29 votes. Pro Tool Reviews says that this is most likely because Home Depot has more products, more popular brands, and larger stores. Additionally, Ace is typically more expensive than both Home Depot and Lowe's. However, Ace does have more skilled staff members and is more focused on the community than its larger corporation competitors.