Are The Least Expensive Desks At Target Worth Buying?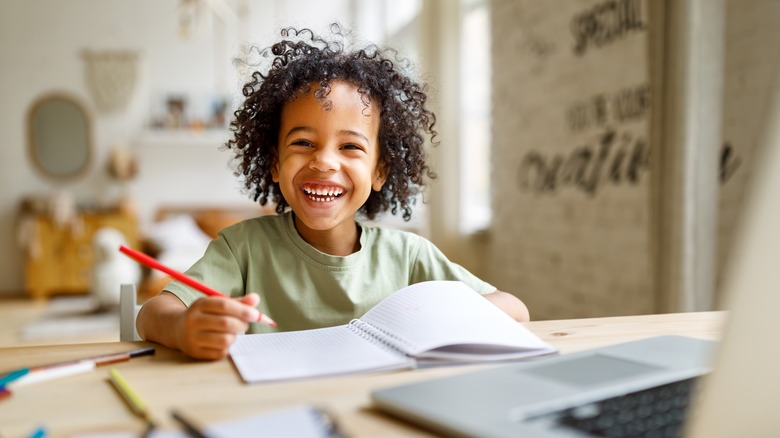 Evgeny Atamanenko/Shutterstock
Whether your children are starting school or you recently received a remote position, it may be time to consider upgrading or purchasing a new desk for your home. According to Blue Spot, desks are essential for whatever work you may have to do from home. Regardless of if you plan on using it for homework or paperwork, desks are proven to improve your focus regarding the task at hand, keep you organized, and even balance your sleep patterns. Despite the benefits, however, finding the right desk for you and your home at a decent price is not easy.
You can spend hours scouring the expensive furniture market trying to find the perfect desk at an affordable price, or you can check out the wide variety of affordable options your local Target store has to offer because you might just be surprised by what you find. So join us in taking a look at some of the least expensive desks available at Target and break down if they are truly worth purchasing.
The student writing desk with storage
Currently, one of the cheapest desks you can purchase at Target is their Student Writing Desk With Storage from their Room Essentials collection. This desk only costs $50 when purchased online and can be purchased in three different colors, including black, white, and dark coffee brown, which allows it to match nearly any room or style within your home. According to Target, the desk also provides a 40-inch by 15-inch rectangle of working space, matched with three open cubbies underneath that provide easy access to all the items you may have stored there.
Overall, this desk has received 3.5 out of 5 stars in reviews on Target's website. One customer mentioned that the product came defective, and others plainly stated that the desk was all-in-all poor quality. Regardless of these negative comments, however, other customers clearly stated that they loved the desk and that it is a perfect, simple fit for young children. So whether you need something small and simple or just don't want to spend a lot of money on a desk, Target's Student Writing Desk With Storage is still a solid option to consider.
The wood and metal writing desk with storage
Another inexpensive desk option at Target is their Wood And Metal Writing Desk With Storage, which is also from their Room Essentials collection. Target shows that the desk is available for $65 when purchased online and is available in two different styles: natural wood or black. Unlike the Student Writing Desk, this desk has a somewhat larger working space of 40 inches by 20 inches but only includes one open cubby instead of three, which limits the amount of storage you can have in that easy-to-reach space. The structure of the desk, however, is bound to be more sturdy due to its metal base.
Target customers who have purchased the Wood and Metal Writing Desk gave it a slightly better 3.9 out of 5 stars. Some customers did not like the desk at all, stating that it was smaller than expected, not as sturdy as you would think, and breaks rather easily. Others, however, loved the desk and thought it was perfect for small spaces within their home –- possibly making it worth a second look.