How To Design Your Nursery Like Joanna Gaines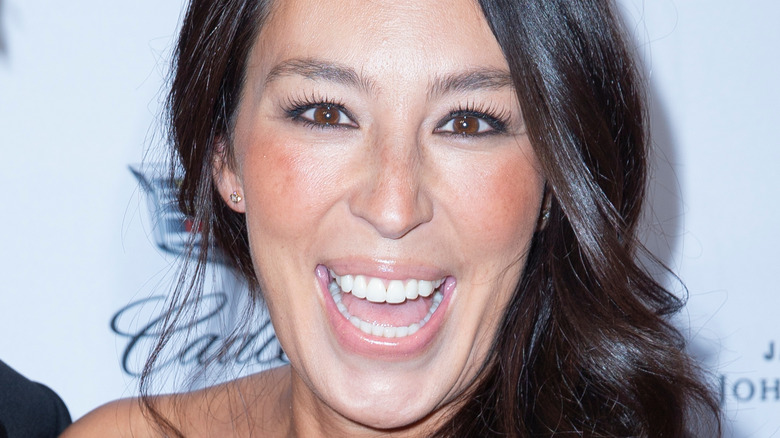 lev radin/Shutterstock
We may receive a commission on purchases made from links.
If you are seeking new inspiration for your nursery room and are tired of the same old gender-based paint jobs and cutesy animal prints on the walls, then maybe you should take notes from a professional. Joanna Gaines has wowed many people over the years with her renovation and design skills, as seen in her successful run hosting HGTVs "Fixer Upper" with her husband Chip. The show was so popular that she branched out to start her own enterprise, the "Magnolia Network," which will now call the reboot of her popular show home, as per People.
To say that Gaines has inspired people with her home decorating prowess as well as sage life advice from her New York Times Bestselling books would be an understatement. So when she shared a few pictures of her simple yet stylish home nursery, you can bet that her millions of fans took notice. So if you are aching to match her arrangement for your next baby's room, here are a few tips on how to pull off the look.
Your nursery doesn't have to look childish
Just after the birth of her fifth child, Crew, Joanna Gaines shared a lovely image via her Instagram of the little one resting peacefully in a baby chair. Not only was this a tender moment that was beautifully captured, but it also gave everyone an exclusive look at the nursery that Gaines created. By utilizing natural tones such as beige, soft whites, and lighter wood colors, the room remains bright yet soothingly gentle to the eyes. Perfect for a newborn to be able to see the world but also drift off to sleep when the time is right.
A dark-stained wooden crib is softened by light sheets and a cozy blue baby blanket with adorable fuzzy bobbles. A plush rug sits in the middle of the floor and is an absolute must in any nursery as it can be the ideal place to entertain your baby while allowing the parents to stay comfortable when joining their little one on the same level. The room is styled almost to a soft boho chic look, with warm tones playing alongside natural wood elements. This proves that a baby's room doesn't have to be overstimulated with bright colors and hard plastic elements but can instead benefit from a more mature simplistic vibe. According to The EveryMom, it could make sense to design a room that can age along with your child so that it makes it a nice area for both parent and baby alike.
Vintage vibes have a welcome home in the nursery
In another Instagram post, Joanna Gaines shared the state of her nursery after a rough night with baby, Crew. Although this picture gave her 13.5 million-plus followers a glimpse of the raucous involved in parenting a newborn, it also let them have a great look at some of the vintage elements that really tie together this wonderful nursery. On the wall is a rounded-corner framed old-timey print that fits right in with the classic feel of the room. A golden plated lamp that matches the lacquer of the framed picture illuminates the wooden rocking chair with plush seating and sits in the corner of the room.
However, the mainstay of the room is the wide nine-drawer dresser with a gorgeous wood design. It looks like it offers plenty of storage for all of the baby's clothes, as well as enough surface area to hold a decorative basket, vintage radio, and books, and tiny glass vases holding lovely little plant life. Although having a vintage dresser in the nursery is a fantastic way to add a unique style, you should make certain that if you are adding a piece that has been painted to make sure that the coating is not lead-based, according to Green Home Guide. These types of older paints could prove to be a health hazard, but luckily they can be easily taken off so that you can bring life back to an older bit of furniture.