20 Bedrooms To Inspire A Boho Chic Look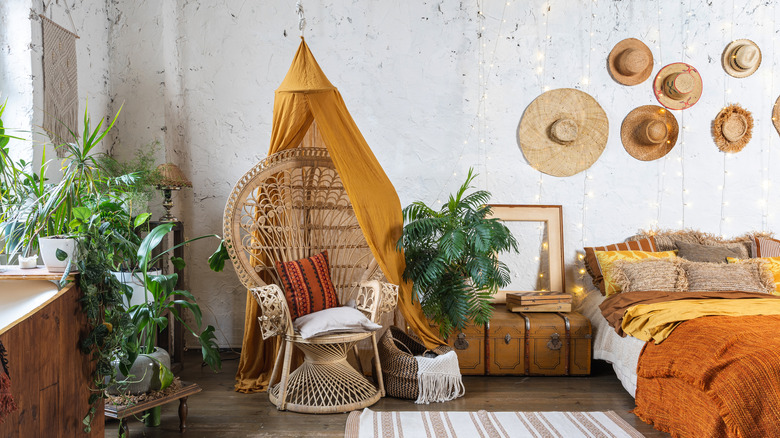 brizmaker/Shutterstock
When we think about bohemian characteristics, the first thing we think of is an attitude or feeling — which of course trickles into an aesthetic that is relaxed, flowy, and an eclectic style that can be found in fashion, as well as in your home. "The ideal boho décor layers colors, textures and artistic, travel or repurposed objects to ultimately create, almost in a happy accident, an unconventional, colorful, quirky, and outside-of-the-box décor," Siham Mazouz of French By Design tells The Spruce. "It's about repurposing the old and mixing meaningful objects gathered through your personal experience, the countries you visited or lived in, and creating from scratch a personal scene that reflects who you are and how unique your personal experiences are." Indeed, this style has a way of conveying your unique story — and we couldn't agree more with Mazouz's assessment, too. 
To that end, MyDomaine says when designing a boho bedroom, rules don't apply! So, go ahead and create a beautiful bohemian bedroom, using these 20 bedrooms as examples to inspire a boho chic look that you can enjoy season after season.
1. Wooden furniture and leafy potted plants
Prostock-studio/Shutterstock
There's plenty of wicker detailing in this room, including the planters, a basket under the bench, and a wicker chair. We love the wooden headboard and the neutral bedding, as well as pillows that mix whites, beiges, and browns for a truly serene bohemian space. The sheer white curtains finish off this ethereal look.
2. It's all in the details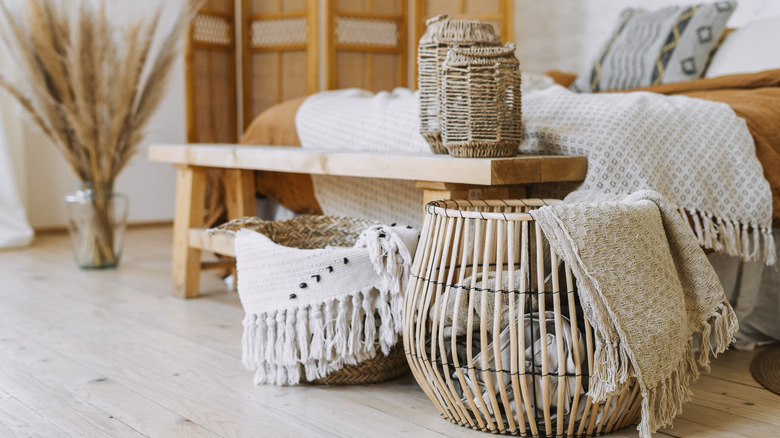 brizmaker/Shutterstock
Wicker and rattan are the perfect way to add a bit of bohemian flair to your bedroom. We suggest adding different shapes and sizes at the end of your bed to bring interest to the space. Fill it with textured blankets and throws.
3. Burnt orange bliss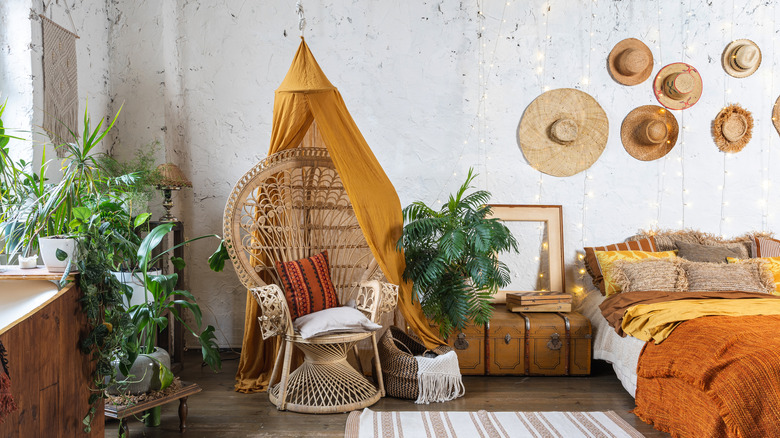 brizmaker/Shutterstock
From the peacock chair to the wall of hats, this space brings a sense of whimsy to the forefront, accented with magical string lights. We love how the bed features burnt orange, yellow, and tan pillows. The standout accessory, though, is the vintage trunk that doubles as a side table. The lush greens complete the space.
4. All natural materials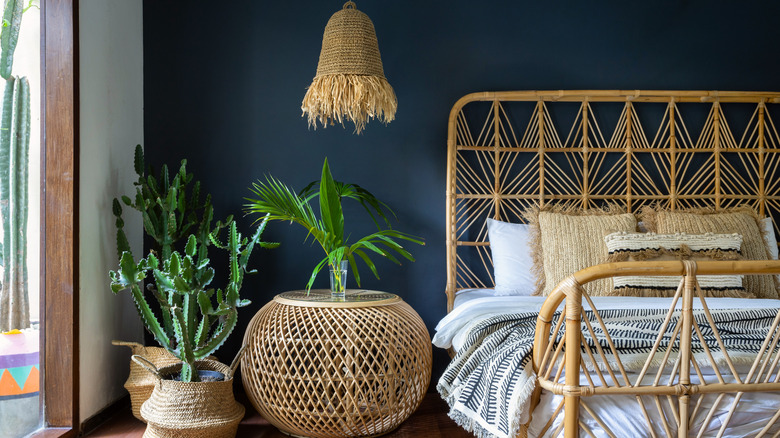 brizmaker/Shutterstock
Natural materials abound in this bedroom, including in the bed, planters, and beautiful overhanging light. It looks gorgeous with the deep navy painted walls — which apparently is always on-trend, according to MyDomaine. Interior designers find the hue to be sophisticated, so if you're looking for an upscale nod to a bohemian look, we suggest following suit!
5. The room with a canopy bed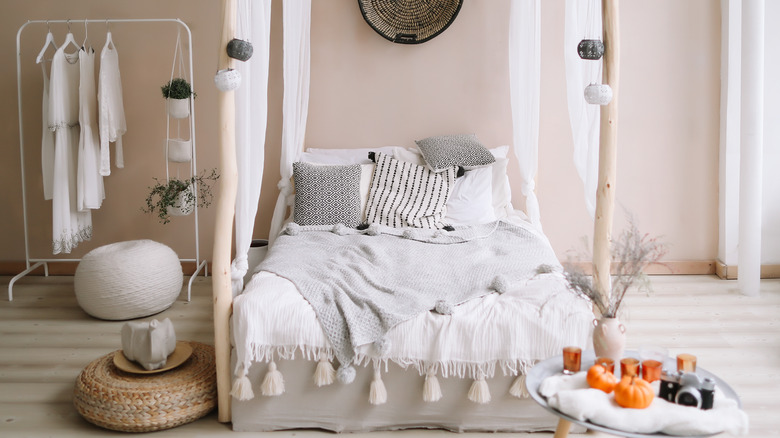 paralisart/Shutterstock
We love this canopy bed with flowy curtains, the tassel details on the bedding, and the basket, which is the room's focal point.
6. Pampas grass accents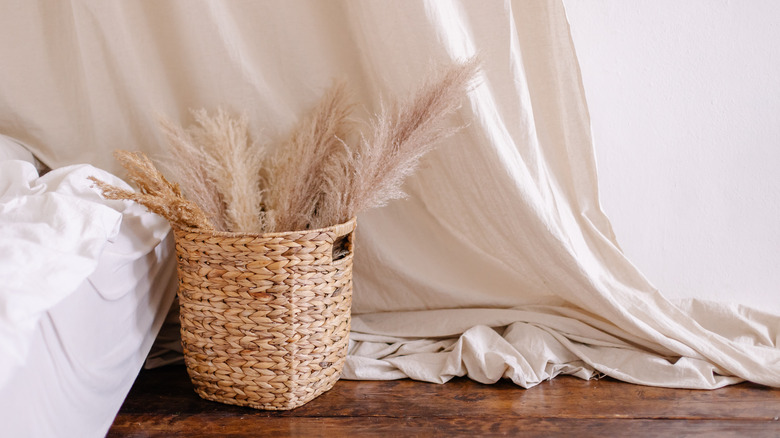 Da Antipina/Shutterstock
Place a bohemian-inspired basket of fluffy pampas grass (cortaderia selloana) next to your bed for a look that truly inspires. The Spruce gives us several more ideas for decorating with pampas grass, from filling a large vase to dressing up a bedroom mantel.
7. Dreamy boho minimalism
Float away on this boho-chic bed styled with minimalist and natural elements. Enjoy the luxe chair and mirror station after waking. 
8. A delightful room with a wicker screen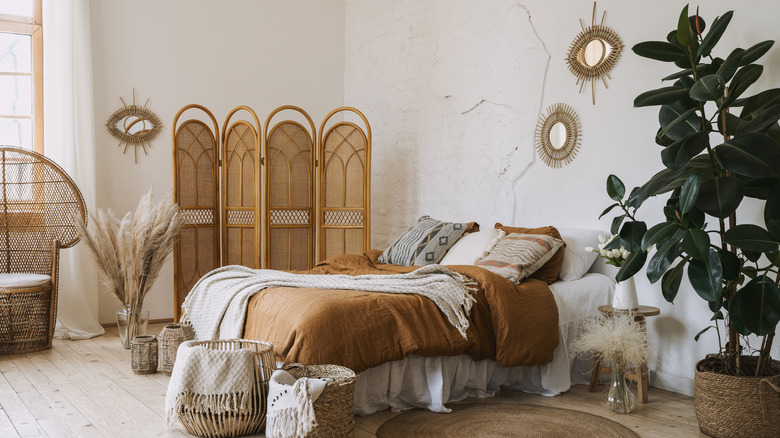 brizmaker/Shutterstock
The highlight in this room for us is that wicker screen seen in the corner of the room. The small wicker mirrors in the shapes of eyes are also incredibly cool. But this room has all of the necessities for the perfect boho-chic aesthetic, including pampas grass, wicker baskets, and an oversized plant.
9. Macramé and accessories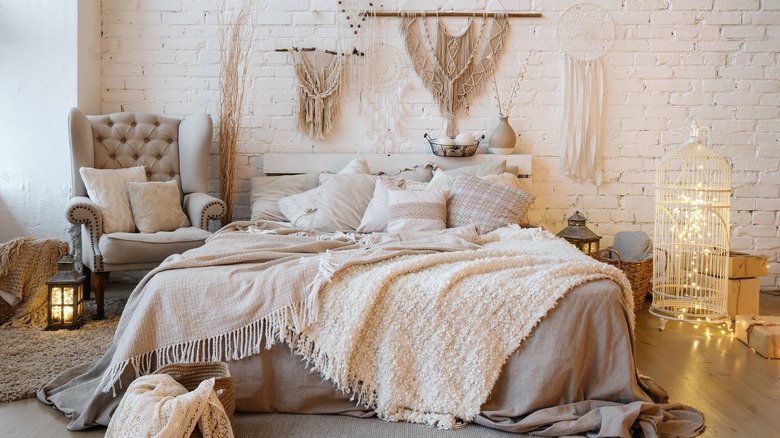 brizmaker/Shutterstock
We love how this room has not one but three macramé wall hangings on the white brick wall — but that isn't all. The oversized birdcage and small lantern with magical string lights really bring the boho vibe home. Finish the room with a tan comforter and cream textured throw blankets with a mix of different neutral pillows.
10. Unique textured and patterned pillows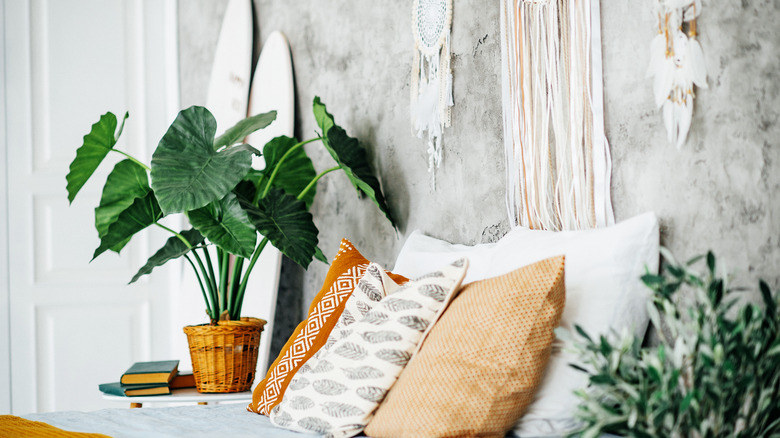 NatalyP/Shutterstock
We love how they mixed two different burnt orange linin styles with a gray and white design in this boho-chic bedroom. The Spruce notes that bringing in throw pillows to a space is one of the simplest ways to update any room, including the bedroom, and you bring more interest if they don't match.
11. Relaxed vibes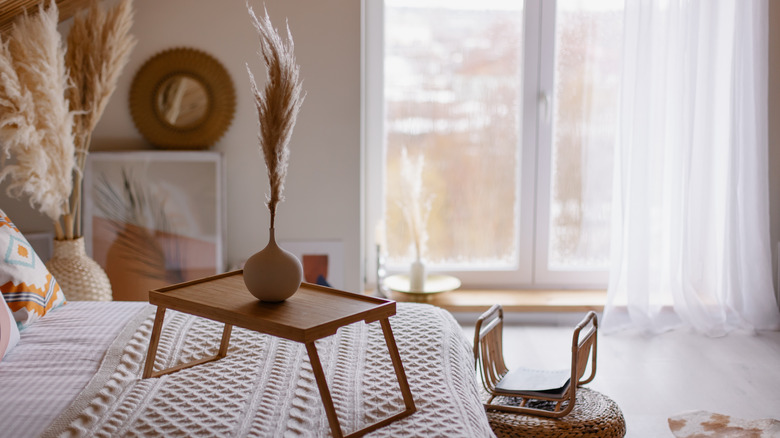 Da Antipina/Shutterstock
If this isn't a relaxing environment, we don't know what it is! We can't get enough of how they brought the pampas grass into this space by placing it in a unique vase and putting it on a breakfast tray atop the bed. The textured bedding is also a standout, as are the flowy drapes.
12. Swoon-worthy bohemian bedroom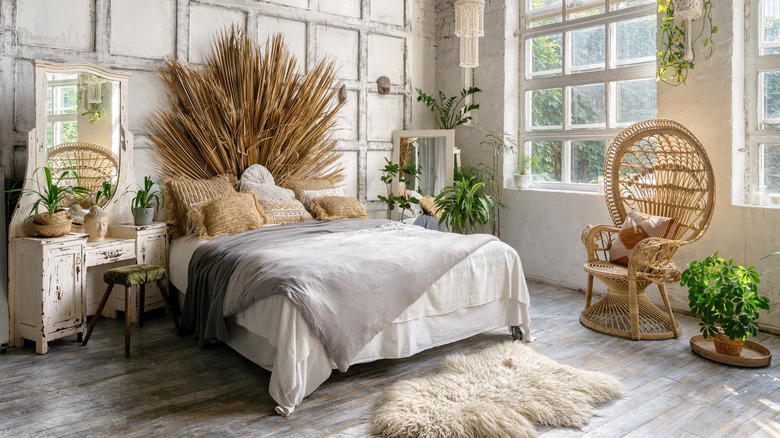 brizmaker/Shutterstock
There is so much we love about this room. The wicker peacock chair is where we would start the day with coffee in hand (if only for a minute of retrospective thought). Plus, the insanely decorative headboard reminds us of peacock feathers, and the miniature shag rug makes this bohemian bedroom swoon-worthy.
13. All about macramé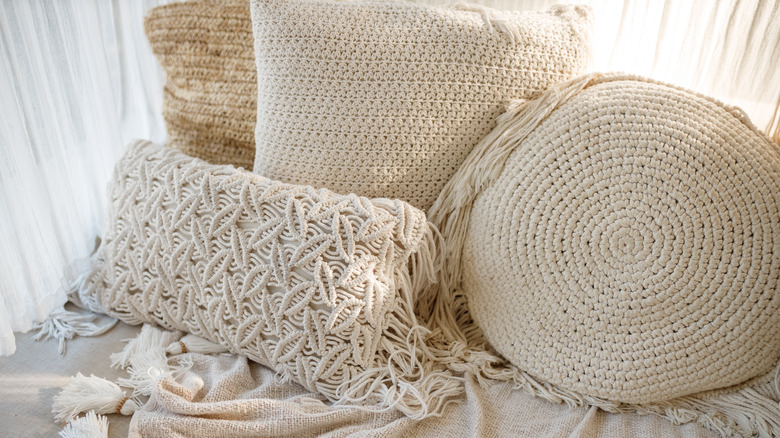 PhotoSunnyDays/Shutterstock
Just as you can add macramé wall hangings to your walls for a bohemian feel, look for macramé pillows and a knit blanket to create a cozy atmosphere in your bedroom.
14. A perfect bohemian oasis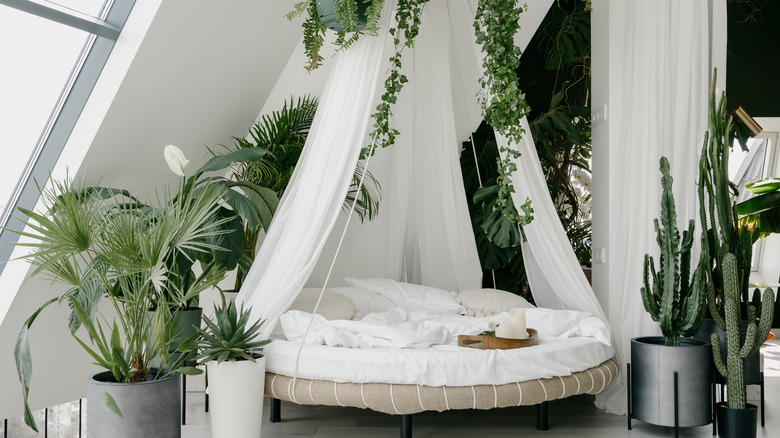 brizmaker/Shutterstock
Who says you need a typical shaped bed? How cool is this round bed with a romantic canopy with perfectly placed vines and greenery hanging overhead? Final tip: Surround the bed with a variety of potted plants, and you have yourself the perfect bohemian oasis.
15. A cream dream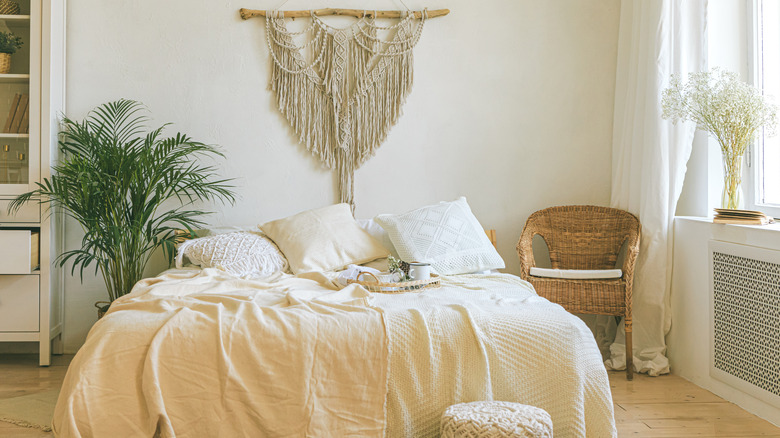 ganjalex/Shutterstock
Cream walls and bedding are anything but boring in this easy-going bohemian-style bedroom. A wicker chair, macramé wall hanging, and palm plant finish off the relaxed look.
16. Create a chic boho corner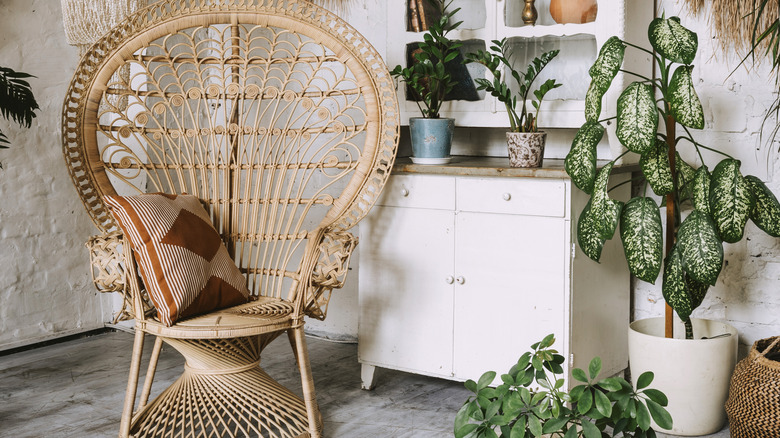 brizmaker/Shutterstock
If you are lucky enough to have an extra-large bedroom or if you live in a studio apartment, then we love the idea of creating a boho-inspired sitting area (with wicker furniture, of course), and plenty of green plants or pampas grass.
17. Simply boho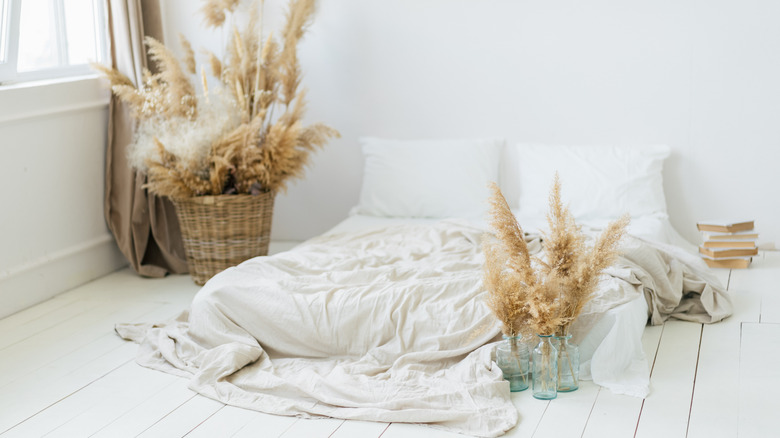 Anna Vershynina/Shutterstock
Creating a boho-inspired boudoir doesn't have to mean you need to go all out; there is beauty in simplicity. All you need here are loads of pampas grass and white draped bedding for a minimal-inspired bohemian retreat.
18. The boho stand out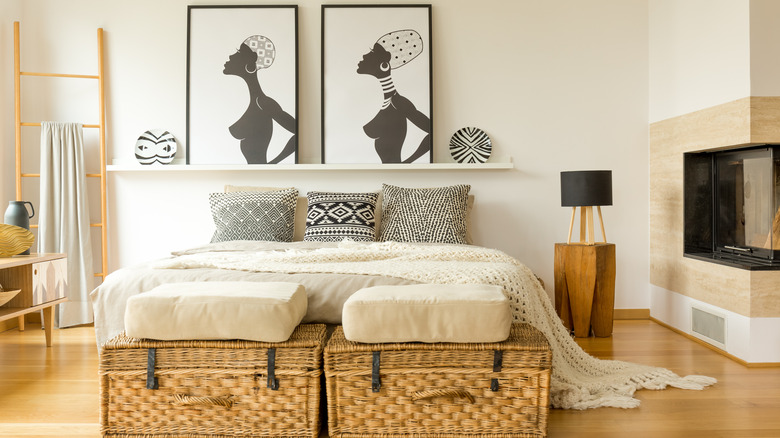 Photographee.eu/Shutterstock
Unique African-inspired art, patterned plates that serve as artwork, stunningly beautiful black and white patterned pillows, and wicker trunks all make this room a bohemian standout.
19. The super luxe bohemian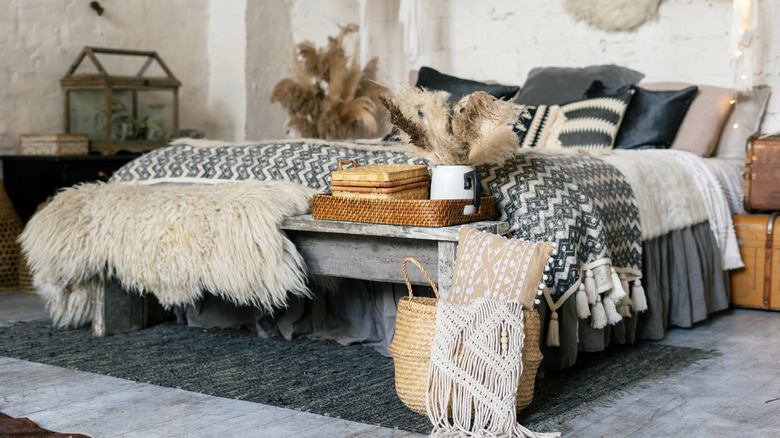 brizmaker/Shutterstock
This room went all out with a multitude of textures that really make it an enticing space. From unique patterned pillows and bedding to textured throws, this space is so luxe, it is what boho dreams are made of.
20. Boho accessories and accents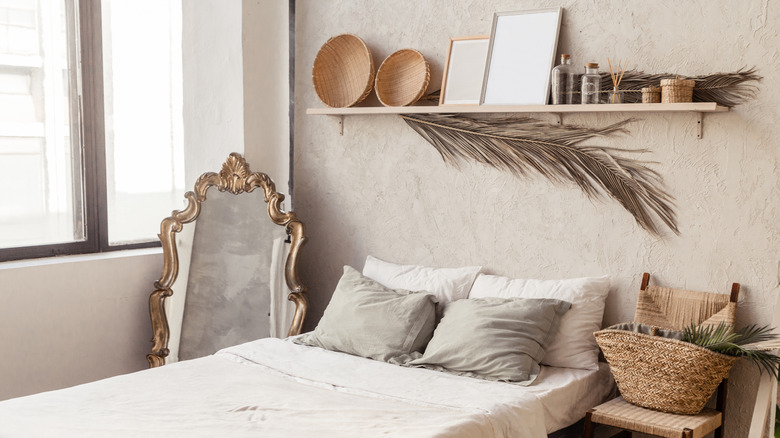 Yuliya Yesina/Shutterstock
We are drawn to the unique shelf with boho-inspired accents, including wicker bowls and tiny baskets. We love how they brought in a French-style gold mirror, meaning that you can easily mix different design styles to make your space stand out.