15 Gorgeous Ways To Add Wood Into Your Kitchen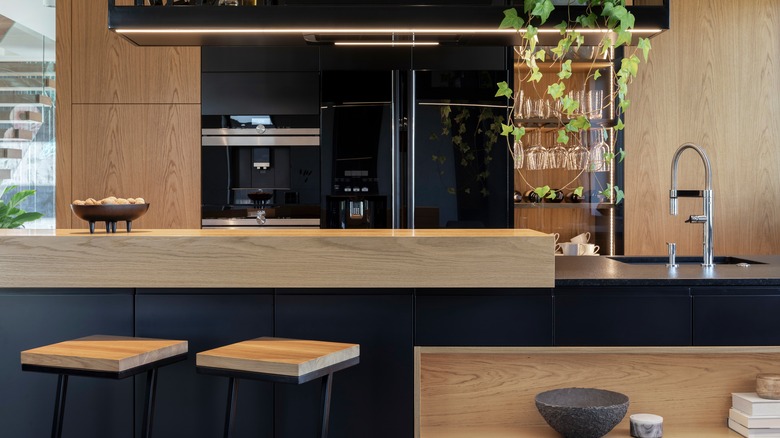 Followtheflow/Shutterstock
According to KBR Kitchen & Bath, completely white kitchens are out, making way for wooden elements to come back in style. Bold Painters says that wood is so appealing because it's warm and welcoming and reminds the viewer of serene nature. Further, this material is easy to work with and can be added to the kitchen in a number of different ways, from large cabinets to smaller pieces like cutting boards. Finally, wood is a very versatile material that you can use to either complement warm colors or contrast with cooler tones.
To make a huge statement, you could add elements to your room through a huge renovation. Or, you could use smaller decorative accents to warm up the space to make a more subtle change. Whether you're thinking about making a large remodel or just incorporating a few minuscule decorations, below are 15 ways to add wooden elements to your kitchen.
1. Lighting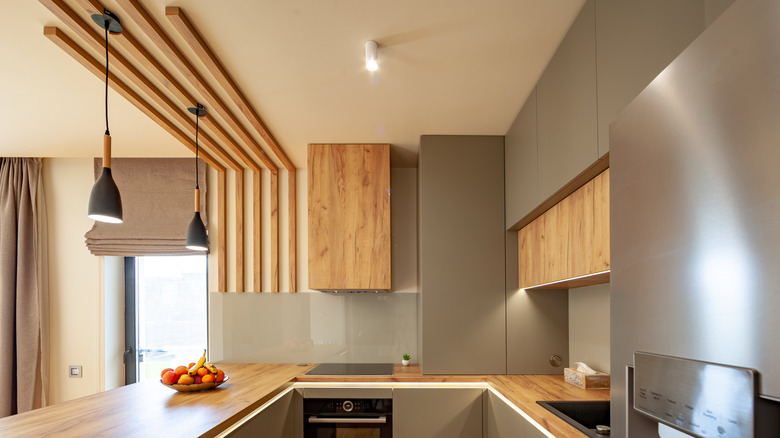 Gabi Moisa/Shutterstock
While unique, adding wooden detailing to your wall or ceiling will spice up your kitchen lighting. In the above image, the wooden boards act as an art piece that elevates the appearance of the bar lighting and the wooden elements in the lights take the approach even further. 
2. Countertops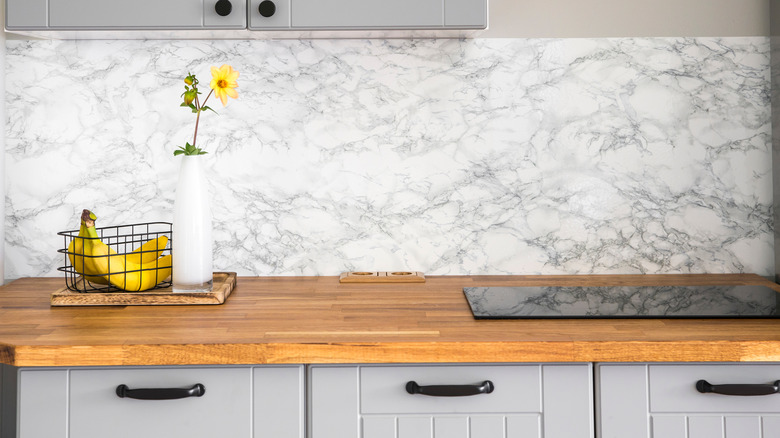 FotoHelin/Shutterstock
Another large change you could make is adding wooden countertops. This could be used to warm up cool-toned cabinetry, like the light gray cabinets in the image above. 
3. Cabinetry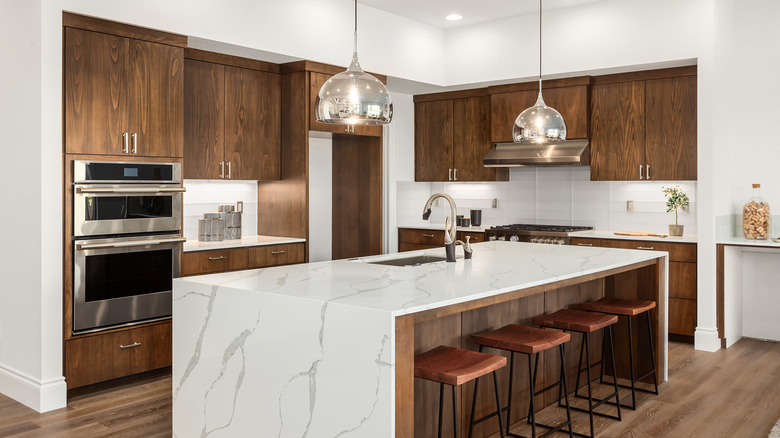 Breadmaker/Shutterstock
Or, you could add natural wood cabinets to your kitchen, which will give your space a cozy and relaxed appearance. 
4. Flooring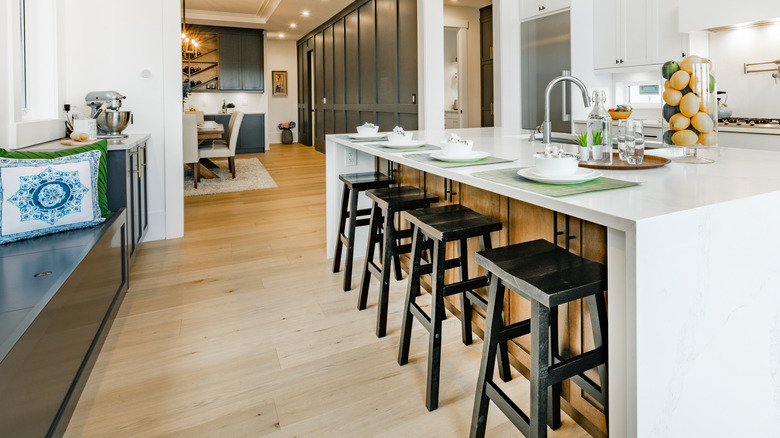 Sheila Say/Shutterstock
Adding natural hardwood floors will bring in lots of warmth. This is a large change that would make a huge impact in your kitchen. 
5. Ceiling beams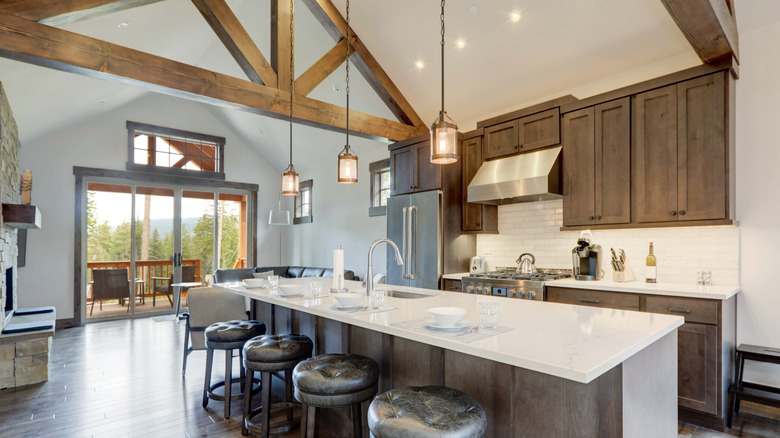 Artazum/Shutterstock
Wooden ceiling beams will make your ceilings look taller. If you also have wooden flooring, adding a beam or more of the same material would surround your room in warmth. 
6. A table and chairs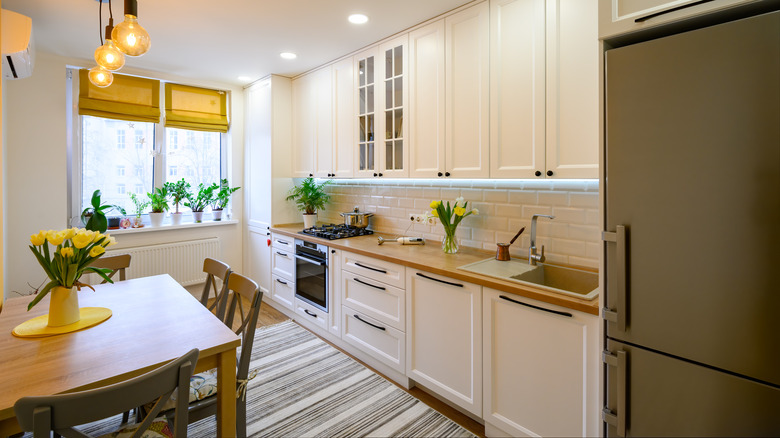 Serghei Starus/Shutterstock
If space allows, you could add a wooden table and chairs. This would create a cozy breakfast nook in your kitchen. 
7. Stools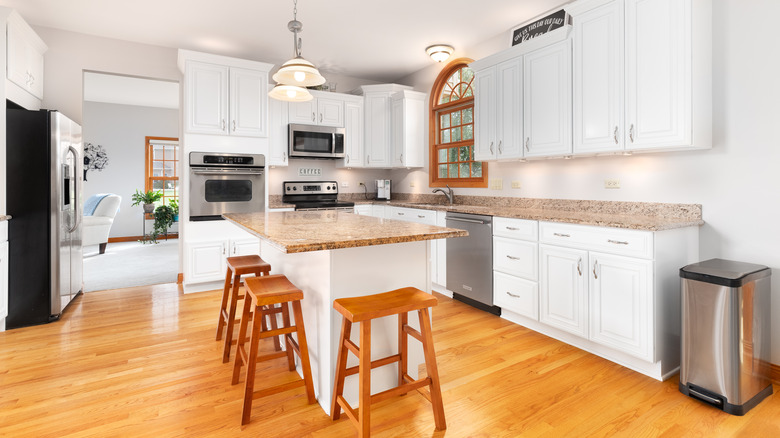 Hendrickson Photography/Shutterstock
Similarly, adding wooden stools will bring in many welcoming vibes if you have an island or a bar area. As in the above space, the stools could help warm up bright and crisp white cabinets.
8. Backsplash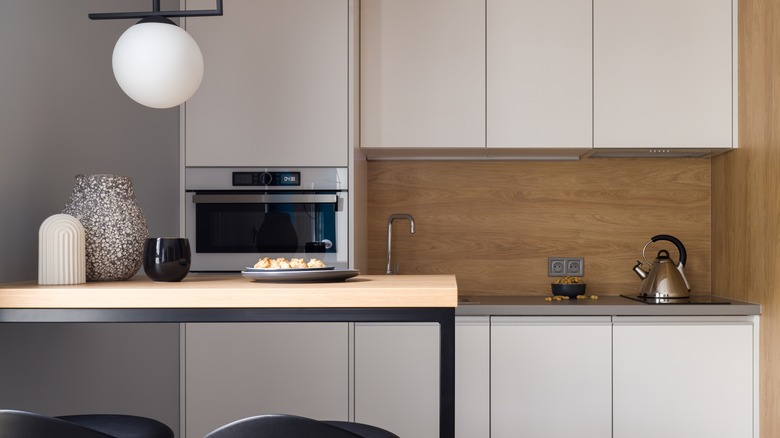 Dariusz Jarzabek/Shutterstock
A solid wood backsplash is a unique choice that will provide a comfortable feeling in your area. This wooden element contrasts nicely with the simple white cabinetry. 
9. Window trim
liloon/Shutterstock
Framing your windows in a wooden trim will emphasize your view while also bringing an element of nature into the room, creating a cozy and airy space.
10. Cutting boards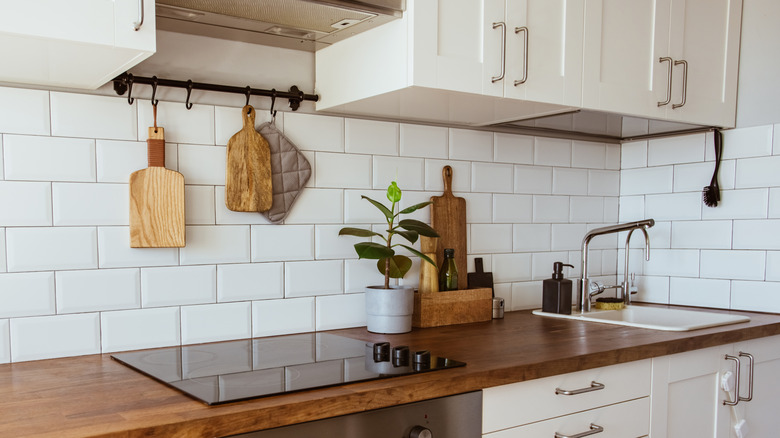 Katrina Era/Shutterstock
An easier way to add wood to your kitchen is by hanging or displaying wooden cutting boards. Typically, these are hung above the stove or placed against the backsplash. 
11. Utensils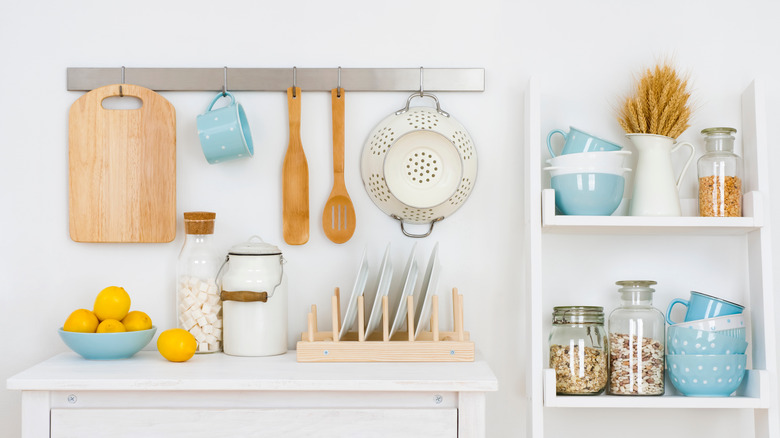 Didecs/Shutterstock
You could also hang utensils like serving spoons and spatulas. These are very easy to store like this because they typically come with a small hole in the bottom of the handle. 
12. Shelves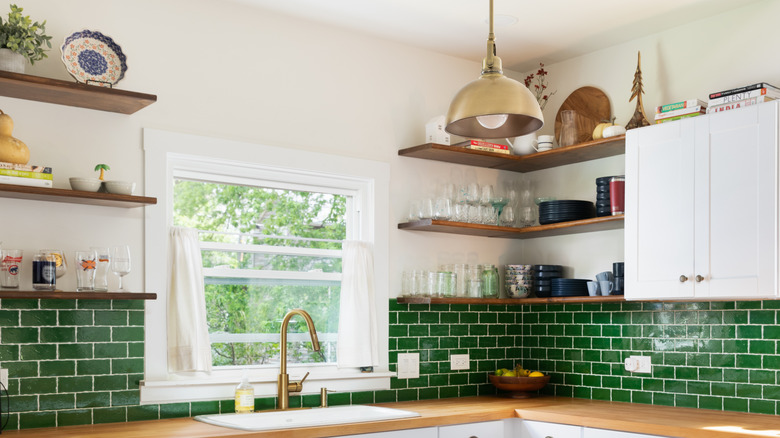 Hendrickson Photography/Shutterstock
Wooden open shelving will carry the eye along your kitchen walls. This is a less expensive option than replacing your cabinets, and it gives you more opportunities to display even more wooden elements. 
13. Blinds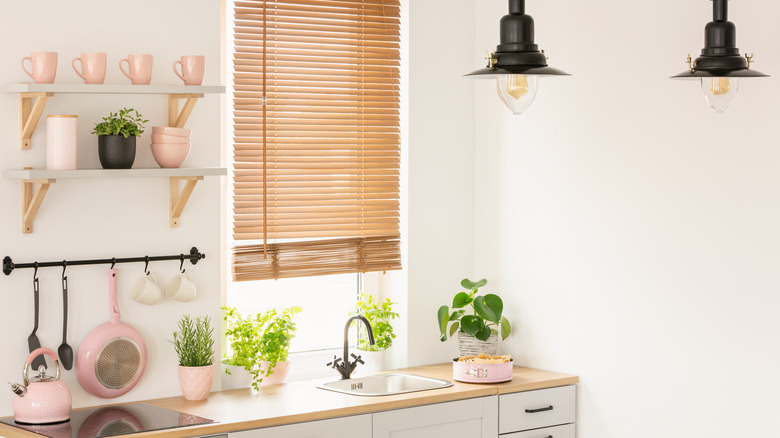 Photographee.eu/Shutterstock
If you have a window in your kitchen, consider adding wooden blinds to it. This would allow you to control the amount of light in your space and would also provide you with more privacy. 
14. Jar lids
vi mart/Shutterstock
A very subtle way to add wood to your countertops is through jar lids. This will give your kitchen just a dash of warmth without making a huge change. 
15. Salt and pepper shakers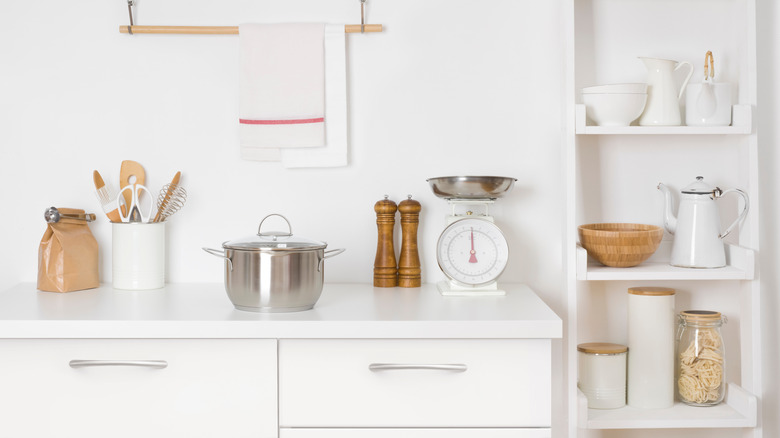 Didecs/Shutterstock
Another very minute way to add warmth is through wooden salt and pepper shakers. While small, these can make a large impact, especially in an all-white or cool-toned kitchen.