Magnolia Network's Clint Harp Talks Restoration Road And The Power Of History - Exclusive Interview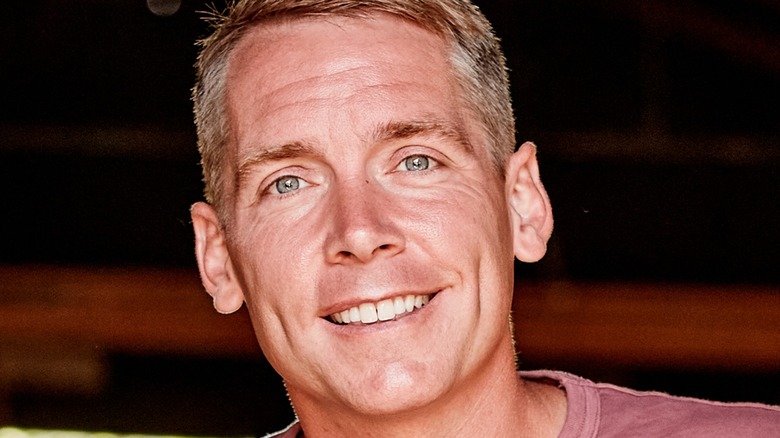 Magnolia Network
Clint Harp has always believed there is a story within the wood around us; from a young age onward into his professional career, he has sought to find out what those narratives are. It's what inspires every piece Harp makes, from candlesticks to dining room tables and more — and it's what inspired him to take on the project that has become "Restoration Road."
In his Magnolia Network series now in its third season, Harp travels the country with his team to find old structures, study their history, and understand how they've been created. These buildings, sometimes centuries old, are still standing because of the elegant craftsmanship put into them. But learning the techniques behind a lasting build is only half of what makes these places remarkable; Harp also sits down with both experts and descendants of historical figures to learn the story behind the timbers on "Restoration Road."
Since first appearing on HGTV's "Fixer Upper" with Chip and Joanna Gaines, Harp has wanted to share his love of woodworking and restoration with the world, whether it's via the pieces he crafts himself or in the structures he studies. To that end, in an exclusive interview with House Digest, Harp shares his unique journey in woodworking, and gives illuminating advice about appreciating architecture and incorporating wood into your own home.
How Clint Harp discovered his passion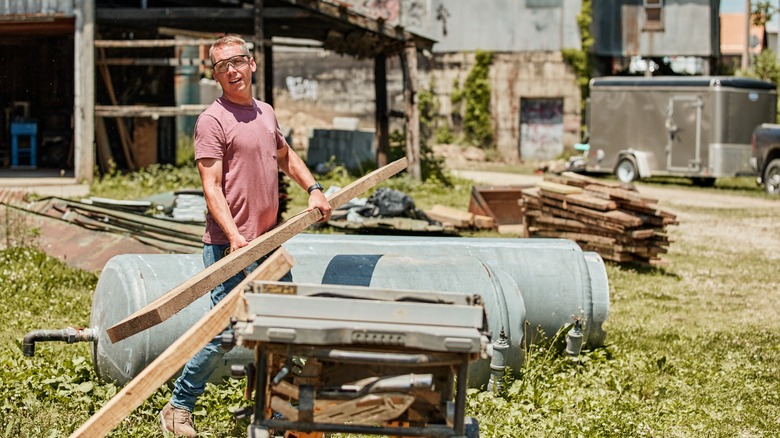 Magnolia Network
When did you discover your love of woodworking and restoration?
Clint Harp: I really have loved working with my hands for as long as I can remember, and I can trace all those genes back to my grandfather on my mom's side. He was a carpenter and built many homes, fashioned directly off of the old timber framed houses up in the north, back down where I'm from in Georgia. He was letting me hang around jobsites and actually be a part of the process from a pretty early age. The fact that I literally make a show now where I go around the country studying the ways and techniques of all the old-timers and our most cherished structures, when my grandfather literally did that for years so he could go and build the same houses down in Georgia, is some of the sweetest irony. If he was alive today I'm sure he'd watch the show. 
Fast-forward to 2005 when my wife and I bought our first house and had to remodel the whole thing ... it was Kelly [Harp]'s courage and adventurous spirit that got us into that deal. I'd never lived in anything but rented houses growing up, so this was all new and I was pretty scared of it. But how could I not follow Kelly? So I did. And that really helped rekindle the fire in me to work with my hands and helped plant a seed of what it might be like to restore more old structures in the future.
On "Fixer Upper," you were Joanna Gaines' go-to carpenter, even teaching her how to create candlesticks, which you now sell in your shop. Is that your favorite thing to create? Or do you have a favorite thing to create?
My favorite thing to make is a table. I grew up around a rough and wonderfully hand-crafted table at my grandparents' house on the Chattahoochee river. A table can be a powerful thing. It gives us a place to connect. If you have a table that inspires you, that welcomes you ... that practically calls you to sit around it, well, that's even better. So that's my hope, that I make a table someone wants to sit down around with family, friends, enemies, strangers, new faces and old, and work through life around it.
You say that you and your wife Kelly always want to create things with a story behind them. Can you elaborate on what it means to have a story behind a creation?
Every table we make at Harp Design Co comes from the vision of two young kids who started a company around their dining table with the hope of doing something they love, and when they really had nothing but a little bit of savings and a flickering dream to do it with.
Along the way, there have been big ups and major downs, but we have continued to fight through. And now we are here in Waco working together with our incredible team ... which includes so many different people from different backgrounds and their own unique stories, to make beautiful things that come from the energy of those who have definitely lived life in so many of its iterations.
So to me, the story behind the table is not "remember when he/she got a splinter making that one?" It's that all of us bring our own personal stories and history to the shop and create out of that energy. And knowing all the amazing hands in our shop, it's a really beautiful tale.
Clint Harp believes wood has history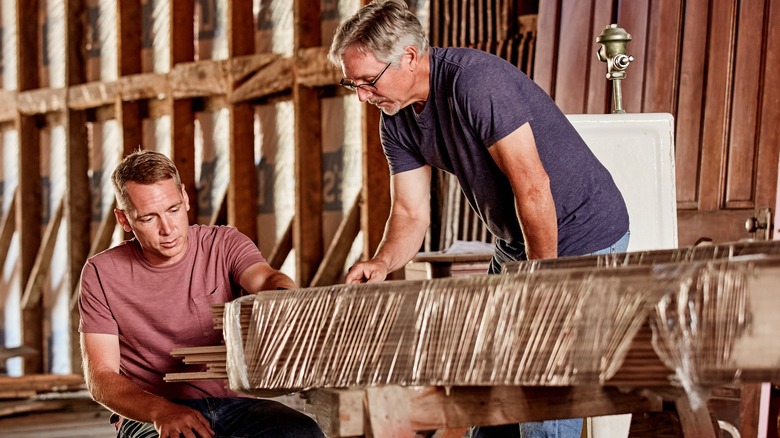 Magnolia Network
"Restoration Road" isn't only about the projects; it's about the people and places, too. You say homes are empty without that history. What's the most interesting story you've heard this season?
Well, in Season 2, there was a little Dutch Stone House in Upstate NY which we took down and moved up the road a bit. As we got into the project, I learned that where we were working was the very ground where the Abolitionist and Women's Rights activist Sojourner Truth lived much of her life.
It was a moment where our current efforts were colliding with true history, and it made you look deeper than just the cedar shingles and hand-hewn timbers and stones. When we welcome history, in all its beauty and pain, into the very thing we are trying to accomplish today ... I find we, and our work, are much better for it.
Is there anything or any specific place you'd love to restore?
Europe or anywhere over the sea! I love all of our projects in the U.S. — don't get me wrong. And we are actually doing one in Toronto for Season 3, so we are on our way. But I would absolutely love it if our show went international ... because I'm a big believer in seeing how people all around the globe do life. We can learn so much. And I just really love traveling, and so does my family. That would be one I'd pack them all up for.
The wood in your home should be unique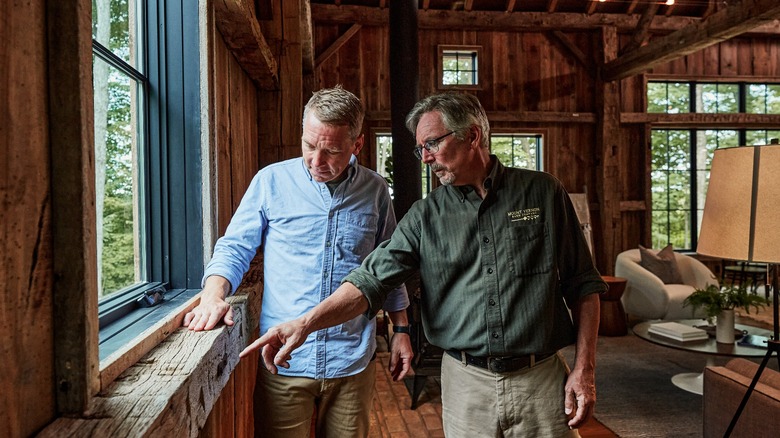 Magnolia Network
How can people embrace the unique wood features and historical elements in their homes?
I think when you know the history behind a thing, it really helps you embrace the thing. And when you realize that some elements — if you get rid of them, you'll never get them back — might help a person slow down and enjoy the quirkiness of a thing.
And if you love it, then don't be afraid of what others might think. So an example, there have been times when we are refinishing an old door or piece of furniture for the show, and the common tendency is to clean the thing up perfectly and make it look presentable. When if you slow down and take a look at the old barn door that you are going to turn into a coffee table top, you might realize that the hand-scratched tallies marking up the face are those of a young kid who was maybe asked to keep count of all the bushels of hay. And that's how she did it, and if you sand it away, it's gone forever.
And you may also realize that by leaving it, embracing all its scars and marks and patina, you are actually left with an incredible story to tell people and an opportunity to sit around and just daydream about what life must have been like for that little farm kid. And if you balance it all out with a crisp and beautiful sofa and chair, the funky coffee table just fits in perfectly and helps create some wonderful contrast.
What about people who live in newly-built homes but want to add character to their space? Any advice on making new wood features look authentic?
Shortcuts to "used" can be tricky. My thought is [to] play the long game. Buy a nice handcrafted piece of furniture and then use the heck out of it. Don't be afraid to make a mark and let the piece reflect the lives that have loved around it and lived on it. In due time you will have that piece that everyone is dying to buy at the antique store, and every mark and scar on that table will be your story and not someone else's.
We're seeing natural wood being used a lot more in interior design. What wood pieces would you suggest people invest in for their homes?
For me, anything handcrafted or locally crafted is always a win. Tables, mantels, and doors are a great purchase. And if you want to start smaller, handcrafted cutting boards, bowls, candlesticks, wine racks, and shelves — you can't do better.
What's next for Clint Harp
Magnolia Network
What are you looking forward to in the future? What can fans look forward to seeing from you next?
Well, I'm really looking forward to seeing how this show evolves. My hope is that we dive even deeper into the history of these structures and the towns they are sitting in (and the ones they are sometimes moving to), the people who built them, and the people they affected, whether for better or for worse.
How did it affect the environment? What can we learn from it? And I hope we take it beyond the U.S. as well. Because in the end, we are all connected, and our stories intertwine. I'm all about looking at the whole tapestry. I like to think of it like this: I'm not learning the history unless I'm learning all the history. So the full story matters whether it's easy to hear or not ... and that's what I hope I get to tell in one way or another.
"Restoration Road" is available for streaming on The Magnolia Network and HBO Max.