Over 37% Of People Were This Age When They Bought Their First House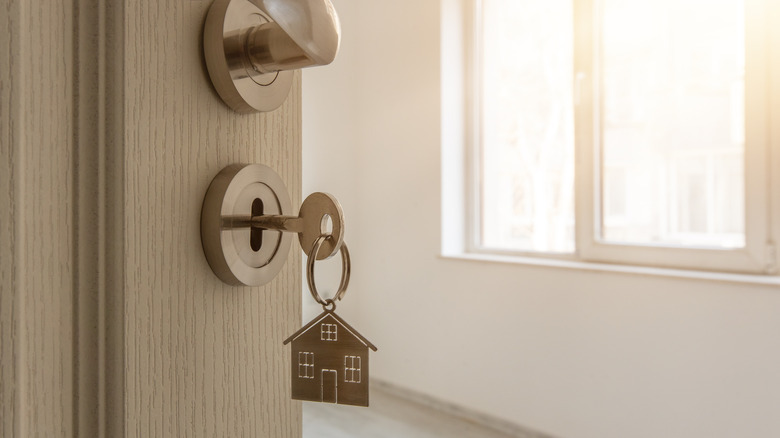 Michael Dechev/Shutterstock
The housing market has had a crazy year, and now it's begun to slow down. Millennials (those between the ages of 26 to 41 years old) typically wait to purchase a home as they are more hesitant to start a family and don't have the proper amount of savings, per Debt.org. On the other hand, those part of older generations, such as Generation X (people from 42 to 57 years old), were noted to be buying the biggest homes in recent years, as they also have had the highest average household income at $111,100, per the National Association of Realtors.
A survey we at House Digest conducted found over 37% of people, no matter what age they are now, bought their first home when they were of a certain age range. Buying a home means so many things to different people; it's either an investment, a place to build your family, or just your real first sign of adulthood — and these meanings even change over time. In the past, early homeownership may have been more important than it is now. This survey may help you discover what age you're most likely to buy your first home, so let's take a look.
Lots of people buy when they're younger
Inside Creative House/Shutterstock
Our survey shows that out of 596 people, 37.08% of them were between the ages of 26 to 35 years old when they purchased their first home, the highest score. While Millennials are currently the largest group of home buyers, per the National Association of Realtors, those in this survey may be long past that age now. Of the 596 people surveyed, however, there were ten people who didn't even fall into the age ranges offered, and there were 135 people who haven't yet bought their first home ... that's 22.65% of those surveyed and the second "most popular" answer.
While not everyone is busy buying their first homes, 25% of the homes sold in 2021 were purchased by investors, according to The Washington Post — so not all homes leaving the market are even being purchased by the folks who will eventually be living in them.
Other interesting survey finds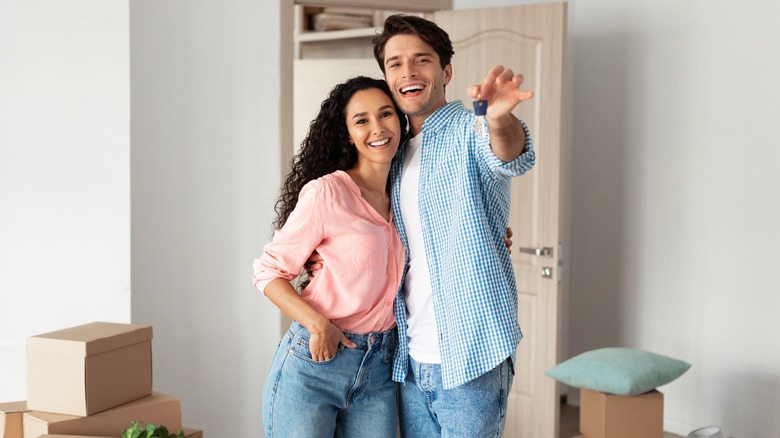 Prostock-studio/Shutterstock
Our study found that 20.64% of the participants were 20 to 25 years old when they purchased their homes. If they all just purchased their homes in the past few years, they would fall into Gen Z, who, in 2020, only made up about 5% of those buying homes, per Roostify. In our survey, these folks could be from older generations who bought homes earlier in life because that was how things were done decades ago.
Other results from our survey showed that 14.26%, or 85 people, bought their first home when they were between the ages of 36 and 45, while only 3.9%, or 22 people, were between 46 and 55. So it seems that, no matter what generation you fall into, folks prefer buying their first homes when they're between their 20s and early 40s if they decide to purchase a home at all.