Is Checkerboard Flooring Coming Back In Style?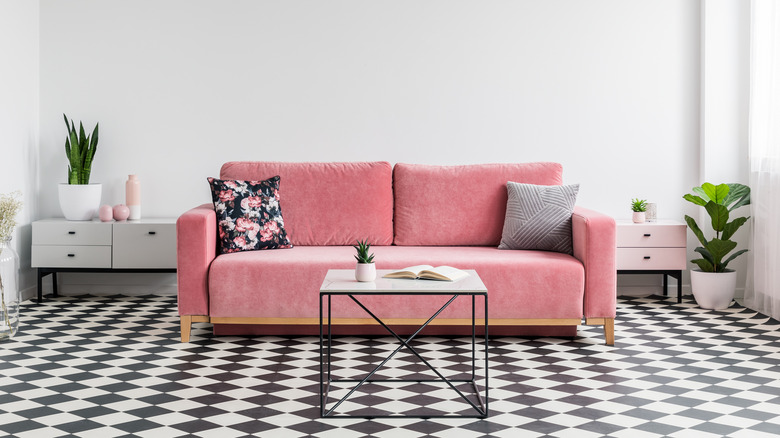 Photographee.eu/Shutterstock
If you've recently renovated any of the floors in your home, perhaps you've come across checkerboard flooring. This flooring is made up of a simple square pattern that uses alternating colors. Most often, these floors are black and white, but they can also look effective in other colors. According to Tidbits, checkerboard floors can be made out of marble, stone, ceramic or porcelain tile, concrete, or vinyl. These floors could also be matte, to create a rustic feel or glossy, for a modern appearance. Most associate this design choice with the '50s, but it actually dates back much further. Semi Stories suggests that the square checkered pattern may have been the first design sequence ever created.
While many people consider checkered flooring to be a timeless design, you may wonder if this flooring pattern is the right choice for your home. There are several reasons why it has endured for so long, as well as some unique ways to style it for your space.
Is checkered flooring in style?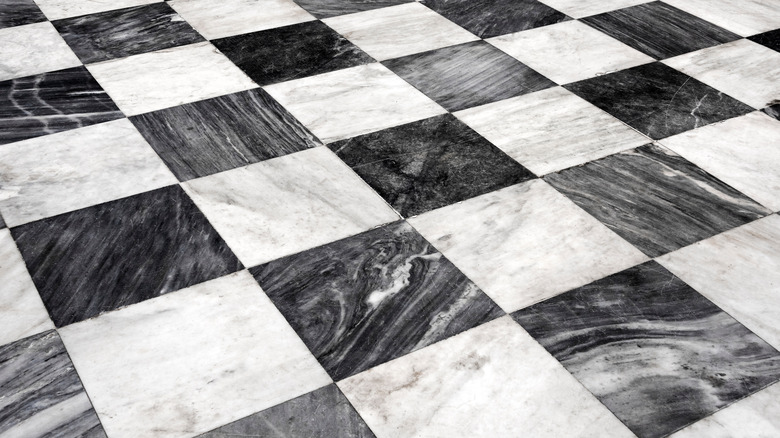 Rolf G Wackenberg/Shutterstock
Overall, the consensus is that checkerboard flooring is back in style. Seen all over social media and the interior design world, this choice has again become quite popular. Additionally, because this flooring comes in many different designs and colors, it can match many different styles, per Tidbits.
Many also claim that, because this flooring is so versatile, it's also a timeless choice. Style By Emily Henderson says that, even though certain checkered floors may appear overdone, there are so many designs and colors to choose from, that this flooring will never completely go out of style. We're The Whites adds that, even after many centuries, this choice is still loved by many, proving its ability to stay popular for a long time. Similarly, Old New Space claims that these floors never actually went out of style — they have just received more attention and love during certain periods of time.
What makes checkered flooring so alluring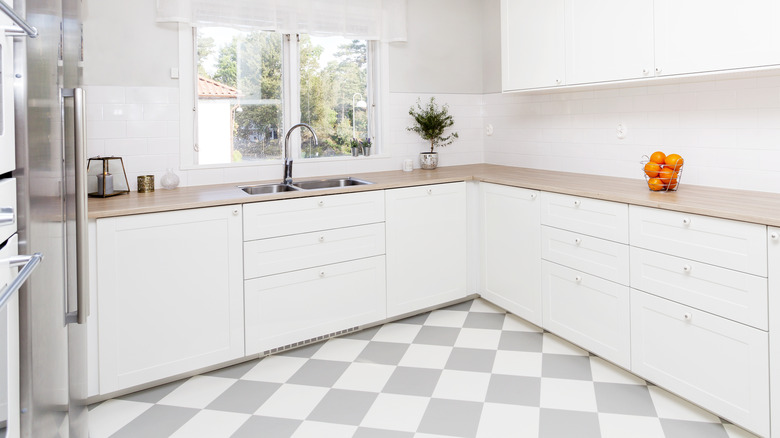 Anna Andersson Fotografi/Shutterstock
In addition to this flooring being so versatile, there are a number of other benefits as well. Checkerboard flooring is so alluring because it's a simple design that makes a statement, per Style By Emily Henderson. If you think about it, these floors are extremely simple — they're typically only made up of two different colored squares in an alternating pattern, but they easily make a space feel more playful and classic-looking. Alternativly, if you don't want to go to the expense of recovering a floor, you could still bring in the same feel by adding a checkered floor rug or upholstered fabric.
To create a retro feel from the '50s, you could pair white with yellow, red, green, or black, suggests HomeSteady. Another useful tip from Old New Space is to make your flooring look more timeless by choosing materials that will last for many years. Checkered flooring can appear tacky when it's made from cheap materials that don't last very long.