New Home Listings Have Gone Down Drastically In Honolulu, Hawaii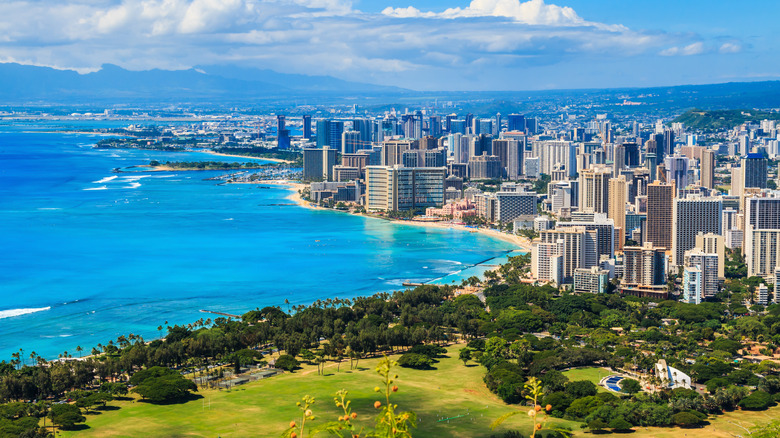 Izabela23/Shutterstock
The housing market for the past year has been a hot topic of discussion, especially as the economy recovers from the COVID-19 pandemic. However, some areas aren't bouncing back as quickly as others, such as Honolulu, Hawaii. For most, having a home in Hawaii is a dream come true on an island that is perceived as a beautiful paradise. It can be a really good investment, there are possibilities of tax reductions, and it can be a great retirement plan, according to Real Estate and Living Hawai'i. However, the data we've collected is showing a new perceived reality. 
The data from Zillow shows that home listings in Honolulu have been fluctuating erratically for the past four years and were the lowest this year for the month of July when compared to the past years. One of the reasons may very well be that Honolulu is running out of space to build new properties, according to Aloha Hawaii Realtor. If you're someone who is thinking of purchasing a home in Honolulu, knowing what you're up against will help you towards your dream home.
Why is this happening
The prices for single-family homes and condominiums have reached a record high as a result of very low inventory, according to Hawai'i Public Radio. This trend has continued since 2020, and the average home price has risen across the state while sales also seemingly decrease. Currently, there are single-family homes on the market for as much as $1.5 million, and condos are being sold for $515,000. Why is this happening? Well, it seems the supply available is not up to par with the overwhelming demand of buyers who want to invest in Hawaiian real estate. 
For starters, homes are typically only on the market for a mere 10 days before they're purchased, according to Dwell. Our data shows that back in 2018, there was a point where listings reached 1.2 thousand, and it hasn't been that high since. The geography of the island also makes it difficult to build more homes as the area is full of steep hills and shorelines. The fact that building materials are the most expensive in this state when compared to the rest of the country is also a factor that has slowed down new developments significantly since the 1960s.