Why You Should Add A Table Lamp In Your Kitchen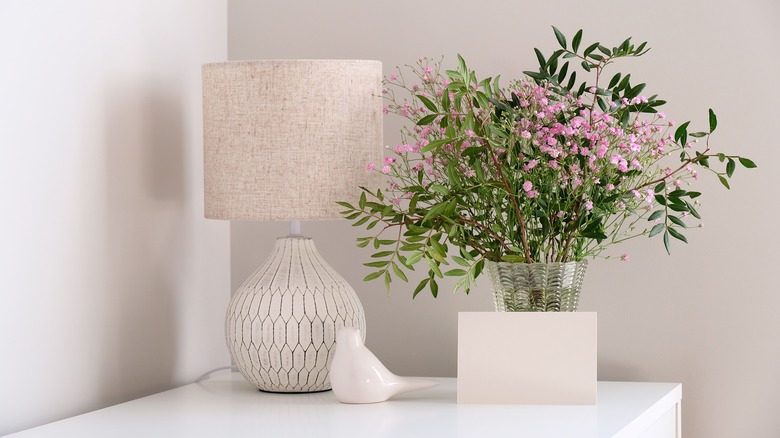 Savanevich Viktar/Shutterstock
When adding lighting throughout your home, there are some obvious places to put table lamps. For instance, your nightstand, living room side table, and office desk all beg to be lit with the soft glow of a lamp. The surfaces in your kitchen, however, may not be the first places that come to mind.
While not super common, adding a table lamp to your kitchen may be just what this area in your home needs. According to Inspiration For Moms, table lighting could be added next to your sink, at the end of the counter, in the corner of the counter, on the island, or near the stove (but a few feet away, to avoid messy splatters). Some people even add a pair of lamps to their kitchen to maximize the benefits.
Below, you'll find the many benefits of adding this unique lighting to your kitchen, as well as how to choose one for your space.
The many benefits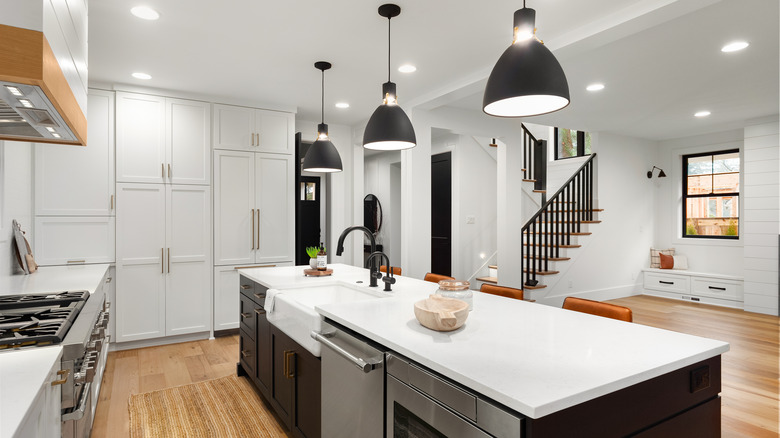 Breadmaker/Shutterstock
Typically, kitchens are primarily used for functional purposes, and because of this, they can lack style. They also usually only have overhead lighting, which can make the space feel cold and unwelcoming. Food 52 says that a table lamp will add a dash of unexpected personality and coziness to your kitchen while also providing a warmer light source. This can make your kitchen feel much more welcoming, both for yourself and for guests.
Further, Room For Tuesday says that their kitchen lamp acts as a nightlight. This allows them and their guests to easily retrieve a snack or a glass of water late at night. It also provides their space with a soft glow in the evening and the early morning hours.
Finally, table lamps are extremely easy to include in any area, and their appearance is completely customizable to your needs and desires. Because there is such a wide variety of designs to choose from, you're sure to find the perfect base and shade for your space.
How to choose the right lamp
When choosing a table lamp for the kitchen, you'll first need to think about what you want it to do for your space. Room For Tuesday says that this design feature can either appear cohesive with the space's style or make an interesting statement. If it stands out, it could even act as the main focal point in a room, per Interior Deluxe. Once you've chosen whether you want it to be subtle or loud, this will determine what size, color, shape, and style you choose. A smaller lamp that matches your space will make less of an impact, while a larger design in a contrasting color will add interest.
Additionally, think about the best place to display your table lamp. If your design has a cord, you'll probably want it to be near an outlet. However, if you hate the idea of an exposed cord on your counter, you could choose a cordless model. These come in a number of different designs, as demonstrated by the wide selection available at Target.